Briefing / Oceania
Oceania
Briefing
Tuvalu's internet cash-in, NZ reviews its carbon-trading scheme, and Fiji's growing isolationism.
Turning on the .tv
Tuvalu — 
ECONOMY
Tuvalu wants to renegotiate its biggest ever trade deal: its internet domain name. The tiny Pacific island nation – home to just 11,000 residents – sold the rights to ".tv" to California tech company VeriSign in 2000 for €14m plus an additional €1.8m each year. Companies – particularly those that work in television – jumped at the chance to have .tv at the end of the website address.
Tuvalu ministers insist the deal was good for the island, but the government's coffers are running low. Income from .tv now accounts for 10 per cent of Tuvalu's €18m annual budget. Communications minister Taukelina Finikaso believes that the growth of internet video should bring in more money, but industry experts are less confident. Keith Davidson, a consultant for InternetNZ in New Zealand, says the value of .tv is already diminishing. Yet he gives Tuvalu credit for seizing the opportunity, during the infancy of the internet, to strike what he considers to have been a fair deal.
It enabled the country to complete badly needed infrastructure projects around the nation's nine small islands. But as spending cuts have begun to bite, Tuvalu has been thrown into political turmoil. A no-confidence motion threw out the government in December, just three months after it had been elected. Worried about facing similar problems, Finikaso says the new government believes renegotiating the .tv contract could be the only way to increase the budget.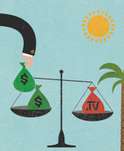 Fishing licence sales:
There has been an increase in licence sales but protecting the stock is the big challenge.
Remittances from mariners:
Global demand for seafarers is low. The remittances that kept many Tuvaluan families afloat have plummeted.
Tuvalu Trust Fund savings:
Distributions from the fund, whose main contributors are Australia, New Zealand and the UK, are dwindling.
Odd one out
New Zealand — 
CARBON
New Zealand has launched a review of its carbon trading scheme – the only one of its kind left outside the European Union – after neighbouring Australia scrapped its programme under pressure from pro-business lobbies. The government denies it is planning to dump the scheme, which minister of climate change issues Nick Smith (below) has called "the most efficient way of addressing climate change". But ministers have stressed that New Zealand should not get too far ahead of its key trading partners. Given that neither Australia nor China – its top two partners – have carbon trading schemes, environmentalists may have cause for concern.
---
Date: 4 March
Type: Parliamentary
Candidates: The competition for the 49 seats in Samoa's parliament will essentially be a two-way race between the Human Rights Protection Party of current prime minister, Tuila'epa Sa'ilele Malielegaoi – who won a silver medal for archery at the 2007 South Pacific Games – and opposition parties united under the Tautua Samoa banner, led by Va'ai Papu Vailupe.
Issues: Resentment over the 2009 edict that forced Samoans to drive on the left. Rebuilding continues after the 2009 tsunami.
Monocle comment: Samoa has one of the lowest GDPs but its record for press freedom and absence of official corruption is decent. Prime Minister Malielegaoi has also been a leading regional critic of the military regime at large in Fiji and deserves more credit on that front.
---
New Niue land
Niue — 
DEVELOPMENT
Niue, a 200 sq km atoll in the Pacific 2,500km from New Zealand, is looking to reshape its economy. Since independence from New Zealand in 1974, the tiny country has been largely reliant on aid from its former colonial master. The biggest industry? Government: with 20 MPs and 400 bureaucrats serving 1,200 people. Wellington is increasingly unhappy and last year a review suggested that Niue was ideal for retirement villages. Given its stunning scenery and beautiful beaches, tourism seems a better bet. NZAid is investing $45m in tourism infrastructure, there are direct flights from Auckland and the country has some of the best diving in the world.
---
Out of alignment
Fiji — 
POLITICS
Fiji's military rulers are continuing their drift from regional power Australia with the announcement that they are to become the latest member of the Non-Aligned Movement, a Cold War relic known for thumbing its nose at the West. A regional pariah since the 2006 coup, Fiji will take its place among members such as North Korea at a May summit in Indonesia.
---
Island exodus
Pacific Ocean islands
Inhabitants of Oceania's islands are heading to the wealthy OECD countries (most of Europe, Japan, South Korea, North America and others). Of the 30 countries with the highest migration rates to the OECD, eight are from the region. Some 80.9 per cent of those who emigrate from Palau head to OECD nations.