Residence / Sri Lanka
The jungle look
A Belgian couple living on Sri Lanka's southern coast commissioned Japanese architect Tadao Ando to build them a weekend retreat. The concrete edifice he designed is a picture-perfect set-up for the artist and her husband who live there.
A Tadao Ando building is easy to spot: an abundance of natural light, clean surfaces and angular concrete walls. Another giveaway is that, quite often, it has a gallery-like austerity. One of his recent projects is a private house on Sri Lanka's southern coast and the gallery feel is particularly fitting, as one of its owners is an artist.
The couple who live here, originally from Belgium, have been resident in Sri Lanka for three decades and built the house to use as a weekend retreat. It sits on a plot of six hectares midway between the beach towns of Mirissa and Weligama, about a five-hour drive south of the capital, Colombo. The drama and contrast of the structure with the landscape is striking. Through a set of gates and up a winding driveway paved with rubber "stones", the house looms: a stark, concrete structure set among lush green vegetation.
A long set of steps leads to a mid-level roof terrace with another of Ando's hallmarks: a reflective pool of water, in this case a long, skinny, infinity swimming pool overlooking the ocean and set at a diagonal, which reflects all the colours of the sky. It is likely that the stunning location of the site persuaded Ando to take on the project. "When I was young I travelled around the world looking at different architecture and my ship stopped at a port in Sri Lanka," Ando explains. "When I was asked to build this house my memories of those days came back and I wanted the challenge of building in Sri Lanka's climate."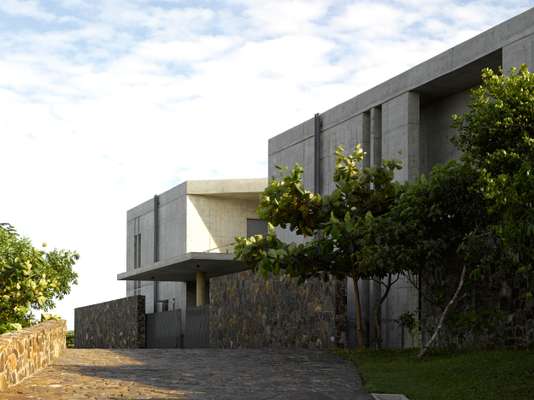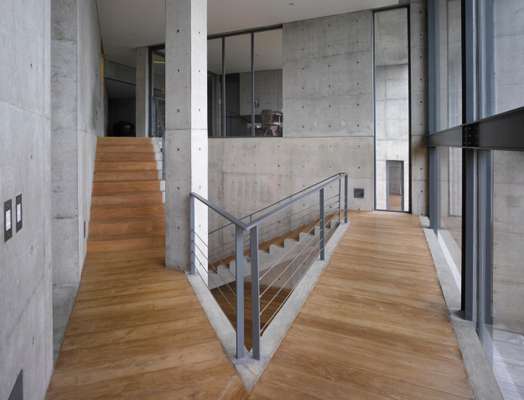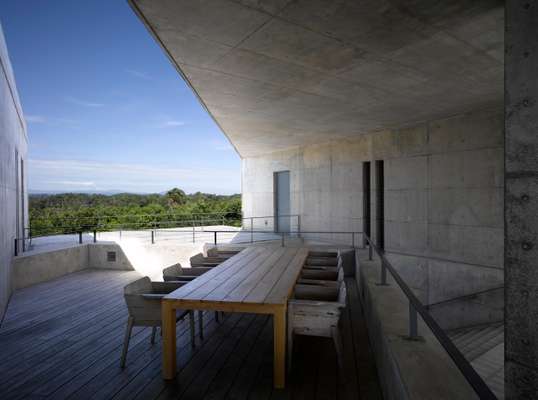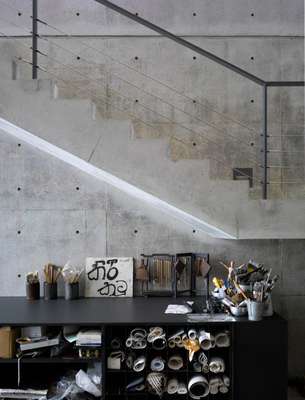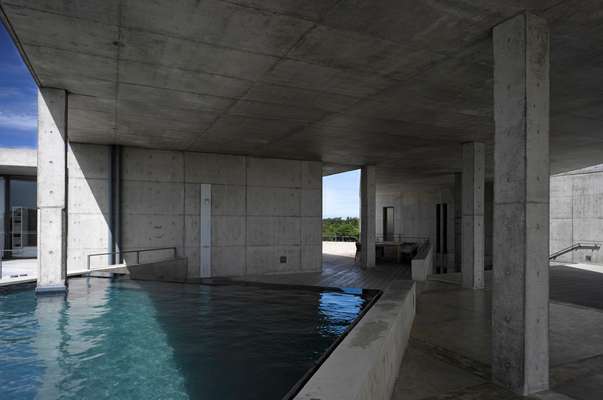 While tropical Modernism tends to be more popular in this part of the world – for example, the work of Sri Lankan 20th-century master Geoffrey Bawa – Ando's Zen-like, clean and stark Japanese sensibilities are a surprisingly good fit too. Ando says that unlike Japan, where there is a lot of variation in temperature, Sri Lanka is warm year-round. "I created many intermediate half-outdoor spaces, made shades and designed areas to breathe without air conditioning," he says.
The verdant tropical jungle, coconut groves and cliff-lined coast sit well with Ando's method of creating an interplay between indoor and outdoor spaces – a technique that has been employed to good effect here. The roof terrace serves as an outdoor room, while in the sea-facing living room there is a picture window that slides away – thanks to a hidden motor – opening up the room to the outside. "It all started when my husband wanted to build me a studio to work in," says the artist. They had seen pictures of Ando's iconic Church of Light in Japan and loved it, so the decision to approach the architect was a no-brainer. Ando then employed a local firm, PWA, to oversee the work.
"There was almost no architecture with bare concrete walls in Sri Lanka," says Ando. "It was a challenge to create a house with bare concrete with the same degree of precision as in Japan. I wanted to use as many local materials and construction methods as possible, in the flooring and stone works, for example." Philip Weeraratne of PWA says he and his partner travelled to Japan a number of times to study Ando's work and learn more about the detailing and construction techniques, especially maintaining the strict geometry of the Japanese architect's design.
The house is arranged in the shape of the letter N with a "tail". Doorways and hall spaces are huge, while rooms are cavernous and almost all have a view – mostly of the ocean, though some face jungle. In a spot flooded with natural light it's appropriate that Ando would build a structure full of it – to the point where some parts of the house serve no other purpose than to simply "capture the light".
The house has six en-suite bedrooms, a living/dining room, a projection room, servants' quarters, an office, a gym-turned-playroom for visiting grandchildren, and a library. It's only in the latter two rooms where there are any bursts of colour – books, a box of Lego – punctuating an otherwise monochromatic scheme where the materials are left to speak for themselves. "I like clean lines," says the artist. "I don't want to disturb the architecture with too much colour."
The showpiece of the house is her studio – an enormous room that forms the "tail" to the N-shape of the house. Lined with the owner's artworks and portraits, the mezzanine level looks down into the workspace, where a long table sits in a preternaturally neat space. Picture windows at the end of the room frame a breathtaking view of greenery and sea. The room overlooks nature and nothing else; no human will stray into view.
The project wasn't without its challenges: just as the plans were finalised, the region was struck by the devastating 2004 tsunami that wiped out thousands of lives and homes along Sri Lanka's southern coast. The project was put on hold while the owners set about building hundreds of homes for affected locals. Now the neighbourhood has become a bit of an enclave of statement architecture: on an adjoining plot sits a recently completed home designed by venerated Japanese architect Shigeru Ban, while houses by Bawa and current local design star Anjalendran are within sight.
Top five local attractions
Yala National Park:
Wild elephants, sloth bears and leopards roam free at one of the country's main wildlife centres.

Taprobane Island:
A private island just off Weligama town – a 1920s mansion available for holiday rentals takes up most of the one-hectare area.

Galle Fort:
Built in the 17th century by Portuguese and Dutch settlers, it's one of Sri Lanka's top attractions.

Galle Cricket Stadium:
With a view over the ramparts and ocean, it's regarded as one of the most beautiful cricket grounds in the world.

Mirissa Beach:
Arguably the most paradisiacal of Sri Lanka's palm-fringed southern beaches.