Asia / Global
Asia
Briefing
Cambodia's embrace of capitalism, congestion busting Chinese-style and election watch Laos.
Given India's booming economy, its prime minister Manmohan Singh's annual €3,040 salary is relatively small. Critics, though, claim that Mr Singh and his fellow lawmakers can take comfort from a very generous expenses culture.
---
Hope and Angkor
Cambodia — 
FINANCE
Money was banned in Cambodia just three decades ago but the country is now embracing capitalism by preparing to open its first stock exchange in July. Formerly one of Southeast Asia's sleepier outposts, Cambodia's economy has been motoring over the last decade and Phnom Penh is casting off its faded grandeur by becoming home to new apartments (see right), golf courses and shopping malls.
A stock exchange was the obvious next step. Even so, the attractions of investing in a country with a reputation for government cronyism and little experience of financial regulation is debatable. However, Vietnamese and Thai investors – as well as domestic customers – will pile into Cambodian stocks, according to Douglas Clayton, managing partner of Leopard Capital's Cambodian business.
"Frontier economies have been the most insulated from the global financial crisis and in some ways are the safest places to invest right now," says Clayton.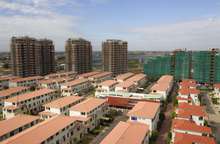 Foreign investment could also beat corruption, says Cambodian commentator Sorphal Ear. "The new stock exchange could mean some very positive things for ordinary Cambodians if corporate governance and public governance improve as a result of foreign money." But, he warns, "just as quickly as foreign money can pour into Cambodia, it can also leave."
Three other small exchanges:
Laos:
The new Laos Securities Exchange opened in January. While it may have a nice, shiny €7m glass-fronted building it still only has two stocks listed.

Syria:
The Damascus Securities Exchange was set up in 2009, part of a series of reforms to liberalise an economy that remains dominated by the state.

Bhutan:
The Royal Securities Exchange of Bhutan has been in existence for almost two decades, but with just four brokers doing €2m worth of share trades a year, it remains one of the smallest stock markets in the world.

---

 
Helmeted heroes
China — 
TRAFFIC
With 26 new cars being added to China's roads every minute, nightmarish traffic jams avail – a 60-mile one outside Beijing last summer lasted 11 days. Fortunately, new businesses have sprung up across the country that ferry people out of traffic by moped while a substitute driver waits out the gridlock in the car. The service (from €9 to €44), is so far only available in secondary cities such as Wuhan and Hangzhou.
In Beijing, which tied with Mexico City as having the world's worst commute in an international survey of drivers, motorcycles are restricted on the freeways and downtown, meaning the subway may be a better option.
---
Bear with us
China — 
DIPLOMACY
Following years of tension and an ugly territorial spat over the disputed Senkaku Islands last year, Japan and China are resorting to a favourite tactic: panda diplomacy.
China is leasing a pair of giant pandas named Bili and Xiannu to Tokyo's Ueno Zoo for the hefty sum of ¥90m (€800,000) a year. Japan's oldest zoo was left panda-less when Ling-Ling died in 2008. Japan's foreign minister, Seiji Maehara, said, "I hope the pandas will become popular and many Japanese people get to see them. In such a way, I expect Japanese people's impression of China will improve." If only things were so black and white.
---
Type: Legislative
Date: 30 April
Candidates: Almost exclusively the Lao People's Revolutionary Party, which has ruled since 1975 – at the last election in 2006, they won 113 of the 115 seats in the National Assembly. The new prime minister, Thongsing Thammavong, will not be losing sleep over polls.
Economically dependent on its neighbours – but Laos did open a stock market in January (see above).
Laos's economy is growing, poverty is falling and it hopes to exploit its ability to supply hydroelectric power to its neighbours.
---
Ms Moneypenny
Japan — 
ECONOMY
Japan's economic outlook is improving and not a moment too soon for Japanese wives who manage the family finances. They traditionally keep a secret stash of cash, known as "hesokuri" (literally, belly-button money). Lately, that hoard has shrunk to an average of ¥3.08m (€27,500), from ¥3.74m (€33,400) – the second straight annual decline – according to a survey by Sompo Japan DIY Life Insurance. "It suggests that in these tough economic times a growing number of wives had to use some of their hesokuri for living expenses," says spokesman Minoru Sugiyama. "A few years ago they were more likely to spend it on an overseas trip."