Business / Global
Business
Briefing
American cigars, Japanese micro sites and innovative Irish forest technology
Stumped no more
Ireland — 
TECHNOLOGY
Around 20 per cent of the value of a forest is lost at harvesting time, according to Irish firm Treemetrics. Different sawmills require different size trees, and inaccurate tree measurements lead to waste, sometimes because of the use of antiquated tools. Treemetrics has a solution: a device on a tripod that measures trees with a laser, then creates an optimal felling schedule. The firm says waste is halved, and the technology has already been adopted by the Irish and British forestry commissions. "We've proven that we can meet the demands of the market while cutting fewer trees," says co-founder Enda Keane.
---
Switching sides
Global — 
ELECTRONICS
Electronics manufacturers are switching their focus to the BRIC markets. Consumers in these countries spent more money last year on consumer electronics than those in major developed nations and the gap is expected to widen in 2011 as the BRIC economies grow apace.
1. One third of BRIC consumers plan to spend more than $1,500 (€1,100) on electronics this year, compared to 17 per cent in mature countries.
2. 37 per cent of Chinese consumers bought a smartphone in 2010, more than in any other country. 38 per cent plan to buy one this year.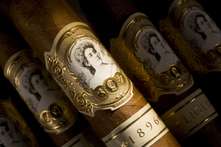 3. Only 12 per cent of Brazilians bought no electronic items last year; 50 per cent of American and 40 per cent of Germans didn't.
4. 17 per cent of Russians use VoIP services – that's more than in the other nations surveyed. The Japanese (5 per cent) use it the least. — ad
---
Ratan Tata, chairman of the Tata Group – India's largest multinational – has invested $15m (€11m) in a start-up investigating how to extract hydrogen from water as an eco-friendly, low-cost fuel. Tata, and Professor Daniel Nocera from the Massachusetts Institute of Technology, who is heading the research, now co-own the patent for the innovative technology.
---
On a roll
Washington — 
CIGARS
Founded in 1896 by Samuel Paley, the Washington-based La Palina Cigars grew rapidly under the stewardship of his son William S Paley, founder of CBS Broadcasting. However, in 1926 the brand, which means "The Paley Lady" and featured a picture of Paley's wife Goldie on the interior and exterior of the box, disappeared.
It remained dormant until 2009 when the founder's grandson, William [Bill] C Paley, acquired the rights to the name. Now, more than 90 years after they were discontinued, La Palina cigars are back. Last year the company launched the "1896" limited-edition premium handmade cigar, featuring a blend of Nicaraguan and Honduran tobacco with an Ecuadorian wrapper and a Costa Rican binder. Next up is the Family Series named after various members of the Paley clan.
---
Filling a gap
Japan — 
RETAIL
Japan's nokisaki.com finds micro sites in crowded cities – say gaps between buildings – and leases them to commercial tenants. The diminutive spaces cost from ¥8,000 (€70) a day and are a hit with farmers selling vegetables, coffee vans and bento box stands. The company is run by Akiko Nishiura, a former Sony executive.
Q&A
lee tae-hwan
Developer
Cambodia
Korean Lee Tae-hwan is CEO of the $1bn (€732,000) New Siem Reap International Airport, or NSRIA, which will be able to handle 15 million passengers a year. Construction begins this year and is due for completion in 2015.
What are you doing in Cambodia?
We have a 65-year concession to build and operate a new airport 40km from Angkor Wat. We have secured land and are in the detail-engineering stage.
How is NSRIA different from Cambodia's two existing international airports?
It will be the first airport able to handle direct, long-haul flights. It includes an airport city, special economic zone and dry port.
How does your project affect France's SCA, the existing airport operators?
The government decided on a new airport as the existing airport is only 2km from Angkor – too close to permit expansion because of concerns about noise and vibration damage.
How do you set a benchmark for state pay? In the UK officials who earn more than Prime Minister David Cameron are finding themselves increasingly under scrutiny. Luckily Cameron does earn £142,500 (€168,000) a year. And he gets a nice central London pad too.