Design/Architecture / Global
Design/Architecture
Briefing
Residences, homeware, furniture and everything that's on our radar this month.
Show us something new
Trade shows must regain the excitement lost amid a culture of 'versions' rather than new products
By Hugo Macdonald
I've attended six design trade fairs in northern Europe so far this year. On returning home and attempting to make order out of the growing paper mountain I've accumulated, I'm shocked to see that the printed matter from the combined fairs can be reduced into one box file of "important" things.
It's not that I'm ruthless it's more that there's a culture in the design industry for introducing versions instead of new products. And my filing system doesn't need to be updated with a whole new catalogue just to remind me of a new colourway.
This development speaks of many things: principally the lack of money to invest in R&D, the production costs and the risk of developing and launching a new product in a wobbly financial market. But good common sense in business is matched with a curious bravado among design manufacturers who feel withdrawing their presence from a trade fair because they have nothing new to present to the market is a loss of face. Hence, they extend the legs on an existing chair, or design a children's version, or paint a bookcase blue. And suddenly there's a reason to occupy a large stand at the fair, print a new catalogue and present everything all over again.
This small saving of face surely means losing something greater in the long run. These tweaks can't possibly merit the logistics and expense of showing at a fair. Nor can they feasibly be called improvements. They're more like aberrant species: chairs and tables that look like that beautiful design from a few years ago but a little bit wrong. In the worst cases, like a slightly wonky knock-off.
The money and energy spent would be better saved for one year of no-shows and spent instead on introducing an original product the following year. Everyone would benefit: young designers would have a stab at getting a prototype into production and the industry would move forward. Trade fairs would become the exciting showcases they once were – smaller, tighter and more about the original developments of our time, not the tweakings of creations by former generations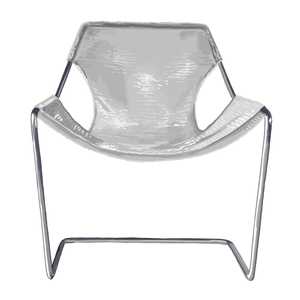 Old and new
Fully furnished
Brazil/France [CHAIR AND DESK]
Paulo Mendes da Rocha's Paulistano chair was designed in 1957 for the São Paulo Athletic Club and covered in leather or canvas. This year Objekto gallery launched a stainless steel mesh-covered model in collaboration with French designer Hervé Langlais, giving new character to the original. Pair it with Eric Jourdan's Dino desk for Ligne Roset. With more than a hint of Breuer about them, they evoke the best elements of 1950s office furniture.
objekto.fr, ligne-roset.com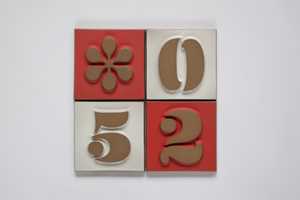 On the tiles
USA — 
HOMEWARE
Our favourite Californian ceramic company, Heath Ceramics, has recently teamed up with Delaware type foundry House Industries to launch a range of ceramic tiled house numbers. The tiles feature numbers inspired by the fonts found in the buildings of Richard Neutra and Charles Eames and are available in paprika and white. "Forming these beautiful and refined type-shapes out of an imprecise material, like clay, creates a fantastic contrast," says Heath creative director Catherine Bailey.
Heathceramics.com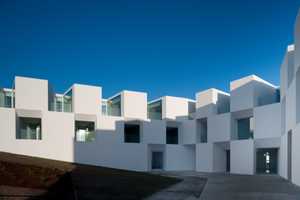 Care for the community
Lisbon — 
NURSING HOME
After exhibiting a highly acclaimed set of beach houses at the Venice Architecture Biennale last year, Lisbon architects Aires Mateus recently completed this unusual nursing home complex on a stunningly exposed spot south of the Portuguese capital. It may look unconventional for a nursing home but every element of the design has been developed with a function in mind. Aiming to give with the complex the feel more of a hotel than a hospital, the architects paid attention to the needs of the residents, creating a sense of community throughout. Comfortable communal areas and secluded spaces have been carved out of the angular, geometric structure. Independent units face outwards and inwards into a bright, internal social "path into life" (or corridors), maximising the sun and allowing for vital shade and ventilation to pass through the building too.
airesmateus.com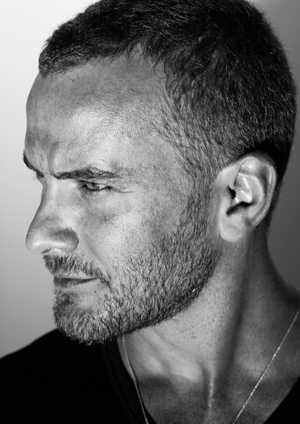 Q&A
Joe Doucet
Founder, New York Creative Social Concern Limited
USA
The year-old NYCSCL brings together designers from all over New York. We speak to its founder.
Why did you set up NYCSCL?
Chad Phillips and I were lamenting the lack of a creative community in arguably one of the most creative cities in the world. We decided to do something about it.
Who attends the events?
Our monthly gatherings attract a broad spectrum of the creative sector. Typically, we have around 100 participants.
What do you talk about?
There is no set agenda and there are also no presentations. Most are simply interested in meeting like-minded people.
What do you hope to achieve?
Hopefully, participants create a support network, fruitful contacts and most importantly a sense of belonging to a larger community. At worst, you find a new bar – we never host it in the same location twice.
What's next?
Ideally, I would love to export the concept to other cities around the world and I would really like to help interested parties do so.
nycscl.com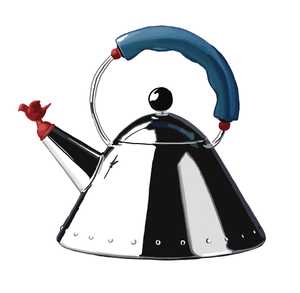 Bestseller
Alessi – 9093 kettle by Michael Graves, 1985
Over 1,435,000 of these stovetop kettles have been sold since the design first appeared on the market. More commonly known as "the bird" it was also the first product designed by an American to appear in Alessi's portfolio.
---
Terrace talk
Stockholm — 
RETAIL
Svenskt Tenn, Estrid Ericson's Stockholm design store, has closed its Strandvägen doors for a redesign and expansion and has temporarily relocated to the former Astoria cinema, where the furniture, lighting and fabrics are displayed on the staggered terraces – a surprising and charming backdrop.
svenskttenn.se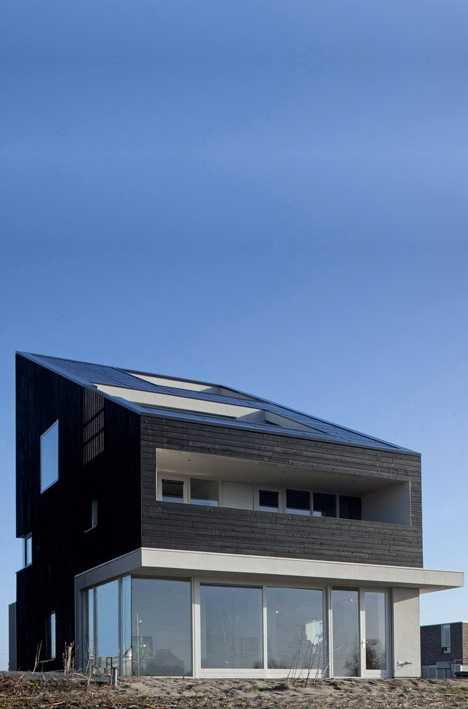 Perfect isolation
Amsterdam —
 RESIDENCE
Located in east Amsterdam, IJburg's seven islands form one of the city's newest residential districts. This three-storey home by local firm Knevel Architecten sits on Rieteiland Oost, a small island dedicated to detached houses. The surface of the roof is pierced with outdoor areas and covered in solar panels. Little of the residential neighbourhood can be seen from the house. Instead, the architects have taken advantage of the natural beauty surrounding it with a loggia connecting the living area to the outdoors and a large first-floor balcony.
knevelarchitecten.nl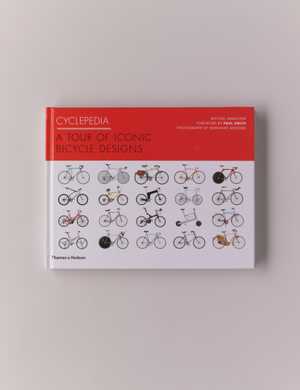 Introducing 100 bikes grouped by type – racing, touring, folding and the more whimsical "curiosities" category all get a look in – this is the ultimate guide to the best of bicycle design. Michael Embacher's detailed Cyclepedia provides us with the history of each bike and its vital statistics including brake, tyre and even gear type.
thamesandhudson.com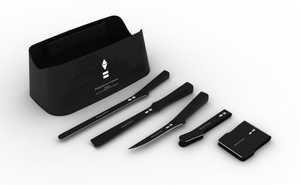 Curated and serrated
Italy — 
KITCHENWARE
Since 1907 Italian food brand King's has specialised in curing meats. But it really got our attention with a line of knives and accessories from the Venetian designer Luca Nichetto. A salumiere's dream.
kingsprosciutti.it
Top of the table
Stockholm — 
HOMEWARE
At the Stockholm Furniture Fair, it was hard to move without bumping into a design by local trio Claesson Koivisito Rune. Though we lament the "same name" syndrome rife in the industry, we do welcome their Shelf tables for Offecct. Available in three sizes and shapes with a beech or white laminate finish, its simple, elegant form wheeled its way into our hearts.
offecct.se