Making a splash / Düsseldorf
Making a splash
How do you make people think it's fun to dress up in rubber? That's the challenge facing a diving industry fed up with its image as a sport for middle-aged holiday-makers in the Maldives. At Boot 2011 they seem to have the answer.
In the middle of a huge exhibition hall at Düsseldorf's Boot 2011 – the world's biggest showcase for all things aquatic – an odd hybrid of presentation and performance art is in progress. In a large white vitrine similar to those that house Damien Hirst's eviscerated mammals, a bunch of fully submerged divers are playing a slo-mo game of frisbee with a fluvial-friendly gold disc. Water resistance makes the game look oddly listless, but the spectacle is attracting a large and curious crowd. This, according to Boot director Goetz-Ulf Jungmichel, is a core part of the fair's mission this year, promoting diving as a lifestyle choice rather than forbiddingly expensive niche activity. "We're trying to emphasise its accessibility," he says, "and people seem to be responding to that."
Two of the biggest halls at Boot, the first major "festival of international yachting and watersports" of the year, are devoted to the diving and watersports market in an attempt to aggressively target the 25 to 40 demographic. Judging by the amount of cargo-shorted and hoodied punters stalking the halls, it seems to be paying off. "The exhibitors have told me that we're definitely getting younger people in," says Jungmichel, "and that they're also incredibly well-informed."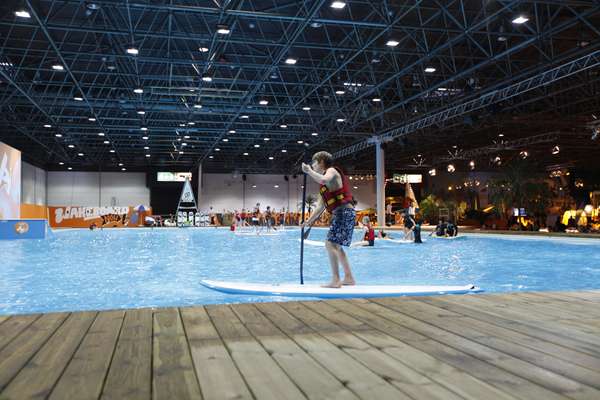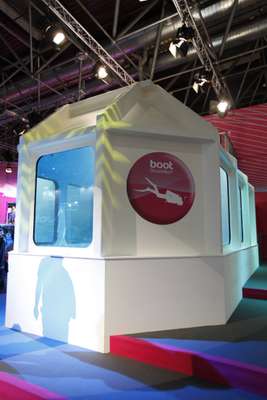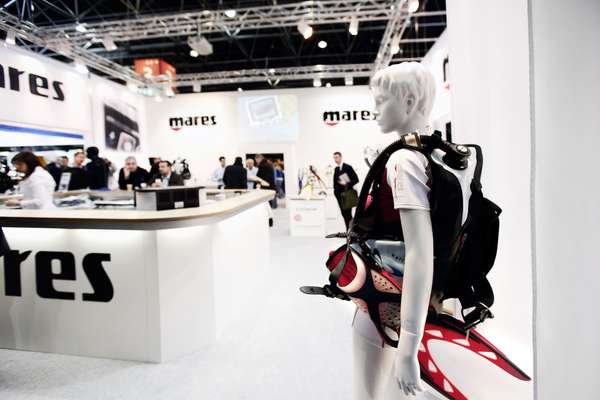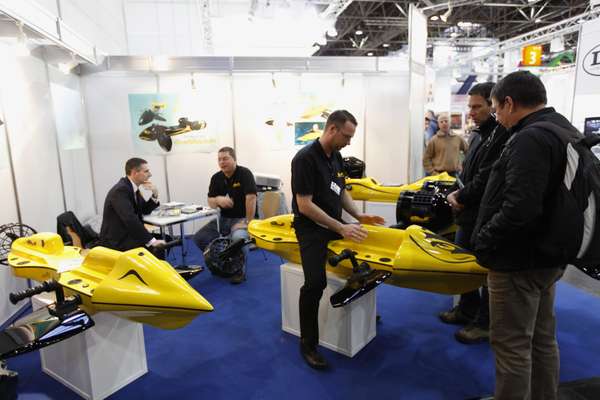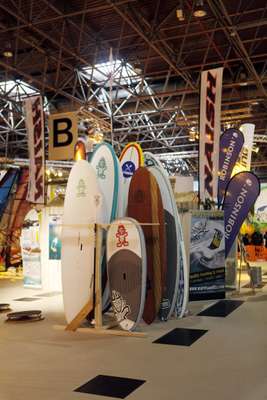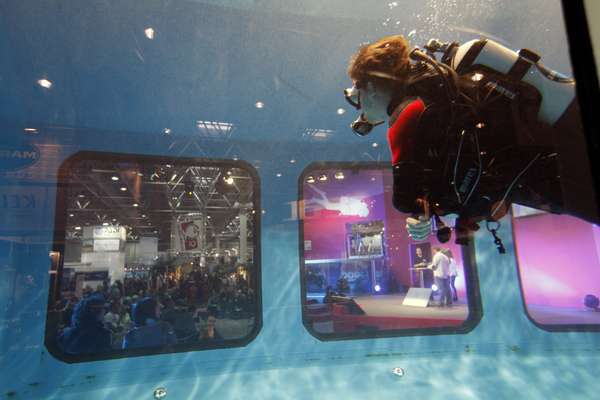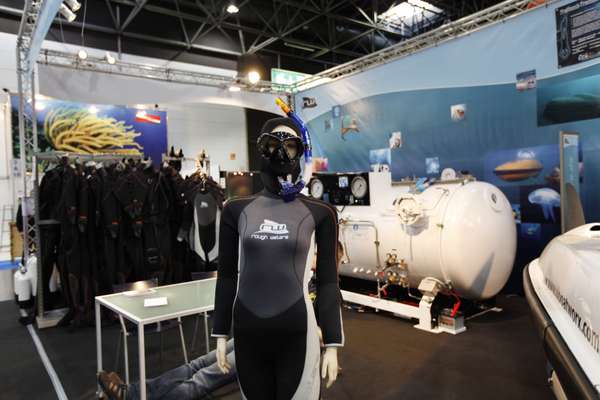 This is the sector that the diving market is trying to reach with its installations and boutique-style stands. Figures show that sales are recovering, after two or three sticky years. But people such as Werner Thomaier, head of Aqua Lung Germany, the diving company founded in 1943 by Jacques-Yves Cousteau and Émile Gagnan, want to take it forward. "We need to move the perception away from adventure and on to fashion and even part of a healthy lifestyle – in short, make it more sexy," he says. "For instance, 80 per cent of German divers travelling to dive sites are renting their material when they arrive. So last year we developed a Pack'n'Dive set that weighs only 9kg and that can be stowed as cabin baggage. We need to emphasise innovation and quality."
The Italian company Mares, a division of sports giant Head, has the most eye-catching stand in the diving hall. Its super-light suits, jackets and accessories – including the X Stream fin, recipient of a Red Dot design award last year – are displayed on suspended silver mannequins, and visitors are encouraged to get up close and personal, handling the merchandise and seeing it in action on iPad presentations. "We want to demystify diving," says Bernd Humberg, Mares' media director. "We want to refresh its image. Young people's imaginations aren't caught by it, and we're in competition with kite-surfing and a thousand other activities. On this stand, we're accentuating the comfort, the ease and the fun – and technical innovations are helping with that. Neoprene [rubber] is getting smoother and less cumbersome, so people can feel freer underwater."
Humberg would also like to see the promotion of more accessible diving destinations such as Ibiza, rather than "prestige" centres including the Maldives or Sharm El Sheikh (the latter already suffering under a double whammy of shark attacks and Egyptian political unrest).
It's a desire also shared by other exhibitors. Diverbike, for instance, a sort of underwater quad bike manufacturer from Leipzig, has promotional material showing extreme sport types whooping along seabeds perched on its flank. But they must all be casting envious eyes towards the neighbouring hall, housing Boot's "360-degrees Watersports Live" arena, and its giant pool, where hordes of those cherished 25 to 40 year-olds are getting hands- and feet-on experience of the latest trends, such as skimboarding – a skateboard without wheels that slides through water and flips over obstacles – and paddle-boarding, an innovation from Hawaiian company Starboard.
Innovation, according to Jungmichel, is making Boot 2011 a watershed year for an industry attempting to haul itself out of the dry dock and into open ocean. "There's been lively ordering and purch-asing in all sectors this year," he says, as the divers continue flinging their discs. "Everyone has made enough deals to be optimistic about the year ahead, and hopefully beyond."
Top three finds
1.
U-Boat Worx mini submarine
A personal submarine that's perfect for playing 20,000 leagues under the sea – well, 40 metres anyway.
2.
Mares' X Stream fins
This lightweight, adjustable, open-footed scuba fin won a 2010 Red Dot design award and exemplifies the diving industry's desire to shift its focus from the adventure to the lifestyle market.
3.
Diverbike's scooter
With speeds of 10 knots, built-in dive lights and a metal detector for treasure hunting – divers can now play underwater "Easy Rider".