UK / Global
One is not amused
Ahead of April's royal wedding, Monocle's second essay in our Scenarios series looks at the possibility of Britain becoming a republic and its impact on both state coffers and Brand Britain.
The helicopter dips and swerves as it swoops over Hyde Park before landing hastily on the roof of Buckingham Palace. Prince Harry slides open the door and jumps out to grab his grandmother's hand as the pilot, Prince William, keeps the engine running. The Queen, a bag full of crowns and dog food, clambers into the back, squeezing in next to a frightened Kate Middleton and a confused Prince Andrew. Half a dozen corgis jump in too, although Prince Philip, stubborn to the end, remains on the roof muttering something about "not giving in to the riff raff". As the helicopter, staggering under the weight, rises unsteadily, the gates of Buckingham Palace finally rip apart and the 100,000-strong crowd that has been gathered in the park for the last two weeks surges in.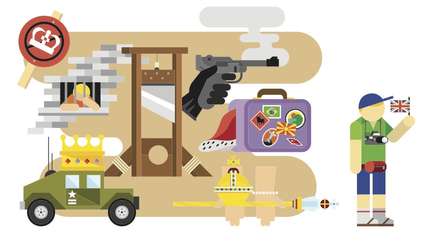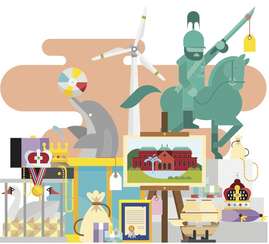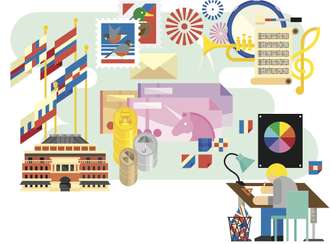 Unfortunately for the likes of Sky News images like this are likely to remain the preserve of republicans' dreams. If the British monarchy ever comes to an end, it is likely to be in a far more understated, far more structured, far more British way than in other parts of the world. "It could only happen by legislation," says constitutional expert Adam Tomkins, a professor of law at the University of Glasgow. "There would need to be a government which decides it's in the national interest to abolish the monarchy."
The chances of that happening, even under a future Labour government more left-wing than those of Tony Blair and Gordon Brown, are remote. Huge powers are invested in the Crown, but those powers are almost all now exercised by the prime minister. Were Britain to become a republic, they would almost certainly be diluted. "No prime minster would want to do it," says Tomkins. "Even if we had an idiot as king that was bringing Britain into disrepute, the government still wouldn't want to do it."
The current royal family can trace its roots back to 1066. But aside from a brief exercise in republicanism in the 1600s – which ended when Oliver Cromwell tried to start his own dynasty – the closest Britons have come to becoming citizens rather than subjects followed the death of Princess Diana in 1997. The subsequent outpouring of public grief turned into anger towards the royals. Opinion polls put support for the monarchy at an all-time low. But perhaps wary of the uncertainties that overseeing the demise of the monarchy might bring, Blair stepped in to save the monarchy from itself, encouraging the Queen to make a return to London from Balmoral and speak to the nation.
One of the biggest barriers to republican campaigners is the fact that even the most ardent anti-monarchist actually rather likes the Queen. Whether Prince Charles will be able to rely upon the same level of support is open to question. But perhaps republicans could turn this to their advantage, proposing a compromise that would suit all sides. If Britain had a president it would need to be a unifying figure. Someone who is above politics, loved by all and has the diplomatic skills needed to say the right thing to the Saudi king over dinner. President Elizabeth Windsor would probably be rather good. And she would be unlikely to be replaced by her son.
Past examples: lessons from history
While any transition of power from monarchy to republic in the UK would no doubt be a peaceful, ordered affair, a trawl through the history books shows that monarchs have in the past been toppled in a range of unsavoury ways, from execution and murder to military coup and enforced exile. Not that we'd wish any of the above on HRH of course
Execution
Louis XVI of France was guillotined in 1793, Maximilian I of Mexico faced a firing squad in 1867, and Britain has also got involved, beheading Charles I in 1649. Hard to picture a repeat and gains for tourism would be short-term at best.
Murder
Again, there are British precedents – Edward II (1327), Edward V (1483) and James I of Scotland (1437). And it's not uncommon generally, as the ghosts of Nicholas II of Russia (1918), Alexander I of Yugoslavia (1934), Abdullah I of Jordan (1951), Faisal II of Iraq (1958) and Birendra of Nepal (2001) might attest. Not to be encouraged.
Military coup
Armies sometimes unhorse their own commanders-in-chief. It happened to Idris I of Libya (1969), Haile Selassie I of Ethiopia (1974) and more 19th century French monarchs than there is room to list. Britain's chief of the defence staff, General Sir David Richards, doesn't seem like the type for there to be any risk of a repeat.
Abdication
Britain hosted history's most famous abdication in 1936, when Edward VIII stood down. Others who have handed in the orb and sceptre voluntarily include Constantine I of Greece (1917), Carol II of Romania (1925), Juliana of the Netherlands (1980) and Jean of Luxembourg (2000). It might prove difficult to imagine Charles III signing up to leave his post without any fuss.
Exile
In recent history, those taking an interest in their kingdoms from abroad include Kigeli V of Rwanda, Alexander of Serbia, the Shah of Iran and Constantine II of Greece. This can end happily: Simeon II of Bulgaria, exiled in 1946 aged nine, went home in 1996 and became prime minister in 2001.
Jail
Britain boasts the most famous royal prison on earth – the Tower of London, home at various points to the Duke of Clarence, King John Balliol of Scotland, Edward V, Lady Jane Grey, two wives of Henry VIII and sundry treacherous nobility. There are rooms available.
Abolition
England's previous experiment with republicanism (1649-1660) didn't last, but abolished monarchies tend to stay abolished. Already in the 21st century, Samoa and Nepal have done away with theirs. Might Britain be next? — am
Cash flow:
Royals by numbers
The royals might pull in tourists but this could feasibly increase with a republic. And no more taxpayers bankrolling garden parties either
Visits to Britain's monarchic sites bring in around £500m a year, according to Visit Britain. Arguably more would come in if Britain was a republic – Buckingham Palace would be permanently open to the public for a start.
Each year the Prince of Wales's charity, the Prince's Trust, gives grants to young people trying to start businesses or return to education. The £40m annual running costs are raised through private donations.
The royal family receives around £14m a year from the taxpayer, although the Queen's spending will have to fall by 14 per cent next year as the government's cuts take effect.
Every summer the Queen invites the great and the good to dozens of garden parties at Buckingham Palace. Embossed invites and an endless supply of Battenberg cake don't come for free you know.
Crown estate: how much are they worth?
From swans to duchies, the monarchy owns vast swathes of the United Kingdom. Selling off royal residences, an impressive art collection and the Crown Jewels could help swell depleted coffers still struggling to recover from the economic downturn. Below we look at how much the royal family is worth and how a republic might profit from these assets
A few months after the execution of Charles I, one of the world's most bizarre auctions took place at London's Somerset House. Over the previous three decades, the King of England had built up one of the most impressive art collections in the land, including pieces by Leonardo da Vinci, Raphael and Michelangelo. The birth of the British republic in 1649 was marked by a sale of the late king's goods – recorded in a book of the same name by historian Jerry Brotton. The money it raised helped to fill the coffers of the new republic, which were much-depleted after the civil war.
Any repeat sale would also be rather lucrative. The current royal family has an equally impressive haul of art works – not that many of the Queen's subjects get to see them. Some 7,000 paintings, 30,000 drawings and watercolours, and roughly half a million prints are in the royal collection, but almost all hidden away from the public.
Most of the Crown Jewels and the various palaces would probably be taken over by the state (although depending on how smooth the transition is from monarchy to republic, the Queen may be allowed to keep Balmoral or Windsor). But the second Great British Monarchy sell-off would include a few rather unexpected items. Thanks to an arcane ruling, the Queen is allowed to take ownership of any swan on the Thames and its tributaries. And it's not just swans. The Queen also owns all the sturgeon, whales and dolphins in the seas surrounding the UK.
As if sealife wasn't enough, the Crown Estate also owns the seabed, something which even manages to earn the royal family extra cash. A proposed expansion of offshore windfarms is set to bring in up to £37.5m (€44m) a year.
The royal family would mourn the loss of their belongings, but just as there is precedent for a sale, history suggests they could one day get most of it back. When Charles II ousted Cromwell and reclaimed the throne in 1660, he sought to rebuild his father's collection. A combination of loyalty to the throne and threatening "repo" men ensured that most of it was returned. — sb
The future: What they did next
A hypothetical look at what the deposed royals might get up to if they became mere mortals
Queen Elizabeth II
Retirement
After nearly six decades of indefatigable service, she deserves a quiet retirement, free of ribbon-cutting interest-feigning.
The Duke of Edinburgh
Ambassador
Robust and forthright as ever as his 90th birthday looms, Prince Philip would rise well to a new challenge. Ambassador to the UN?
His diligence would be well suited to becoming chief curator of a museum devoted to the bygone British monarchy.
Prince William
Air force pilot
Would be of more practical use to his country staying at the controls of a RAF rescue helicopter than occupying Buckingham Palace.
A lieutenant in the Blues & Royals, he has completed a tour of Afghanistan. Lifting his royal status would free him to pursue his vocation.
The Duke of York
Sales representative
If born a commoner, Prince Andrew might have done tolerably well as a sales representative for a manufacturer of golf bags.
The Earl of Wessex
TV producer
A return to television production seems in order for Prince Edward, as the broadcast of intelligence-insulting tat rises.
The Princess Royal
Charity worker
Princess Anne works for more than 200 charities and is helping organise the 2012 Olympics. She is capable of making a living. — am
Brand Britain: Rethinking 'the UK'
In republican Britain all mentions of majesty, royalty and kingdom would need to be removed, which means a radical rebranding exercise. Renaming the postal service – among other institutions – and reminting coins without the Queen's effigy are musts. A hard task, perhaps, but great news for graphic designers and branding agencies
All mentions of the United Kingdom would be banished and although "Great Britain" would continue to be used, republicans would want something that reflected the nation's new royal-free status. The Republic of Britain – RoB for short – would do the trick. Residents of these isles would start to be known as Robbers and visitors to London could look forward to the full Robber experience. No change there then.
The British national anthem, "God Save the Queen", would have to go ("God Save the President and Prime Minister Too" just doesn't scan). This isn't such a bad thing: nobody seems to have learnt more than the first verse. Other popular songs – especially among the English – such as "Land of Hope and Glory" have royalist tinges too, so they would not work as substitutes. Composer Andrew Lloyd Webber could be appointed the nation's new master of music and be charged with writing a new national song and coming up with words that rhyme with those key British characteristics "feral youth", "obese" and "rain". Actually, "Long to rain over us" could be a good place to start with a song for these soggy isles. Or, ironically, Queen's "We Are The Champions" would do nicely.
Her Majesty gives Britons a sideways glance from bank notes and a disinterested glint from coins. Stripped from the coinage she would leave some prime real estate to fill. Who should go in her place? A panoply of former leaders in the style of the US dollar? It might not go down well in former mining communities handing over a £10 note with Margaret Thatcher's bouffanted head on it. Animals are always an option but a squirrel and a bunny would look forlorn next to, say, South Africa's rand notes adorned with their lions and elephants. Perhaps a braver solution would be to allow British artists to use the space as a showcase for their work. A Damien Hirst unicorn in formaldehyde anyone?
The British postal system is proud of its links to the monarchy, calling itself the Royal Mail. And all of its stamps include a head image of the Queen. But apart from renaming the institution, this would be a simpler piece of rebranding as the stamps are already more showcases for images likely to appeal to sentiment and collectors (releases for 2011 will include Thomas the Tank Engine, Birds of Britain and Musicals – you get the idea). In republican Britain, would we see rebel- rousing haikus and populist heroes take their place? Unlikely, let's be honest – people prefer cute robins to a red revolutionary any day.
Royal Albert Hall, Royal Ascot, Royal Command Performance, Royal Society for the Blind... there is going to be a lot of lucrative work around for branding agencies in the new Britain. With new corporate logos often costing several hundred thousand euros, at least graphic designers will be well fed in RoB.