Japan's supermarket trade show / Tokyo
Tills and Thrills
From futuristic cash-register technology to staff trained as vegetable sommeliers to exhibitors promoting their concoctions, Japan's Supermarket Trade Show had the highest turnout yet and offers new ideas for an increasingly competitive industry.
It's a weekday afternoon in February and men and women in dark business suits gather near five cash-register stations at one end of a cavernous convention hall in Tokyo. As music blares out, a woman wearing a white trouser-suit and sporting a headset mic steps from behind a curtain, welcomes the audience, and proclaims, "At Teraoka, we are reinventing cash-register technology and leading a checkout revolution."
Checkout revolution isn't a phrase that's likely to get the ordinary shopper's pulse racing, but it's a big crowd-pleaser at Japan's Supermarket Trade Show. This year's show is the 45th, and there isn't a manager or product buyer in the €150bn industry who would dare skip it. For three days, they arrive at Tokyo Big Sight (a convention centre) from all over the archipelago on a mission to discover the next big idea or must-have product.
The expo covers every facet of the business and there's a mind-boggling ­variety on display. Technology companies unveil energy-efficient refrigerated cases. Plastics companies show off stackable food containers that take up little stockroom space. Food and drink makers dispatch staffers to dole out samples. Even railway operator JR East (East Japan Railway) has a stand ­advertising its pop-up markets filled with food from far-flung regions. Despite the sluggish economy, this year's turnout is expected to be the best yet: 1,127 exhibitors and more than 83,400 attendees, beating last year's record numbers. "Because the economy has been so bad, supermarkets have had to work harder to survive," says Masaki Miura, executive director of the New ­Supermarket Association of Japan (NSAJ), which organises the show.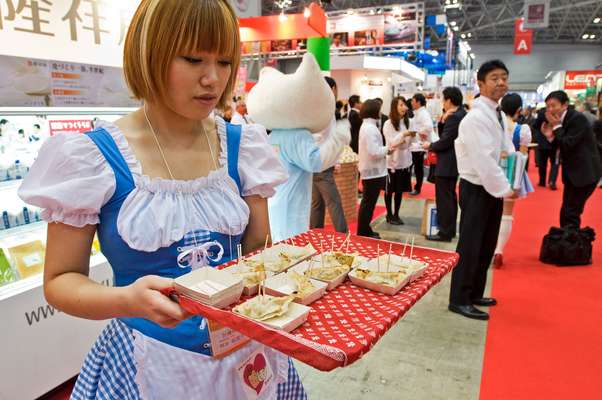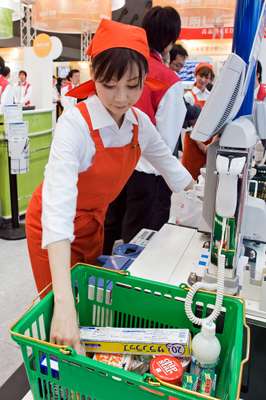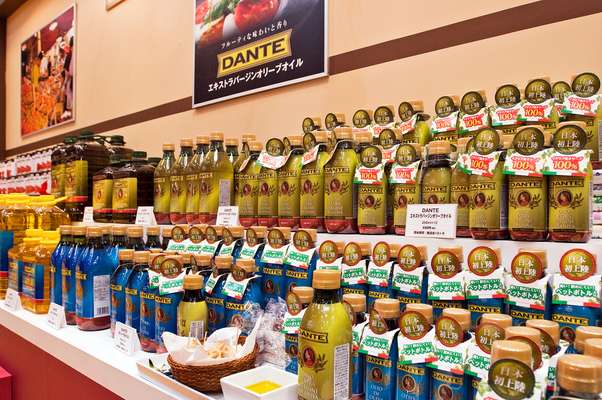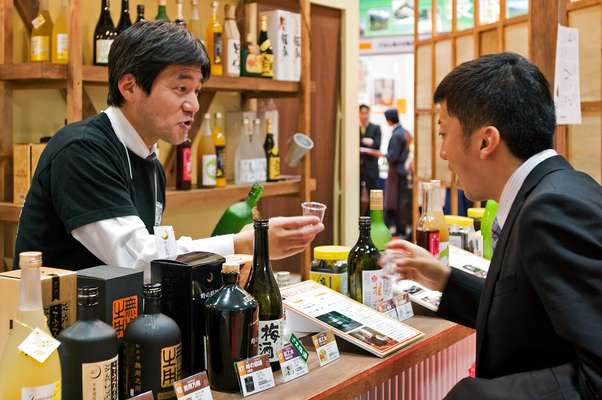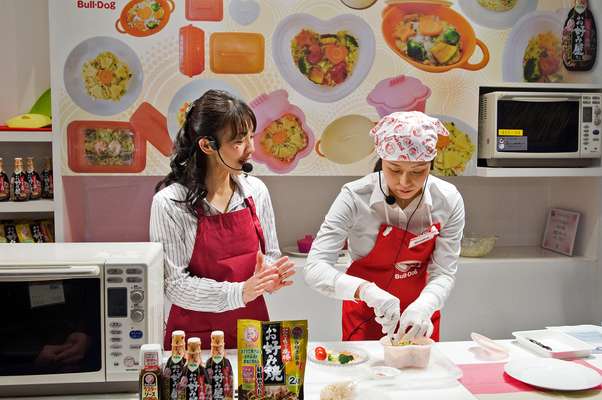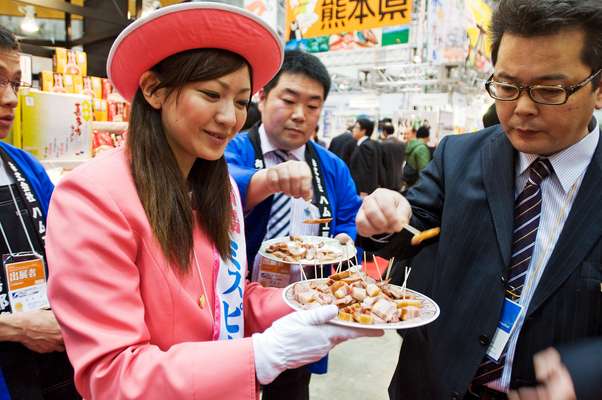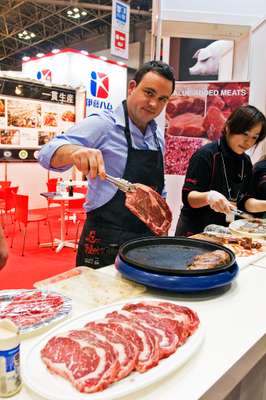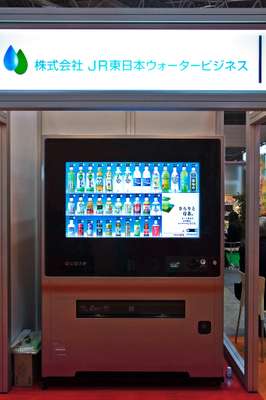 Japan is packed with grocery stores and supermarkets – more than 35,000, according to the four main industry ­organisations. Besides them, there are also thousands of convenience stores, train-station mini-marts, farmers' markets and local butchers and tofu shops, so the competition is intense. Recently, domestic supermarket sales have been improving but the long-term outlook remains bleak and that has taken its toll. Aeon, Ito-Yokado and other big chains have been retreating from all but the largest cities in Japan as they regroup for expansion into other Asian markets. Their flight has left isolated communities of "kaimono nanmin" – residents who have no nearby grocery stores.
It has also set off a turf war among the small fry. The most popular strategy for gaining an edge is to find the right mix of low-cost store-brand staples and pricier delicacies from faraway prefectures. That explains why the food stands are the show's busiest. It seems every local farm, fisheries cooperative, tiny sauce maker and beverage company has come with hopes of being discovered and taken on by a national chain.
As in past years, there aren't many overseas brands. The US and Polish ­embassies have stands and some Italian-food importers are lumped together nearby. Such a small foreign presence is no accident. Getting a product on the shelves of Japan's supermarkets means relying on a byzantine system of middlemen, known as "tonya", who have a traditional lock on the supply chain. Few would risk crossing them. "We would refuse to send our products to any super- market that won't use the tonya," says one man at a stand for Ikejima green-tea-flavoured soba noodles, from Shizuoka.
There are other obstacles. Japanese law not only stipulates what goes on the labels but also the font size. "It's not easy to fit all of the required information, in 8-point font, on to the label of a skinny 250ml bottle," says Masoud Sobhani, of Persian Palace, a Kobe-based importer of California Olive Ranch olive oil.
This being Japan, technology is a big part of the show, and companies such as Teraoka, Toshiba and Panasonic have huge stands. One of the most popular is Fuji Electric's mock-up of a futuristic supermarket. Inside, refrigerated cases sport motion sensors that automatically dim and brighten LED lights, and herbs and leafy vegetables grow hydroponically in glass-doored cabinets. "We can offer the whole system but right now it's just a prototype," says Yoshihiro Kobayashi, a Fuji Electric employee. Some peddle more people-centric solutions. Keiji Hoshina, a hale 63-year-old, represents the Dry Food Association of Japan. He has little more than a poster and a stack of brochures but what Hoshina lacks in visuals he makes up for with enthusiasm. At the sight of a visitor he launches into a spiel about his group's aim to create "dry food maestros".
For €500, students get a crash course in dried kelp, bonito, and daikon radish and are certified as experts. In future, the association has plans for intermediate and advanced classes. "Having a maestro on staff is a good way for a supermarket to offer consumers personalised services," says Hoshina.
Hoshina's view is echoed by other groups that train vegetable "sommeliers" and cash-register "meisters". The New Supermarket Association of Japan offers courses for cashiers to learn the proper way to talk to customers and techniques to ring up customers' purchases faster. "Ultimately, you can tell a good supermarket from a bad one by the cashiers," says the NSAJ's Miura.
Treasure aisles: Highlights of the show
Cash registers
Teraoka and Toshiba's cash registers are contenders for best in show. Both companies split the machine into two: cashiers scan at one station but shoppers pay at separate self-service machines, so someone fishing around in a purse for exact change won't hold up the queue. 
Vegetables
Most supermarkets carry a familiar selection of leafy greens and root vegetables. But a group of Japanese growers, called the Society to Protect Traditional Vegetables, specialises in native varietals such as pale-orange Aizu pumpkins from Fukushima.  
"Kodawari" food fair
The tightly packed booths, a jumble of products and endless free samples give this area the air of a chaotic outdoor market. Offerings are unusual – one favourite was a kabosu-flavoured tofu ice cream from Oita. 
Futuremarket
Cleantech is the focus of Fuji Electric's supermarket of the future. Solar panels and wind turbines generate electricity, charging stations refuel electric cars.  
Smart vending machines
JR East Water Business introduced the first of its touch-screen vending machines at train stations in Tokyo last August. Designed in collaboration with Design Studio S, these sense your approach, guess your age and sex, and then recommend drinks.