Drinks trolley / Global
All mixed up
From the perfect Martini to the best nibbles, plus something to read while sipping your sundowner, the Monocle drinks trolley is well stocked and ready for cocktail hour.
Monocle's guide to both practical and whimsical drinking literature.
Indispensable to the modern barman, this guide covers over 2,800 cocktails. With new editions every 18 months, content spans an encyclopaedic range of drink-related topics, from the basics of shaking, stirring and straining, to glassware selection and garnish preparation.
Everyday Drinking
Kingsley Amis
Bedtime-reading for the "true-drink man", a phrase coined by Amis to describe the ardent imbiber. From the cracking hangover to bar accessories, all topics alcohol-related are up for a humorous and anecdotal scrutiny.



The Fine Art of Mixing Drinks
David A Embury
An authoritative companion of bartenders since its publication in 1948. Six hundred singularly categorised cocktails are interspersed with witty and often lengthy drinks-related diatribes that form a deeply idiosyncratic collection of recipes.
First published in 1930, the 750 original recipes in this definitive book were compiled by Harry Craddock, the legendary barman at the Savoy Hotel's American Bar who popularised the Dry Martini.
---
Origin: Created in 1894 at the New York Waldorf Astoria Hotel, and named after the Scottish folk hero Robert Roy MacGregor.
Recipe: Stir two shots of Caol Ila 12yr Scotch whisky; 1 shot of Carpano Antica Vermouth, 1/8th of a shot of Toby's Cherry Juice; dashes of Jerry Thomas Decanter Bitters and Peychaud's Bitters. From Death and Company, New York
Origin: Said to have evolved from the Manhattan via a sweet drink based on Flemish Jenever (see p199) with sweet Vermouth, Curaçao and orange bitters. Recipe: Pour 5ml of Cocchi Americano, 10ml of Martini (white) and 70ml Tanqueray gin into a jug with ice. Stir gently so ice melts, then pour into a frozen glass and mix. From Rules restaurant bar, London
Origin: Referred to as the Disgruntled Journalist, this cocktail was the favourite of journalists working for American newspaper man William Randolph Hearst. Recipe: Stir 40ml of Beefeater 24, 40ml of Carpano Classico, one dash of Gary Reagan's Orange Bitters and one dash of Angostura Bitters. From Nobis Hotel, Stockholm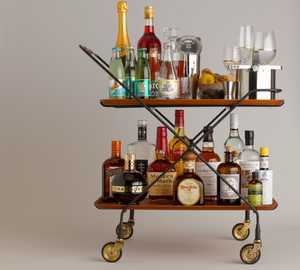 Krug Champagne
krug.fr
Campari 
campari.com
Theresienthal "Roland" carafe and whisky tumbler
theresienthal.de
Alessi shaker and strainer
alessi.com
"Roland" bowls by Theresienthal
"Soji" bowl by Mute
mu-te.com
Olive wood lemon squeezer by David Mellor
davidmellor.com
Alessi cocktail measure
"Prestige" glasses by Theresienthal
theresienthal.de
Stelton bucket and tongs by Arne Jacobsen
skandium.com
Schweppes bitter lemon
schweppes.com
Fever Tree tonic water
fevertree.com
Schweppes ginger ale
Big Tom tomato juice
bigtom.co.uk
Vichy Catalan soda water
vichycatalan.com
Cointreau orange liqueur
citybeverage.co.uk
Chambord – Black Raspberry Liqueur
chambordonline.com
Potocki vodka
potockivodka.com
Maker's Mark Bourbon
makersmark.com
Goslings Gold Bermuda Rum
goslingsrum.com
Don Julio Tequila
donjulio.com
The Balvenie Single Malt Whisky (30 years aged)
thebalvenie.com
Monkey 47 Gin
monkey47.com
Bacardi Superior Rum
bacardi.com
Sipsmith Vodka
sipsmith.com
Angostura bitters
angostura.com
Adam Elmegirabs Dandelion & Burdock bitters
bokersbitters.co.uk
Tea trolley from LuLu Bright
lulubright.co.uk
Roland carafe and tumblers by Theresienthal
theresienthal.de
Tray and bowls by Puiforcat
puiforcat.com
"Soji" bowl by Mute
mu-te.com
Olive wood lemon squeezer by David Mellor
davidmellordesign.com
Stelton Martini mixer with mixer spoon and ice bucket with tongs by Arne Jacobsen
skandium.com
"Prestige" tumblers by Theresienthal
theresienthal.de
Coasters by El Casco
el-casco.com
Wine & Bar bottle opener, corkscrew, foil cutter
normann-copenhagen.com
Bowl by Theresienthal
theresienthal.de
Alessi cocktail measure
alessi.com
Q&A
Tony Conigliaro
Bartender and co-owner
69 Colebrooke Row, London
What makes the perfect drinks trolley?
Good ice is really important and the clearer the better. The purer the water, the slower it melts, which means it's better for shaking. The point of a drinks trolley is to get the drink to the customer as cold and as quickly as possible.
What do you need to get started?
Key spirits such as vodka, gin, rum, tequila, whisky and Angostura bitters and a good selection of mixers. A good ice bucket and a lemon presser so you can make fresh lemons for a Tom Collins too.
69colebrookerow.com