Emergency housing / Japan
Making shelter
An association of housing manufacturers and builders is providing prefabricated homes for people in the areas worst hit by Japan's tsunami and earthquake. Monocle visits Rikuzen-Takata, where over a third of the town needs shelter.
Rikuzen-Takata was once a picturesque fishing town, a popular if offbeat stop on the tourist trail boasting a 900-year-old festival of floats and a coastline bathed in the azure-blue Pacific waters. Today it exists only in name. The muddy deluge of 11 March has torn the town from its roots, leaving a gaping wound of smashed cars, pulverised wooden houses and twisted metal girders. Car navigation systems still direct visitors to the post office and the local government building, which are no longer there.
Mayor Futoshi Toba surveys the ruins from his makeshift offices in Disaster HQ on a hill above the town. The day before our interview he asked the central government to fix the telephone network. "People can't locate their families," he says. "And the refugees are spread out over 80 different sites and aren't able to communicate with each other or tell us what they need. If they run out of water or toilet roll or blankets, we have no way to know." Mayor Toba is, by his own admission, running on empty. His wife is among the missing. Yet he must somehow keep this battered community running.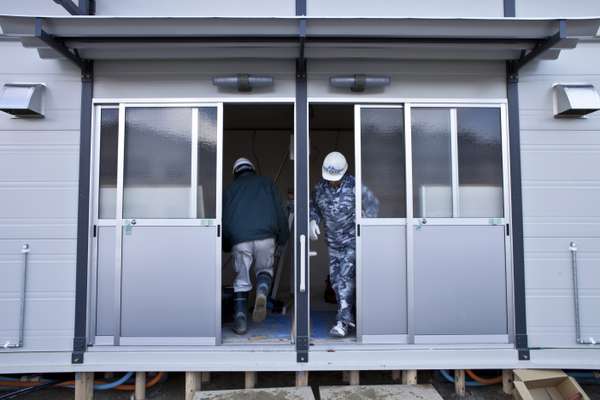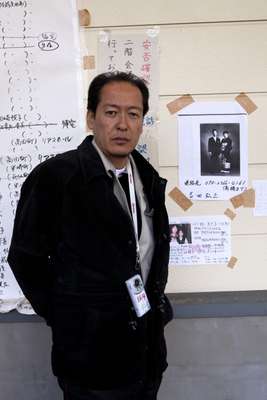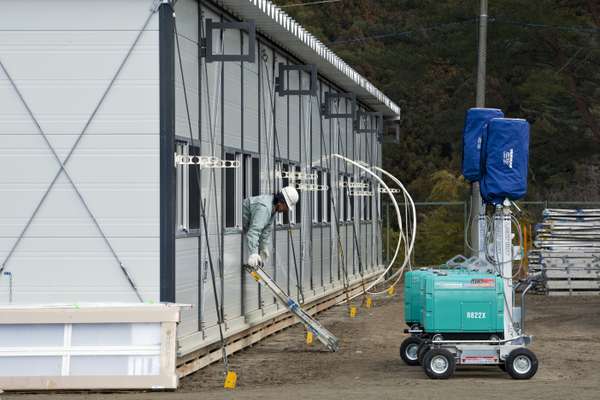 The logistics are forbidding, the human suffering overwhelming. Of the roughly 23,000 people who lived in this town before the earthquake and tsunami, at the time of going to press 2,400 are dead or presumed so. Over 3,600 buildings were swept away, including many apartment blocks; half the rest are partially or irreparably damaged, leaving over a third of the townspeople homeless. The tragedy is replicated across the northeast, where thousands of refugees still sleep on the floors of school gymnasiums and community centres. Around 400 of Rikuzen-Takata's homeless can be found in the Daiichi Junior High School a few hundred metres from Toba's office. Many have lost loved ones and few have insurance to rebuild. "It's hard to see the future," says Chio Okamoto, 78, who squats on a futon, reading a newspaper and shivering in the cold.
But in front of the school, the future is already being rebuilt. A hard-hat army has erected 36 temporary houses at astonishing speed, the first of 200 in this town. Eventually, there will be 40,000 of the 30 sq m prefabricated buildings all across the three hardest-hit prefectures of Miyagi, Fukushima and Iwate. Each will have two rooms, with a kitchen and a bath, air conditioners/heaters and gas cookers. "We got the go-ahead to build on 19 March and were told to move quickly," says a spokesman for contractor Daiwa House.
Japan's Prefabricated Construction Suppliers and Manufacturers Association heads the effort, contracting out building to its biggest members, Daiwa, Sekisui House and Misawa Homes. The oldest maker of prefab houses in Japan, Daiwa ships the steel and wood frames to building sites in crates and labourers bolt them together. Local contractors bring gas, water and electricity to the houses. From start to finish, construction takes about two weeks. The houses are engineered to be warm, and quake proof.
But who will be the ones fortunate to get in? Toba explains the agonising calculus of allocating a precious but scare resource. The elderly, the physically disabled and women with children will be assigned the first half batch of houses, the rest will be chosen by lottery. Some pensioners may have to wait for months. "I'm by myself, so I imagine I'll be last in line," frets 75-year-old Tami Konno who has no children and was widowed years ago. Even mothers face rationing. "My children are older – 15 and 20," says a tearful Yurie Sasaki, who lost both ­parents and a brother to the tsunami. "I hear that mums with younger children will go first."
The construction workers are caught in a race against time. The local government must return the Daiichi School to its children for the start of term. The refugees will be bussed out to hotels, inns, hot spring resorts and anywhere else that will take them. Communities will be pulled apart, children will be separated from friends, old people are likely to become ill and die under the strain. "There are no easy answers," says mayor Toba. "Everyone is trying their best. We just all have to pull together until we see some light."
The day after the earthquake and tsunami, the Japan Prefabricated Construction Suppliers and Manufacturers Association was already taking orders for prefab homes from the worst affected areas: 10,000 for Miyagi Prefecture, 8,800 for Iwate and 14,000 for Fukushima. They also received orders for a small number of houses directly from two towns, Rikuzen-Takata in Iwate and Kunimi in Fukushima, and started building those shortly after.
The Ministry of Land, Infrastructure, Transport and Tourism has been collaborating with the 14 housing manufacturers and builders who make up the Association, asking the companies for their cooperation just three days after the quake. Although the Association had drilled for emergencies, there have been many complications and logistical challenges, including inaccessible locations and fuel scarcity. Plans have inevitably been delayed. "We're up against it with time and getting our hands on the materials," says the Association's PR Kazuo Shimazu.