BaselWorld watch fair / Basel
One to watch
The BaselWorld watch fair is ticking over nicely. With watchmakers posting healthy profits, everything from jewel-encrusted timepieces to golden age classics are on display. And the trade chatter? Chinese and Brazilian markets.
Taking place just over a week after the devastating earthquake in Japan, and little more than a month after political revolution swept eastwards across North Africa and the Middle East – crucial markets for the horological industry – many expected this year's BaselWorld watch fair to be a lacklustre one. But initial fears were proved wrong with around 100,000 visitors descending on the Swiss town and 627 watchmakers attending the week-long event. The outlook of the luxury sector looked largely positive.
"Obviously we have constraints because of the high price of gold, which is a reaction to the turmoil in the Middle East. Plus now Japan," says Caroline Gruosi-Scheufele, co-president of watch and jewellery brand Chopard. "In general, though, I think it's a much better outlook."
Gruosi-Scheufele is sat in the wood-panelled bar in the company's magnificent showroom at the Messe exhibition space in Basel. Entering the main hall – set for a CHF430m (€330m) refurbishment by Herzog & de Meuron, starting later this year – the three-storey-high "booths" owned by the major brands are dwarfing. Chopard, Rolex and Patek Philippe keep these homes standing all year round – it's cheaper to pay for a useless 51 weeks-worth of rent than it is to dismantle them.
That expense shouldn't be too hard to shoulder – the industry is currently just 6 per cent away from its pre- recession sales level, with a growth rate of 22.1 per cent year-on-year in 2010. With figures for this January equally positive (it was the Swatch Group's fourth-best month ever), the year ahead looks auspicious. "In general I would say we are quite optimistic," says Lars Hannibal, buyer for Swiss watch retailer Hannibal. "In Switzerland, I think we are more or less stable now."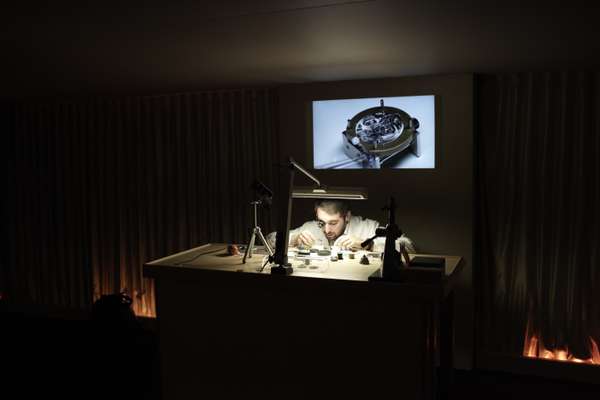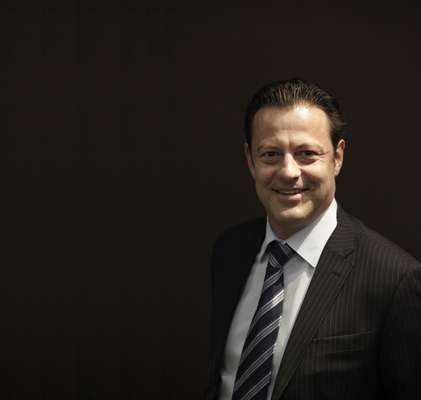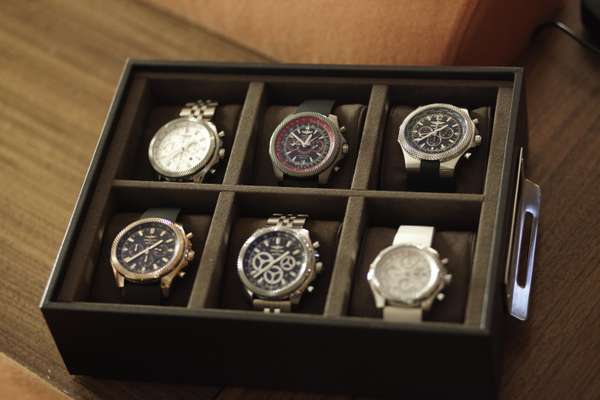 Despite the promising outlook, many brands at BaselWorld were happier looking backwards, creatively at least. A return to the golden age of watchmaking was a key theme at this year's fair. Similarly, many of the brands used craft – and not celebrity – in their marketing campaigns.
This drive towards creative nostalgia was met with some ambivalence. "The trend for over-the-top, big black engines peaked in 2008: there was a gold rush of people losing the plot," says Christoph Behling, one of the design team at TAG Heuer. "Though I'm glad vulgarity has ended; we need diversity now."
TAG certainly provided that – showcasing the Mikrotimer Flying 1,000, with a central hand that can make a speedy 10 rotations per second. Similarly headline-grabbing was Hublot, presenting a showpiece version of its covetable Big Bang model: worth €2m, it was dripping in 637 baguette diamonds.
Vanity projects such as these were few and far between. The creative field at Basel seemed strikingly level this year, but there were still a few upstarts showing their wares. Antoine Martin is the long-awaited new brand from watchmaker Martin Braun, whose self-titled, Franck Muller-owned label went under in the recession. With a starting price of CHF25,000 (€19,000), the watchmaker is aiming high.
"Basel is the starting point for any new brand," says Antoine Martin CEO Bruno Jufer, whose CV includes stints at Maurice Lacroix, Zenith and Carl F Bucherer. "The runway is ready, the aeroplane is ready. Now we start to fly."
As the watch industry becomes increasingly reliant on China – insiders suggest more than 30 per cent of Swiss watch exports head east – it's never been more difficult for a virgin brand to take off. Chinese tastes are famously play-it-safe, and are geared towards big, bankable brand names. "The Chinese will buy what is the same. They want the 'me too'. They are not secure enough in their own tastes," says Jean-Claude Biver, the engaging CEO of Hublot.
Biver goes on to announce the market many at the fair predict will soon be the next big thing: Brazil. "South Americans are different. They love watches and they will buy what is different," he says. "They will come to be very important. We are starting a new world."
As the watch market continues to level out, Switzerland remains very much at the core, with BaselWorld its beating heart. "Our world in the end will be very flat," declares Jean-Paul Girardin, vice-president at Breitling.
Rolex
Yacht-master II, 44mm
In 18 carat everose gold – Rolex's own compound – with distinctive blue Cerachrom bezel
Chanel
J12 Chromatic
Set in scratch-resistant titanium ceramic
Patek Philippe
Ref 5208, 42mm
The brand's first "triple complication"
Bell & Ross
Vintage WW1, 45mm
The pocketwatch style sums up the nostalgic mood at Basel this year.
The Hour Glass, Singapore's leading watch retailer, stands firm behind stalwarts such as Rolex, Patek Philippe and Hublot but never stops innovating its shopping experience. This spring, the firm launched Malmaison, a two-floor space in Singapore's Knightsbridge, where customers can browse the best timepieces and a selection of brands such as menswear by Charvet, Cire Trudon candles and Taschen books.
"We've noticed a global mushrooming of luxury brand boutiques. Whether you go to Pudong, Singapore, Paris, Hong Kong, London or New York, every luxury store essentially replicates the retail experience wherever you are around the world. For the global traveller, that's pretty dull. We wanted to create a project that decried that," says Michael Tay, executive director of The Hour Glass, who took over the reins of the business from his parents six years ago.
Having opened the first Hour Glass shop in 1979, the Tays today operate 24 boutiques across six countries in the Asia-Pacific region.
thehourglass.com