Briefing / Oceania
Oceania
Briefing
A round-up of news from the Pacific islands, plus the election in Palau and New Zealand's hunt for diplomats.
NEWS FROM ISLANDS
Pacific specifics
Oceania [island life]
In Vanuatu, charges are pending against a government minister for allegedly orchestrating an assault on a newspaper publisher. Harry Iauko, the public utilities minister, is accused of having led a group into the Port Vila offices of the Daily Post and standing over publisher Marc Neil-Jones as he was beaten. Neil-Jones was assaulted two years previously by policemen unhappy with his newspaper's coverage.
In French Polynesia, meanwhile, pro-independence leader Oscar Temaru has been appointed president for the fifth time in seven years after a campaign to have the territory returned to the United Nations' decolonisation list. The country of 295,000 inhabitants is a semi-autonomous "overseas collectivity" of the French Republic. Temaru is proposing a referendum run under the auspices of the UN, with voting restricted to people of Polynesian descent, or those who have lived in the territory for 40 years. Critics say that the push for constitutional change will do nothing to address the country's more pressing economic crisis.
The growth of Chinese-run retail businesses continues to be a source of contention in the region, with Vanuatu announcing a halt on the issuing of new retail licences in response to concerns from indigenous business operators struggling to compete with Chinese-owned supermarkets. Similar sentiments expressed in Samoa have prompted complaints from the Chinese embassy, keenly aware that Chinese businesses have been targets in riots elsewhere in recent years.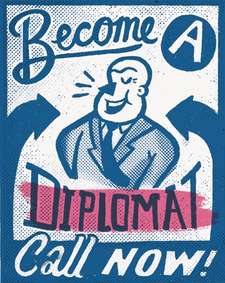 In Tonga, a New Zealander hired to reform the police force is facing a mutiny. More than a third of the country's 422 police officers have signed a petition protesting against changes introduced by police commissioner Chris Kelley. He was hired in 2008 to direct an ambitious reform programme, underwritten by Australia and New Zealand, intended to establish professional police standards in the kingdom.
---
We want you!
New Zealand — 
DIPLOMACY
Fancy being New Zealand's new high commissioner to Kiribati? Keen to extend the talent pool for the country's top diplomatic posts, New Zealand's foreign ministry has taken out newspaper advertisements in an effort to fill senior overseas postings."This is the most overt signal I have sent so far that heads of mission roles – ambassadors and high commissioners – are not the exclusive preserve of staff of the Ministry of Foreign Affairs," foreign minister Murray McCully says. The shake-up has drawn criticism from opposition MPs who fear the new policy will see the government's political cronies rewarded with plum appointments.
---
Till death do us part
The Cook Islands
The South Pacific archipelago has by far the highest rate of marriage in the world. More than 30 people in every 1,000 tie the knot on the islands every year. Sun, sea and sand must be a potent combination: Antigua, Seychelles and Bermuda also have high marriage rates.
---
Taking stock
Australia — 
FINANCE
Australia's rejection of an AU$8.3bn (€6.1bn) bid by the Singapore Exchange (SGX) to take over the Australian Securities Exchange (ASX) has raised questions over the country's attitude towards foreign investors. Deputy prime minister Wayne Swan says the move to create one of the world's largest stock exchanges is not in the national interest.
Walk this way
New Zealand — 
LEISURE
The deep connection many New Zealanders feel with their landscape is reflected in the enduring national passion for hiking, as practised by generations of notable Kiwis, including Sir Edmund Hillary. After 17 years of effort, a volunteer trust based in Auckland has succeeded in creating a continuous 3,000km walking track running the entire length of the country, from Cape Reinga to Bluff. Known as Te Araroa ("the long pathway"), the 120-day walk is expected to be a tourist drawcard, as well as encouraging a new generation of New Zealanders to take up hiking.
Date: 22 June
Issues: Casinos. The Pacific archipelago's 15,000 registered voters will decide whether casino gambling should be permitted. Proponents cite benefits to tourism but face powerful opposition. President Johnson Toribiong has vetoed one casino bill (his predecessor, Tommy Remengesau, also struck down a similar bill in 2002).
Monocle comment: The forces against casinos understand that Palau's reputation as a pristine haven would be threatened and that casinos are more likely to enrich foreign operators than Palau's people.