Urban planning / Global
Breaking the rules
The codes of good urban planning are common sense. But sometimes those rules are there to be broken and, as in these five examples, the results can work surprisingly well.
01
The best cities have a consistent style
Rule breaker: Tokyo
Tokyo's streets follow no masterplan or urban design blueprint. Its tangle of power lines overhead, neon signs, maze of backstreets and mishmash of architectural styles gives the city a chaotic appearance. Buildings are constantly being torn down and rebuilt. In some neighbourhoods, narrow, cobbled streets and wooden homes clash with towers of concrete and glass.
In Omotesando, for example, the Dior store, a glass-encased white box designed by SANAA, sits next to MVRDV's Gyre building, seven odd-shaped floors of shops and restaurants. Next to Gyre is a two-storey building with a Shakey's pizza shop.
One of the only planning laws is that buildings must be detached. During the Edo period residents lived in terraces of wooden homes. Fires were common and often put out by tearing down several rows of houses. Later, standalone buildings lowered the risk. "The space between buildings is a feature that architects who come to Tokyo notice," says architect Hideyuki Nakayama. "The gaps are often so small that only animals can fit between them."
Why it works: The clean break between buildings encourages experimentation and what some describe as chaotic or messy some see as being part of Tokyo's charm.
---
02
High-rise buildings are an eyesore, environmentally harmful and socially irresponsible
Rule breaker: Manhattan
With over 1.6 million people living on an island of only 61.3 sq km, the density and scale of Manhattan is often regarded as unsustainable. As the most densely packed borough of New York City, it's a frequent target for criticism. But surrounded by water and with a population that has grown 3 per cent in the past decade, building upwards rather than outwards is the only option.
Yet New York is a model of environmental responsibility. Per capita, the city emits a third of the amount of greenhouse gases than the US average, largely because over 80 per cent of Manhattan's residents travel to work on public transport, by bike or on foot. And 84 per cent of New Yorkers live within a 10-minute walk of green space. High-rise building solutions have allowed more people to live and work within a smaller area, increasing accessibility and decreasing each resident's carbon footprint. "We have always sought to exploit the potential of the high-rise," says Shohei Shigematsu, the head of OMA's New York office. "It works here on many levels, from climate to culture."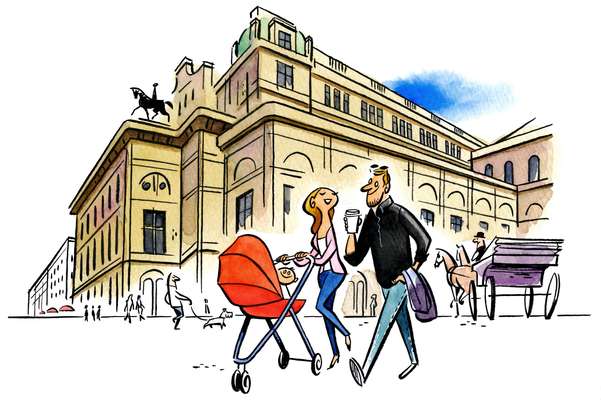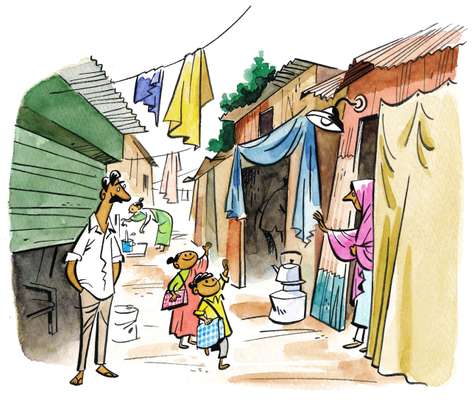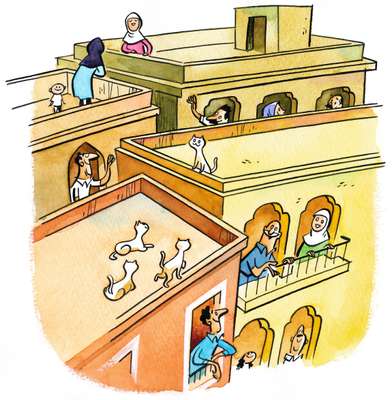 Why it works: A compact city and good transport network mean that New York is home to the highest number of households without a car in the US.
---
03
If the population falls, so does the quality of life
Rule breaker: Vienna
Most western European cities tend to be too tight for their current populations; as people move into urban zones, housing shortages are always high on any major municipality's list of problems. Vienna, on the other hand, was built for more people than it currently has.
At the height of the Austro-Hungarian Empire, the capital boomed in both power and population and by 1910 it was one of the world's largest cities, with 2 million residents. After the two world wars, however, the population dropped to 1.6 million and has grown little since. But Vienna also has a history of using its extra space well. After the monarchy fell, a strong socio-political agenda created ample state housing and other public facilities, such as baths, that still benefit the city and create a strong sense of community.
"Vienna has an imperial infrastructure and is in some ways a big museum – but it's also a city with great social freedom," says Sabine Dreher, co-founder of Liquid Frontiers, a local firm that produces architecture and design events. Despite the imperial scale, it feels cosy and charming, not imposing and empty. Vienna now has a population of 1.7 million and most districts outside the tourist centre feel well travelled but rarely crowded.
Vienna is also the world's only capital city with urban vineyards. "We've got lots of space and there's plenty of growth potential," says Dreher.
Why it works: When the population dropped suddenly, areas were quickly converted into public spaces and affordable housing was built to encourage the population to spread out and use the city.
---
04
Rule: Extreme density is bad for public health
Rule breaker: Mumbai
Mumbai breaks all the rules of good, healthy, modern urbanism. Yet, somehow, it manages not just to survive, but to flourish too. In no place is this clearer than in the so-called mega-slum of Dharavi, perhaps the most packed 2 sq km of the most densely populated city in the world.
Roughly a million people call it home, many of them living and working in the same confined space. "It's low-rise, high-density, pedestrian, economically vibrant and dynamic and extremely cosmopolitan," says Matias Echanove of Urbz, an urban development research collective based in Dharavi. Dharavi is home to a number of industries: construction, textiles, manufacturing, and leatherworks. There are also hundreds of recycling units, sorting through thousands of kilograms a day.
Annual CO2 emissions are just 371kg per capita in Mumbai, compared with 10,680kg in Shanghai. Dharavi doesn't fit into urban planning frameworks. "This sort of less controlled form of urbanisation is also defining the landscape," says Echanove. "Dharavi isn't perfect, but gritty urban poverty is certainly not its main characteristic."
Why it works: Its recycling industry, a zero or short commute for residents and relative paucity of power mean Dharavi has a low-carbon footprint.
---
05
Rule: You need green spaces
Rule breaker: Beirut
Built to respond to an emergency situation, the Bourj Hammoud district in Beirut could not afford to follow standard urban planning quotas. With no parks or avenues, its tight grid of concrete housing blocks is one of the densest neighbourhoods in the country according to the mayor's office – barely 5.2 sq km for 170,000 people, (or roughly 800 inhabitants per hectare).
Chaotic and crammed, it is also home to new waves of migrant workers from Sri Lanka, sub-Saharan Africa and Syria. But what it loses in space, it makes up for in the skill of artisans and retailers – 97 per cent of all ground floors are shops and workshops.
"Each street specialises in a certain type of commodity: clothing in Arax Street, dried fruits in Marash Street, shoemaking in the Cilicia area and jewellery in Armenia Street," says architect Haig Papazian. "These shopping streets constitute landmarks for insiders and outsiders, and are spaces to shop, meet and interact in a very active aesthetic of motion, colour, light, signage, displays, music – a whole representation of culture."
Why it works: Though the density might seem unsustainable and unhealthy, the neighbourhood has overcome that to foster a close-knit, vibrant, productive and largely self-sufficient community.