Expo 45 / Seoul
Expo 45: Seoul
Many cities claim to be 24-hour party places. But nowhere is a hedonists' dream quite like the South Korean capital. Sure, it's a dizzying mix of people, lights, traffic and consumption. But that's also its great appeal.
It depends who your friends are, but Seoul can be tiring. Come on, it's the 21st century; hundreds of cities never sleep now – not just New York, Tokyo and some jet-lagged gambling mirage on an American desert horizon – but Seoul can't help it. There's no getting in taxis at dawn to drink vino verde in a docker's zinc like you might in Porto, there's no need to end an evening with pints in the pre-dawn palette world of London's meat marketeers; in Seoul nowhere really stops, no one ever seems to sleep. It depends who your friends are, but Seoul can be never-ending.
After your wheels squeal on landing at Incheon and you fend off an identity parade of chain-smoking, semi-kosher cabbies in the line for the airport limousine (it's a big-up, it's a euphemism; it's really a bus), you'd be tempted to think that South Korea shares a healthy scoop of cultural DNA with the two powers between whom it swims, with the Yellow Sea on the left-hand side and the Sea of Japan on the right. The good manners of the limo staff tells you that Seoul is sophisticated, but the dab of fag ash on the conductor's tie tells you not fastidiously so.
Itaewon's bars, tyre-fitters, temples and barbecue joints are down there through the plate-glass picture-windows of the Grand Hyatt's lobby bar (waifish conservatoire students doing Chopin to the cosy murmur of afternoon tea). From Mount Namsan, the hotel's hilltop perch, Seoul is big and broad and busy; the neons, billboards and jumbo screens that light the night are even visible in the hazy sunshine of daytime from miles away. But the city is no more high-rise than São Paulo and no more facelessly Asiatic in its interpretation of modern architecture than its friends and relations out east. It's a place where Catholic and Protestant churches and the Seoul Central Mosque are necessarily shorter than the headquarters of the Cheil communications agency and the downtown Shinsegae department store. But only by a dozen storeys or so. And what do you expect?
In fact, Seoul is an organic-seeming thing; there's no house style for house-style. A 2,000-year history means mixed vernacular: clay, brick, concrete, wood, glass and steel are high on hills and snug in dales, grey with tarmac and dense with traffic and all lending the city a sense of scale, a memorable geography and – agreeably for a city – there are outcrops and monroes which cannot be built on. So there's greenery, if not quite scenery.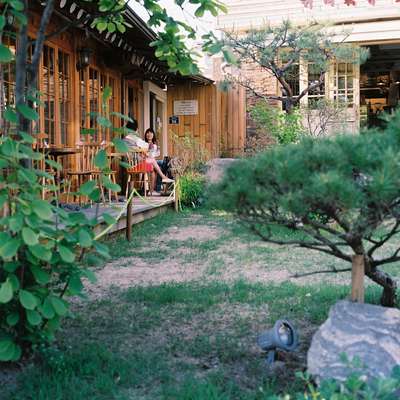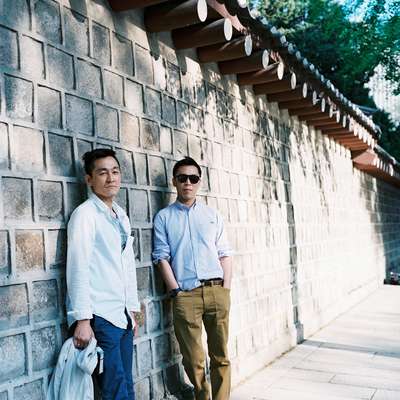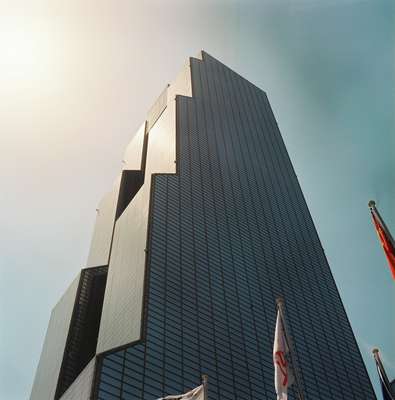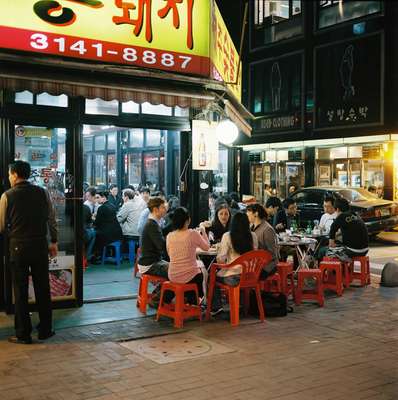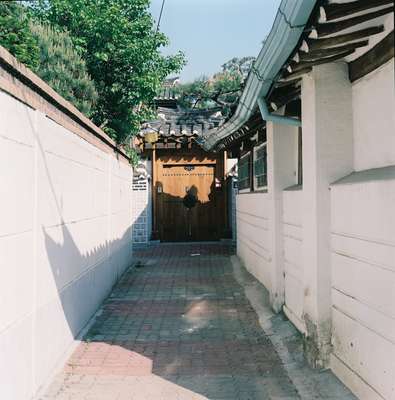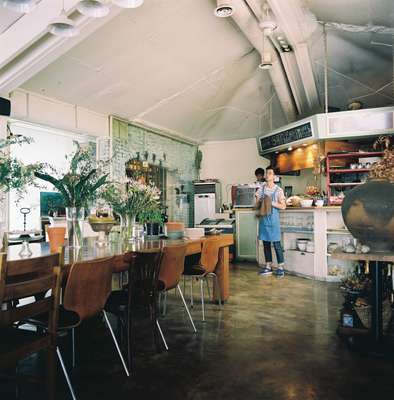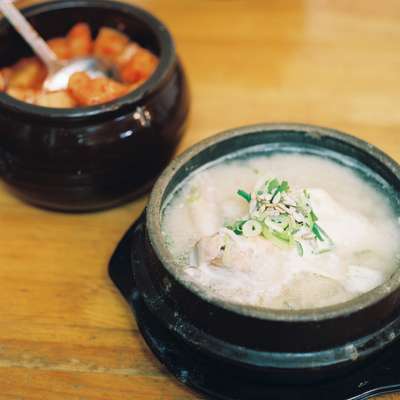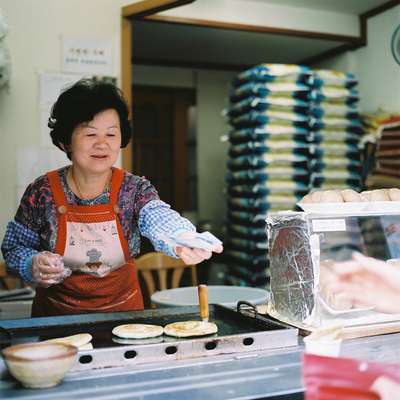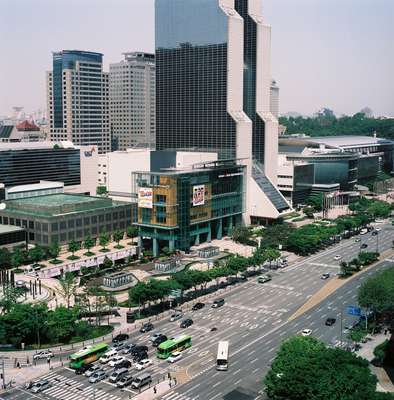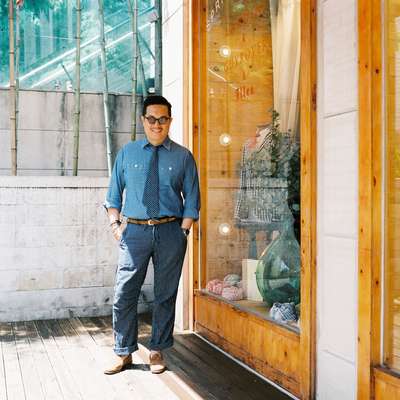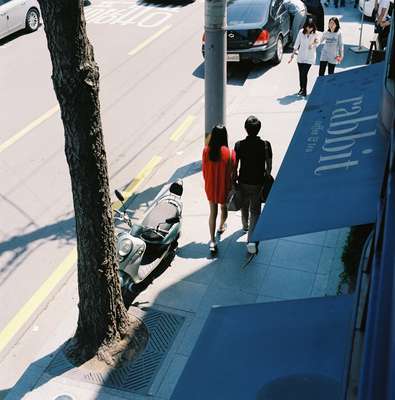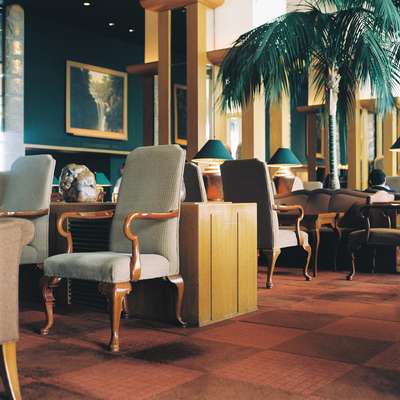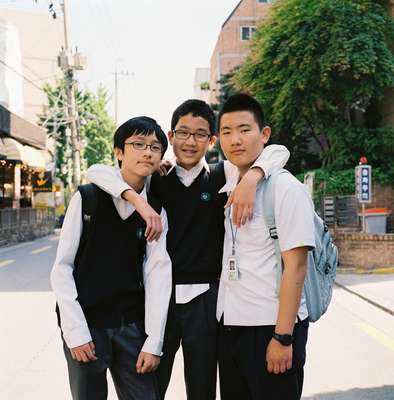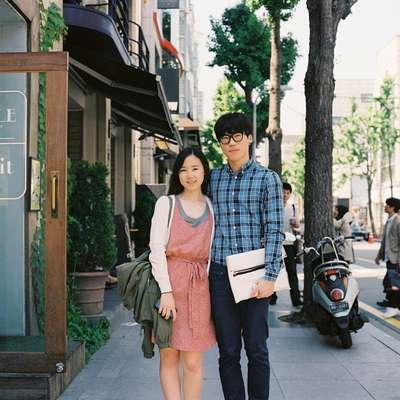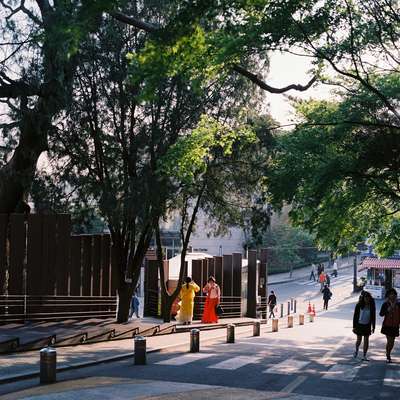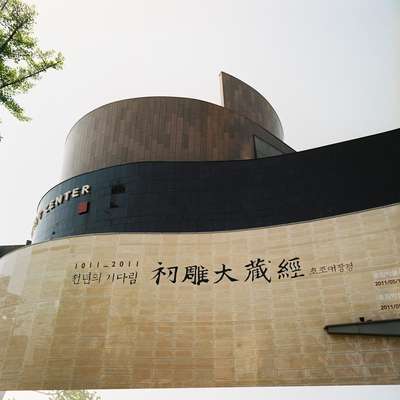 Anyway, you came here for the shopping and nightlife, didn't you? Shopping and nightlife are the left and right ventricles of Seoul's heart. In fact, they could be called "daylife" and "nightlife" (or simply "spending"). A bit like sleeping, you never really see people working, apart, of course, from shop assistants in the daytime and then waiters in the evening. But you do see a lot of spending.
The soul of Seoul isn't shopping per se, but the soul of shopping in Seoul is Shinsegae. In Myeongdong sits the stately brand mothership of a chain that grew out of the Gyeongseong branch of Japan's Mitsukoshi and went on to higher things. Here are multiple floors of food, togs and accessories that mimic cathedral calm, laboratory precision and art gallery ambition. It all starts with a welcoming committee of cute girls in smiles and sashes – happy for you to browse, happier for you to buy – ending up with laser - precise gift - wrapping and a shallower pocket. Famous hotels have fewer staff, good restaurants have worse service – and this is a shop.
The big boys – Lotte, Hyundai and Shinsegae – duke it out down on Myeongdong's main drag, hoovering up the ladies-who-lunch, the afternoon browsers, the tourists and gift-buyers or shoppers that expect a bit of a tea ceremony while they try on their eau-de-nil. The challenge to the serenity of these hallowed halls of retail (apart from the food hall; they're all beady eyes and sharp elbows down there) comes from the streets.
The streets of Garosugil – nearby but formerly no-go – are home to shops and boutiques that are the opposite of the multi-storey, one-stop largesse: they're one-storey, multi-stop jobs that cater to the niches of niches of Seoul's subtle pop-culture strata: cafés that specialise (the best cappuccino is six down from the best iced tea), bistros that do fusion (and not in the Europeanised "bean sprouts with everything" style) and a lot of designer denim (and haircuts within haircuts).
At street level, you're down with the kids; and down with a youthful class of entrepreneurs using Seoul's unchallenged reputation as a high-speed, hi-tech, ultra-wired (or "mega-wireless"?) centre of excellence in all things web, pop, smart, young and financially-enabled (it's these people that are working but look like they're shopping or drinking).
It's these people who take you out for a drink after you've interviewed their singer, perhaps, or asked them about their digital design agency. This is when the sun sets and the neon dawns and sochu is like water, makgeolli is like nectar and beer is just like breathing in and out, the car's triple-parked waiting for the flash of uniform and the salute of the valet-park boy – and you're off!
Off to Gangnam-gu and Lupin bar, for the cocktail list that's a mad manifesto of drinkable dyslexia; off to check a band and drink beers at Platoon, or nearby Sangbong for pork barbecue and shots; off to Sinsa-dong to ogle the outpatients of the plastic surgery clinics from the safety of a streetside sochu stand; off to a karaoke basement (maybe it's the Grand Hyatt's, maybe you're roughing it) to settle a bet about singing in Korean; off to Club Answer to dance with sights for sore eyes over rounds of champagne cocktails.
One for the road at Ccot Ddang off Itaewon's Main Street, on the way home? Then up the hill towards the hotel lobby where the waifish cellist will soon again be bending her bow to the strings. Because it's that late already and it's these people, your friends, but mainly the great soul of this city, that can make Seoul so delightfully tiring.
---
Seoul remains a corner of a foreign field; Korean culture is still a surfeit of surprises.
Dressed-down media buccaneers do their business at the centre of the city's party scene.
Here's a town of style tribes out-cooling each other in competing neighbourhoods.
The food's the most underrated in the region, a mile away from its robust kimchi image.
Oh, and the toothsome locals make sure the sightseeing's not just architectural.