Social responsibility / Global
Local heroes
Briefing
From honey producers to fashion designers, Monocle meets the groups and business owners that have launched innovative projects to help bring communities together. Sometimes it makes good business sense too.
GAG is a property-management company in Köln that owns a lot of housing in the tougher parts of the city. It spends €500,000 every year on social activities in these areas, working with schools by financing free meals, libraries, theatre workshops, sports facilities and anti-violence programmes. In return pupils look after some of the firm's green spaces.
Since 2007 GAG has had its own department for social activities. "We don't do this because we are good people," says GAG's Jörg Fleischer, "but because having a healthy neighbourhood without violence and graffiti increases the value of our real estate."
---
02.
Ginza Honey Bee Project
Tokyo
Honey cocktails. Honey face lotion. Honey macaroons. All things honey-related take centre stage in a community project in Ginza, Tokyo.
Atsuo Tanaka, executive director of property firm Kamipa-Kaikan, launched the Ginza Honey Bee Project five years ago on his skyscraper office rooftop. Today, 900kg of honey is collected each year from 400,000 honey bees by dozens of volunteers.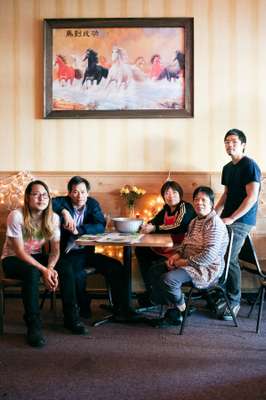 The honey appears in madeleines at Henri Charpentier, Japanese delicacies in Matsuya, sweet snacks at Shiseido Parlour. Cosmetics firm Albion will launch honey face lotion in the autumn, while 60 local bars serve Honey Highballs – with 10 per cent of proceeds going to environmental projects. Eight rooftop "honey gardens", including veg planted by school-children above Matsuya and Mitsukoshi stores – have also been created.
"Honey bees improve quality of life in a city," says Tanaka. "It puts people in touch with nature and brings communities together."
---
03.
Mission Chinese Food
San Francisco
Mission Chinese Food started out in a truck on San Francisco's Mission Street in 2008. Later it took over a local Chinese restaurant for a few nights a week, before moving in full-time. There's often a queue outside for its Americanised Asian food, and it's known for its "juxtaposition of divey-ness and fine dining," says co-founder Anthony Myint.
Its philanthropic leanings are another pull. MCF says that it donates 75 cents from every entrée order to the San Francisco Food Bank (though to simplify the accounting, the founders decided to round it off to 6 per cent of sales). So far that amounts to $39,000 (€27,700).
---
Most celebrity chefs' good works go no further than the dinner plate. Not Fabio Picchi. Owner of three restaurants and a café in Florence's Santa Croce district, he regularly hires locals with mental health problems to give them a livelihood and self-esteem.
After hearing from a social worker that the daily rituals of food preparation – chopping vegetables, kneading bread – were therapeutic, he tested the theory in his kitchen. The results were dramatic. "One with schizophrenia now talks again after 16 years," Picchi says.
For more on Fabio Picchi see our Florence survey in this issue
---
Bonita Lim, owner of a fashion design firm in Shanghai called NuoMi (Chinese for "sticky rice"), employs residents with hardships that prevent them from holding down regular jobs – one woman is looking after sick parents, another couple has a child with cerebral palsy. After providing her apprentice tailors with sewing machines and training, they now produce most of the clothing and accessories she sells in her five boutiques.
At times, her altruism has cost her money. Items made by the couple with the child initially had to be resewn at her studio, but instead of letting them go, she invested more in their training. "It doesn't make business sense, but they're better off now than before they met us," she says.