Issue 45 / Global
Observation
Our editor-in-chief jumps on his bike to find forgotten corners of the city in need of reimagining and offers a recipe that works – if you can find the ingredients.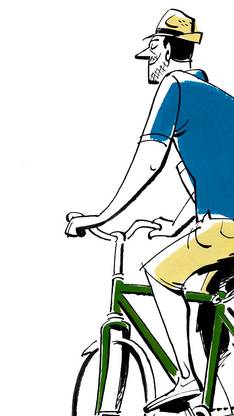 If you've arrived at the back page of this issue feeling a bit deflated because you live in a city that's doing none of the things that Auckland, Fukuoka, Munich or Portland have mastered, it's time for action – not relocation. Even if you're unfortunate enough to live in a city that's permanently grid-locked and dotted with ugly condominiums or stuck out in suburbia dreaming about the simple joys of walking to some charming shops to buy a bottle of wine and some pata negra, there is an alternative. Yes, you could take the easy road and perhaps put in for an inter-company transfer or file for divorce or put your business up for sale while looking for a greener patch. But you could also take it upon yourself to indulge all your urban planning fantasies and take matters into your own hands.
The less rewarding path might involve going into local politics but it's likely to end up with you having to do everything by committee, diluting your dreams, becoming disillusioned and eventually winding up where you started. The more productive and faster route is to jump on your bike (or in your car) and look for a stretch of your town or city that's a little bit forgotten but just waiting for someone to give it a chance. Having done five of these surveys now, it's quite clear that the cities that work best are the ones that have a keen sense of intimacy and plenty of village life – no matter how far they sprawl.
The recipe for creating urban villages is relatively straightforward – the only challenge is that it's sometimes difficult to find the right ingredients in certain markets. The other issue is that it helps to have a clean environment to do the prep work, good utensils and an eager audience for what you're about to bake.
There's no point in embarking on your planning exercise unless you've got a measuring tape clipped to your belt and you know the appropriate volumes for your mini-masterplan. You can hire the best architects in the world, invest in the most energy efficient street lamps, ear-mark the most innovative retailers to move onto your street but if the pavement is too wide, the vistas too open and the adjacent buildings too low you need to look around for a fresh venue or invest heavily in re-engineering the roads and buying up the surrounding community.
I've come to find that three is indeed a magic number. When it comes to creating cosy, welcoming environments for shopping, dining and watching the world go by, 3m is a good starting point if you want to conquer space. Wander along a favourite street in Zürich's old town, ancient Kyoto or central Copenhagen and you'll find that many a shop front is about 3m wide. Restaurants that need a bit more prime table real-estate might be 6m across but they don't need more than 3m of sidewalk out front as anything wider can feel vacant at certain times of the day.
Most compact cars are roughly 1.5m in width and this means that city streets (if they're one-way) needn't be much wider than 4.5m to accommodate heavier vehicles while allowing for brief pick-ups and drop-offs. If you're sitting in the middle of Orange County (heaven forbid) knowing full well that 4.5m is almost the width of a single traffic lane and despairing that there's not a hope of finding an appropriate enclave to engineer your urban village, worry not. All those strip malls that plague suburbia with their ugly signage, cheap architecture and rag-tag retail mix are ripe for re-engineering. While a fair few are beyond hope and need to be bulldozed, many more simply require the "three treatment" and re-fit.
Parking lots need to be made into streetscapes to allow for strolling and greenery, retail units should be reconfigured (read: made smaller) to allow for greater intimacy, lurid signage must adhere to a few guidelines and then it's just a matter of getting the tenant mix right.
Honolulu would rank higher in our index if it boasted more urban villages but so far there's been very little imagination applied to retro-fitting dead strip-plazas and abandoned shopping areas. On a bike tour around the Diamond Head district of the city, a small strip mall was crying out for a bit of creative direction to shift it from being dull and barely functional to a draw for the community.
Once issues of space and scale have been conquered, the rest should fall into place so long as you have enough passing trade (this is why I'm not a fan of pedestrian zones), places to sit and socialise, a mix of architecture rather than uniform façades, sunlight and shade and an eye for detail – no, it's not just the city's responsibility to pick up rubbish and hose down the pavement.
If, after all of this, you still can't find urban salvation then buy a plane ticket to Pisa, book into a small, family-run hotel, hire a bicycle and find a little town that suits your needs somewhere along the coast of Versilia. Fresh tomatoes, basil, sun, good coffee, Tuscan wine and long bike rides along cypress-scented lanes are all a good substitute when the big city gets you down. They're also necessary ingredients for this editor to start working on the upcoming issue of Monocle Mediterraneo – available around the world from 20 July. Have a wonderful summer. You'll know where to find me.
For more from our editor-in-chief, read his column in the FT Weekend.