Top grocery stores / Global
Shelf obsession
For quality of life a local deli can make a real difference. These are Monocle's five favourite food stores from around the world that are offering that bit extra, from the Sydney shop with its own homemade brands to an Italian 'drogheria' turned grocer. Make a note of their recipes and bestselling products too.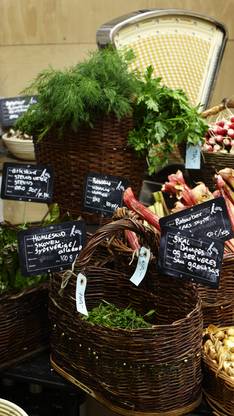 Though much vaunted in the media, the impact of New Nordic cuisine has been limited to a handful of expensive restaurants. But ex-restaurateur Mette Helbæk (pictured) has set about making local, seasonal and, most revolutionary of all, foraged produce, such as wild garlic from the countryside, available on the high street, with three grocery stores/ stalls in central Copenhagen. "Usually, supermarkets tell farmers what they want them to grow, but we found out it is better to let farmers tell us what's good," Helbæk says in the Vesterbro branch of Din Baghave (meaning "Your Back Garden"). Many of Helbæk's products are organic and customers can even mill spelt, rye and wheat themselves in-store. We predict you'll start seeing mini flour mills beside the coffee grinders in your favourite grocers soon.
dinbaghave.dk
Gunilla Norberg, gym manager "I really appreciate people like this who put their soul into good nutritional food."
Asger Bang, teacher "I'm shopping for a dinner party for friends – I want asparagus, and some rhubarb for a trifle."
Wine: Frederiksdal Gods' Kirsebærvin – cherry wine from the island of Lolland. "Quite sweet but not too sweet," says Mette.
Sea buckthorn squash Sea buckthorn is called the passion fruit of the north, with a tropical fruit flavour.
Foraged plants such as onion cress, woodruff and wood sorrel.
Rhubarb- 'skovmærke' trifle
(Serves four)
Ingredients
200ml water, 200g sugar
50g woodruff, 200g rhubarb
For the crumble
2 slices of rye bread (Danish), 1 handful of nuts or almonds, 3 tbsp sugar
For the cream
150ml whipping cream
150ml crème fraîche
2-3 tbsp icing sugar
How to do it
Bring water, sugar and woodruff to the boil. Cut rhubarb into thin slices. Remove the woodruff and pour the boiling syrup over the rhubarb. Refrigerate for at least one or two hours, or preferably for up to a day.
Grate rye bread, cut nuts or almonds and mix with sugar. Fry until crisp.
Whip cream and crème fraîche until thick. Add icing sugar to taste.
To serve:
Drain the rhubarb (you can use the syrup to make sorbet). Layer rhubarb and rye bread crumble and put cream on top.
"We are very much a local store and know many of our customers by name. Service is as important as what's on the shelves and you should never be too busy to say, 'hello'," says John Quattroville of the family-owned Fourth Village grocery store, which was founded by his parents – experienced deli owners Peter and Annette Quattroville. The couple, who had become bored with early retirement, established Fourth Village in 2008 together with their three sons, John, 26, Sal, 24, and Dominic, 19. Offerings include fresh fruit and vegetables, a herb section and a traiteur/take-away, as well as homely dishes overseen by Annette. There is also a cheese room piled high with local and imported farmhouse cheeses.
The bestselling products, however, are those the family produce themselves, such as olives from their farm in the nearby Hunter Valley, which are picked and pressed by the boys to make oil. Products such as quince paste, vino cotto and tomato passata, however, are made by Naples-born chef Flavio Tosolini and his 20-strong kitchen staff. The adjoining restaurant, run by Sal, serves Italian food using produce from the shelves. "Everything that we do is driven by seasonality. We constantly strive to capture the flavour of produce at its peak," says Chef Tosolini. "Just as they do in Italy."
fourthvillage.com.au
Susie Nugan, philanthropist "I'm buying ingredients for a fundraising dinner. I know I can get everything I need here."
Michael Randall, managing director "I shop here once a week, I love their baked goods. I'm taking home warm muffins."
Fruit nectars: seasonal fruits; peeled, pulped and bottled.
Mirrool Creek Lamb: served in many of Sydney's best restaurants.
Brilliant Food condiments: This Sydney-based company sells smoked fish and makes wasabi cream and pickled Tuscan onions.
Lasagnetta di verdure e burrata
(Serves four)
Ingredients
100g carta musica, (Sardinian "music paper" crispbread)
200g aubergine
300g fresh tomato
400g burrata or buffalo mozzarella
50g basil pesto
Fresh oregano or basil
Sea salt and olive oil
How to do it
Cut the aubergines into ½ cm thick slices, season with salt and grill until golden.
Slice the tomato into ½ cm thick slices. Now start layering with crisp- bread on the bottom, followed by alternate layers of aubergine and tomato with crispbread in between each.
Top with mozzarella, pesto and oregano.
03.
Seghezzo
Santa Margherita Ligure, Italy
Seghezzo started out life in 1900 as a traditional drogheria in the Italian seaside town of Santa Margherita Ligure. Staff worked behind the counter and prepared packages of groceries or filled up an empty wine jug for a patron.
"Our customers were used to not touching anything; they'd queue up and give us their shopping list," says Giuseppe Seghezzo, who runs the shop with his brothers Emanuele (middle) and Filippo (right). The practice didn't change until 1995, when the store was remodelled to let shoppers browse the aisles themselves with two-wheeled trolleys and canvas tartan bags. Despite the new format, the attentive service – the shop's biggest draw – remains. Locals pop in and gossip while Filippo makes them espresso at the coffee bar; orders are taken over the phone for home deliveries that are dispatched on a scooter or the shop's minivan. Staff prepare special requests in the deli and, since habits are hard to break, still make time to track down items on the shelves, which hold everything from pâté to cleaning products.
seghezzo.it
Marta Gallo, shipbroker "What's great is that they also deliver – they'll even bring groceries out to your boat."
Orlando Napetti, surgeon "After drinking a cappuccino served at their bar, I bought some of their great liquorice candies."
Amaretti are kept fresh in wooden drawers at the sweets counter.
Liqueur Limoncino: A popular digestif, often served cold. Made from lemons grown in the nearby Cinque Terre.
Soap Like Seghezzo, artisan soapmaker Valobra is a third-generation family business based in Liguria.
Octopus carpaccio
(Serves four)
Ingredients
1 octopus (1kg)
4 courgettes (zucchini)
Half cup of white vinegar
Parsley
Extra virgin olive oil
Salt
Pepper
How to do it
Bring 4 litres of salted water to the boil and add the octopus (with beak and stomach removed).
Cook for 1 hour, then take from pot and remove suckers from tentacles. Wrap in cloth and tie up like a salami. Leave overnight in fridge.
Cut the courgettes julienne style (in thin strips) and cook in salted water until al dente. Cut octopus into thin slices and season with vinegar, olive oil, parsley, salt and pepper. Season courgette with olive oil and salt and sprinkle on octopus.
Avgotaraho from Mesolonghi: Roe of grey mullet, which is dried and coated in beeswax. Often served with lemon as an appetiser.
Honey from Crete which owes its aroma to the thyme that grows there.
Tuna from Alonissos: Fishermen head out at dawn from Geraka Bay to catch yellow-fin tuna of the north Aegean.
---
To Pantopoleion (meaning the grocery store that sells everything) stocks over 2,500 products including rare cheeses, pastas, wines and even snails cultivated in the town of Corinth. Everything is sourced from small-scale local suppliers or artisanal Greek producers and most days tastings are held.
When owner Yannis Barbalias (top, right) is not in the shop, he travels around Greece looking for people to team up with. He's passionate about supporting local producers who would never get a look-in on the shelves of big supermarkets. "Before this shop opened, nobody was interested in buying from small producers apart from chefs. We work with rural cooperatives and give our suppliers a lot of support, which is a rare thing to do in this country," says Barbalias, whose mission is to educate shoppers.
Sofokleous 1, + 30 210 32 43 464
Thomas Yaloukas, bank treasurer "I often shop from here because I find that they sell biological products."
Efi Santamouri, lawyer "Their traditional products are fresh and I love the cookies and the rusks from the Greek islands."
Mediterranean salad
(Serves four)
Ingredients
500g Flomaria (pasta from the island of Lemnos)
½ cup of extra virgin olive oil from Messinia, Peloponnese
200g Melichloro cheese from Lemnos, cut in cubes
100g sun-dried tomatoes from Larisa, cut in slices
3 red sweet Florina peppers cut in slices
2 tbsp of capers from Santorini
6 Kalamata olives in rounds
Chopped parsley
How to do it
Cook pasta in plenty of boiling water for 5-6 minutes. Rinse pasta in cold water and drain.
Mix peppers, capers, sun-dried tomatoes, olives and olive oil, with a fork. Pour over pasta, add melichloro cheese cubes and parsley, and mix well.
Avgotaraho from Mesolonghi: Roe of grey mullet, which is dried and coated in beeswax. Often served with lemon as an appetiser.
Honey from Crete which owes its aroma to the thyme that grows there.
Tuna from Alonissos: Fishermen head out at dawn from Geraka Bay to catch yellow-fin tuna of the north Aegean.
---
05.
Green Aisle Grocery
Philadelphia
When brothers Adam and Andrew Erace (below) both moved to South Philadelphia's East Passyunk Avenue, they saw a need for a store that carried fresh, high-quality local products. "We just decided: someone's going to do it. Why shouldn't it be us?," says 27-year-old Adam, the food critic of the Philadelphia City Paper.
Their store is tiny (24 sq m) but their goal is for shoppers to use it as a primary grocery with all the basics but also stumble upon something they never knew they needed such as bourbon-barrel-aged maple syrup. The Eraces get their favourite local restaurants to produce and package special items for their shelves, and when their landlady's backyard plum tree bears fruit it ends up for sale too.
"A little of the farmer's market, a little of a speciality store, Asian supermarket and bodega where you can get chipotles, adobo, lemongrass," Adam says of his inventory, which relies on 40 suppliers, whereas others would use three or four. greenaislegrocery.com
Terry Epperson, librarian "I like the friendliness and the local ingredients. Green Aisle Grocery's hummus is the best."
Fennel beet borscht with rye croutons
(Serves four)
Ingredients
2 cups Brooklyn brine pickled beetroot
¾ cup plain yogurt
½ cup chicken stock
½ cup fennel fronds
For the croutons
2 half-inch-thick slices marble-rye bread, cubed
1 tbsp ground fennel seed
1 tsp ground clove
1 tbsp olive oil
Salt and pepper
How to do it
Blend beetroot, including its brine, yoghurt, stock and pepper. Sieve it. Chill for about half an hour.
In a bowl toss rye in some oil and seasoning. Add to hot, oiled plan and fry for 15 minutes.
Serve chilled borscht topped with croutons and chopped fennel.
Sausage
by North-South Meatery & Canning Company.
Bok Choy
grown in west Philadelphia.
Honey
by local Two Gander Farm.