Residence / Ubatuba
Hidden gem
When architect Angelo Bucci was asked to design a holiday home that wouldn't disrupt the forest or beach in Ubatuba, he came up with a house that is a masterpiece of engineering.
In the mid-1980s, paediatric surgeon Antônio Carlos Onofre bought a 55m by 16m plot of forest on top of a hill on the beach of Ubatuba, about 230km north of São Paulo. At the time he had no idea of what to do with the land, so he gave it as a present to his wife and they both forgot about it. Twenty-five years later, in 2005, planning their retirement – and with it the thought of spending weekends looking out to sea – the Onofres approached Brazilian architect Angelo Bucci (from São Paulo practice SPBR) to design a house on the site. "A tree house", in Onofre's words – something comfortable, modern and ­invisible to anyone who passes the beach.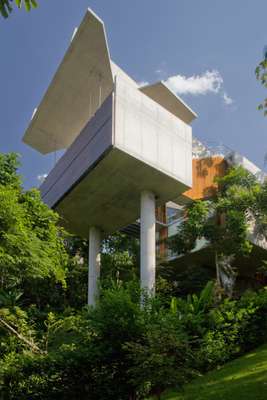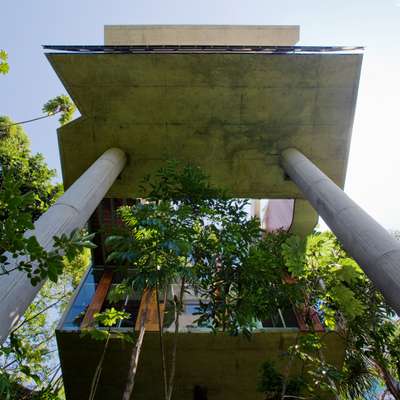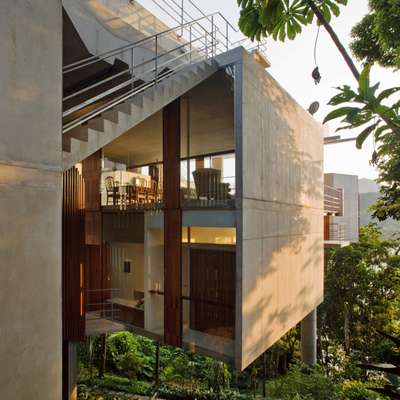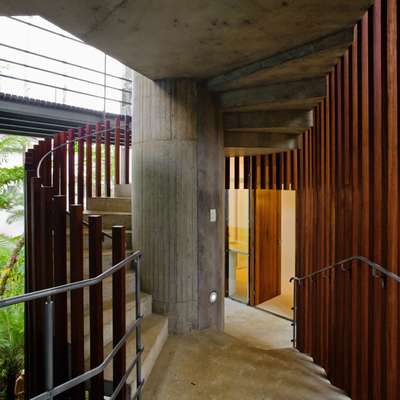 Antônio and his engineer wife, Regina Silveira Onofre, had just one demand. "They wanted me to design a house that, in the absence of their children or guests, did not seem empty or abandoned," says Bucci. The solution was to divide the property into three separate blocks connected by stairs and footbridges. You don't need to cross the block of guest rooms or the barbecue area and pool to reach the main living space. The main access is by the roof, located at street level, which connects the rest of the house by ramps and spiral staircases. Another concern was that as many of the rooms as possible should have a stunning ocean view. Eight metres below is the sea. From the beach, the house is practically hidden inside the forest.
Raised on three pillars that support only one set of four beams in the roof, the residence looks like it's floating over the treetops. Protected by environmental laws, the forest sits on a steep slope and this became the main challenge. "We wanted to move as little as possible of the surroundings, so the idea of three pillars – up to one metre in diameter – was the best option," says Bucci. The abundance of concrete, natural light and continuous space are characteristic hallmarks of the Paulista School, the architecture movement developed in São Paulo during the 1950s and '60s.
On the northern coast of the state, Ubatuba is known for surfing and increasingly for an inlet named Praia dos Arquitetos, which translates as the "Beach of Architects", named after the many great homes in the area. Bucci's Ubatuba house, though discreet and sensitive to the scenery, is a spectacular newcomer to the fold.
spbr.arq.br
Angelo Bucci CV
1987 Graduates from Faculdade de Arquitetura e Urbanismo – USP   
1991 Designs the Brazilian Pavilion of Expo in Seville, Spain
1996 Co-founds MMBB architecture office
2000 Psychology Clinic in Orlândia, São Paulo, shortlisted for Mies Van der Rohe Prize
2003 Opens SPBR Architects
2008 Casa em Santa Teresa in Rio, wins the 2008 Best Architecture Prize in Brazil 
2010 Casa de Ubatuba wins 2010 Best Architecture Prize in Brazil