September selections / Global
Inventory No. 46
The Monocle shopping list this month contains the perfect birdhouse, a creamy artisan-crafted beer and earphones that stay where they're supposed to.
1.
Piu/birdhouse
When German designer Olaf Kiessling moved into his new home, a hunt for the perfect birdhouse for his garden proved unfruitful. He took matters into his own hands and the result is an impeccable steel and aluminum Vogelhaus – that doubles as a bird feeder – certain parts of which are produced by disabled craftsmen in Germany and Switzerland. It's the ideal shelter for finches, nuthatches and other small birds.
pling-collection.com
---
2.
Oiseau/book chair
Designer Kana Nakanishi has created an outdoor doodling kit for kids. Made of Japanese cypress, the Atelier Book Chair holds a drawing pad and crayons, and doubles as a chair. Nakanishi, who studied at Aalto University School of Art and Design in Finland, collaborated with Masayuki Oshima, an artisan from Nishiawakura village. "I wanted to help artisans make better use of wood from tree-clearing and scraps," says Nakanishi.
oiseau.co.jp
---
3.
PeSeta/bags
If passing through the San Bernardo area in Madrid's city centre be sure to pop into PeSeta's boutique1, a colourful textile and sewing supply store that also sells everything from fanzines to music and cameras. Made using fabric bought from a long-established loom in rural Castilla, these sailing sacks come packaged in a handmade rectangular wooden box traditionally used to ship oysters on Spain's northern coast.
peseta.org
Footnote: PeSeta offers monthly workshops for knitting and sewing aficionados. September's highlights are the classic embroidery and Amigurumi (Japanese crochet) courses.
---
4.
Otsuka/soy milk
Otsuka Pharmaceuticals is known in Japan for its Oronamin C energy drink and Pocari Sweat sports drink. With its new Soysh carbonated soy milk, the firm is targeting the health-conscious. The 100ml bottle's packaging was a Judge's Favourite at this year's Japan Package Design Awards.
otsuka.co.jp/soysh
---
5.
Elecom/headphones
Otokurage headphones come with four types of earcaps so that at least one will be the perfect fit. Designed by Japanese Nendo, its name is taken from two Japanese words: "oto", meaning sound, and "kurage", meaning jellyfish, which the earcap is designed to look like.
elecom.co.jp, nendo.jp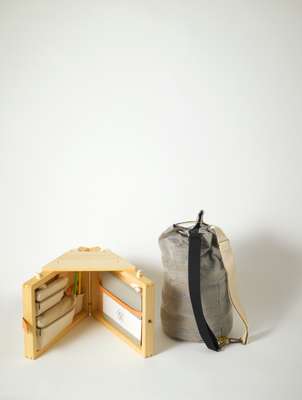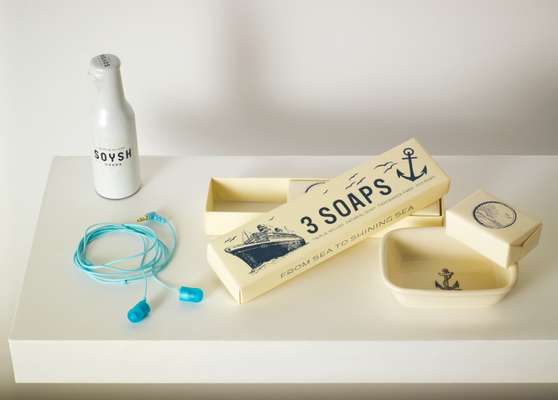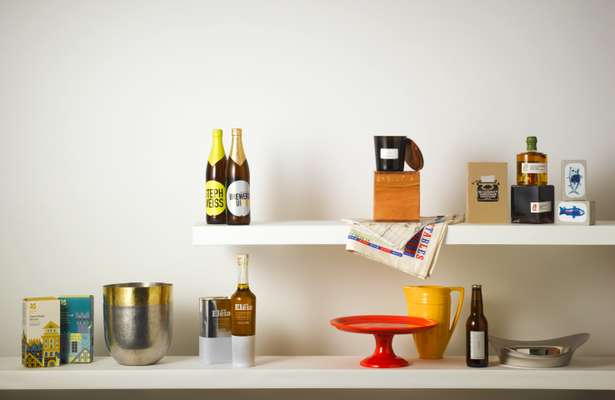 ---
6.
Izola/soaps
"Old-world style that's a little tongue in cheek", is how director Richard Brandt describes Izola's soap range. Each organic oatmeal soap is hand stamped in Georgia. The natural ethic extends to the paper and vegetable dye used to wrap each of these all-American bars.
izola.com
---
7.
National Trust/biscuits
The UK's National Trust1 has rebranded its biscuit souvenirs as part of a strategy to broaden its appeal. UK-based Studio h was drafted in to create the new look. "We used illustrator Adrian Johnson to bring something fresh while retaining a heritage feel," says Rob Hall, creative partner of Studio H.
nationaltrust.org.uk
---
8.
Karen Chekerdjian/bowl
Lebanese designer Karen Chekerdjian works with local artisans to uphold traditional crafts. Part of a set of three, this bowl is made using an ancient technique of working with brass, then painted with tin using swabs of cotton.
karenchekerdjian.com
---
9.
Eléia/olive oil
In 2007, when vast forest fires consumed most of the farmland in the region of Ilia, Greece, Alexandros Spiliadis saw a business opportunity and invested money into regenerating the area. He planted 40,000 olive trees – one of the biggest olive groves in Greece and a source for Eléia's extra virgin oil. Packaged in a slick bottle and tin designed by Athens design firm, Bob Studio, Eléia is the perfect addition to kitchen shelves.
eleia.gr
---
10.
Brewers & Union/beer
"If you go to a Michelin star restaurant, the wine menu is excellent but not the beer offering. That's something I am looking to change," says Brad Armitage, co-founder of South African Brewers & Union2. For a post-work tipple we are partial to the creamy Bavarian Steph Weiss or its latest offering, the Versus Goliath amber lager – a drink whose name gives a subtle finger-up to the giant brewers.
gabrielcollective.com
---
11.
Bauer Pottery/homewares
In the 1970s Janek Boniecki left England for California to make films, but he ended up buying and reviving a ceramic brand dating back to the 19th century. From flower pots to coffee sets, Bauer's bright colours and simple designs are a popular classic.
bauerpottery.com
---
12.
Notanotherbill/teatowels
"Notanotherbill was started under the premise that everybody loves getting something in the post," says founder Ned Corbett-Winder. For €17 a month, you can sign yourself or a friend up for a monthly delivery of a gift, such as home garden kits and these Stuart Gardiner seasonal fruit and veg guide tea towels.
notanotherbill.com, stuartgardiner.co.uk
---
13.
Fueguia/candle
Located in the Palermo Viejo area of Buenos Aires, Fueguia lab-cum-shop produces 16 fragrances a year. Candles such as the spicy vetiver and cedar Pulpería No 73 come in a wooden box hand-carved by pupils at a carpentry school in Patagonia.
fueguia.com
---
14.
Le Vin en Tête/fruit juices
Le Vin en Tête is one of Paris's most respected suppliers of vins naturels. Lesser known are its home-grown fruit juices under the brand name Satva. Flavours include a Cabernet Sauvignon red grape juice and a Grenache Blanc white grape juice, both from vineyards in the Languedoc region.
levinentete.fr
---
15.
Architectmade/circle bowl
Finn Juhl's stainless steel "Circle Bowl" is now in production for the first time since it was designed in the 1950s. The bowl has been brought back into production by Danish firm Architectmade, a company dedicated to the re-production of classic Danish designs.
architectmade.com
---
16.
Ask Alice/stationery
Melbourne-based designer Sass Cocker decided to inject new life into notebooks and greeting cards with her quirky stationery brand Ask Alice. Her selection of greeting cards feature characters such as Fergus the Fox and Rainy Whale, and her range of notebooks include the 96-page Typewriter Mini Book which is made from recycled paper.
askalicestationery.com
---
17.
Jose Gourmet/oil and tinned food
Launched in 2008 by a father-and-son team, Lisbon brand Jose Gourmet takes traditional foodstuffs and dresses them up in innovative packaging. Tinned fish, including ventresca fillets, sardines in tomato sauce and stickleback, come in boxes with sketches commissioned from Portuguese illustrators such as Madalena Matoso and Bernardo Carvalho. Olive oil from Trás-os-Montes is bottled in stackable containers, while a square glass is used for the morello-cherry liqueur from the town of Óbidos.
josegourmet.com
Footnotes: 
The National Trust is a British charity that protects historic houses, gardens and ancient monuments throughout the country. The organisation raises funds through membership fees (it has a membership of 3.8 million) and gift shops.

With a widening interest in the craft beer market, paired with dampening sales of mass-market beers in recent years, Brewers & Union ales are filling a gap in the market.

The sunny California climate helps the natural drying in the ceramic-making process, which is why southern California used to be home to around 600 potteries. Now only Bauer remains.