Korean Air A380 / Seoul
Less is more
Monocle tours Korean Air's A380, which marks a new milestone for the company. The interior design proves that keeping things simple is best, while business and first class put the spark back into travel.
When the Airbus A380 – the largest passenger aircraft in the world – comes up in conversation, the question most often raised is how many people it can carry. In the case of Korean Air, which put its first A380 into service in June, the answer is: not all that many.
With 407 seats, as opposed to the more usual 525 in a three class configuration, Korean Air has debuted its A380 with the lowest-density configuration yet. Korean Air is now the sixth A380 operator in the world.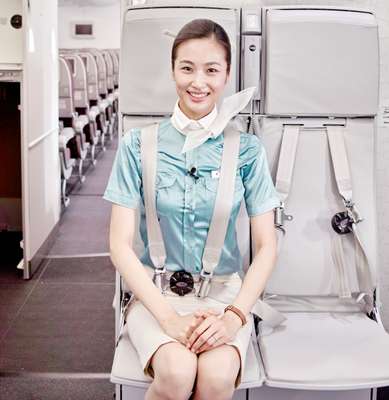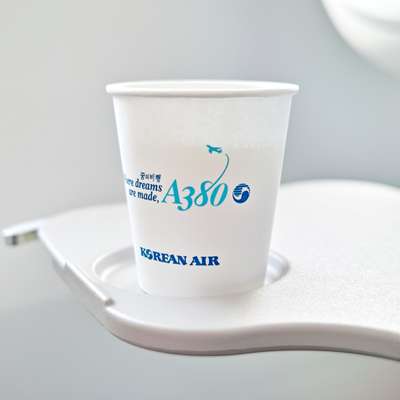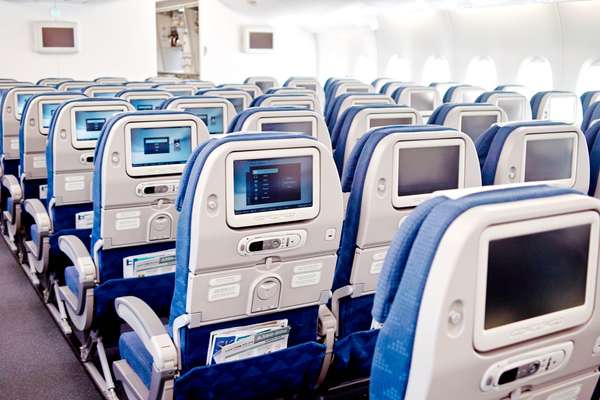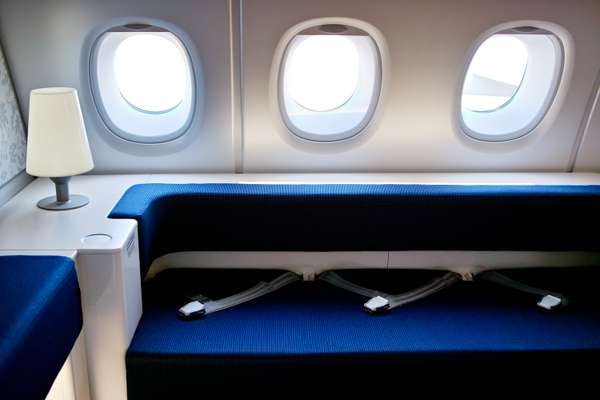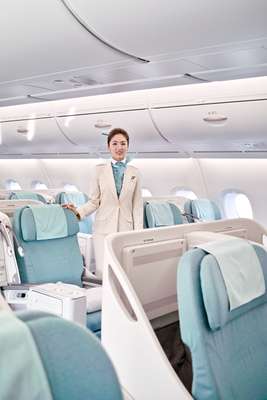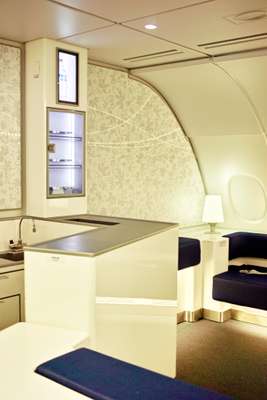 There are 12 first class Kosmo Suites at the front of the lower deck, and 301 economy class seats behind those for good measure. But the centrepiece of Korean Air's cabin layout is an entire upper deck, with 94 Prestige seats, dedicated to business class (it's the first A380 operator to do so, though Singapore Airlines is following suit). "Our main goal was to achieve a business class cabin design that would provide the feeling of private-jet exclusivity for our business passengers," says Chan Il Park, deputy general manager of Korean Air marketing development.
Indeed, the business class cabin represents a big bet on premium traffic, and on the A380's position as a prestige aircraft, operating the most important routes. The A380 is a unique tool though. Its attractive fuel-burn figures theoretically allow it to operate profitably even with fewer low-fare passengers incrementally padding the bottom line.
And with the plane in its arsenal, Korean Air is well-poised to take advantage of the surge in premium traffic figures in Asia. Having Incheon airport as a hub is key. "Korean Air and Korea are strategically placed to reap the benefits of huge potential growth in the region," says Park. "The A380 is the perfect tool for this."
Of note are the relatively restrained designs employed in business and first class — no suites with closing doors, no gold trim or in-seat minibars. The business class isn't much of a departure from the industry-standard lie-flat pod. Where other airlines are trying out every possible combination of rear-facing, herringbone, or variously staggered seating arrangements, Korean Air has simply added some space between the seats and made sure that they're truly 180-degrees flat – no sliding down a slightly angled plank. "There are pros and cons to both herringbone and staggered seat types," says Park. "We believe the forward-facing arrangement, coupled with the feeling of space in the Prestige cabin, gives us the optimum product. This has been reported by many of our customers."
Similarly, in first class the suites are private but relatively open to the cabin.
When the A380 was first introduced Airbus eagerly touted its possibilities for communal spaces such as onboard lounges, and Korean Air's layout features three of them. At the back of the business class cabin is a bar, staffed full-time inflight by a steward who will have received training at the Absolut Akademi in Stockholm. Elsewhere there's the world's first inflight "Duty Free Showcase", a small shop that boasts a clever system of magnets to hold bottles of alcohol in place in the event of any rough air.
It's all a way of using the A380 to distinguish the airline from competitors, according to Park. "The focus for the A380 was going that one step further, making the A380 'premium deluxe', so to speak."
Twelve Kosmo Suites on the lower deck are designed to be a bedroom, office, and cinema in one. Laid out four-abreast, they're 14cm wider than business class.
There's not a middle seat in sight in Prestige Class, which occupies the entire upper deck in a 2x2x2 layout. Legroom of 188cm allows the seat to recline fully flat.
A humane 86cm of legroom, the most generous of any A380 operator so far, and the same entertainment system as first and business keep economy standards high. Seat upholstery comes in two shades: brown and blue.
Q&A
Chan Il Park
Deputy general manager, Korean Air Marketing Development
What does the A380 represent for Korean Air from a branding perspective?
Introducing an iconic aircraft such as the A380 serves to boost Korean Air's brand. The sheer size and quietness of this aircraft has enabled us to have the space and environment to introduce seating and amenities in a way that no other aircraft has been able to.
Korean Air's A380 is the lowest density A380 so far. Why opt for so few seats?
These days competition is fierce and ticket cost is no longer the only factor in choosing an airline. More emphasis is placed on things such as comfort and in-flight entertainment. We've put our utmost efforts into all these and aim to make travel an enjoyable and glamorous experience again. Provide a strong product from the outset, coupled with superlative service and you have earned yourself a repeat customer.
What could other airlines learn from Korean Air's design process?
Simply put, we give utmost priority to what customers really want. For a service industry company, it is a crucial formula. We carry approximately 23 million passengers a year. To satisfy our customers' tastes, we have developed a product that can be appreciated by all, combining the best aspects of Asian and western design.
Number of A380s on order: 10 (two of these are in service)
Initial long-haul A380 destinations: New York, Los Angeles, Paris
Number of flight attendants to work the Korean Air A380 (including bar staff and duty free shop attendants): 25
Date the design process for the A380 cabin began: December 2006
Increase in business class seat pitch over previous configurations: 35.56cm