Sydney breakfast / Sydney
The big Blue
A trio of surfer buddies are making waves dishing up fresh, tasty fare near Bronte beach. Meet the Three Blue Ducks.
"We built this place ourselves," says Mark Labrooy of Sydney's latest breakfast hotspot, a few blocks from the surf in beachside Bronte. "Everything is recycled or secondhand, and we grow our own tomatoes and herbs out the back. We want to be as low-impact as possible."
Labrooy, 30, first met up with co-owners Sam Reid-Boquist, 25, and Chris Sorrell, 29, on a surfing holiday. "There we were sitting around on a beach in Morocco, complaining about the 'evil multinationals," recalls Labrooy, as he cuts metre-long mats of golden Turkish bread into squares ready for the busy lunch service. "It planted a seed that one day we'd run a café our way."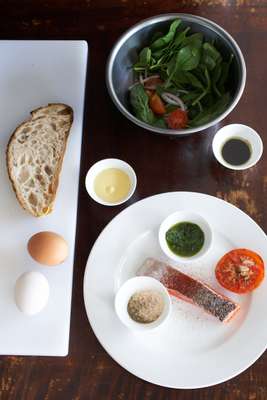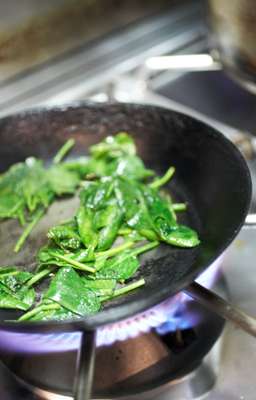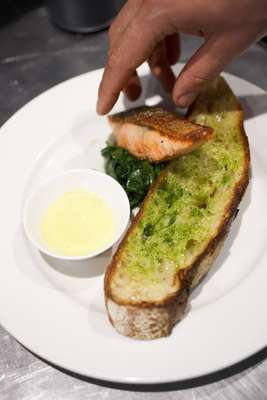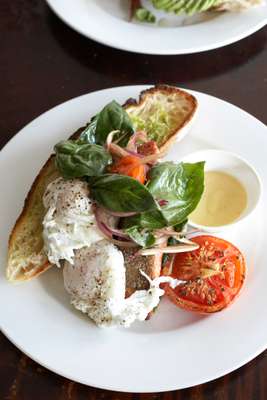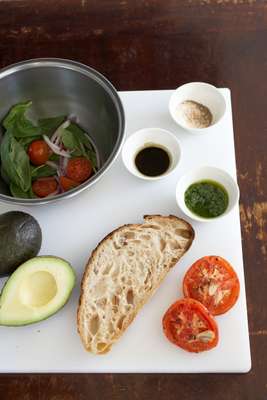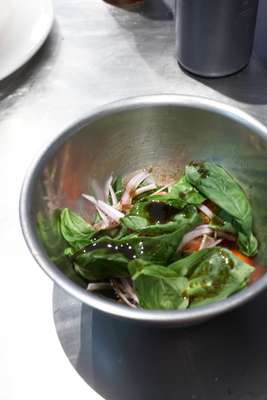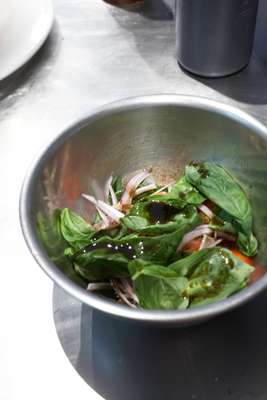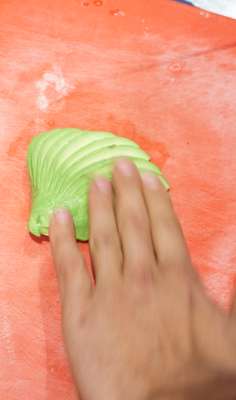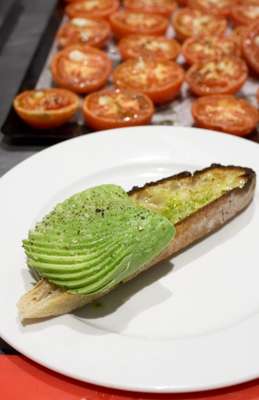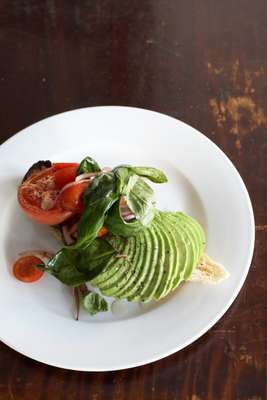 In 2010, he was back on a sabbatical from cheffing in Zürich, when Reid-Boquist urged him to check out an old chicken shop in Bronte as a possible café site. The three (pictured above, from left: Reid-Boquist, Labrooy and Sorrell) put in AU$25,000 (€19,000) each, ditched the chicken-fryers, took sledgehammers to the fit-out, and built an easy, breezy, streetwise kitchen, opening the doors in September last year. Since then, the almost all-boy team has become as much a draw as the light, bright breakfasts, as their surf-toned bodies swirl, dive and spin over pans of golden scrambled eggs, trays of fresh muffins and industrial quantities of slow-roasted tomatoes. Found-object furniture, a wall of graffiti art, graphic cushions and jugs of flowers add to the surf-caff charm.
Herbs are grown in the ramshackle permaculture garden at the back – a work in progress that by summer 2012 will have a full vertical growing system supplying armfuls of rainbow chard, spinach and every herb under the sun. "We use a lot of herbs, and were paying around AU$10,000 a year for them," says Labrooy. "It's immensely satisfying to grow them instead."
If Labrooy is proud of his garden, he's even prouder of the compost. "We put seven 20-litre buckets of waste back into the soil per week; the worms are crazy for it," he says, laughing. "They eat it up [from pvc pipes threaded through the soil] then head off again, aerating the soil as they go."
Locals are thrilled at Three Blue Duck's arrival, serendipitously positioned next to Sydney's most sought-after sourdough bakery, Iggy's. "We wouldn't use any other bread," says Labrooy. "Great bread is a major part of what we do." Pecan and raisin fruit toast is topped with fresh ricotta and homemade berry jam, and thick sourdough comes with "scram" (scrambled eggs), black sausage, dill and cucumber yoghurt and redcurrant jam.
With its emphasis on eggs, fresh herbs, tomatoes and fruit, it's textbook modern Australian café fare: fresh, clean flavours made famous by Sydney café king Bill Granger at Bills in 1993. There is, of course, avocado on toast, here piled high with garlicky roasted tomatoes left over-night in the oven until rich in sweetness and acidity. According to these cool-dude, cap-wearing chefs, there's a very good reason why this voluptuous fruit features so heavily in Australian café menus. "It's butter," says Labrooy, "only healthier."
Pastries and cakes (including a worth-a-detour baby-lemon meringue pie) are baked every day, and coffee, from Single Origin Roasters in Sydney, is organic and fair-trade. There are no products on the premises from those "evil multinationals". This means no Vegemite – a bit of a shock to the system of the average Australian café-goer. Breakfast segues to lunch between 11.30 and noon, a move that has some late-risers up in arms. "Everyone wants us to do an all-day breakfast menu," says Labrooy, "but by lunchtime I'm over it. I'm not cooking any more eggs."
143 Macpherson Street, Bronte, Sydney
Recipe 1
(Serves four)
Poached eggs, spinach and ocean trout
Ingredients
600g baby spinach, washed
4 x 100g fingers of ocean trout or salmon, skin-on
4-inch-thick slices of sourdough bread
Olive oil
Basil oil
2 organic eggs, poached and drained
Herb salad (see right)
4 oven-roasted tomatoes (see right)
100g hollandaise sauce
How to do it
1. Toss spinach in a dry pan over heat until wilted; drain and season well.
2. Cook trout, skin-side down, in a little olive oil until the skin is crisp and flesh still pink inside. Turn, cook for 5 seconds and remove.
3. Grill bread and brush with basil oil.
4. Top the bread with poached eggs and salad.
5. Arrange spinach, trout and tomatoes on plate.
6. Scatter with pepper and serve with hollandaise sauce.
Recipe 2
(Serves four)
Avocado toast with herb salad
Ingredients
4 ripe tomatoes, cut in half
1 tsp sea salt
2 garlic cloves, crushed
1 tbsp chopped rosemary and thyme
2 tbsp olive oil
4-inch-thick slices sourdough bread
Basil oil
2 avocados, peeled, stoned, sliced
Herb salad:
500ml fresh apple juice
100ml balsamic vinegar
100ml extra-virgin olive oil
Sea salt and pepper
2 cups of basil leaves
1 red onion, halved and sliced
2 cherry tomatoes, halved
How to do it
1. Cover tomatoes with salt, garlic, herbs and oil, bake at 180C for 30 minutes, then leave on the lowest possible heat overnight.
2. Simmer apple juice until reduced to 50ml. Mix the reduced syrup with balsamic, olive oil, sea salt and pepper.
3. Toss basil leaves and red onion in 50ml of dressing (leave the rest for future use)
4. Grill bread and brush with basil oil.
5. Top with avocado, tomatoes and salad.