Property prospectus / Sydney
Erskineville
Erskineville's ascension to the perfect address for urban professionals hasn't stripped it of its character and community feel. The old workers' cottages provide creative living spaces and Erskineville Road offers attractive shops, restaurants, bars and a prized bakery.
Just 10 minutes by train from the Central Business District, bordering the dining, shopping and lively nightlife of Newtown, sits the picturesque neighbourhood of ­Erskineville. Once an isolated village housing some of the city's poorest workers, it is now prized for its "village in the city" atmosphere. A wave of young residents are among its early adopters – including many from the gay community – transforming it into a playground of boutiques and boulangeries.
Dubbed "Erko" by locals, the neighbourhood started with a villa built on the site in 1830 by Wesleyan minister John Erskine (hence the name) who took possession of the plot following the death of the superintendent of convicts Nicholas Devine; he had received it as one of the earliest land grants in the colony of New South Wales. Now, it is known more for its liberal mores and family-friendly attitude than its shady past.
Erskenville is full of character, an aspect prized by long-term residents such as Trevor Hall, an architect who moved here 12 years ago. "The atmosphere here is really down to earth. There are people who were born in this neighbourhood that still live here," he says.
That means that while house prices are rising and a wave of renovations are visible in the shops along Erskineville Road, there is still space to move in. But get in quickly.
---
Victorian-era shops line Erskineville Road, the winding main thoroughfare, which has a provincial feel. Tiny Victorian cottages and larger row houses – known here as "terraces" for the intricate ironwork adorning their second-floor balconies and gates – are still the dominant form of residential architecture. Initially erected to house immigrant brick makers and tanners, these "terraces" are still standing strong 150 years on. Their working-class provenance helps explain why the terraces in Erskineville are smaller than those in neighbouring hot spots such as Newtown and Surry Hills. A house three metres wide is typical, so residents are adding second storeys on to heritage buildings.
---
Buying a property in Erskineville is pretty straight- forward but there are a few administrative hurdles, such as payment of property registration tax, known in New South Wales as a stamp duty, which equates to approximately 3 per cent of the purchase price. No fee is paid on purchase through an estate agent, which is good for buyers, although expect to pay an average fee of 2 per cent when selling. There's also a notary fee – called a conveyancing fee – that costs about AU$800-AU$1,000 (€725). Walk-in estate agents are still big business but Sydneysiders tend to scour websites – the popular domain.com.au has iPhone and iPad applications.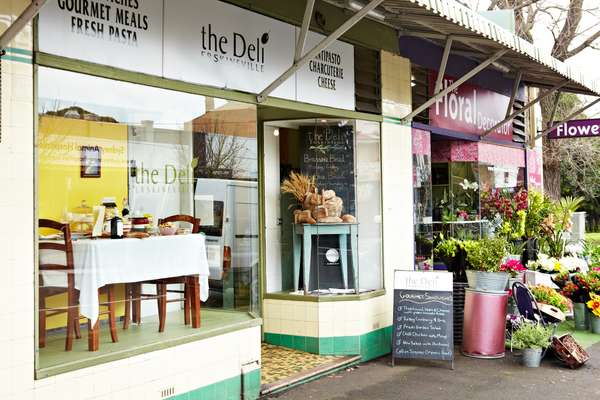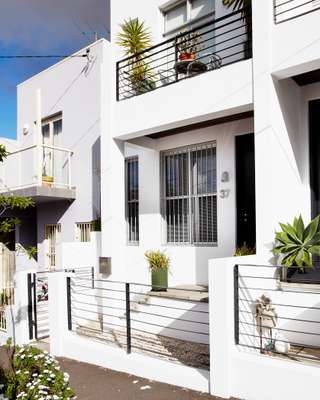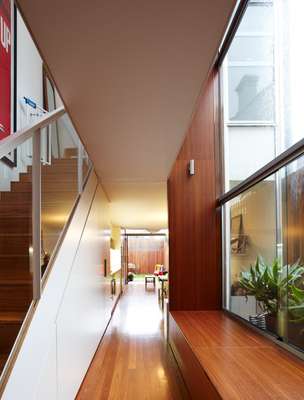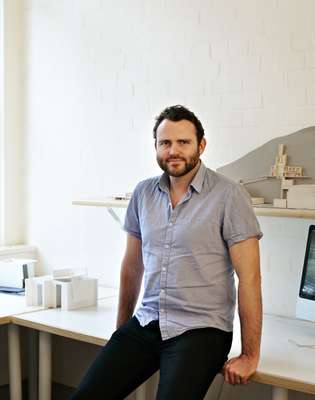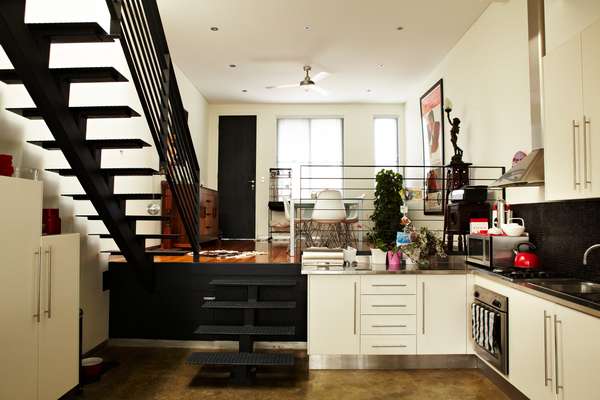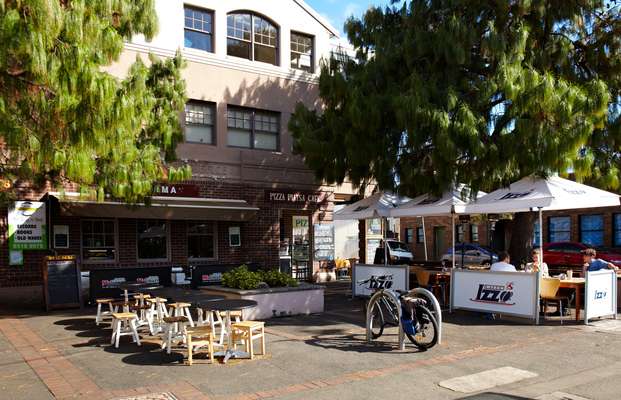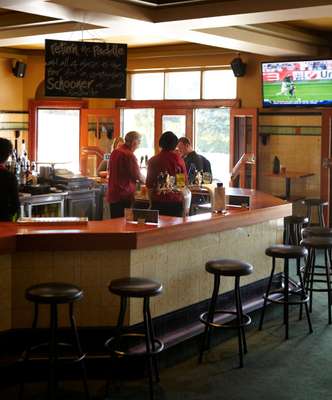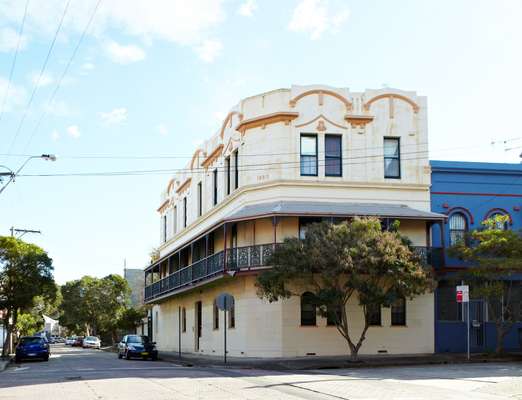 2 bedroom workers' cottage
(89-141sq m of land) – AU$680,000-AU$780,000 (€566,000)
3 bedroom terrace
(123-167 sq m of land) – AU$830,000-AU$980,000 (€711,000)
Renovated terrace 3-plus bedrooms
(140-347 sq m of land) – AU$1m-AU$1.6m (€1.1m)
1 bedroom - AU$400,000-AU$500,000 (€363,000)
2 bedrooms - AU$500,000-AU$700,000 (€508,000)
3 bedrooms - AU$650,000+ (€471,000)
True Property, 59A Erskineville Road, + 61 2 8507 2444
trueproperty.com.au
This friendly, family-run estate agent is the only game in town.
"For me, it's all communal. I love that my kids see all different kinds of people and know the local shopkeepers by name and say hello to them."
---
Australia Street Cottage
227 Australia Street, + 61 2 9519 7509
australiastreetcottage.com
Built in 1858, this sandstone cottage is a short walk from Erskineville Road. Rough-hewn walls may evoke the past, but there is no roughing it inside the plush interior.
---
Architect: Andrew Burns
1/61-63 Myrtle St, + 61 2 9698 6711
andrewburns.net.au
Burns, who studied under the late son of Australia's greatest living architect, Glenn Murcutt, maximises Erskineville's tiny lots. His passion is for melding the modern with a respect for the indigenous.
Bakerman Patisserie
65 Erskineville Rd Shop #2, + 61 2 8005 4434
bakerman.com.au
This cosy French-Lebanese pâtisserie serves freshly baked bread, Danish pastries and homemade pies, but it is the mouthwatering pain au chocolat that keeps locals coming back.
Erskineville Community Gardens
54-56 Erskineville Road, + 61 408 643 812
erskinevillevillage.org
On weekends locals stock up on garden plants here – adding to that prized Erko community feel – and walk away with fresh produce at the same time.
---
The Imperial Hotel
35 Erskineville Road, + 61 2 9519 9899
theimperialhotel.com.au/site/
Enjoy a pint at the pub famed for being a set in director Stephan Elliott's seminal Aussie film Priscilla, Queen of the Desert.
The Rose of Australia Hotel
1 Swanson Street, + 61 2 9565 1441
roseofaustralia.com.au
Opened in 1874, this former dive pub for workers has gone upscale, with offerings like pumpkin and feta ravioli in a roast pumpkin cream sauce.
The Hive Bar
93 Erskineville Road, + 61 2 951 999 11
thehivebar.com.au
Bring your own records and they'll spin them. Bring your own art and they'll hang it. The owners of this corner bar say they want it to be "your bar" and they mean it.
Maggie's Thai
75 Erskineville Road, + 61 2 9516 5270
In a city known for its Thai cuisine, Maggie's crispy pork belly, duck or papaya salad stand out. Matriarch Maggie may even serve you herself, as she has for 20 years.
---
Revolve Records
65 Erskineville Road, Shop 3, + 61 2 9519 9978
revolverecords.com.au
Spend a lazy Sunday surfing this second-hand mecca's racks of lost gems, including hard-to-find punk, reggae and funk vinyl LPs and 45s.
The Deli
110 Erskineville Road, + 61 2 9557 2685
Raymond Carbonaro opened this community fixture in 2003. If you need someone to walk you through the selection of fresh pastas and aged cheeses, he is your man.
---
The Floral Decorator
112 Erskineville Road, + 61 2 9516 3113
thefloraldecorator.com.au
Kelly Thomas, 42, has been supplying Erskineville with her elegant flower arrangements for nearly 15 years.