Report / Hilversum
Making airwaves
Hilversum was the centre of Dutch broadcasting for the best part of a century, a model media city of daring architecture. Hit hard by changes in the industry, a period of self-reflection has the city searching for new relevance in the digital media age.
In a country as flat as The Netherlands, a little height goes a long way. Drive 20 minutes southeast of Amsterdam and Hilversum's KPN radio mast looms over the landscape: an expanse of nature reserves, lakes and heathland. This is Het Gooi, the upper-crust region that has defined Dutch media for almost a century.
At the heart of Het Gooi sits Hilversum: the town that broadcast built. With media roots going back to the first Philips telegraph factory, the city nurtured the birth of radio in the 1920s and TV in the 1950s. The partisan origins of Dutch broadcasting, in which each station had political or religious allegiances, resulted in Hilversum turning into a rijsstafel of competing architectural visions. Broadcasters began commissioning landmark Dutch design in the inter-war years, with Catholic station KRO investing in a squat Willem Maas red brick construct (1938), while liberal pillar AVRO opted for trapezium-shaped studios from Merkelbach & Karsten (1936). The battle for the airwaves was rendered in glass and concrete.
Today, many of these monuments to early 20th-century Dutch modernism stand empty, with doors boarded up and weed-tangled forecourts. Others have been butchered into corporate offices. Since the 1950s, Hilversum's media industry has been retreating to a park on the northern fringe of the city. Broadcasters banded together to pool resources and close ranks against media upstarts such as Bussum to the north (which tried to develop a TV industry in the 1950s). "This used to be a media city, now it's a city with a media park" says Monocle's taxi driver.
"There's been a history of tolerating rather than supporting the media here," says Freek van 't Ooster, director of Hilversum based Immovator, a foundation that fosters media start-ups. "It's been an unofficial policy to make sure every major company was contained in the media park so the town could focus on preserving its green space and monuments." Media accounts for around 30 per cent of the city's economy and almost 50 per cent of job creation – isolating the industry isn't a gamble Hilversum can afford to take.
With Dutch giant Endemol and private broadcaster SBS both defecting to Amsterdam, another player that may soon become part of Hilversum's history is VARA, a public TV station housed in a wooden-slat-clad Royal Haskoning Architects villa (1995) on the southern edge of the media park. "Hilversum may only be 20 minutes from Amsterdam, but we're talking worlds apart in terms of outlook," says director Frans Klein. "Working here is like working in the countryside, and although that can be lovely, let's be clear: it's not happening here any more. The need to stay at the heart of creative content will drive my decisions for VARA, and we'll see where that takes us."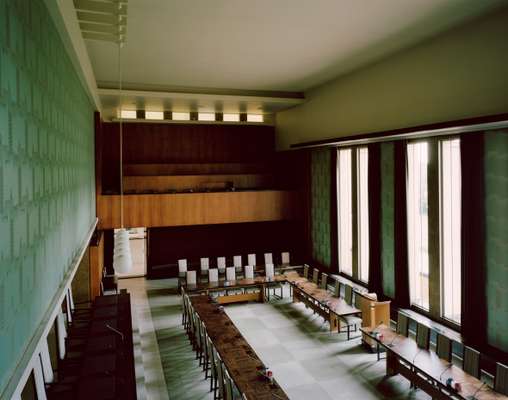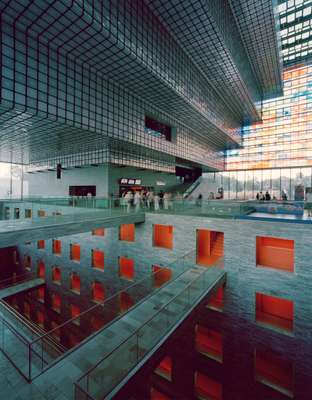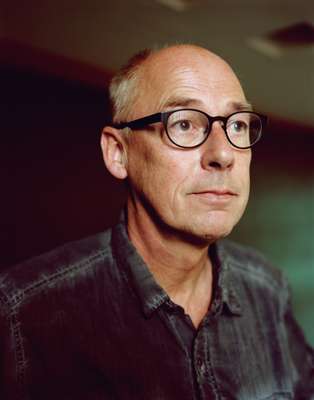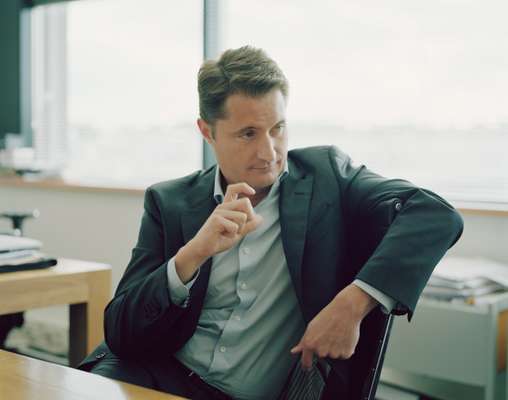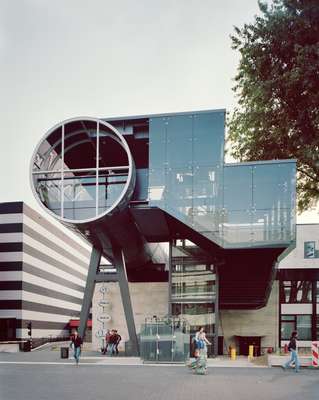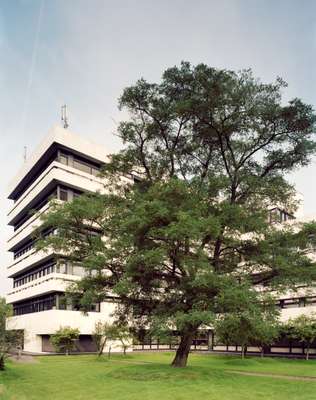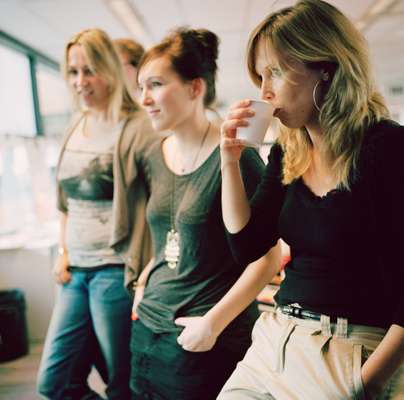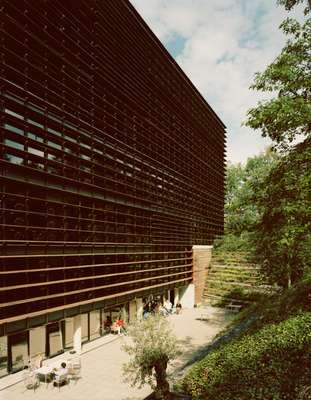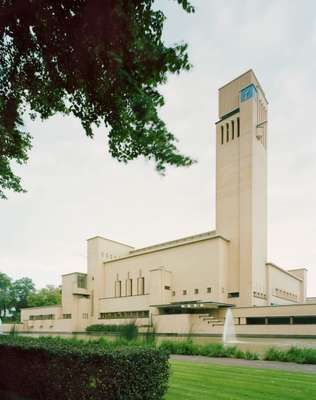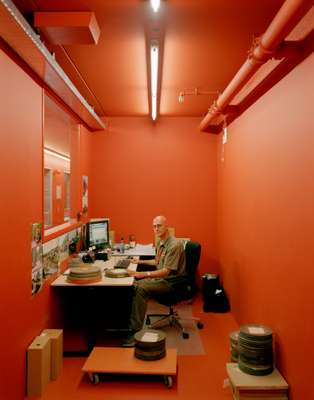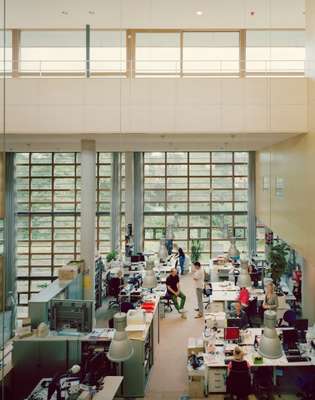 But Hilversum today is more than empty monuments and disillusioned tenants – there are new buildings and forward-thinking strategies afoot to keep Hilversum relevant for a new generation. Built in 2006 by Neutelings Riedijk Architects, the Netherlands Institute for Sound and Vision is a striking investment in Hilversum's future. An undulating glass façade from local graphic designer Jaap Drupsteen is subtly imprinted with images from the 700,000 hours of archive material housed in the building. Half subterranean, the vaulted atrium feels like a cathedral to media, lit by stained-glass images that the architects refer to as their "inferno". Attracting around 150,000 visitors a year, the building is a bold reconnection with Hilversum's history and the kind of move that puts the city back on the map. "We're definitely seeing a rebirth here, and there are a lot of good intentions," says Tom de Smet, head of collections at the Sound and Vision archive, "although I think the ties to Hilversum are still more cultural and historical than economic."
With the appointment of mayor Pieter Broertjes in July, former editor-in-chief of de Volksrant newspaper, the city is entering a more media-savvy era once again. "It's essential that we reintroduce the media park to the rest of the city," says Fons Gennisse, senior city planner at Hilversum, as he pores over maps and blueprints in one of the council chambers at the Willem Marinus Dudok-designed town hall. Dudok himself drew up many of these plans when he became the first city architect in 1928, and the sense of connection with the Dutch master is palpable. "It was always my dream to work here," says Gennisse. "But the focus on developing the park has taken over and drained the city of energy."
Gates still encircle the park, although security is far more relaxed than it was in the wake of Pim Fortuyn's assassination in 2002, gunned down near the southern entrance. As the newsmakers became the news, swipe cards and security systems created an armoured compound. "We inherited quite a stagnant, broadcast-focused set-up," says Jacco Zwerver, park director of TCN, the management group that who bought the park in 2003. "There was a lot of dusting to be done."
TCN is investing heavily in the reintegration of Hilversum's media industry. Removing the fences to open the park up next year is a small but significant start. The company has also contributed to a recent €50m public-private fund to overhaul the city's transportation system. A newly opened Meyer en Van Schooter bridge is a centrepiece of this investment programme, connecting the media park to Hilversum Noord station, providing access for the young creatives who flood in each morning.
With media communities rapidly developing in Amsterdam – alongside a thriving gaming industry in Utrecht to the south, as well as computer support industries in Amersfoort to the east and Almere to the north – Hilversum's town council is now following the old adage that if you can't beat them, join them. "It's not about competing with other Dutch cities any more," says councillor Jan Rensen, who oversees economic and media affairs. "We don't talk about Hilversum as a standalone media city but the centre of a media valley."
Rensen points to existing assets across the region – the huge AMS-IX internet exchange in Amsterdam and vast data storage units in Almere – and explains how they are working with other regional governments to create a network comparable to that of San Francisco's Bay Area. He's also under no illusions about the need to innovate: "If we continue to only focus on TV and radio then we can close the city down in 10 years' time."
This drive to modernise Hilversum's industry is matched by careful investment in the area's education and infrastructure. The city has just appointed a designated architect for the first time in decades; Chris Vanderheyden will oversee the transformation of Hilversum into a place where people want to live as well as work.
One key project under development is the Central Station Tower, a striking stacked structure of misaligned floors and hanging gardens from Frits van Dongen (appointed national architect by The Hague). A blend of apartments, retail, recreation and business units for creative start-ups, it brings business back to the heart of the city. There are also plans to reclaim some of Hilversum's historical buildings, with a 1950s milk factory being converted by Inbo Architects into apartments and office space.
The battle plan for regeneration has proved persuasive for some broadcasters, curbing the exodus that began in the early noughties. Hilversum is still home to the likes of Radio Netherlands Worldwide, one of Europe's most creative and influential operators. "We're staying here for the infrastructure but also to be part of a solid media community, which we believe will become a hub for new developments," says Bert Habets, CEO of RTL Nederland, a private broadcaster that recently renewed its tenancy in Hilversum for the next 10 years in a €40m deal.
This decision shocked many in the industry but was met with a collective sigh of relief among planners at Hilversum. Habets is unequivocal about the importance of the city's concentrated but diverse media community. "We are going through a period of unprecedented diversification as a company, with new ventures and entertainment divisions. So keeping things centralised in Hilversum helps us stay integrated. It's here that we can mix all the strands of the company DNA," he says.
Handprints and stars stud the pavement outside RTLs offices: Dutch broadcast's answer to the Hollywood walk of fame. With the half-affectionate, half-ironic nickname of "Hilywood", the city has the same air of decayed grandeur as its Californian cousin. A capricious media industry may have taken its toll on this bastion of broadcast, but with plans to reconnect the city with its proud past and rediscover the city for its future inhabitants, Hilversum may prove to be a model media town once again.
Founded in 2001, Dubai Media City is a tax-free haven that has attracted investment from CNN and Reuters in its first 10 years. The site is wired with fibre-optic cables and borders the equally impressive Dubai Internet City. 
Media City UK, Manchester, UK  
The new home for the BBC at Manchester's Salford Quays has been a controversial project thanks to a rumoured £1bn (€1.1bn)  price tag and architecture that some have seen as uninspiring. The site will be Europe's most advanced media hub, though.
It has enjoyed a rebirth thanks to Sony Pictures Entertainment's investment in what looked like a fading Hollywood façade during the early 1990s. It's now the home of National Public Radio West and the NFL Network.
Covering the northwestern part of Beijing, Zhongguancun is the city's tech hub, which is already home to the Chinese headquarters for Google, Microsoft and Intel. The Chinese government will invest heavily in the next 10 years in a bid to turn the area into the nation's equivalent of Silicon Valley.
World-famous for pluralism, high editorial standards and healthy debate, Dutch media is a formidable force. The Netherlands is one of the strongest consumers of print in Europe, alongside Scandinavia and Germany, with 70 per cent of the population buying a daily. Innovative TV production firms such as Endemol have changed the face of entertainment with global franchises such as Big Brother. Radio Netherlands Worldwide has developed an independent voice since government cutbacks in 2004, and built a reputation as one of the most creative broadcasters in Europe.
The labyrinthine model of Dutch media may have made sense in the partisan 1950s, but it now creates unnecessary complications for an industry needing to work together and innovate. The Hague has recently passed legislation forcing Dutch public broadcasters to shrink from 24 to eight by 2014.
The skills developed at Hilversum are second to none and ripe for export. TCN has advised the BBC on incubator developments at White City, while the Sound and Vision archive exports its knowledge through the Presto Centre. More initiatives like this could build its brand.
Hilversum lacks the allure of a global city, with media workers banding together at the one coffee shop on the media park. The centre needs an overhaul, with businesses and bars to create 24-hour charm.
The closer the links to Amsterdam, the better. Hilversum can't compete with the bustle of The Netherlands' largest city, but it could become the perfect complement. Bilateral cooperation and transportation between the two cities needs addressing.
Bring the past into the present  
Hilversum's architecture and history is its main asset. Instead of investing in anonymous new builds, the city should develop its modernist monuments into thriving hubs for small creative businesses.