Media / Global
Media
Briefing
Internet advertising that knows exactly who you are, an Istanbul magazine delivered by bicycle - by the editor, plus more media news.
Your face fits the billboard
USA —
ADVERTISING
On the internet, companies can target their ads to people who enter particular search terms, but in the real world there is no way to make advertising interactive. Until now. In a development straight out of the 2002 film Minority Report, New York's Immersive Labs has designed a system that displays ads tailored to passersby.
"That film is 10 years old, and here we are with the technology that was depicted in Minority Report," says founder Jason Sosa. All that's needed is a screen with a camera, and Sosa's software. When a person passes by, the software recognises their gender, age, how long they linger, and notes the time of day and the weather. If a man is passing on a warm evening, it might show a beer ad. If it's a child, it could be ice cream. Spielberg, step aside.
---
That'll do nicely
Turkey —
MAGAZINES
Simon Johnson, who together with his wife co-edits the quarterly magazine THAT, distributes the 3,000 copies in person on his bike to cafés and shops on either side of the Bosphorus. "The idea is to encourage people in Istanbul to connect, create, explore and live good," says Johnson as he prepares the fourth issue. The "platform for anyone to present their photography, artwork and prose" stands out for us for its photos and "reflections" – unusual, amusing toe-dippings into the streets beyond Istiklal.
Tree House Productions + 90 543 783 98 26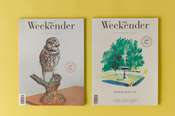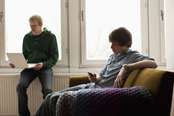 ---
No hiding
USA —
SMARTPHONE APP
The start-up I'mOK aims to solve an old conundrum – how can parents keep tabs on their kids without nagging? It has created a smartphone app that awards points every time children send pictures, tag friends, or anything that lets parents know where they are. They can exchange points for rewards from their parents. Is there a version for partners?
---
Canal plus
Denmark —
AUDIO
The Danes seem to have this remarkable ability to tweak a well-worn design in the subtlest of ways and radically improve upon the original. These Jamo wEAR In40i headphones have been engineered to the contours of the ear canal to reduce stress on our pressure points and create the perfect acoustic seal to play music at safer volumes. With a three-button iPhone remote and a built-in microphone for a reciprocal hearing experience (mainly for phone calls), they are available in pristine white or piano black. Comfort, functionality and inspired design are now just as important as your aural wellbeing.
---
Q&A
Dirk Mönkemöller
Co-founder, The Weekender
Köln
Dirk Mönkemöller's after-hours project is a breath of fresh air for newsstands – a thing of beauty that celebrates the weekend.
How was 'The Weekender' born?
I published a fanzine called Fanzine No1 for almost 10 years but this year I felt it was time for something bigger. I also felt it was a good time for independent niche magazines.
What kind of story will it tell?
My partner Christian Schneider and I try to put together a mix of stories that we would like to see in a magazine – interior design, travel and a slight touch of nature. We always try to avoid looking trendy.
You design a commercial iPad app by day and an independent print project by night. How do you reconcile the two?
My job as a lay-outer for the Kölner Stadt-Anzeiger is similar to editing The Weekender: both are done with the same layout program, both involve putting pictures and text together. The big difference is that one has to be done fast, while the other is really slow.
Does bigger mean better?
When you are small it's hard to survive. When you get big you get a whole other set of problems. So I guess it's best to be medium.
Any plans to go digital?
Never say no. But no.
---
Future tech turns on the radio
USA
The hi-tech and newfangled are helping good old radio's advertising comeback. In the US, tech and IT services are buying air-time on city and local stations to target drivers (it's always mostly drivers) swamped by the glut of tech blogs and gadget sites that flood in when they log on. The jingle looks tried and tested again, rather than old.