Briefing / Americas
Americas
Briefing
A Style Leader special, looking at the sartorial statements of three US election Republican hopefuls, plus cycling in Buenos Aires and policing in Peru.
Style leaders
USA — 
POLITICS
The 2012 presidential election remains fluid, but one thing seems certain: Americans will be choosing from the most physically fit selection of candidates ever. The incumbent, Barack Obama, is known for his intense play on the basketball court, while Republican challenger Michele Bachmann enjoys punctuating her campaign stops with a lively turn of swing-dancing with her husband. Mitt Romney, 64, has filmed ads that show him jogging near his New Hampshire home. Rick Perry, three years younger, often takes to Austin-area running trails with a pistol in his waistband – and likes to tell the story of the time he halted his exercise to shoot a coyote menacing his pet dog.
But when it comes to personal style, Obama's three top challengers seem a little more reluctant to cut a distinctive figure. Each dresses every morning in the shadow of a previous Republican contender of whom the American public eventually grew cold – Perry has George W Bush, his predecessor as governor of Texas; Bachmann has Sarah Palin, still the dominant archetype for the new conservative woman; and Romney has the Mitt Romney who ran for president in 2008.
Perry and Romney have come to be natural foils in the Republican primary, two governors with strong jaws and great hair who inhabit the conflicting impulses of the American conservative mind. Romney is the mannered, cautious guardian of the corporate establishment, a graduate of Harvard Business School who is most comfortable speaking from a data-heavy PowerPoint. Perry, on the other hand, is the descendant of poor farmers, attended a Texas agricultural university and became a "yell leader" there, charged with leading crowd chants during American football matches. Yet as each tries to expand his appeal nationally, Romney and Perry both seem to be dressing for the other's part, as though trying to shake off their burdens with a fresh wardrobe. Perry, who has spent his professional life in government, is working to distance himself from the image of the career politician and stand as a champion of the free market. He has taken up a corporate uniform – business suits, power ties, and cufflinks – that helps avoid unnecessary comparisons to the ranch chic of Bush.
Romney, on the other hand, spent the last four years working to "remind people of the guy you work with, not the guy who laid you off," as opponent Mike Huckabee put it when the two faced off in 2008. For his second run he puts on a tie only for the most formal moments of the campaign, like televised debates. Most of the time he abandons a jacket altogether, and leaves his hair adventurously tousled.
Bachmann has been called a Palin clone, an association that rankles both sides. As Palin's daughter Bristol asked recently, "Do you think that people don't notice you're dressing like my mom?" As a presidential candidate, the Minnesota congresswoman is working to keep her distance from the Alaskan. Bachmann emphasises her professional credentials to assert her seriousness – but most pointedly seems to avoid the outdoorsy part of the original Mama Grizzly's look. Her aides have even blocked photographers from shooting the candidate relaxing in cargo pants on her campaign plane.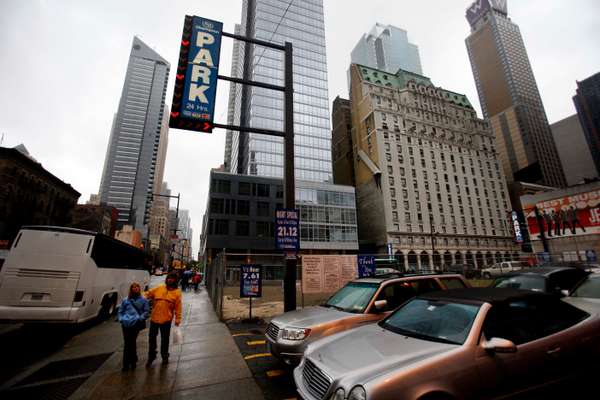 The Texas governor may be a rancher-turned-career-politician, but his attire as a presidential candidate is all business. Perry has been sticking to corporate suits in his campaign appearances, accompanied by lightly patterned ties and white shirts with thick tall collars that cover nearly everything up to his chin and make Perry seem neckless. Gold cufflinks bearing the Lone Star that appears on his state's flag are not the only hint of Texas peeking through at the edges of Perry's suits. He is usually seen wearing dark cowboy boots – over his career he has received at least 10 custom-made pairs as gifts from a Houston bootmaker who claims to be already working on one set featuring the presidential seal.
Bachmann may like to take it easy in cargo pants, but in public she prefers knee-length skirts — they are often part of a suit or paired with a blazer, although during looser summertime campaign trips she has worn a mere T-shirt as a top. Unlike Sarah Palin, she rarely allows herself to be spotted in sportswear, and in the most pronounced departure from Palin iconography, Bachmann has been insistent on keeping her glasses off. The crowning touch is a string of pearls worn as a bracelet, a shiny reminder of her maturity. Despite being often cast as contemporaries, Bachmann is nearly a decade Palin's senior, and dresses each morning not with the possibility of a caribou-hunting expedition in mind but the chance of an invitation to afternoon tea.
On the campaign trail this year, Romney has preferred active photo ops - strolling through a Las Vegas neighbourhood rocked by home foreclosures, or visiting a New Hampshire petrol station to point out energy prices — and picks outfits for easy-going comfort, along with worn leather loafers or occasionally trainers (particularly for parade routes). There's usually a check-print, button-down shirt rolled up at the sleeves, paired with Gap jeans, all to suggest a man hard at work. Yet as is often the case with Romney, the suitcase makeover may bring with it old baggage: a man often mocked for not masking how badly he wants the presidency looks once again to be trying too hard.
---
Dial-a-space
USA — 
PARKING
New Yorkers may not always have spare change on them, but odds are they've got a mobile phone. And if so, the nightmare of parking your car in the city may be about to get a little easier. New York's Department of Transportation (DOT) is launching a pilot scheme in the spring that will allow drivers to pay for parking using their mobile phones. "Piloting pay-by-phone technology can eliminate the mad dash for meter change and it's another great example of technology improving quality of life for New Yorkers," says Janette Sadik-Khan, DOT's commissioner. New York has been slow off the mark. Similar systems are already in place elsewhere in the world.
---
Female touch
Peru — 
TRAFFIC POLICE
Are female police officers more honest and less likely to accept a bribe than their male counterparts? The Peruvian government and many locals seem to think so. It's the reason why driving through Lima's car-choked streets, it's almost certain you will see a female police officer directing traffic and arresting bad drivers.
Recruiting more policewomen is part of a government drive that dates back to 1998, aimed at cleaning up the image of Peru's police force known for rampant corruption. The number of female transit police in Lima has risen by over 80 per cent during the past decade. These days, of the capital's 2,500 transit police, 93 per cent are women. According to recent research, most Peruvian policewomen believe they have helped to reduce petty corruption in the force and improve its overall image, but they say high-level corruption still remains a problem.
---
Q&A
Paula Bisiau
Director, Palermo Commune
Buenos Aires
Since last year there have been attempts to make Buenos Aires a bike-friendly city. What has changed?
The cycle path network was constructed, creating a route that joined large urban areas with the city's administrative centre. The cycle lanes were extended to 100km and 15 on-street bike hire stations were created. There are also ad campaigns and events promoting the benefits of cycling.
What has the response been?
More people are adopting bicycles as a means of transport. A cultural change is taking place. Previously people were afraid of cycling in a city with so much traffic. Also the belief that a car equals status, and that if you use a bicycle you are poor, is diminishing.
What is the city still lacking?
More routes. By 2015, 50km more cycle lanes and 100 bike hire stations are planned. There will be automatic bike hire stations like in Europe. Teamwork with firms is needed to create parking places and lockers for staff to leave their helmets. There are still lots of things to do.
---
Picture of obedience
Canadian embassies
Queen Elizabeth II may be Canada's head of state, but her portrait isn't on the wall at every Canadian embassy. That's about to change – PM Stephen Harper has told them to make space for Her Majesty.