LA's art scene / Los Angeles
Being scene
With commercial galleries on the rise and an ambitious programme of museum development, Los Angeles is forging a formidable reputation as a centre for contemporary art. But can it really rival New York?
Not a drop of white paint adorns the walls of Los Angeles' Night Gallery. Instead the innards of this 90 sq m contemporary art hub, perched inside a rambling 1980s strip mall, is the colour of the adjoining desert-cracked black parking lot. To its left is a beauty salon, and on the right, a 24-hour taco stand that laces the air with the smell of fried onions and shredded beef.
"Night Gallery couldn't have started in any other city," says 30-year-old co-owner and artist, Davida Nemeroff. Lured by the possibility of generating a fresh contemporary art dialogue without the pressure of high rent and scarce space, the Canadian native left New York and headed out west soon after graduating from Columbia University. Within months she found this former party-supply store and turned it into one of the city's most innovative galleries – earning its name by staying open until 02.00 three nights a week. "This town is the last frontier. It seems lawless. And it was the combination of those two things that gave me the chance to establish a gallery where almost anything can happen."
Night Gallery first opened its doors a year and a half ago, and is a reminder that – despite all the shiny high rises, multimillion-dollar mansions and endless stretches of six-lane highways – this city is still, as Nemeroff puts it, "the wild, wild west". And although most of the droves flocking here daily have Gold Rush dreams of landing on silver screens, Los Angeles' contemporary art scene is also attracting a lot of its own dreamers. Look no further than the crush of new galleries, non-profits and fairs from Hollywood to Chinatown, Culver City to Santa Monica, all of which have helped underscore the city's reputation as a serious and robust art capital.
Then there's the bouquet of New York blue chips opening here, which includes L&M Arts in Venice Beach and, come this winter, power dealer Matthew Marks, as well as a massive expansion of Gagosian's Beverly Hills outpost. Despite the maturation it still is far, far behind New York's contemporary gallery scene in terms of numbers and even visitors, but not in quality and ambition. Yet for most artists, such as Sterling Ruby, that is precisely the allure.
"The town still has a burnt-out, drop-out personality that I would like to think my work references on an aesthetic level," says Ruby, as he prepares a show for the Pace Gallery's Beijing space. "People come here to catch a dream and realise a different truth – that has also fed my work." Ruby's massive art compound is located just past the city's downtown, in an industrial suburb where blue skies are hidden behind lanky electrical wires and bricks outnumber palm trees. He set up the workshop early on in his career, and has attributed the size of the space as one that has pushed both the dimensions and materials used in his work. "Scale is sometimes self-critical or self-reflexive, but from a practical viewpoint scale is also possible because of where I live."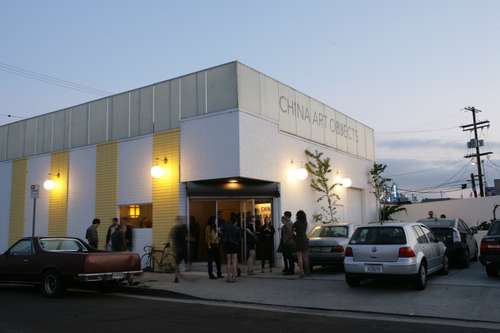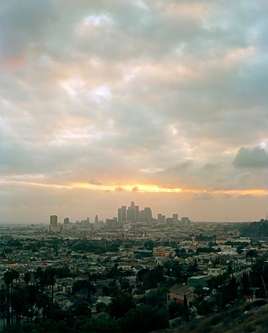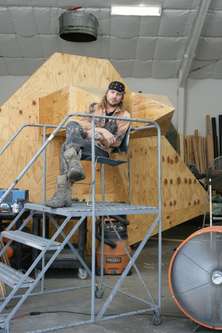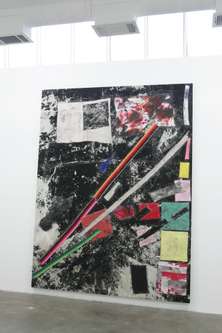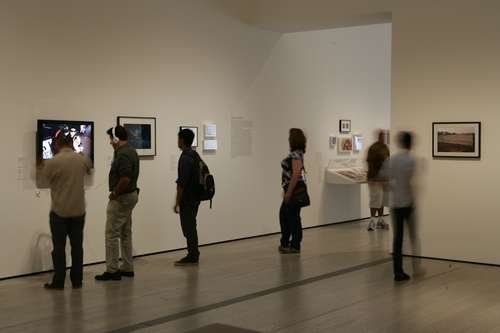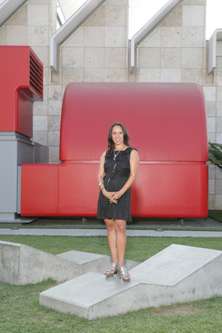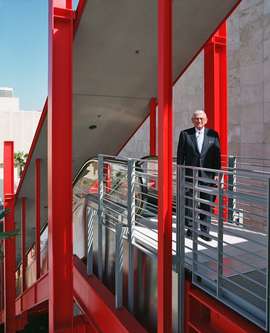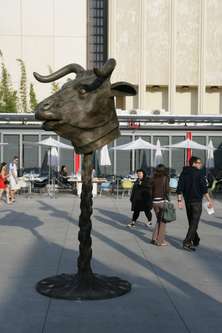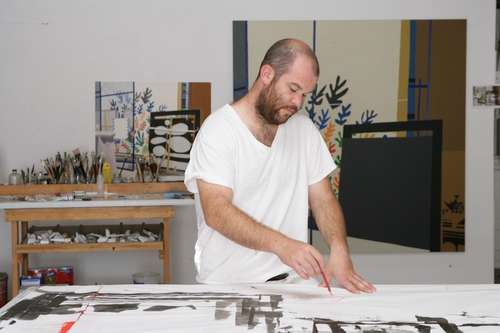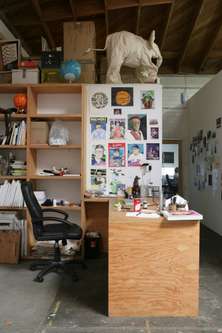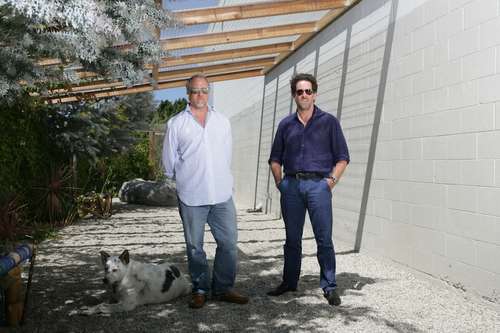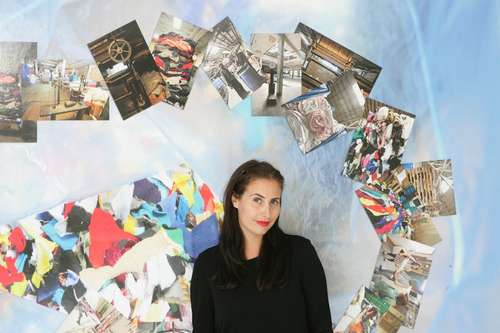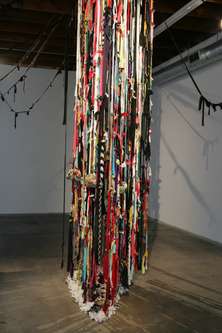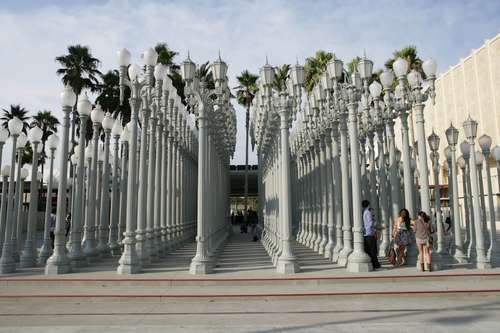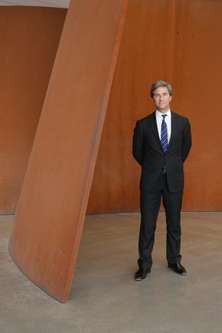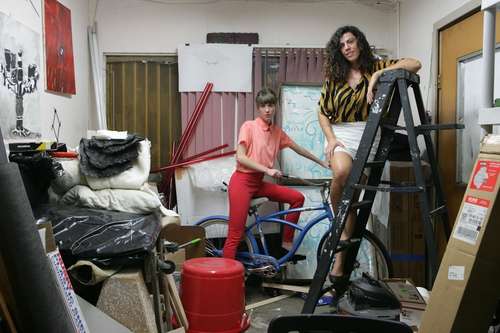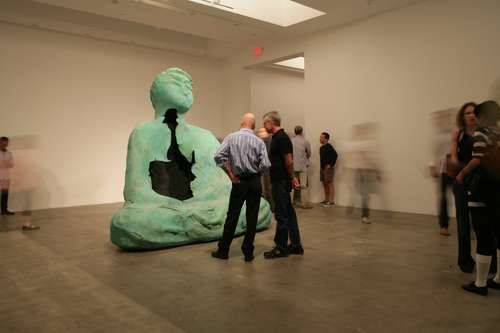 That's precisely what lured curator Shamim Momin away from her job at New York's Whitney Museum of American Art to set up LAND (Los Angeles Nomadic Division), which uses the city as an art playground by creating site-specific projects beyond the gallery walls.
"A museum director said to me the great thing about LA is you do your stuff and apologise later, whereas in New York you have to make sure you fix things in advance," says Momin as she watches dozens of children run barefoot atop her recent acquisition, concrete benches in human forms by Teresa Margolis. Established in early 2010, LAND has set up art residencies in the iconic Fitzpatrick-Leland home just off Mulholland Drive, and screened experimental films from Mexican artist Gonzalo Lebrija on videotrons hanging above Sunset Boulevard – LA's equivalent to Times Square. "There is a certain openness here to such endeavours, but it is combined with a kind of sophistication that really doesn't exist in any other art capital," she adds.
This "openness" is not just cerebral; the city of Los Angeles covers over 500 square miles, which means you don't need to be a descendant of art world royalty to find a cheap space. "Our first gallery cost us 1,200 bucks a month," says Tim Blum, co-owner of the 17-year-old Blum & Poe, which represents the likes of Mark Grotjahn, Takashi Murakami and Lee Ufan, and is now considered one of LA's most successful galleries.
"Back then, we were lucky if we had 30 people visiting us in an entire week. There just was no awareness of contemporary art," added Blum. With the swelling of the global art market and the attendance of international fairs, Blum and his partner Jeff Poe began making a name for themselves both here and around the world. Within a few years, their success facilitated a move out of their first shoebox gallery to a 1,500 sq m space on La Cienega Boulevard. It also helped that the collector base within LA, which includes several of the most avid buyers in the country – mega-collector Eli Broad and ex-Disney head Michael Ovitz – has been rising steadily over the past decade.
"There are a lot of collectors in the west, and with every year that number just keeps on growing," says Blum. Although La Cienega is now the main gallery artery for the entire city – Saturday evening openings are as glamorous and crowded as Thursdays in Chelsea, Manhattan – when the duo first opened its space, Culver City was still "a shitty neighbourhood, where we often found our front porch being used as a toilet". They stuck it out despite the delinquencies and within a couple of years, many other galleries such as Honor Fraser, Cherry and Martin, David Kordansky, and China Art Objects opened in the neighbourhood. In 2009, Blum & Poe moved across the street to its current location – an even more enormous 6,700 sq m split-floor structure replete with its own 32-car parking lot and sculpture garden. Even with this momentum, it would be a mistake to describe LA's scene as nascent. The city's groundbreaking contemporary art legacy dates back to the late 1950s, which includes the opening of the Ferus Gallery. Here, artists such as Ed Ruscha, Craig Kauffman, Robert Irwin and Edward Kienholz all had some of their earliest gallery debuts.
And while Ferus was open just under a decade, seminal bodies of work – including Kauffman's first relief acrylic plastic sculptures and Kienholz's inaugural large-scale installation show – were all produced under its helm. The gallery's risk-taking ethos was perhaps best exemplified by its decision to give Andy Warhol his first solo show – in this case featuring a room of his Campbell's soup can paintings – marking the debut of Pop Art on the West Coast.
"This has always been a city where the artists come first," says photographer Catherine Opie, who arrived here in 1988 to study at one of the city's premier art schools – CalArts – and whose body of work has included images of LA's transit labyrinth, surfers and high-school football players. Like many of the city's renowned artists – including Charles Ray and Mike Kelley – Opie teaches at UCLA. "Here, all the best artists are also educators," adds Opie. "Because of that we have become a community in constant dialogue with both the present as well as its history." It's precisely this discussion that attracts thousands every year to study in what are considered the nation's top art schools: USC, CalArts, UCLA and Pasadena Art Center. And once they graduate, states Opie, most never leave.
Michael Govan, director of LACMA (Los Angeles County Museum of Art), agrees. "There are now several generations of artists here and at some point the saying became 'you don't have to go to New York to make work – you can make it happen here,'" he says. "All you need to do is look at the Whitney Biennial to see that every year the LA artists go up and up." Govan is part of a growing stable of former New York dealers and directors who have relocated to Los Angeles to take over directorial roles in museums, with the most notable being Jeffrey Deitch at the Museum of Contemporary Art (MoCA) and Ann Philbin at the Hammer Museum. "For me it was the ideal destination to ask the question: what is a general museum's role in the 21st century?" says Govan.
Under his helm, the 50-year-old museum has radically transformed its campus to include Eli Broad's Broad Contemporary Art Museum, and built the 14,000 sq m Lynda and Stewart Resnick Exhibition Pavilion. His tenure has also included the acquisition of iconic outdoor sculptures – such as Chris Burden's "Urban Light" and the soon-to-be-installed 340-ton "Levitated Mass" boulder from Michael Heizer. The hope with all of these monuments, Govan explains, is to one day pivot the museum as a town centre for a city that has never really had one. "We are playing around with the idea of a town square, and we think it's working," says Govan.
On a cloudless Tuesday morning, 34-year-old painter Jonas Wood stands inside his cavernous studio running his fingers across half-finished canvases and wooden boxes filled with hundreds of coloured pencils. Since relocating from the East Coast in 2003, Wood's evocative paintings have been hung in museums and galleries around the world. "Just after I arrived I began mainlining the city's overblown light and laid-back environment like a drug," says Wood. "I just knew there was something here that could offer me the best possible life on every level." He holds up his hand to catch a ray of sunlight. "And you know what? I'm thinking I was right."
Hailing from Detroit, Michigan, Eli Broad made his fortune in construction, before creating a retirement savings empire. He has lived in LA since 1963 and in recent years has, together with his wife Edythe, devoted his time and resources to philanthropy.
"I guess the first collector [in the family] was my wife, and I got involved in 1973. We started with Rauschenberg, Johns and Twombly. Our collection now is very deep; I don't think anyone has a larger collection of Jeff Koons, Cindy Sherman, Roy Lichtenstein or Ed Ruscha. "We ended up with a collection of 2,000 works – 600 in our personal collection and 1,400 works in the Foundation collection. We created a foundation about 26 years ago – because our walls were filled and we wanted to continue collecting – as a lending library for museums and universities throughout the world. Since then we've made 8,000 loans to 40 different institutions.
"I think LA is the contemporary art capital of the world. It starts with the great artists we have, going back to Sam Francis, John Baldessari and Ed Ruscha. And we've got probably the best art schools in America: UCLA, USC and CalArts. And there is no city in America and maybe in the world that has as much gallery space for contemporary art.
"The new museum we're building, the Broad, will have 15,000 sq m of gallery space. The museum came about because we have art in six different storage facilities in Culver City and El Segundo. For a number of years, we'd been thinking about how we could consolidate our offices and storage – and show to the public and create a great piece of architecture. The mayor said why don't you do it downtown on Grand Avenue? I think it will be a big draw."
Blum & Poe: The roster of this LA heavyweight features international stars, including Takashi Murakami and Lee Ufan.
The Box: Owner Mara McCarthy – daughter of LA artist Paul McCarthy – uses her Chinatown space to feature lesser-known artists.
David Kordansky Gallery: A mid-level gallery working with the next generation's A-listers such as Jonas Wood and Rashid Johnson.
Night Gallery: Open just three evenings a week (22.00-02.00), this space takes chances on unknowns and emerging talents.
China Art Objects: A long-time staple of the LA art scene, this 12-year-old gallery left its Chinatown digs to move into an airy Culver City space last year.
Lauri Firstenberg, LAXART: A former curator at New York's Artists Space, Firstenberg is the doyenne of public art initiatives in LA, as well as creating evocative shows in her own space.
Ali Subotnick, Hammer Museum: This one-time Berlin Biennial curator has overseen many innovative shows during her tenure, including the upcoming Los Angeles Biennial.
Paul Schimmel, Los Angeles Museum of Contemporary Art: A local and international curatorial legend whose shows have helped put several LA artists on the map.
Lynda and Stewart Resnick: The owners of POM Wonderful and FIJI Water gave LACMA $45m to build a new pavilion in their name, as well as an additional $10m in art.
Michael Ovitz: The co-founder of CAA (Creative Artists Agency) and former Disney president has been collecting since the 1970s. The Ovitz Family Collection includes Picassos and Rothkos, as well as contemporary work.
Eli and Edythe Broad: These major donors and board members to nearly every cultural institution in town will soon have their own three-storey museum for their 2,000-piece collection near the Museum of Contemporary Art in downtown LA.
Most seedy and fun: Hollywood
Most exotic: Chinatown
Most reputable: Culver City