Copenhagen / Copenhagen
Bread
&

butter
Rye bread with a simple topping might not sound like culinary fireworks. However, at Aamanns it is sparking taste buds.
Smørrebrød (literally, "buttered bread") dates back to before the industrial revolution when, it is said, agricultural labourers would use slices of rye bread as plates to bear various toppings, primarily pork, herring and potato. Around the late 19th century there was an explosion in smørrebrød restaurants that would compete with ever more elaborate toppings, but there was little subsequent development. That was until the Copenhagen chef Adam Aamann (pictured) opened his eponymous restaurant in Østerbro in 2006.
"Smørrebrød had become less about satisfying hunger and more about culinary 'bling'," he explains. "The rye bread had been scaled down, and even replaced with white bread, and the portions of meat or fish had grown to an almost grotesque level. Garnish was piled on top just to add drama. I decided to take smørrebrød back to its roots and give it a contemporary overhaul. I made rye bread the key again. I think Danish rye bread works extremely well with very different textures and aromas. It can also be very beautiful." Aamann bakes his sourdough rye bread on-site in a process that takes two days; it is essential to let the dough rest overnight before baking, he says. "Rye bread is the backbone. It has malty, complex and bittersweet flavours, which really tie together all the flavours from the toppings."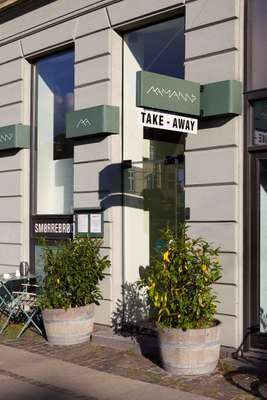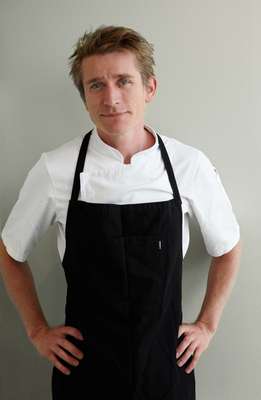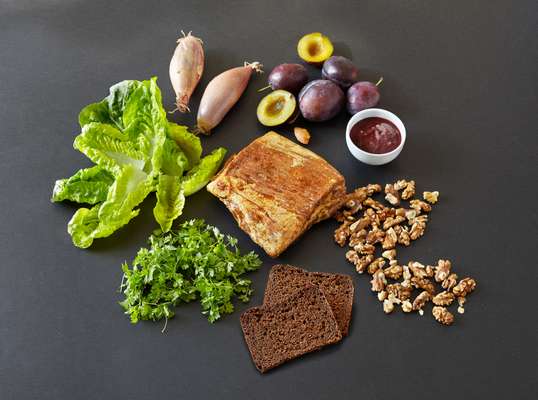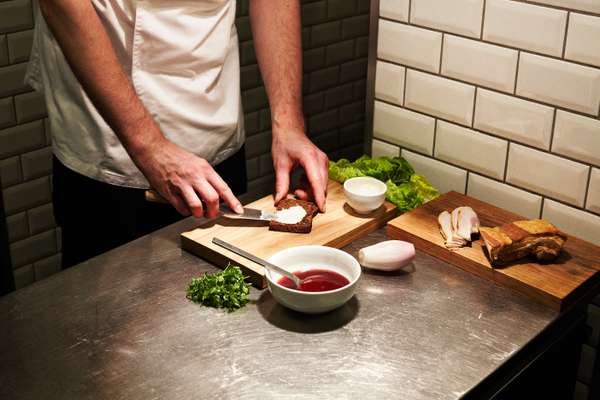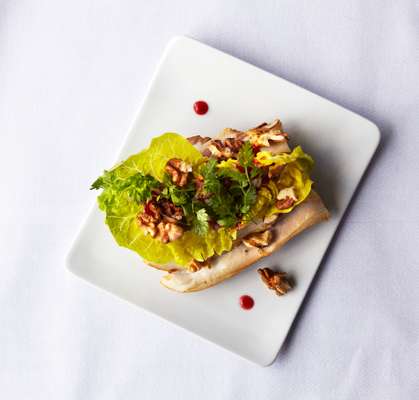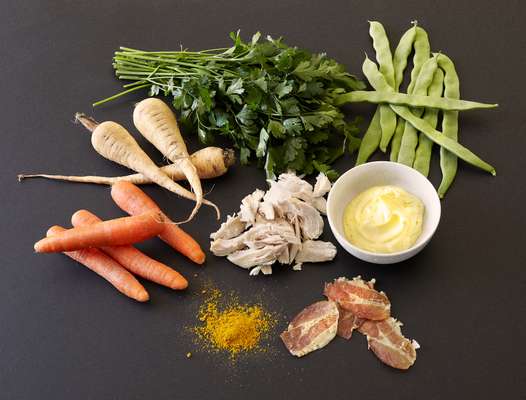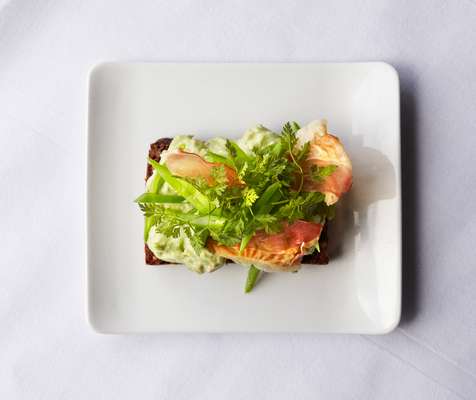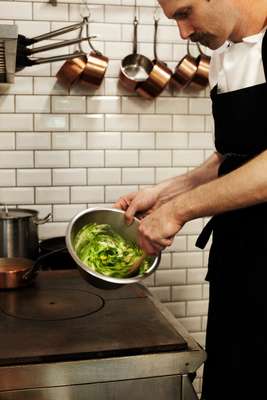 Hearing Aamann describe the process of making smørrebrød, it sounds as much a construction job as cooking. "On top of the bread you have the savoury spread – butter or mayo, a well-seasoned vegetable purée or a protein made into a soft topping, like fish or chicken salad. This adds body to the piece. If your spread is not the main ingredient, you top up the bread with slices of either cured or smoked fish, homemade cold cuts or thick slices of cooked vegetables like potatoes or beetroot. A crunchy garnish – usually a pickle – is more than just decoration; it adds a contrast in texture, freshness and flavour."
Aamann has also won plaudits for taking greater care in sourcing his produce – organic free-range pork from Grambogård on the island of Fyn, for instance, vegetables from the same suppliers as Noma. "We insist on making all the elements ourselves – from the mayo to our cold cuts. The only things we buy in are gherkins and Dijon mustard."
It's an approach that he feels will appeal to New Yorkers at his new café, also called Aamann, in the Tribeca Film Building. "Danes feel proud if people from other countries show an interest in their food, and smørrebrød is our only food claim to fame. A Danish expat couple in New York contacted me with the idea for opening there, and of course I said yes."
New Yorkers will be getting an authentic taste of Copenhagen at the new restaurant – Aamann recently smuggled in two loaves of rye bread to show the new crew how it's done; but with one significant adjustment: "In Denmark, sales wind down at the end of the day but in New York we'll continue into the evening, with cocktails based on our homemade herb and berry-infused schnapps."
Øster Farimagsgade 10, +45 35 55 33 44,
13 Laight Street, New York, opening late October
aamanns.dk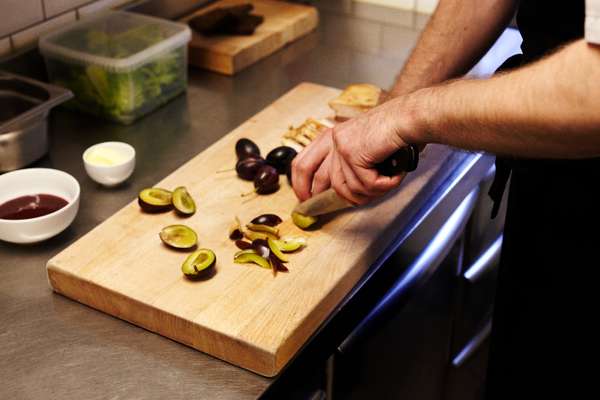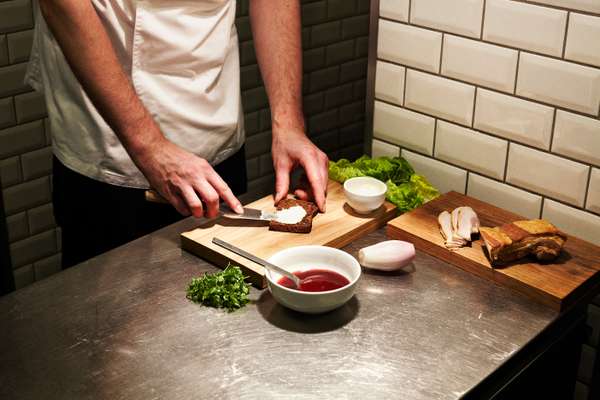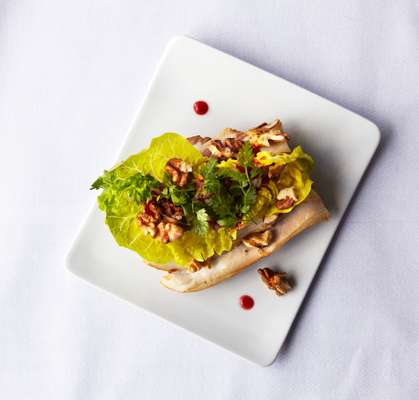 Recipe 1
(Serves eight)
Pork belly with plums and walnuts
1-1.5kg pork belly with no skin
300ml balsamic vinegar
200ml honey
3 cloves of garlic
5 whole stems of thyme
2 bay leaves
35g salt
Salad
1 tbsp cold-pressed rapeseed oil
75ml reduced cooking liquid
250g apples, rinsed and cut in cubes
Assorted green salad such as frisée or rocket
80g walnuts
Plum purée
250g fresh plums
2 bay leaves
1 star anise
100g sugar or to taste
Braised pork: Rub pork with salt and pepper, cover and let rest on table for at least two hours. Turn oven to 160C. Mix rest of ingredients in a dish, add pork and put in the oven for two hours. Turn pork every half hour. Remove from oven, let cool in cooking liquid, refrigerate overnight. Sieve the cooking liquid and reduce to thick syrup. Leave to cool.
Plum purée: Halve the plums, toss with 100g sugar, bay leaves and star anise and bake in the oven at 160C, 20-30 minutes. Strain and reduce the juice to a third, purée to a completely smooth texture.
Salad: Whisk rapeseed oil with three quarters of the reduced liquid. Season with balsamic vinegar, salt and pepper. Toss salad in the vinaigrette and add cubed apples.
Serving: Slice pork thinly and place on top of buttered rye bread. Spread some braising liquid on the pork and pile salad on top.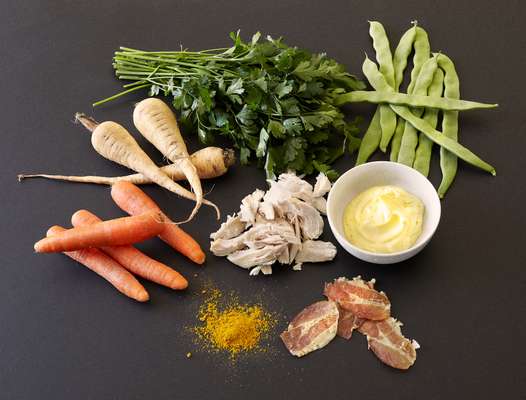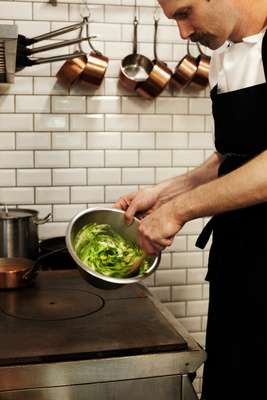 Recipe 2
(Serves 10)
Chicken salad with baked root vegetables
1x2kg chicken, poached as described below
2 onions
5 cloves of garlic
Handful of thyme
Handful of parsley
2 bay leaves
1 tbsp coriander seeds
1 tbsp black peppercorns
400g cleaned root vegetables
500ml crème fraiche
Juice of one lemon
400ml mayonnaise
2 tbsp Dijon mustard
Salt and freshly ground pepper
1 tsp curry powder
2 tbsp cold-pressed rapeseed oil
Apple cider vinegar
For serving
1 small apple cut in small pieces
3-4 stems of green celery
Capers, chervil and chives
16 slices of bacon
10 slices of rye bread
Poached chicken: Place the chicken in a pot, just cover with cold water, and bring to the boil. Reduce to a simmer. Add the onions, garlic, thyme, parsley, bay leaves, coriander, peppercorns and 1 tsp of salt. Skim the foam which accumulates on the surface of the water as the chicken cooks for two hours. Remove the chicken and let it cool for 30 minutes, then remove all the meat.
Topping: Chop root vegetables into 1x1cm cubes. Toss in oil and add 2 tbsp of lemon juice and vinegar. Season with salt and pepper. Bake for 15 minutes at 180C until tender. When the vegetables are cooled, mix with chicken meat, mayonnaise, crème fraiche, curry powder and mustard. Season to taste with lemon juice, salt and pepper. Bake bacon in the oven until golden and crispy.
Serving: Place on rye bread or toast, topped with chopped capers, chervil, chives, apples, celery and shards of crispy bacon.