Defence / Global
Defence
Briefing
Chine beefs up its air force again, and India builds a strike force to ready itself for Himalayan border disputes.
Finding its wings
China — 
AIR FORCE
The Beijing government likes to surprise the world with its latest military developments. Take this summer when China finally revealed its first aircraft carrier, a retrofitted Russian warship, or earlier in the year when it tested its first domestically developed stealth fighter.
In typical Communist Party-fashion, the civilian and military mix seamlessly, and heavy investment in China's aerospace sector over the past decade is beginning to bear fruit for the People's Liberation Army Air Force (PLAAF). Defence engineers are developing the Taihang, a homegrown turbofan engine for fighter jets. While China still relies on countries such as Russia for imports of some aircraft parts, it is honing an effective cadre of commanders, pilots and technicians who can be put to use on the air force's estimated 420 modern fighters, which include Chinese J-10s and J-11s as well as Russian Sukhoi Su-27/30s.
So when would the PLAAF be in fighting form? Richard Fisher of US-based think-tank International Assessment and Strategy Center estimates that it "could be ready for a Chinese-style pre-emptive and massive military campaign" as soon as 2015.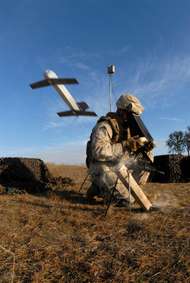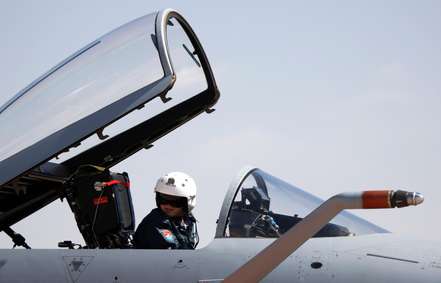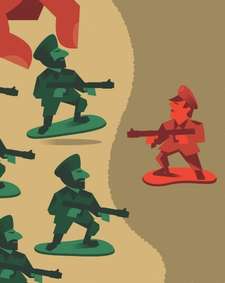 Other military analysts argue the PLAAF still has some way to go. "By regional standards China might be able to develop a considerable air force in the mid-term," says Bernt Berger, senior China and Global Security Programme researcher at the Stockholm International Peace Research Institute. "Technologically, China's air force is still lagging behind."
While China maintains its military advances are for peaceful purposes, forays into the South China Sea, where it has built military structures on disputed territory, leave many of its neighbours (and countries beyond) wondering if its real intentions involve imposing regional political hegemony through military means.
"The motivations for the [Communist] Party's massive military build-up are usually viewed from the perspective of economics or regional politics but the most crucial motivation is systemic survival," says Fisher. "The kind of internal collapse compounded by an externally supported popular insurrection just seen in Libya is perhaps the Party's worst nightmare." While the world keeps guessing what might come next, it seems fair to expect the PLAAF will have many more eyes in the sky in the near future.
Guessing China's plans for its defence:
China-watchers expect: the emergence of air-to-air and precision-guided ground attack weapons, the development of transport aircraft and airborne warning and control systems.

Development of: the unmanned aircraft sector.

Military budget: $91.5bn (€67bn) for 2011, up 12.7 per cent on 2010. But the US Department of Defense estimates that China's total military-related spending for 2010 was $160bn (€117bn).
---
Flashpoint - Taking on China
India — 
MILITARY
China has traditionally held all the aces in its festering Himalayan border dispute with India. However, Delhi has now signed off a controversial military programme designed to redress the balance: it plans to form a new Indian Army strike corps comprising 40,000 troops whose mission will be to capture strategic targets in China in the event of a border conflict. They will join the 35,000 Indian troops that currently defend the disputed province of Arunachal Pradesh (what China calls Southern Tibet). The strike corps will significantly change the dynamic along the Himalayan frontier. "The Chinese used to think we were nobodies," complains one Indian defence official, in describing high-level military talks with Chinese officers. That should no longer be the case. The danger is that China will accelerate its own military build-up, further heightening tensions along the ill-defined border.
---
A view to kill
USA — 
DRONES
"The future is unmanned" has long been a mantra of military futurology, but until now pilotless drones essentially came in two varieties: the small, portable kind used for surveillance (cheap and handy, but toothless); and the more powerful kind capable of carrying missiles (deadly but expensive). The Switchblade, built by US firm AeroVironment, will give US troops the best of both worlds when it is deployed shortly in Afghanistan. The portable drone not only has a live video link but is also a remote-controlled missile, meaning that its operator can identify the target and then send the Switchblade into a kamikaze dive.
---
Mission possible
Israel — 
HELICOPTERS
It could be the end for conventional medical helicopters. Due to its small size, the Air-Mule, a new unmanned vertical take-off and landing aircraft developed by Israel-based Urban Aeronautics, allows for medical evacuation from places traditional helicopters are unable to operate. The aircraft could be deployed by the Israeli Defense Forces by 2015.
---
Changing the guard
Switzerland
The Swiss government has been attempting to cut by 75 per cent the number of Swiss soldiers used to guard foreign embassies and consulates in Switzerland. The idea is to save on spending and demilitarise the streets, letting the police take on these duties.