Eurobike / Germany
Power to the pedal
Whether it's economic or ecological forces driving the gears of change,two-wheeled transport is on the up. At Europe's largest trade show, one particular trend is putting traditionalists' spokes out of joint – the buzz around electric bikes.
Lovers of all things two-wheeled head to Eurobike, Europe's biggest bicycle trade fair that takes place in the small German town of Friedrichshafen. Just a short freewheel away from the quiet of Lake Constance, Eurobike is home for four days to over 1,000 exhibitors fighting for the attention of more than 60,000 visitors. And trade is brisk against a backdrop of 20 million bikes sold in Europe last year compared with 13 million cars, prompted in part by recession-hit folk deciding to get around under their own steam. A key talking point this year in the cavernous Messe, a network of 10 hangar-sized sheds on the edge of an airstrip, is the zippy sales of electric bikes – in Germany alone they have increased from 50,000 three years ago to an estimated 300,000 in 2011, according to Eurobike project director Stefan Reisinger. But for traditionalists, new developments in mountain biking technology also pull the crowds. These include the new big wheels – with the increase from 26in wheels to "29ers" apparently offering greater speed and less chance of getting caught in a rut. Cycle clothing and accessories that eschew DayGlo Spandex are also increasingly lucrative. "That's really something new," says Reisinger. He's contemplating British brand Brompton's Oratory jacket, a winner of the Eurobike Gold Award.
Its stylish exterior is deceptively advanced with each strand of cotton treated with silicon, meaning water will roll straight off. The jacket builds on unashamedly retro designs spearheaded by companies such as Rapha. "I think it's a trend-setting product," continues Reisinger. "There will be a huge market in the future not only for clothes made to cycle in, but items you can wear to the office too."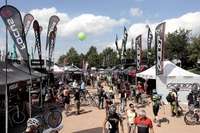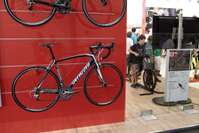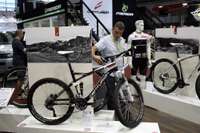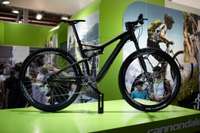 Reisinger is ever the diplomat. However, out on the conference centre floor if you can differentiate between the seemingly all German, nearly all male demographic, there's an obvious gentle strain tugging at the different tribes – not least between those who covet an electric bike and those for whom the very concept causes a tremor of disdain.
Father and son Peter and Julian Ackermann have attended every event in Eurobike's 20-year history. They're eyeing the stand for Ghost, whose brash, flash mountain bikes carry chunky high- performance hardware. "A real mountain biker has an honour," says Ackermann senior. "I need to feel the bike hurting my feet so I'd never ride a motor-assisted e-bike," he jokes, "but I am 57 years old, so maybe in 10 years I'll need one!"
Oddly, the man with perhaps the strongest claim to being a "real" cyclist at Eurobike can be found exhibiting his own e-bike design. Theo de Rooij took part in eight Tours de France and is one of the founders of the Rabobank team that still competes today. This year his TDR FluxX won the Eurobike Gold Award in the e-bike/Pedelec category. "We can hardly believe it," says de Rooij of the company he set up only a year ago. "The big issue for an e-bike is where to hide your engine. A lot of the bikes are ugly. Many have funny geometry. Most look more like an engine with a frame built around it." TDR has tackled the problem by hiding its electric motor in the downward seat tube.
E-bikes are now pushing beyond an awkward novelty stage into something viable for your future commute. For de Rooij, his development means something simpler than that. "For me, a bicycle should look like a bicycle," he says. "Otherwise it's not a bicycle."
Daimler's aluminium-frame e-bike, available 2012. After downloading its app, placing your phone in the handlebar dock will act as a key.
daimler.com
Austria's Sporttech has modelled the IKIN on those all-conquering city runarounds – scooters. Onboard sensors record your momentum while compensating with extra power when needed.
ikin.eu
Designed to look like a bicycle, unlike many of the wacky prototypes at the show. Rather than being bolted on as an afterthought, the engine has been cunningly hidden in the framework.
tdrbikes.com
MTB Cycletech: e-Jalopy GreenWheel
This no-fuss city ride is modified from the regular e-Jalopy bike. The added GreenWheel motor powers the chromoly-steel framed bike.
mtbcycletech.com
Electrolyte: Querschläger
An attempt to retain attractive, lightweight features with the occasional power of an e-bike when needed.
electrolyte.cc
CatEye: MSC-GC100 Inou video recorder
The Inou will log your GPS position every five seconds so that you can build a photographic and accurate memoir of a journey.
cateye.com
Gilles Berthoud: Mente saddle
This new range of French-produced saddles offers a wide 180mm design, evening the load for your behind during long rides. The thick, vegetable-tanned leather is pre-softened and waterproofed.
gillesberthoud.fr
PEdALED: Allen hacking jacket
With sleeves cut to aid riders' movement and subtle reflective strips on the back, this traditional linen jacket from Japanese designer Hideto Suzuki combines craft and intelligent design.
pedaled.com
The Cannondale Scalpel Ultimate 29er features the larger 29in wheels that help you cycle faster and smoother. The bike still only weighs in at a light 9.7kg.
cannondale.com
Making the e-bike even more of an easy ride, the AGT, short for Automatic Gear Transmission is a fully automatic gear system.
tranzxpst.com