Design / Sweden
Isolated state
On a trip to the northern Swedish archipelago, with just a few essentials, Monocle discovers an island bolthole perfect for recharging depleted batteries.
Crossing water has the transformative power to wash away stress. Skimming across the waves in a small boat, the brackish breeze blows ­not just your hair into an unruly tangle, but all worries of work and home life far away too. Such is the first joy of having a bolthole on an island in the northern Swedish archipelago.
Leaving life behind on the mainland pier, you take with you just the barest necessities needed for a few days – groceries, a good selection of wine, clothes for lounging and a stack of new magazines. Though the crossing is just 10 minutes, you arrive unburdened from the baggage of a busy life, clear-headed and ready for a glass of fizz to toast the dying sun.
As the boat pulls away, taking with it your last contact with the outside world, the transformation to island hermit is complete. Though you can see other islands from the shore, each occupied by a single house, there's an unspoken agreement between the archipelago community that privacy here is everything – it's not a time for dropping in, unannounced, at the next-door jetty or peering through binoculars to see what the neighbours are cooking on their barbecue. It's a time for being truly insular and embracing the isolation. The single-storey house here was built in the late 1960s and, bar a bit of whitewashing, extending of the terrace and remodelling of the kitchen, it has remained true to its original form. It is simple and perfect for soaking up a fair number of guests in a small space without ever feeling cramped. You enter into the living room, the width of the house, with windows on all sides, bookcases, and two deep moss green sofas. The dining table joins the space to the L-shaped kitchen, with ample surfaces for ease of buffet breakfasts and feast preparations. Beyond the kitchen, off one single corridor are four cosy bedrooms, two on each side, furnished with Hästens beds, Artek tables, over-sized ceramic bedside lights and elk boots for padding around.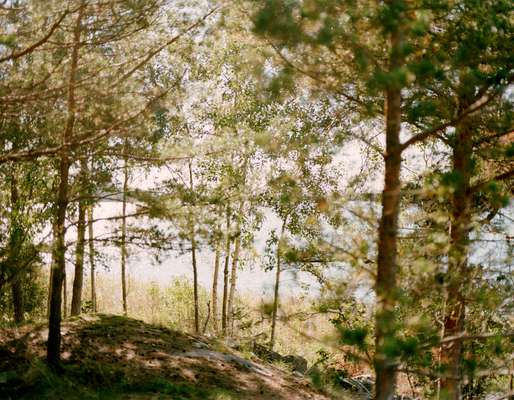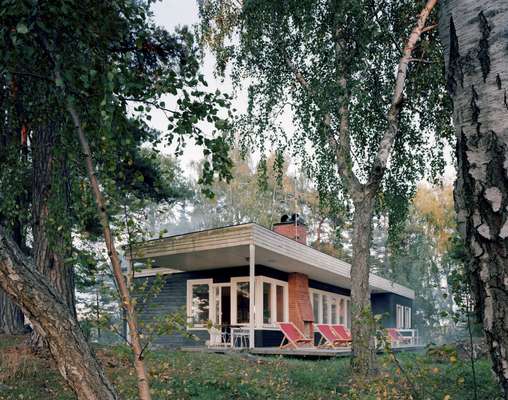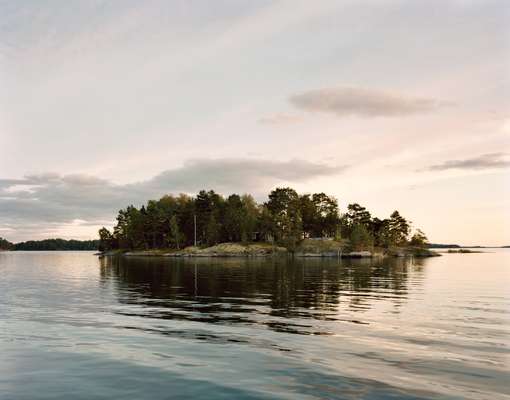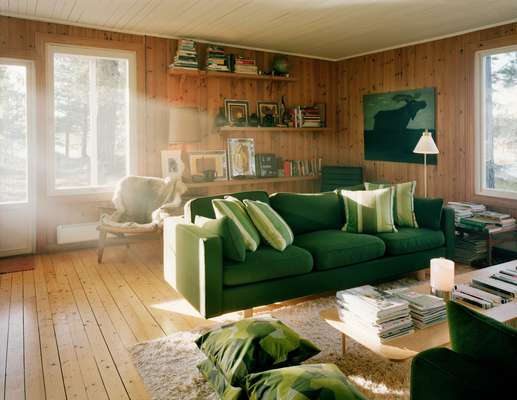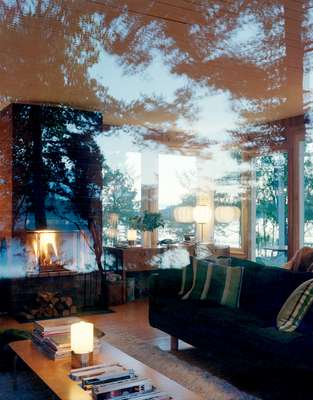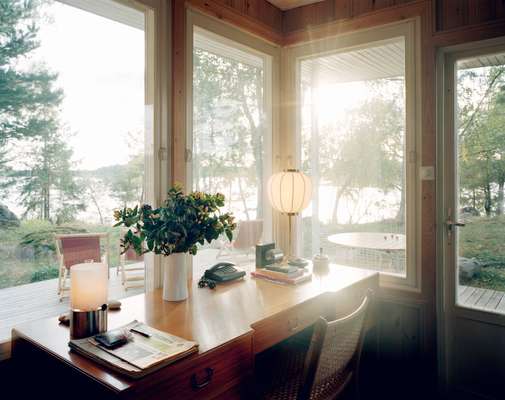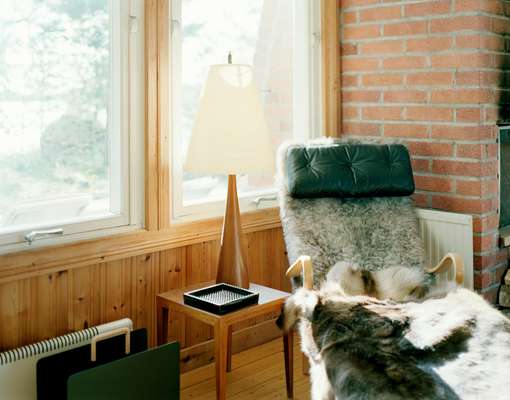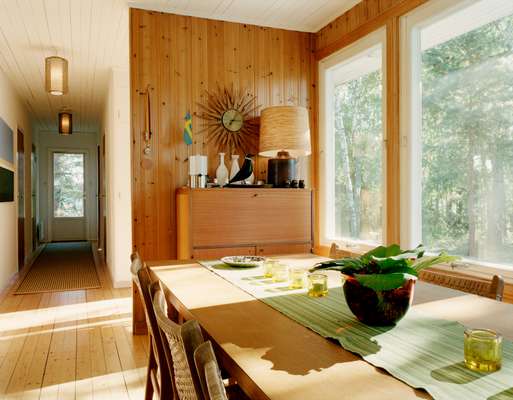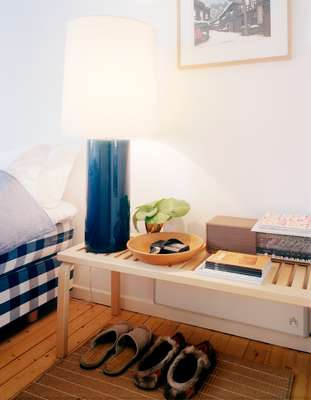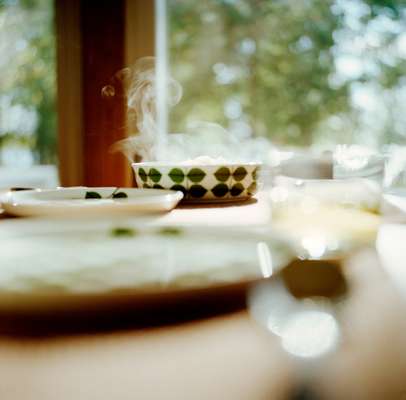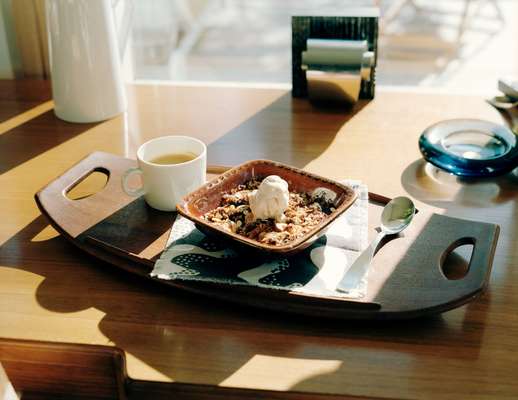 All furniture is geared towards comfort. A Bruno Mathsson Pernilla lounger ­­­­is swathed with furs and blankets. A rare Mathsson coffee table with built-in racks bears the weight of 1,000 magazines, old favourites and recent titles, while the music system in the corner plays a soundtrack of ­­gentler pop tunes from a global roster of artists. A wood burning fire fills the house with the smell of charring logs. Surfaces are decorated with ceramic table lamps and wooden curios and walls are dotted with graphic prints, photos and paintings of the surrounding landscape.
Outside, the terrace is furnished with Gandia Blasco picnic tables, benches and loungers and a set of Bertoia wire chairs around a circular dining table. Large cushions and blankets mean you can lie outdoors in the winter sun for hours, chatting, reading and snoozing in the fresh air.
There's something wonderfully illicit about being the only people on an island. Time takes on a new dimension and hours melt by, punctuated only by long meals and the setting of the sun. Living so close to nature you soon succumb to a rather primeval code of human conduct. There's little need to get dressed, in fact there's an animal urge to wander around naked and days start with a bracing dunk into the water off the jetty, followed by a hot shower outdoors in the ethereal morning sunlight.
Breakfast is taken to the water's edge – endless coffee, cardamom buns and Kalles Kaviar on toasted rye bread. Mornings are spent gently doing errands – washing windows, clearing leaves from the gutter and sweeping pine needles from the terrace before lunch preparations get under way. It's hardly a local delicacy but a Japanese katsu curry is a favourite, filling the house with warming spicy smells, washed down with beer and rounded off with a homemade crumble. Afternoons are horizontal – dozing, marking pages of magazines for inspiration, weighing up the pros and cons of a recent redesign of your favourite title.
Come sunset it's back to the water for prosecco and prawns on toast before shedding clothes and taking a final dunk at dusk in the Baltic. Dinner is late and long – barbecued steak with chanterelles, home-cooked chips and salad, rounded off with grilled bananas and melted chococlate. Digestifs are then taken to the helipad halfway to the jetty, where you lie under rugs and spot shooting stars.
It's hard to exaggerate the therapy involved in a bolthole like this. Being entirely self-sufficient and alone, setting your mind and body clock to nature's rhythm is curiously life affirming. When it's time to return, within minutes of setting foot on the mainland, the island experience seems like a dream, distant and intangible; you're left with only a rejuvenated mind and a pinecone in your pocket to remind you that it really does exist.
Japanese curry
Ingredients (serves 4)
250g pork fillet, sliced thinly 1 large onion 2 carrots 4 large potatoes 2 peppers 100g mushrooms 1 aubergine 800ml water 1tbsp vegetable oil 1/2tsp ground white pepper Half a pack of Japanese curry roux
Chop the vegetables and heat the oil in a pan. Add all of the vegetables, pork and ground white pepper to the pan. After 5 minutes, add 800ml of water. Bring to the boil, then simmer for 15 minutes. Skim off any fat from the surface using a ladle. Add curry roux and continue to simmer for 5 minutes. Turn off the heat and leave overnight. Next day, reheat for 30 minutes on a low heat, and serve with rice.