João Moreira Salles / Rio de Janeiro
Waxing lyrical
João Moreira Salles is the publisher of Piauí, a new monthly magazine in Brazil. With his brother and business partner Walter, he is half of the well-regarded Salles brothers film-making team. Monocle visited João in Piauí's Rio offices.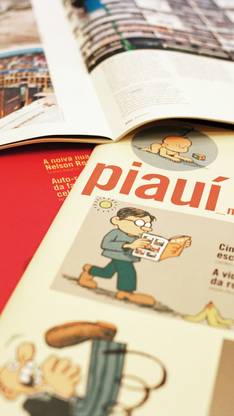 "There is a little-known state in Brazil called Piauí. It's also one of the few words in Portuguese that has four vowels together. You smile when you say the word. That's why I called the magazine Piauí.
Piauí is a type of magazine I could not find in Brazil. Our newspapers and weekly magazines are very news oriented, concentrating on today's scandal. I thought there was room for a magazine interested in news but without the obligation to write about the fall of the cabinet minister the day after he falls. At Piauí, we have more time – and time is of the essence, as the bard might have said.
In Brazil, we don't have the tradition of taking a month to read a magazine from cover to cover, so we had no idea what our readership would be. Were there others besides myself who wanted an intellectual Brazilian magazine? If so, then it was a case of how many? We started with a print run of 70,000 copies and we sold 37,000 which was considered to be a success. Now we've stabilised at around 35,000 a month and we will increase gradually over time, as people get to know the magazine.
No one here had the experience of creating a magazine from scratch although our editor in chief Mario Sergio ran Veja for 10 years. Veja is the leading Brazilian weekly news magazine – it sells 1.2 million copies a week. At Piauí I'm the publisher although I also write. When I write, I'm under Mario Sergio's orders.
I arrive at 11-11:30 and stay till 20:00 most days. At the end of the month, when we have to finish the magazine, then we stay till 22:00. I answer email randomly during the day but I never end up with my own emails answered. My journalistic responsibility is the opening five or six pages of the magazine, writing some of them and commissioning the others. At the same time I deal with everything that has to do with the business itself. At the moment I'm editing a story about a soccer championship for priests, called the Clericus Cup. Unfortunately for us, the Brazilian priests lost 6-1 to the Italians in the final.
Piauí is basically 19 people altogether – and we reinvent the magazine every single month. We don't have fixed sections which gives us a lot of freedom and in this sense the magazine has a certain anarchy. We don't have meetings. If you go into the office and ask what is going in the next issue, we probably won't know. Everybody is working on a story and when it's ready they give it to Mario Sergio. The issue usually starts with something completely new – this section is called ARRIVAL. It ends with our OBIT section, which is not necessarily about someone who has died, but an idea or a thing that has disappeared. So something is born at the beginning of the magazine and something dies at the end. One story I wrote for the OBIT section is about limbo. Limbo is a waiting room for souls and in November the Pope was going to sign a decree saying that limbo does not exist. The story ends with an old lady afraid that children who die without baptism will go into limbo, where they will spend eternity crying and asking God to end the world so they can go to heaven. For her, limbo was real.
In every issue, a graphic artist reduces either a film, a novel or a piece of music into seven or eight illustrated images that run through the magazine. So there are always lots of small things going on. We did a funny story about the biggest highway in Brazil that links Rio and São Paulo. This would be like doing a travel piece on the New Jersey turnpike, but in our story we introduced all the places you might pass a million times but never notice. Another story: a samba musician wrote about how cigarettes have disappeared from the samba clubs and it's a great loss.
Here is a profile of a rich Brazilian man who lost everything – it's a story of betrayal called "From Elephant to Ant". Here's a serious piece about the lack of cadavers in medical schools because certain laws prevent corpses being used for research. It's really a paradox, because people are dropping like flies in Brazil.
I started my career as a non-fiction filmmaker by chance when my brother asked me to help him with a documentary after university. We formed our film production company, VideoFilmes, in the 1980s – the offices are on the sixth floor. Piauí is on the fourth. There might be crossover into film with some magazine pieces. Switching to print is not that great a migration as people would think.
I still deal with ways of describing reality. In film, it's great when you're shooting – you work as a team – but you shoot a documentary in a month and spend a year and a half editing. There's a long time between projects and it's lonely. The ambience of a newsroom is great, people are smart. There is a camaraderie I like. You are never off-shift; there's always this sense that maybe there's a story there and you start to see the world not as a place where you are, but as a place that has to be covered.
So it's as if another branch of activity has opened up for me and I can do both. Non-fiction – telling stories – is what binds the two. I really love it and you meet a lot of new people every day. That's why it's not so hard to stop at the fourth floor, not the sixth, even at the cost of a smaller office. It's something I've added to my life; I didn't have to subtract anything, just two flights of stairs."
Salles of the century
1987 Founder, VideoFilmes video and documentary production company
1987 Director, China, the Empire of the Centre
1987 Screenwriter, Krajcberg, Poet of Remains
1989 Director, America
1990 Director, Blues
1995 Director, Jorge Amado
1999 Co-director (with Kátia Lund), News From A Personal War
2000 Starts teaching documentary film-making at the Catholic University of Rio de Janeiro
2003 Director, Nelson Freire
2004 Director, Intermissions
2006 Founder, Piauí magazine
2007 Director, Santiago