Media / Global
Media
Briefing
A pioneering art gallery project in Oslo, a Q & A with Brussels-based publisher Andreas Qvist and a sleek new digi-radio.
Love-skate
Norway — 
MAGAZINE
Dank (slang for "killing time by doing absolutely nothing" in Norwegian) is the result of the collaborative efforts of three Norwegian students. In 2009, they got inspired by a mutual interest in skateboarding (when they were meant to be studying) and decided to start a bi-annual fanzine with a focus on skating, plus features on art and culture.
Last March the first issue hit the newsstands. "We've tried to flip the skateboard magazine genre on its head. We've stripped away everything that websites and blogs would inevitably deliver faster than us," says editor-in-chief Eirik Traavik (pictured below).
What makes Dank really stand out is the state-of-art design of thelayout and the high quality of the images. "My teammates, graphic designer Jørn Aagaard, assistant editor Aksel Overskott, and I, used to work in journalism and graphic design on a freelance basis before launching Dank," Traavik says, explaining the forwardness of the young publication. "We wanted to offer good layout, nice pictures and well-written stories."
With contributors from Oslo, Malmö, Trondheim and London – and with a handy English-language translation insert – Dank remains an international affair. It is available in selected bookshops and hip clothing retailers in Norway, Germany, Austria, Japan, South Korea and the UK – an enviably well developed distribution network for a publication only on its second issue.
dankmag.com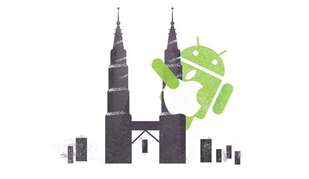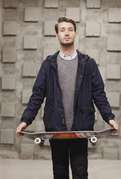 ---
Ruark, the iconic British loudspeaker manufacturer, has teamed up with sister company Vita Audio to create this sleek limited edition Ruark Red R1 MkII desktop radio.
Launched to celebrate both the 25th anniversary of Ruark and the fifth anniversary of Vita Audio, the small but mighty radio features DAB+ and FM tuners, and has a 10 station preset option. Each unit is also individually numbered.
Completely portable thanks to its rechargeable battery pack, the Ruark Red R1 – with a distinctly vintage look to it – could easily become your perfect trip companion.
vitaaudio.com
---
This one time...
USA — 
ONLINE MUSIC
Four years ago Ethan Diamond was fruitlessly trying to download an album from the homepage of a band he admired. Out of frustration he came up with the idea of Bandcamp: an online music store resembling a sort of indie iTunes that provides a reliable domain for musicians of all stripes to distribute digital albums while only sacrificing 10 to 15 per cent in fees – pocket change compared to the staggering 50 to 75 per cent retained by major record labels.
Today, revenues exceed $1m (€750,000) monthly. What matters for Diamond is seeing musicians thrive through a model he's strived to perfect. "We're much more than a widget. You're joining a community of musicians and fans who understand that the best way to support artists is to give them some money."
---
Rabbit trail
Bogotá — 
BOOKSHOP
In 2011 librarian David Roa – a well-respected name in Bogotá's publishing circles – got together 13 prominent Colombians (from philosophers to actors and artists) to invest in a literature venue with a focus on independent publishers, offering rare titles from Colombia and overseas.
Soon after, La Madriguera del Conejo bookstore (named after Alice in Wonderland's "Down The Rabbit Hole" chapter) opened doors in Bogotá's Chicó neighbourhood. And not everything is about books in these well-planned 45 sq m: also on the agenda are film screenings, reading events and workshops about tea and gastronomy.
---
It's good to talk
Malaysia
Malaysia's mobile advertising is blossoming with the market growing by 37 per cent in 2011: good news for Apple iOS and Android who have a hefty 41 per cent market share of the South-East Asian state.
Q&A
Andreas Qvist
Publisher
Brussels
Sweden-born Qvist is the founder and CEO of Newspaper Abroad. Since 2006, the Brussels-based company has printed major titles for expats in Iceland, Thailand and the UK.
Why is there a need for Newspaper Abroad?
When we set up a food import business into Belgium and France, the Scandinavian expat community began demanding same-day newspapers from home, so we flew them in. Printing locally was the next step.
How do you identify your readership in each location?
Good market management. For example, we know the Swiss visit Spain, Turkey and Thailand. We also know from the publishers where their subscribers are.
What's in it for the newspaper companies?
Very few publishers make profits on their foreign volumes. We print only what customers need. In Belgium we have contracts with the biggest printing company, SYMETA. We wanted to be pioneers.