Issue 50 / Global
Observation
Monocle's man at the helm Tyler Brûlé celebrates the charm of Japan – and our first travel guide on the country – looking at the little touches that make it such a joy to visit. As if we needed an excuse...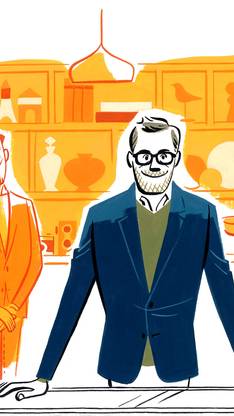 A very Happy New Year from the corner office at Midori House. We broke for the holidays properly exhausted after a remarkable run-up to Christmas. Highlights of the last few weeks of 2011 included a wonderful reception to celebrate our Danish survey hosted by Copenhagen's ambassador to Washington; an intimate round of cocktails in New York for our clients and key collaborators; a similar reception in Hong Kong; a party at Midori House with a performance by Sharleen Spiteri; and all wrapped up with a mini summit hosted by our colleagues from Winkreative looking at the forces that will shape 2012.
As the event coincided with the closing of this issue, it's no surprise that "charm" (the lack of it and greater need for it) topped the agenda. As you will have noticed in this issue, we've identified that charm is the key ingredient that's not only missing in the service sector but also in the media, government and many corners of business. As our editors argue, charm cannot be engineered overnight by simply putting more smiling faces on a reception desk or attempting to come off all warm and cosy by adding a few cushions to your lobby or making more informal announcements on an airline.
Charm is a fine art that's particular and highly volatile and that changes from setting to business sector and cultural environment to national characteristic. Charm is also easily lost and near impossible to replace – particularly when someone wielding a PowerPoint presentation comes wandering in talking about "efficiencies" and "consumer journeys".
For those cities, businesses, institutions and diplomatic enclaves that still know how to turn on the charm, 2012 and beyond should be particularly kind to them as consumers and partners are going to be keen on re-assuring experiences, warm environments, personal relationships, extended courtships and being dazzled by both individuals and companies with a twinkle in their eye and also a keen focus on detail.
By chance, our focus on charm has neatly coincided with our first travel guide on Japan. Having made 10 trips to the country over the past year, Japan's greatest appeal is its charming and hospitable disposition. In the wake of the 11 March disaster I received countless emails from readers asking whether it was safe to go and, if so, when they should travel. My response was – immediately. If you're not big on sweaty patches that rapidly spread in the summer heat of Tokyo or Osaka, then Japan is best avoided in the high and humid summer months but Daikin and Mitsubishi are air conditioning powerhouses for this reason, so with a bit of planning it can still be enjoyable.
The greatest challenge for Japan is mastering the art of selling itself – particularly as a tourism destination. Various attempts have been made to sell its "cool" side and also promote the spirit of "yokoso" (lost on 99 per cent of the world) when the focus should be on service, seamless infrastructure and its people.
Japanese modesty is of course wonderfully charming but it's terribly frustrating when you're too reserved to talk about your greatest features and don't even acknowledge that you're world leaders in the rather complicated businesses of running clean and punctual trains, managing delightful inns and piloting world-class airlines. For the past 50 issues we've made it quite clear that we're huge fans of Japan and our travel guide underlines our passion for the place. So smitten are our editors (particularly Mr Hugo Macdonald, who oversees all things design related) that as we proofed the pages most of us were trying to find excuses to get back as soon as possible.
Japan might be an economic basket-case and not quite the leader that it once was but if you're in need of an early 2012 pick me-up that will fill you with business, design and management ideas, there's still no better place to go and soak up smart solutions to urban planning, office development, convenience store retail and transport infrastructure.
In our culture section, we focus on the recently opened Tsutaya Books (see page 91) and its audacious focus on slow, quality media rendered on a massive plot of land in the heart of Tokyo's Daikanyama district. This is a perfect example of how you can deliver a completely charming experience that's wholly box-fresh; it's a shining model of how Japan is peerless when its comes to rethinking what retail needs to be in a world increasingly dominated by a digital consumer narrative.
As we look out across 2012, we'll be keeping an eye on Mitteleuropa and wondering what opportunities lie behind the façades of Budapest. We'll be spending more time in Turkey as the country continues to bolster its position as a key player in aviation, diplomacy and infrastructure. And there'll be more flights to Brazil as the country gears up for the Rio+20 conference in June (with the World Cup and Olympics not far away).
Washington will also be a more frequent stop as the race for the White House heats up and you'll be hearing more from us around the clock as we expand Monocle 24 with more programmes and specials dotted across the schedule. Next issue marks five years for our little project, so we look forward to raising a glass as we touch down in our key markets over the coming months. As ever, you can find me at tb@monocle.com. Thank you again and all the best for 2012.
For more from our editor in chief, read his column in the 'FT Weekend'.