Santos / Global
Rivals for the crown
An oil boom is driving Santos's remarkable transformation and, as the cash flows in, the port city's coastal cache and ambitious regeneration means it's giving drizzly São Paulo a run for its money.
During Portugal's colonial wars in Africa, José Paiva tore through the skies above Guinea-Bissau and Mozambique in a T-6 fighter jet. When independence came and the Portuguese troops withdrew, he migrated to New York's Long Island to work in a Portuguese restaurant.
Marcílio de Andrade was an investment banker who lived between New York and Madrid. When he grew tired of life in the City, he handed in his notice and headed back to his native Brazil.
These days, both men are residents of Santos, a port town around 80km from São Paulo, Brazil's sprawling economic capital. Paiva and Andrade are among a growing group of entrepreneurs who have come to invest in a seaside port town that is now on the verge of being transformed by a fledgling oil boom that could see Brazil become one of the world's top producers.
In April, Paiva opened Cais da Ribeira, an upmarket Portuguese restaurant in Santos's historic centre, equipped with a second-floor VIP area for local businessmen and politicians. Andrade, a former employee of JP Morgan, purchased an abandoned coffee warehouse near the once dilapidated docks and spent R$2.6m (€1m) transforming it into Estação Santos, a chic club for corporate events and shows.
"There's no way this boom is not going to happen," says São Paulo-born Andrade of Santos's oil-fuelled future, which involves the vast ultra-deepwater reserves of oil located hundreds of kilometres off the city's shorelines. "The combination of private initiatives and some very big corporate names meant things were bound to happen here."
Born and raised in the Portuguese city of Porto, 64-year-old Paiva is equally confident of Santos's future. "We are certain that Santos is going to transform into a global city," he says. "We are receiving so many people from Europe and from China. Only yesterday I served lunch to some businessmen from Porto who had come to Santos looking at investment possibilities."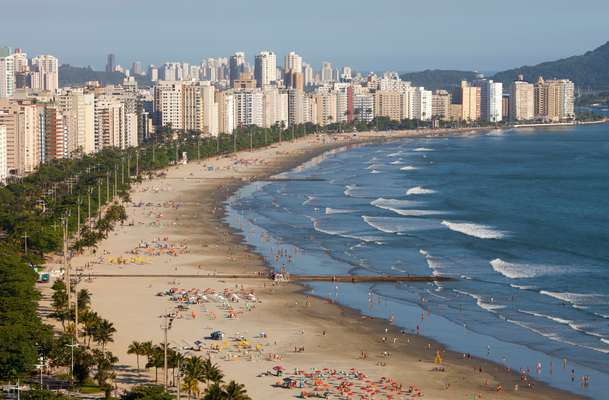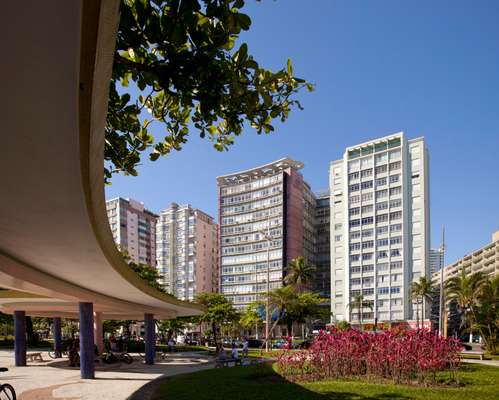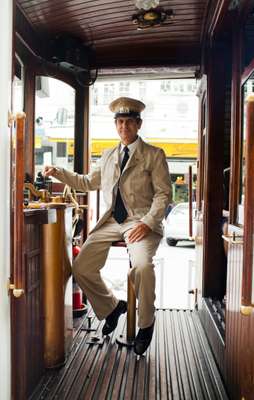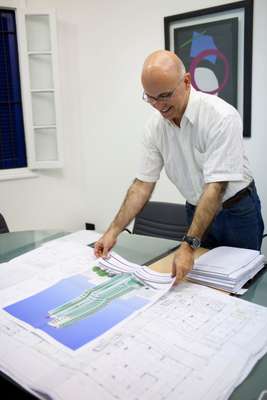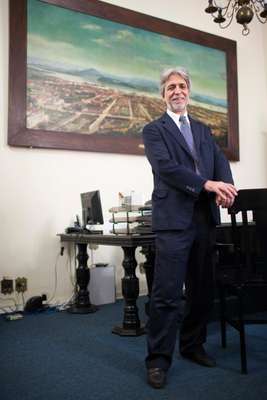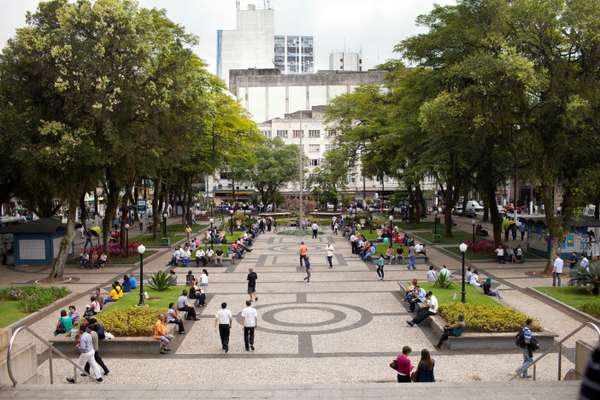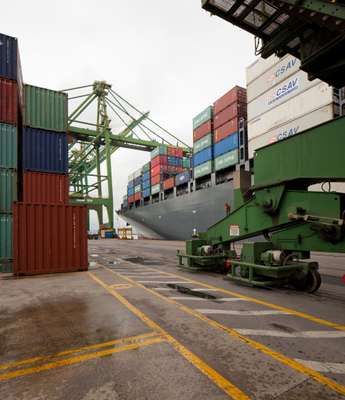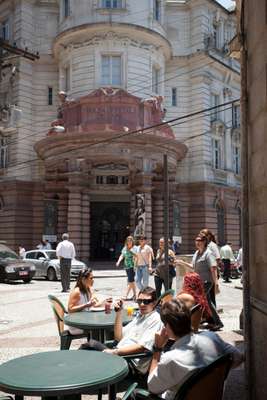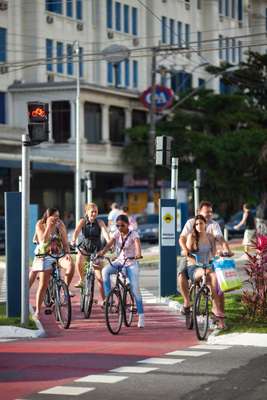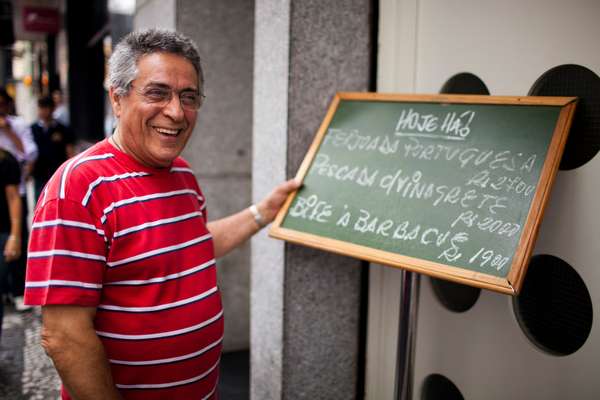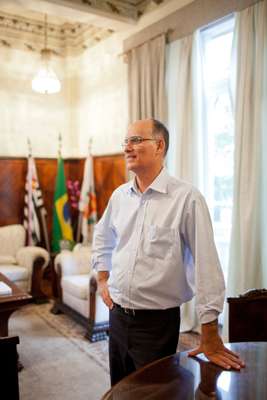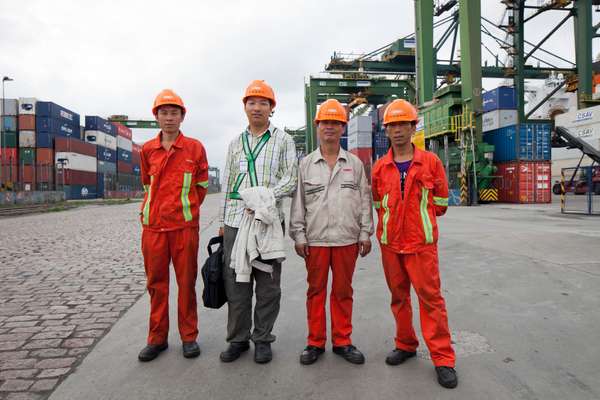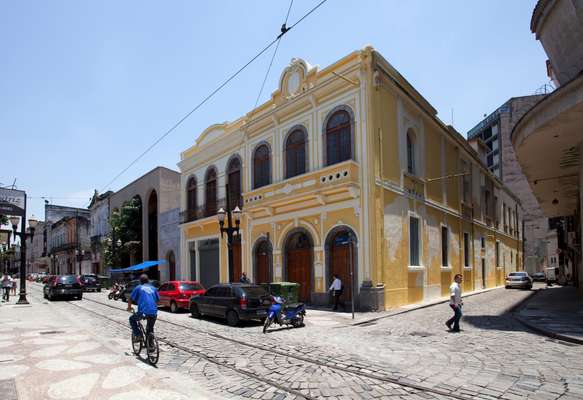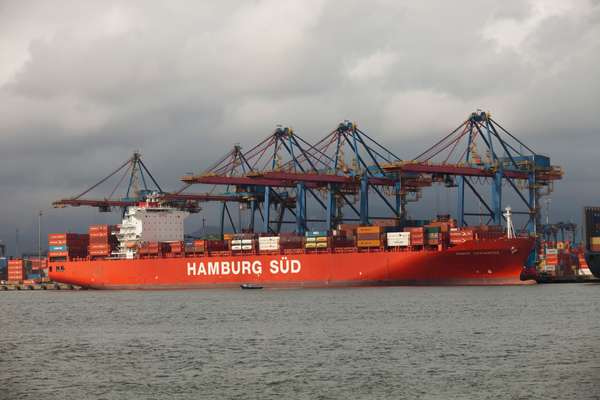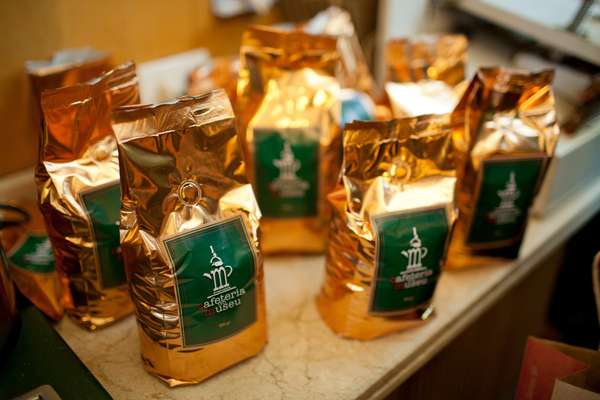 Located about an hour's drive from the state capital, through a stunning, mountainous landscape of Atlantic rainforest, Santos is home to around 420,000 people and the largest port in Latin America. It is also the former stomping ground of Brazil's best-known footballer, Pelé. Founded in 1546 by the Portuguese explorer Brás Cubas, Santos remained, until the 19th century, a seaside village.
Santos's first major boom came in the 1860s when the opening of rail links connecting the port to the rest of the state made it the key shipping point for coffee producers in the state of São Paulo. The Bolsa do Café – Santos's beautifully restored 1922 Coffee Exchange – offers a window into the city's importance to the global coffee trade and its past of wealthy coffee barons and Japanese and Italian immigrants who came to work on the coffee plantations.
Today the port exports far more than just coffee, shipping soy to China, beef to the Middle East and Russia and orange juice to the US and beyond. Capacity is expected to triple by 2024. Still, despite the constant coming and going of cargo trucks, Santos has retained a deserved reputation as a bucolic beachside retreat. "It's completely different here to São Paulo. People know each other, they are receptive," says local architect Daniel Proença, strolling down Santos's shoreline, showing off the multi-coloured Edifício Parque Verde Mar – one of numerous gems designed here by the celebrated 1950s architect, João Artacho Jurado. "People can't take São Paulo any more; the rain, the chaotic traffic, the crime."
But change is coming to Santos – and fast. In November 2007, the Brazilian oil giant Petrobras announced it had discovered a massive offshore oil field in the Santos basin called Tupi, believed to hold between five and eight billion barrels of crude. Some estimates suggest up to 150 billion barrels lurk beneath the ocean.
The discovery placed Santos at the eye of the storm. Looking to produce over a million barrels of oil per day from the Santos basin by 2017, Petrobras decided to base its regional operations centre in the city and has commissioned the Brazilian architect Ruy Rezende to design its three-tower HQ, due for completion later in the year.
"It's a great feeling of huge optimism, expectation and immense challenges," says mayor João Paulo Tavares Papa. "In the short term, Petrobras will have around 6,500 workers of its own here in the city centre. This means there could be as many as 20,000 oil workers in the vicinity. The expectation of these investments and the arrival of these professionals has already generated a new, vigorous wave of construction of services and homes. The impact is visible today with the arrival of many new companies… and the growth of local companies."
"The reserves are huge," says Marcio Calves, the executive director of Santos's Commercial Association, perched on a black leather arm-chair under a Benedito Calixto painting of a very different Santos in 1888. "It's a cycle that will go on for many years."
The man tasked with managing Santos's transformation from peaceful beach resort and port-town to bustling oil mecca is Bechara Abdalla, the local planning secretary. "We're going through the best moment of development in the last five decades," he says. But Abdalla admits that the transformation will not be easy. How will the city's infrastructure, already stretched by the port's activities, cope with the massive influx of workers and companies? Will Santos be able to retain its status as a peaceful beach destination with the onset of the oil boom?
"I need to organise this development so we do not compromise Santos's crown jewel – its quality of life," he says, pointing to the crime-ridden oil boom-town of Macaé in Rio de Janeiro state as an example of what he wants to avoid. "Thirty per cent of the population of Macaé lives in favelas. The city didn't prepare itself for what was coming. That is exactly what we are now doing. The big challenge is infrastructure, so we can support this new moment and guarantee the quality of life." He points to six new hotels being built to keep up with ballooning demand. "Let's develop – but let's keep this quality of life."
Part of Abdalla's blueprint for Santos is to "verticalise, like Manhattan". "The city needs to grow but since we have limited space, there is no other option than verticalisation," he says. "You can't grow sideways here, you'll fall into the water." A number of towering luxury condos and hotels are now under construction in the beachside neighbourhoods of Gonzaga, Boqueirão and Ponta da Praia. Outside one new development – a glistening two-tower, 35-floor hotel and apartment building being erected by Brazilian construction giant Odebrecht – a banner captures the Santos mood: "A new story. A new place."
Government plans to revitalise the city's historic centre are also advancing rapidly, with tax breaks being offered to businessmen such as Andrade who commit to restoring the façades of their buildings. "It was dangerous, this was a place of drug addicts, shooting galleries and prostitutes. There were not even lights here at night," Andrade, the former investment banker-turned-local entrepreneur, remembers, pointing out from his property towards the docks. "There are still some zombies around here… but in five years time they'll be gone."
The Museu Pelé – a museum dedicated to the city's football hero – is being built not far from Petrobras's future HQ and authorities hope to attract a World Cup team to train in Santos during the 2014 World Cup. There are also ambitious plans to build a brand new terminal for cruise ships and to give the existing port a major facelift. Andrade, meanwhile, is hoping to promote a Santos jazz festival in 2012 as the city also seeks to make a name for itself in the arts.
At his second-floor architecture practice, Proença Arquitetos, Daniel Proença showed off his latest design: the 31-floor Condo Hotel being built a few blocks from Santos's seafront promenade. "I'll never leave Santos – no way," says the 52-year-old architect, whose company specialises in 30 to 40 storey apartment blocks and offices, the latest fad in his hometown. "I have no desire whatsoever to leave. I have clients in São Paulo. There is lots of money there. You get paid fantastically well. But I'll make the money there and I'll stay here."
Happy times: regeneration
A major element of the town hall's plans for Santos's future is "Alegra Centro" or "Cheer up Centre" – an ongoing revamp of the city's historic centre. The project began in 2003 and has seen tens of millions of dollars poured into giving the long-forgotten dockside area a facelift. "A city can only grow if it respects its past," says Santos's planning secretary Bechara Abdalla.
According to government figures, some 2,276 new businesses were opened in the region between 2003 and 2009, breathing new life into an area that had become a hub for drug use and prostitution. Sushi restaurants and packed bars now line streets that were crumbling and abandoned a decade ago.
Hundreds of listed buildings have been renovated or restored thanks to tax breaks given to owners prepared to invest in their properties. Plans are also afoot for the Marina Porto de Santos, a modern marina for sailing enthusiasts. Eight dockside warehouses will be renovated as part of attempts to beautify the harbour for tourists. The plans were inspired by similar projects in Barcelona, Sydney, Buenos Aires and Lisbon.
When Brazil's state-controlled energy giant, Petrobras, announced the discovery of its Tupi field in November 2007, the country's president knew exactly what to say. "God is Brazilian," declared then-presidentLuiz Inácio "Lula" da Silva. His Venezuelan counterpart, Hugo Chávez, quipped that in the wake of such a massive discovery, Lula should be renamed "Sheikh Lula".
Government officials have claimed that the 800km-long stretch off Brazil's southeastern coast could hold as much as 150 billion barrels, which would catapult the country into the big league of oil producers. Petrobras hopes to be producing some 5.7 million barrels of oil and natural gas a day by 2020, a large part of that coming from Santos basin.
"We have no idea how much oil there is exactly in terms of billions of barrels," current president Dilma Rousseff has said. "The most conservative people say 30 billion, others say 50 billion and others say 100 billion. We are certain, however, that there is an immense volume that could turn Brazil into one of the world's great producers. We can say with no doubt that these reserves will put us near the top of the table. We now have strong indications that God really is Brazilian."