Briefing / Asia
Asia
Briefing
The sartorial preferences of North Korea's new Supreme Leader, the big ambitions of Seoul's Incheon airport, and a Q&A with the head of an Indian bicycle rental company.
STYLE LEADER NO. 34
Cut from the same cloth
North Korea [KIM JONG-UN]
Unlike his father, who observed three years of mourning before taking up the office of Supreme Leader, North Korea's Kim Jong-Un has got straight to work putting his stamp on the world's last Stalinist autocracy, attending bombastic pageants, inspecting barracks and advising ranks of military top brass.
The Swiss-educated 28-year-old is a big basketball fan and is thought to have a lavish collection of Nike trainers. But since his father's death he has been careful to project a severe leather-gloved fist. When he's not wearing his sturdy wool greatcoat, he sports a black suit with a gold pin – every loyal North Korean subject wears a Kim Il-Sung lapel pin in honour of the first leader of the Democratic People's Republic of Korea, who died in 1994.
Like everything else in his succession, Jong-Un's wardrobe is about signalling continuity and his clothing choices seek to reiterate his heritage. One key staple is one of his father's favourites: the grey Parker. Kim Jong-Un was often snapped with his dad in matching macs and now it's making a regular appearance in his solo wardrobe.
Kim Jong-Un has all the sartorial trappings of the Eternal President. But, despite the tough-guy attire, he still looks like a fresh-faced kid in his dad's clobber.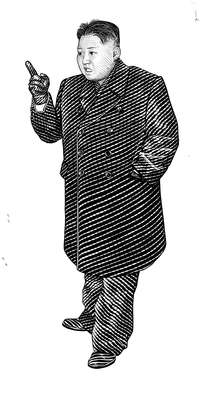 ---
Is it a short back and sides or very nearly a Mohawk? Either way, Kim Jong-Un's grade two shorn above the ears (dubbed "the ambition cut" by the North Korean press) is reportedly all the rage in Pyongyang. The very distinctive hair cut is a curious mix of retro communist zealot and directional urban hipster.

Since his father's death, "the great successor" and leader of North Korea's 1.2 million-strong military has donned the garb of a dictator. At his father's funeral he trudged solemnly alongside the Lincoln Continental limousine in a heavy tailored double-breasted black woollen overcoat with shiny black buttons. Put it this way, the expanse of black wool certainly enhances his considerable bulk.

Black leather gloves denote the Stalinist, iron-fisted image. The 28-year-old leader has shown no sign of softening his father's brutal subjugation of the North Korean people or weighing back on the nuclear programme his predecessor cultivated from 2006.
---
Japan's government is planning to drill for methane hydrate off the coast of Aichi Prefecture, the world's first attempt to exploit the energy source. Methane hydrate is an ice-like substance found mainly under deep seabed and permafrost layers.
---
Taking a gamble
South Korea — 
CASINOS
Seoul and Las Vegas may not appear to share that much in common – not yet, at least. But Seoul's Incheon International Airport has announced €2.4bn plans for a major new casino resort, modelled on the glitz and glamour of Nevada's more famous sin city.
"We are planning a fully integrated entertainment resort, offering leisure, shopping, business and a casino," says a spokeswoman for Incheon, the world's eighth busiest passenger airport. The development, due to open in 2016, is a high-profile attempt to woo transiting visitors from Europe, the United States and Asia, with a particular focus on China and Japan.
---
Artistic licence
Shanghai — 
ARTS
Shanghai might be bigger than New York and Paris combined but its museums hardly measure up. That's why Shanghai officials will fund the construction of 16 major museums and galleries by 2015. The crown jewel is a 70,000 sq m museum, the China Art Palace, which is slated to open by October in the former China pavilion at the World Expo site. Plans also call for a contemporary art museum at the site sometime this year. But critics are asking how art can flourish in such a repressive country. "Really the government should save the money and get out of the way," says Chris Moore, publisher of Randian, an online Chinese art and culture magazine.
---
Q&A
Jui Gangan
Co-founder, Cycle Chalao
India
Cycle Chalao is a bicycle rental service named after a popular chant heard at cyclist gatherings around India. Since 2010, they have been pioneering a pilot programme for the city of Mumbai.
How do Mumbai residents use Cycle Chalao?
The idea is to use the bicycles really only for the "last mile" between the nearest train station and the college or office. We recently started work on a bike-sharing programme for the city of Pune which wants to install 25 docking stations for 300 cycles and expects to launch this year.
Can bicycle sharing work in a crowded city like Mumbai?
We did studies of colleges and corporate parks and found 70 locations in the city where bicycles could connect railway stations to these destinations. Local governments should build bike lanes in relevant areas. Mumbai built some last year, but no one uses them.
How could India benefit?
It would be more convenient for commuters and help people be more healthy.
Is anything holding India back from growing a cycling culture?
There is an attitude that bicycles are for poor people. During our pilot project some students even said they felt ashamed to be seen on one.