Horgenglarus / Glarus
Good wood
Since 1880 Horgenglarus has made furniture using time-honoured techniques. That's why its classic, sturdy chairs are still in high demand in the Alpine nation, used by both parliament and the general public, and have become a byword for Swissness.
Despite its relatively small size, Switzerland manages to punch well above its weight when it comes to doing business. Part of a country's success is tied to its continued commitment to good old-fashioned manufacturing. For shoppers, the "Swiss made" label conjures up images of Alpine valleys where well-designed products (think timepieces, for starters) are still created by hand using well-established know-how. For businessman Markus Landolt it's the perfect usp. "We take pride in not outsourcing our work," says Landolt, who runs furniture maker Horgenglarus.
Founded in 1880, Horgenglarus may not be a household name beyond the country's borders, unlike Rolex or Roche, but the company's sturdy wooden chairs can be found in every corner of the multilingual confederation from St Moritz hotels to Zürich's legendary Kronenhalle restaurant. Most Swiss have at some point in their lives rested on one of the firm's models, and given their durability – 100 years on, chairs delivered to the national parliament in Bern in 1902 were sent back to be refurbished – owners happily pass on their pieces to the next generation. Headquartered in the town of Glarus, in the eponymous pocket-sized canton in the country's eastern half, the factory sits at the base of the Linth Valley in the shadow of the imposing Glärnisch mountain. On the premises, first-time visitors are likely to notice another looming giant, an ageing brick smokestack that stands as a monument to the factory's early years – in a nod to modernity, heating is now drawn from a biomass unit powered by burning wood chips, most of which conveniently come in the form of shavings left over from chairmaking.
While the company is forward thinking about its energy needs, most of the tools and techniques used to make the brand's furniture are decidedly old school. On a tour of the factory, Landolt leads monocle to the mill where barehanded carpenters select rough planks to be cut and planed from neatly piled stacks. Beech is the most common wood, some 85 per cent of the brand's chairs are made with it, but customers can request other types, including ash and maple.
Raw materials are sourced from the Jura mountains and hand-selected in the forest to ensure the company gets the best trees. "We have relationships going back 80 years with some of our suppliers," says Landolt. "They know our needs: tall, straight trees that get plenty of sunlight." Trees near the snow line are sought-after since they grow more slowly, making the wood denser and longer lasting. After leaving the harsh climate of the Jura, the cut wood is then left to dry out, in some cases for up to four years, before being used. From the mill, many pieces move to the workshop of Herr Tschudi to undergo bending. Inside 1940s-era metal containers that resemble torpedo tubes, strips of wood are steamed at temperatures up to 100c to make them pliable. "It's a century-old craft you rarely see today," explains Landolt. "The wood stays in for a couple of hours, a bit longer if we are using oak." Once removed, each strip is placed into a groove and fitted around a mould. Today, Tschudi's team are shaping seat frames and each is fixed to its template with worn iron clamps.
From here, pieces are left for a week inside an oversized sauna to dry out. Seat frames are then sent to a workshop where an employee applies glue with a brush, sands the surface and resets the clasps before setting the piece aside for the night. Individual components are then sanded using three different grades, each treatment lasting up to 20 minutes.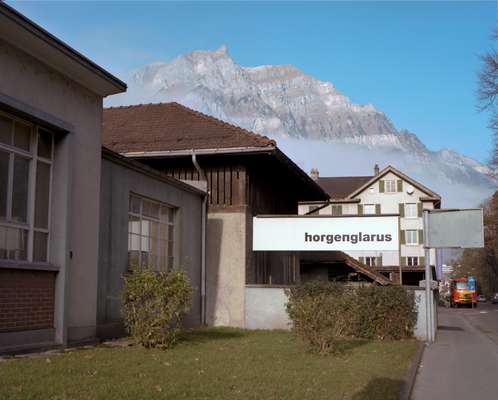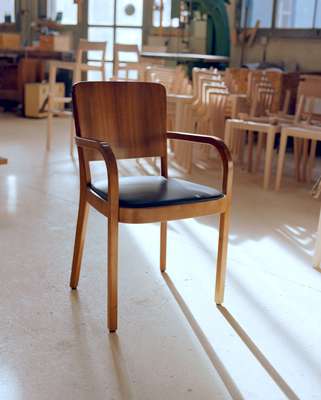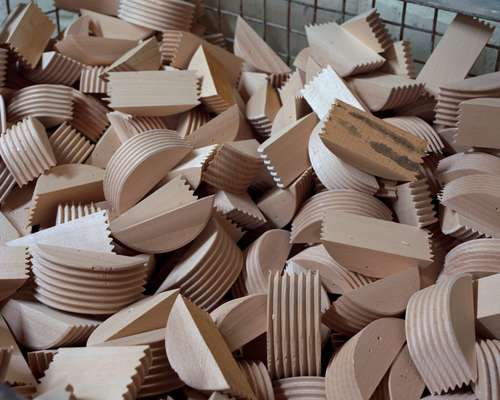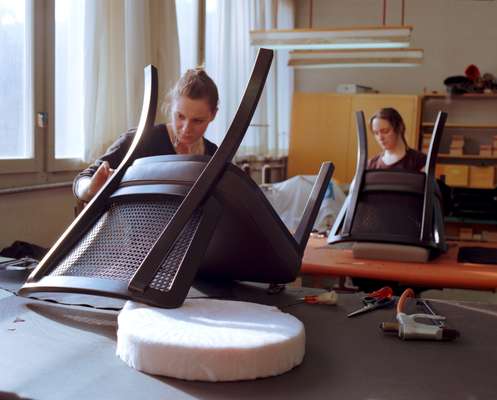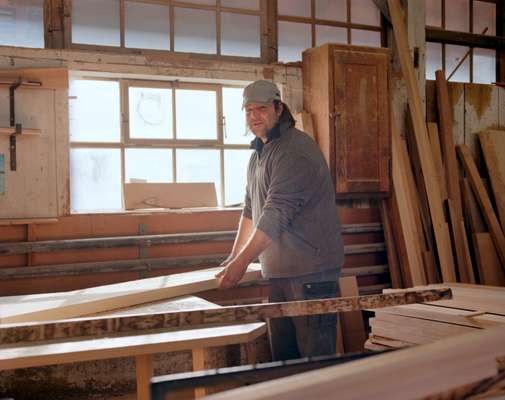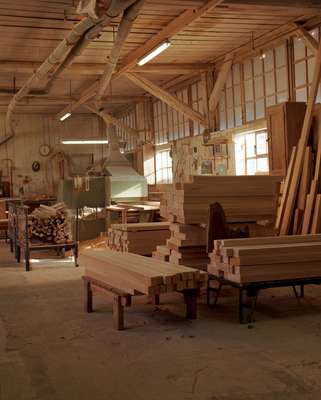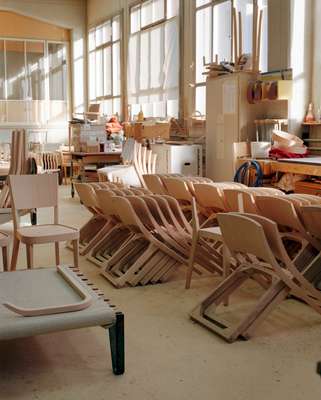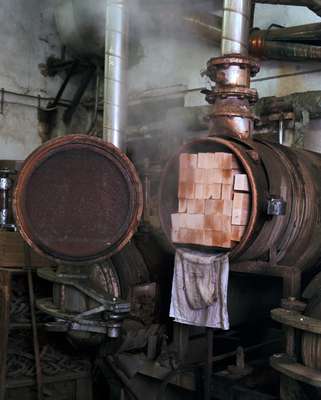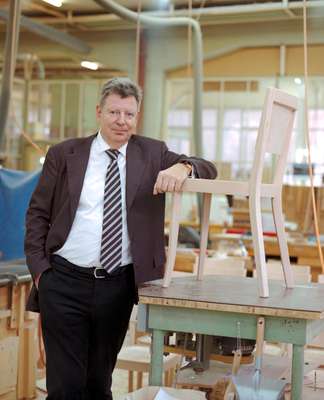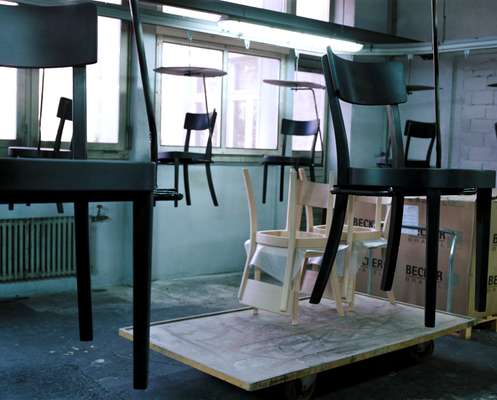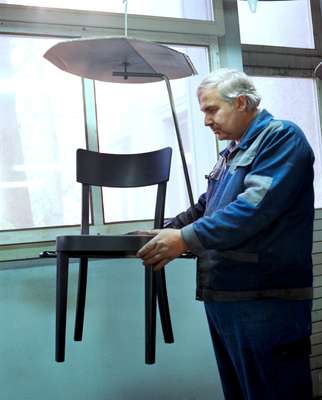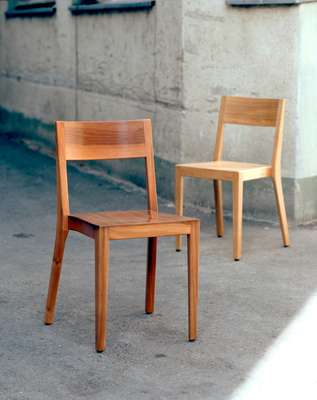 Back and seats are then joined in the assembly room, where staff drill holes one by one to attach legs onto the frame and then secure them with glue and screws, stopping repeatedly to check the fit. The same measured pace is seen inside the paint studio where Herr Jemmi and his colleagues apply at least three layers of lacquer, pausing to sand the surface by hand after each coating and leaving the chairs to sit overnight.
Upstairs in upholstery, the women still work on decades-old sewing machines to stitch together seat covers from leathers sourced from Swiss tanneries. Wickerwork for seat backs is supplied by a workshop on nearby Lake Zürich that trains disabled persons to learn traditional crafts since the company found that hand braiding resulted in more evenly proportioned patterns than those made by machine.
In a world of round-the-clock manufacturing and global supply chains, the furniture maker's old-world approach flies in the face of conventional business wisdom but Landolt is adamant that his firm maintains its reputation for quality Swiss craftsmanship. "We continue to work like traditional carpenters," he says, inspecting a newly painted Classic model, a chair first launched in 1918. "We only build to order, we don't stockpile. Mass production is not part of our vocabulary." Each year, his team of 45 craftsmen is able to build 18,000 chairs and tables. On average, a chair takes four weeks to assemble.
While much of the brand's appeal today is linked to its classic, no-nonsense designs from the 1920s, such as the Haefeli, Landolt has used his tenure to update the offering in order to better compete with well-known brands such as Vitra that operate in the high-end segment and which have found inspiration in recent years by mining the Horgenglarus archive. Since taking the helm in 1999, when the company was in dire straits following poor property deals by the previous owner, he's commissioned Swiss designers, most notably Hannes Wettstein, to come up with new models like the elegant Miro.
Though he added a few cnc-machines to complete basic tasks like making holes in armrests, he's kept the rest of the workflow much the same as when the company first opened and was busy fitting concert halls and cinemas with seating (today's customers are more likely to be restaurants, banks and bars).
His efforts to keep know-how in the company and not move abroad in search of cheap labour has brought him admirers and even new partners. "When you invest in a company, you usually have to worry about paying for new machinery," explains Michael Sarp, ceo of Nordeck-Gruppe, a holding company that acquired a majority stake in Horgenglarus last year. "Here, we wanted to leave things pretty much as they were and not get in the way of what Markus was doing." The former head of luxury watchmaker iwc, Sarp is on a mission to preserve Switzerland's manufacturing base – he also owns premium underwear label Zimmerli. Sarp argues Horgenglarus is a perfect ambassador for the country, noting its furniture has been ordered by architects Herzog & de Meuron for use in a California winery they designed; pieces also grace rooms in the Swiss embassy in Washington. "It's a Swiss icon that nobody knows, even if everybody has sat on them before."
In terms of the business model, Sarp has no interest in ramping up production in order to increase market share, wary that such a move could hurt quality. "We don't compete on price. These chairs cost between chf500 and chf800 [€400-€650] each. But what you get is a product that is well made and that will last a very long time."
horgenglarus.ch
Timeline
1880 Möbelfabrik Emil Baumann Horgen founded in Horgen on Lake Zürich
1902 Factory moved to Glarus; firm wins order from Swiss parliament
1918 Company unveils Classic model
1926 Architect Max Haefeli commissioned to design chairs
1949 Artist and industrial designer Max Bill designs three-legged chair for brand
1999 Markus Landolt saves company from bankruptcy
2011 Nordeck-Gruppe acquires majority stake
1.
Haefeli II chair in natural chestnut with leather seat. Designed in 1926 by architect Max Haefeli. 
2.
Miro chair with and without armrests in beech or cherrywood. Designed in 1999 by Hannes Wettstein.
3.
Prova solid wood dining table in oak or cherrywood. Designed in 2010 by Heinz Baumann.