Travel edits / Melbourne
Monocle travel guide
Here are five of Melbourne's newest off-the-radar bars and kitchens opened by young chefs, baristas, barkeepers and designers.
The Brix
Young owners mix things up
Inspired by the spontaneous, avant-garde cuisine of Inaki Aizpitarte's Le Chateaubriand in Paris, Emma O'Mara, 27, and Keir Vaughan, 26, did a career swerve from design to open The Brix in late 2011.
"Melbourne is the most forward and brave of all Australian cities," says O'Mara. "We wanted to push dining here with something contemporary, brave and wild."
And push it they have, with a menu that lists classic bistro French steak frites with smoked tuna, avruga caviar and seaweed. Add chef Joel Atherton, 28, and a list of natural wines and small-batch champagnes put together by O'Mara's father and The Brix was born. The pair did the interior design themselves and relish the journey. "There is no fail in this because if the doors close tomorrow what we've learnt and experienced could never be taught."
Rear 412 Brunswick Street, + 61 3 9417 6114
thebrix.com.au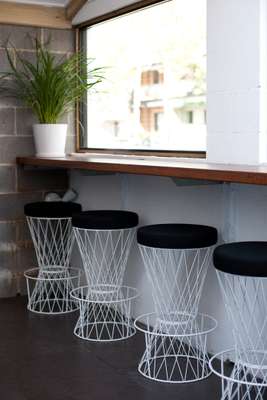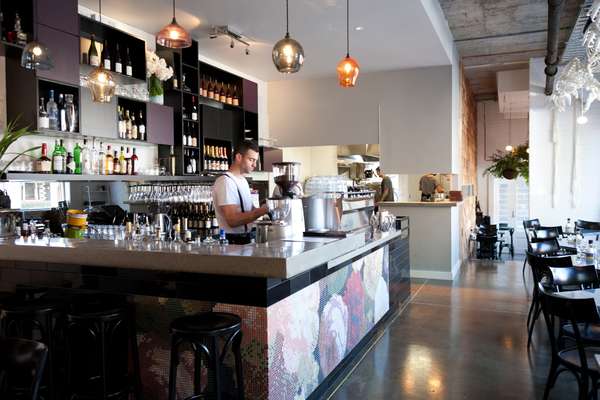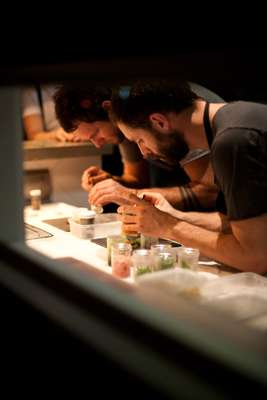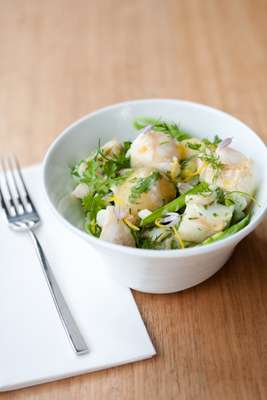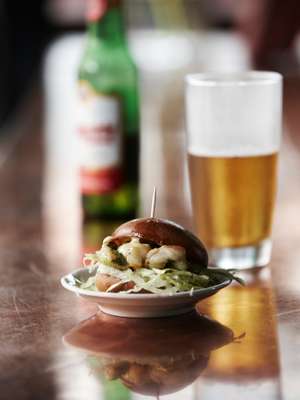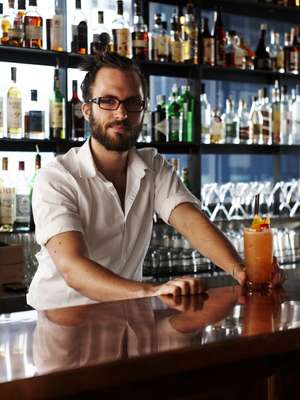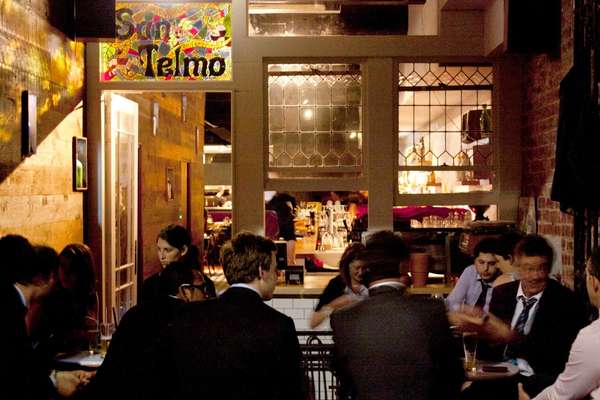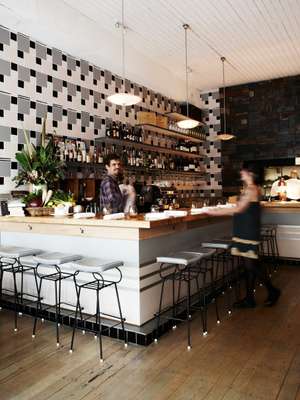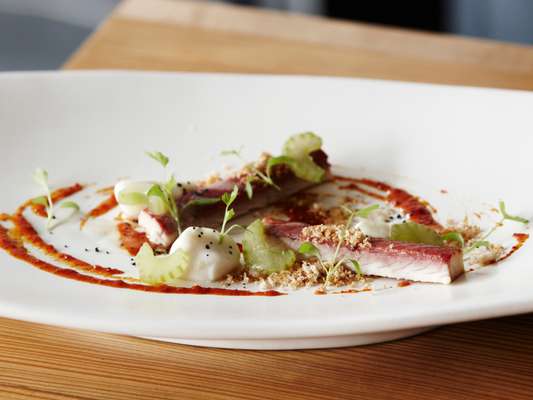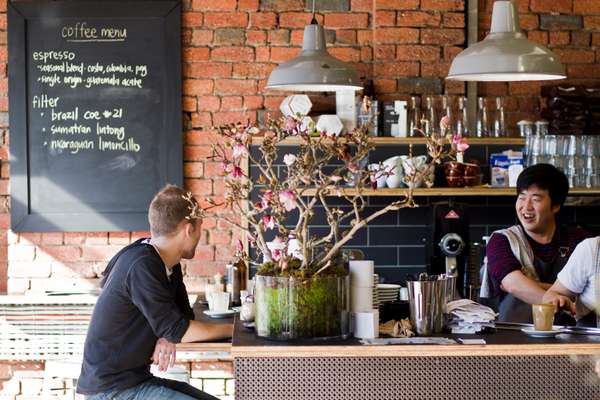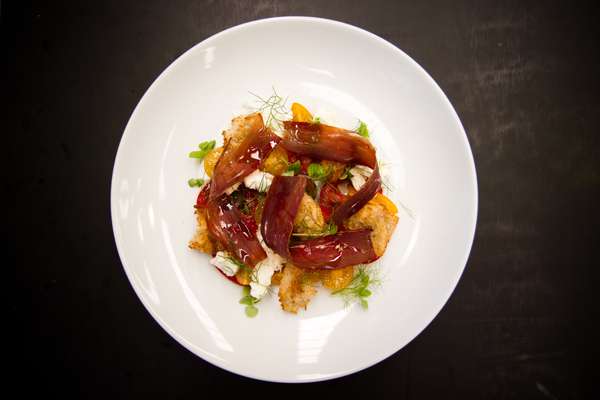 ---
The Aylesbury
Master of small plates
"Our ideas come from the garden and from chatting to our farmers," says Vanessa Garner, who has just opened restaurant number two with husband Jesse. Their locavore tendencies play out on the small plates menu at The Aylesbury, fuelled by produce picked that morning from their garden and honey gathered from their hives.
Set among the "drinking food" of chorizo and tortilla is The Aylesbury Garden, a seasonal snapshot on a plate of tomatoes, edible flowers and almond cream (from home-grown almonds). Jesse's favourite is the mackerel, blow-torched crisp and served with green gazpacho and Russian caviar. "Melburnians are always up for different food and ideas," he says.
103 Lonsdale Street
theaylesbury.com.au
The rooftop bar five floors above the restaurant, with its own tapas kitchen.
---
San Telmo
Argentinean transplant
In between playing polo and eating tira de asado (ribs) in Buenos Aires for a year, David Parker dreamed of opening an Argentinean restaurant and bar in his hometown of Melbourne. Together with his brother Mickey, two friends and chef Michael Patrick, he's done just that, to instant acclaim. "I see a lot of similarities between Melbourne and Buenos Aires," says Parker. "They're both full of cool underground things that you have to seek out." The city is buzzing about San Telmo's 10m bar and handmade parilla (charcoal grill). Parker says the morcilla (blood sausages) and sweetbreads that come sizzling off the grill are the real deal. "We've tried to keep it all as traditional as we can but still make it a bit Melbourne, too."
14 Meyers Pl
santelmo.com.au
---
The bife grande, 1kg rib-eye on the bone.
---
Estelle Bar & Kitchen
Food scientists
You know you're doing something right when the young lads and lasses of the restaurant industry start turning up for dinner on their nights off. "We were a bit scared, putting a seven-course tasting menu into a six-table restaurant in a northern suburb," says chef and co-owner Ryan Flaherty, 29, who has cooked at Heston Blumenthal's Fat Duck and Ferran Adria's El Bulli. "But it's better than being safe. And it looks like we're getting away with it."
Northcote is coping well with the idea of molecular gastronomy in its midst, as Flaherty and partner Scott Pickett turn out intriguing dishes such as sardine and tapioca crisps or pickled and candied baby beets with orange and goats cheese or a reverse-gelatine cauliflower "sausage". If that's too much, there's always fresh oysters and house-made charcuterie that haven't been molecularised – yet.
243 High Street, Northcote
+ 61 3 9489 4609
---
The lines that define a café, bar and a restaurant are blurring, and Prahran's new Hobba is doing its best to blur them further. It's a casual, all-day café with wood booths in a garage space and pays serious attention to coffee with its Synesso Hyrda machine and guest roasters on rotation. It has a menu of all-time breakfast favourites – bacon butties, smashed avocado with Persian feta.
But former Vue du Monde chef and co-owner Josh Powell isn't just frying eggs. Instead, he's poaching them at exactly 62.5C, so the white is set and the golden yolk is gloriously runny. Lunches have a Middle Eastern leaning, such as chickpea fritters with red lentil hummus, tahina and feta, and they're soon to open for dinners. "I struggle to call what we do a café," says Powell, 27. "We just stick to what we know, and do it our way."
428 Malvern Road, Prahran
hobba.com.au