Roberto Panizza took over an old trattoria in the Ligurian capital last year and brought it back to its former glory. Here, he shares his passion (and recipes) for the regional speciality, pesto and gnocchi.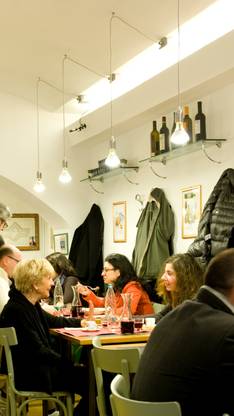 The popularity of pesto – a traditional Genovese sauce made with basil, garlic and pine nuts blended with extra virgin olive oil, Parmesan and pecorino cheese – has spread from Ligurian trattorias to restaurants and delicatessens worldwide, making it one of the most popular food dressings in the world. Traditionally made in small batches by Italian mammas as a complement for pasta, gnocchi or soup, pesto is today the third most produced sauce in the world – after ketchup and mayonnaise – according to the Italian Culinary Academy based in New York.
"The contemporary status of pesto is due to its great flavour and easiness to prepare," says Roberto Panizza, Italian food connoisseur and owner of four gourmet shops in Genoa. "But this doesn't mean everyone knows how to make it. The risk of this wide success is that the history behind the sauce's origins and its authentic Ligurian preparation, using a wooden pestle and marble mortar, is lost."
Panizza is one of the first gourmets in the Mediterranean to research and value the genuine recipe. His passion for the food led him to start the Pesto World Championship, a competition held every other year at the Palazzo Ducale in Genoa attended by more than 100 international participants. Together with his brother Sergio, Panizza opened Il Genovese trattoria in 2011 in an empty space across from the Rossi gourmet shop where Roberto had worked from when he was 17. Since 1912 that space housed the Trattoria Raggio (a restaurant known for its typical Ligurian recipes such as the farinata – a chickpea pancake – and the torte salate – vegetable pies) that was now facing rough times. "As soon as we heard the trattoria was going downhill and that it was up for sale we decided to buy it," say the brothers. "We couldn't let such a traditional place in the neighbourhood be lost – we wanted to bring it back to its former glory."
And although Il Genovese looks snazzier than its predecessor with its bespoke chestnut chairs and Ardesia- stone tables, the food served is as traditional as ever and locals still come for staple dishes like the minestrone alla Genovese (a vegetable soup with a spoonful of pesto) and the testaroli al pesto (flour pancakes with pesto). But the real classic are the gnocchi. Panizza's gnocchi are made with potatoes selected every morning at the nearby Mercato Orientale farmers' market. Once washed, Panizza boils the potatoes in their skin, peeling and mashing them while warm. What initially looks like a purée congeals when he adds 300g of flour, enough to thicken the mix, making it easy to knead. After rolling it on his work surface, Panizza cuts the dough into 3cm by 2cm cubes, rolls them into a ball and lightly presses the top with his thumb, leaving an indent that will make them twirl in the boiling water (and hold the sauce when served) cooking evenly in three minutes. When he sees the gnocchi come to the surface, they're done.
When he makes the sauce (following his great-grandmother's recipe) Panizza highlights the fact that true pesto can only be made by processing premium ingredients on a marble mortar using a wooden pestle. The mortar at Il Genovese weighs 38kg, comes from an old Benedictine monastery close to Savona and is 200 years old. And his pestle is made in pear wood and weighs 4kg. Without these Panizza would be unable to produce the approximately 5kg of pesto he needs every day to run Il Genovese and sell as part of the Rossi brand he exports worldwide, to countries including Poland, Singapore and Tokyo. "The key to a bright green, aromatic and tasty pesto are the high-quality ingredients," says Panizza while he delicately crushes the elements in a rhythmic, circular movement.
The first step is to pound pine nuts and one clove of garlic energetically. Once they turn into a smooth paste, he adds the basil leaves and sea salt. When everything is combined, Panizza adds the cheeses and a drizzle of extra-virgin olive oil. "You have to treat the elements with respect; basil is very delicate, you can't squash it. But pesto has to be prepared swiftly, otherwise the ingredients will oxidize and you'll end up with a black, mushy and acrid sauce," he says just before tasting and finishing his mix. "The consistency and the flavour change every time – you'll never find two identical pesto," Panizza says, just before pouring the mix over the warm gnocchi.
Via Galata 35r, Genoa, + 39 010 86 92 937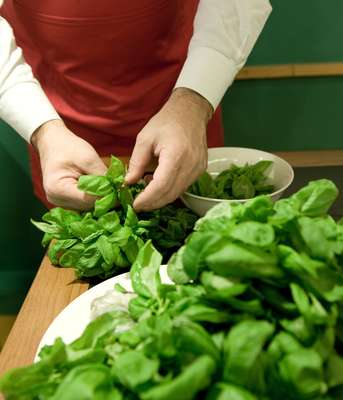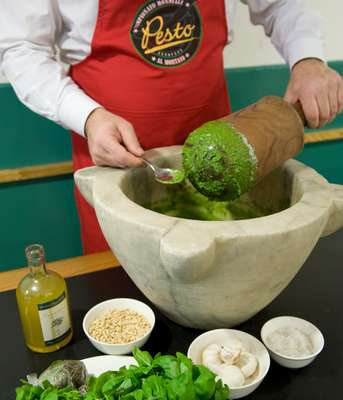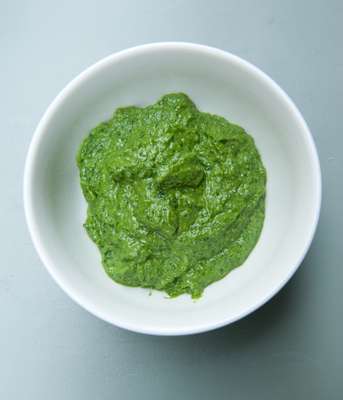 Recipe 1
Traditional Genovese pesto
Serves 4-6
4 bunches of basil (approx 65g of leaves)
30g Italian pine nuts
45g grated Parmesan cheese
20g-40g (to taste) grated Pecorino cheese
1-2 (to taste) cloves of garlic
One pinch of coarse sea salt
70ml extra virgin olive oil
The method
A marble mortar with a wooden pestle are the best tools. Clean the basil leaves in a bowl of water and dry carefully.

Place the garlic and pine nuts in the mortar and crush. When the ingredients reach a smooth almost creamy texture add sea salt and the basil leaves. Mash the basil leaves with smooth, circular movements. When the mix turns bright green, add the Pecorino and Parmesan.

Drizzle the olive oil to bind all the flavours. Finally, stir quickly to avoid as much discoloration as possible.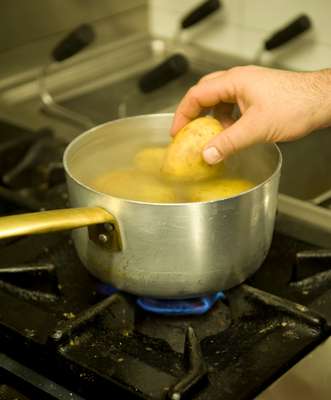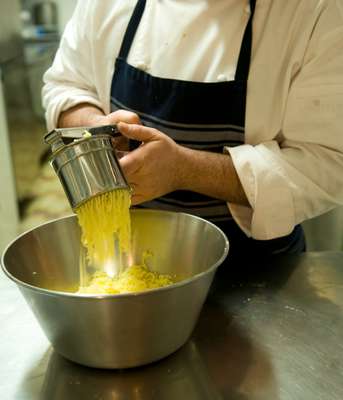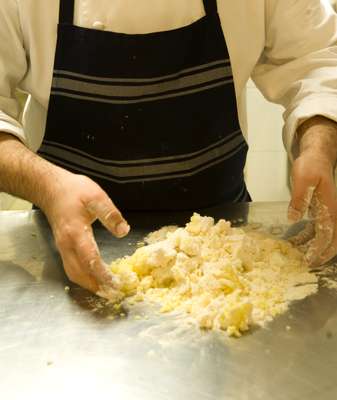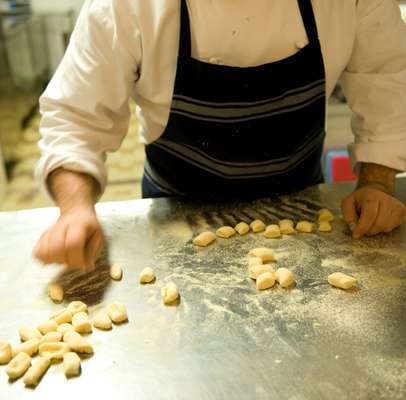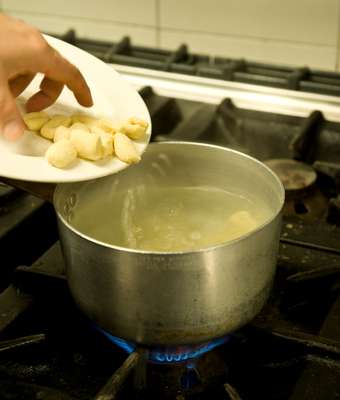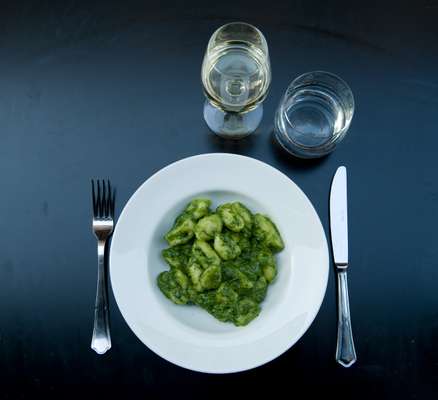 Recipe 2
Homemade potato gnocchi
Serves 4-6
1kg potatoes
300g flour
The method
Boil the potatoes in their skin. When tender peel and mash them while still warm. Sprinkle with flour and knead to blend.

Dust work surface lightly with flour. Take a small piece of the dough, roll a small cylinder no larger than 2cm wide. Cut into 3cm long pieces and press at the centre with thumb and roll to make an indent.

Bring a pot of salted water to boil, add the gnocchi. They cook quickly in 5 minutes. Gnocchi are considered to be ready when they float to the surface.
Serving: Strain the cooked gnocchi and gently mix in the pesto to taste. The traditional topping for gnocchi is pesto but they are equally good with a simple tomato sauce or a drizzle of extra virgin olive oil and Parmesan. Also great with butter and truffle slices.