Residence / São Paulo
The secret garden
Among the high-rises and inner city bustle of São Paulo, a new home offers quiet solitude while retaining openness. The V4 house from MK27 architects invites nature, the neighbourhood and Monocle to share its space.
If you journey to the west of São Paulo you'll discover that, in the midst of endless skyscrapers, the Jardim Europa neighbourhood is a verdant haven of calm, surrounded by the wilds of the concrete jungle. In the quiet streets, named after countries – Italy, Switzerland and England – are some of the most exquisite and luxurious homes to be found in the city. On one plot, 1,300 sq m in size, is the v4 residence, the latest creation brought to fruition by Paulistano architect Marcio Kogan.
Along with Isay Weinfeld, Kogan is one of the most respected and sought-after architects working in Brazil and abroad. His style is unmistakable – his buildings invariably consist of straight lines, neutral tones and spatial wideness. Though full of personality, his designs resemble long, horizontal boxes of concrete and natural wood. The residence v4 is Kogan through and through, though to call it a carbon copy of the architect's previous work is a gross injustice. For starters, it took four years to build.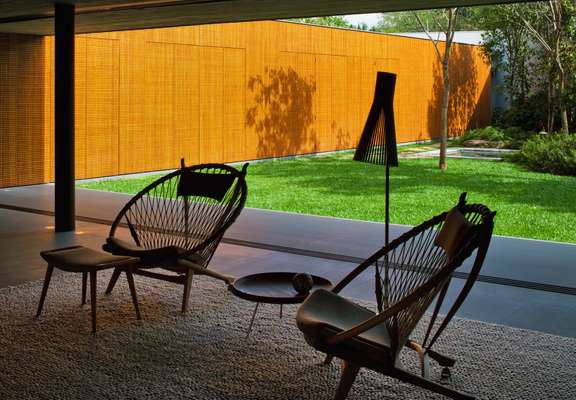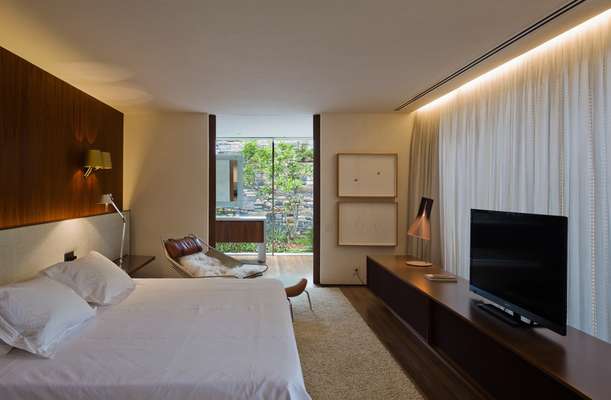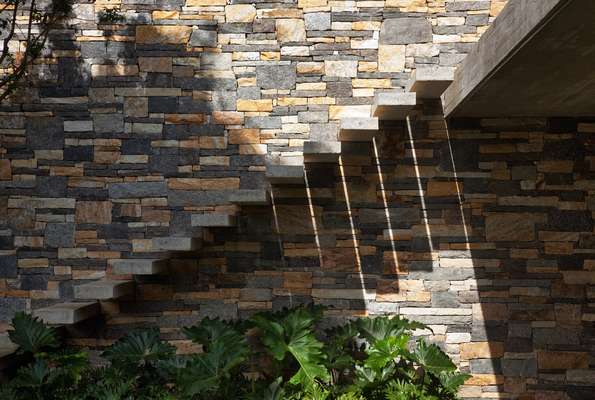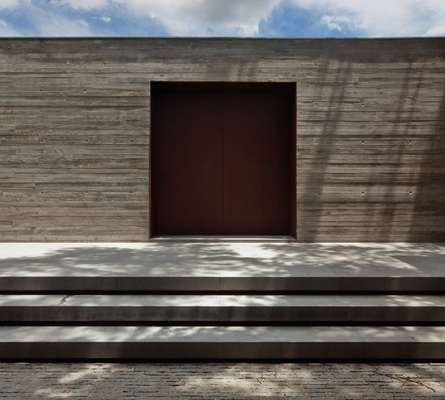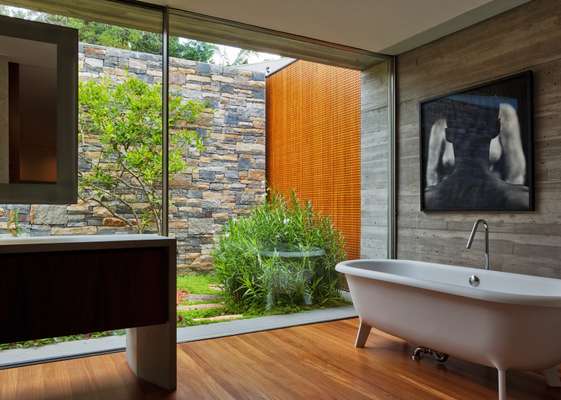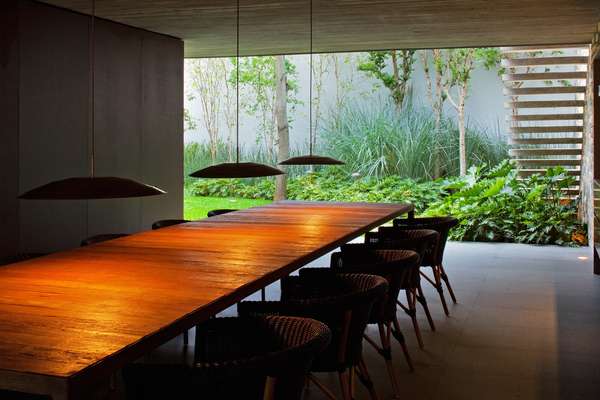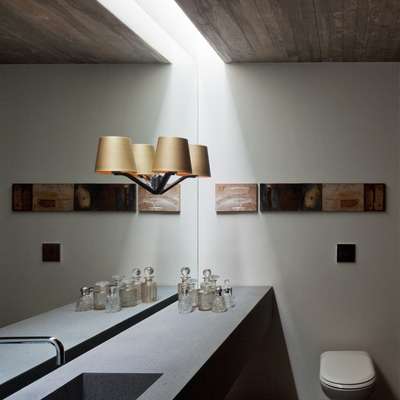 It began as a particularly ambitious project, with two floors, high ceilings, an underground parking lot for six vehicles and four suites, engulfing the entire plot of land on which it would sit. The owner, a discreet businesswoman who lives alone, decided to rethink and save money and so, together with Kogan, she worked through four versions before settling on the final design. And hence the name: v4.
"It is a sustainable home, with cross ventilation and a vintage feeling of warmth. I wanted to give it the spirit of an old residence where time has passed and there are so many stories to tell," says Kogan. The resulting 600 sq m building consists of just one large living room with three open areas, two bedrooms, a kitchen and bathroom. There's also an outdoor kitchen for barbecues and lazy weekend lunches, a gym and a small basement with a laundry and service room. The giant main hall is sandwiched by two glass walls – each around 16m – which open completely, leaving the house in hot weather like a giant, open-air pavilion.
Indoors, the three areas are divided subtly by monochromatic tones. Two green Teddy Bear Chairs by Hans Wegner and some lilac and orange pouffes punctuate the otherwise pastel palette. The lounge and entertainment area is framed by two dark grey sofas. In the wall cabinet, bottles of spirits share space with a small but well selected library with books by Harold Bloom and Vik Muniz. Six speakers built into the ceiling provide a surround-sound effect.
The architect and his team from Studio mk27 handled all the interior design, custom building the furniture in many cases too. Even the kitchen consists of Kogan-designed cabinets and surfaces with a range of Gaggenau appliances. The dining table, designed by Kogan, doubles as a workspace for the owner when doing business from home.
Hardly any artworks break up the expansive walls, made from vast ipe wood panels, which link the hall to the two bedrooms. The master bedroom has a generously sized closet – which conceals dozens of handbags – while the bathroom has one big glass panel that looks out over a stone wall and neatly planted garden.
Although a few blocks away you'll find one of the busiest avenues of São Paulo, the Avenida Brasil, the chirping of birds and rustle of the wind among the leaves transforms life within the walls of this residence into something bucolic rather than urban. In v4 there's a sense of peace, so rare in the sprawling megalopolis. Standing in the open living space with the glass walls wide open, you can smell the hot, wet grass after the rains and suddenly you're in another world.
marciokogan.com.br