Sports writers / Global
Ahead of the game
The sports writer has a tough job. Crafting a story that's more than mere results reporting takes toil – especially when sports players are often famously ineloquent. And then there are the deadlines.
Howard Beck
Basketball
Beck, 43, covers the New York Knicks for the New York Times. He has covered the NBA since 1997.
"While I'm having my first cup of coffee in the morning, I'm going through a number of nba news sites and blogs. I'm reading roundups of everything around the league from every possible source – injuries, trade rumours, possible signings, hirings, firings. If there is time, maybe I'll make phone calls to check in with player agents, scouts, team executives. I also talk to my editor and might do some early writing on a feature. Then I head into the city for the game.
I have a desk [at the NYT]; I don't spend much time at it. Beat writers don't work out of offices. We generally spend our lives in arenas, hotels, airports, airplanes, practice gyms – everywhere but the office.
Games typically start at 19.30. With the top players, they aren't just sports stars, they are celebrities. It sometimes feels like you are covering a Holly-wood figure rather than an athlete.
There are a lot of people hanging out on the court before the game. So I will do a lot of milling around and chatting. During the game, I am constantly writing. Sometimes it is hard to catch all the subtleties of the game, because you are going back and forth between scribbling in a notepad, typing on a laptop and glancing at a monitor that has stats on it. Every reporter who is covering the nba still uses a notepad next to their laptop.
The better the game, the better my stories. In an 82 game season, there are a lot of dog games – games where, if I were a paying fan, I would be wishing I got my money back. But then there are nights when something special happens. The thrill of sports for fans is the drama, the emotion and the tension.
When the final buzzer goes off, I have three to four minutes to send an 800 to 900-word story that will go on the web and in early-run papers. From there, I go to a post-game press conference with the coach. Then run to the locker room [to talk to the players]. After I get quotes, I transcribe, and rewrite the game story. Depending on whether I liked it or not, I may only do a little rewriting and plug in the quotes. I need to get that revised version in by around 23.10."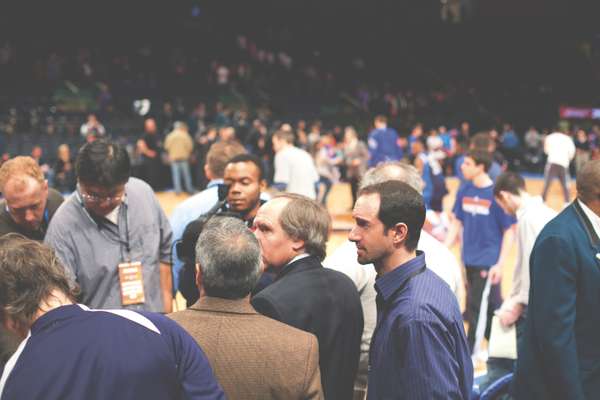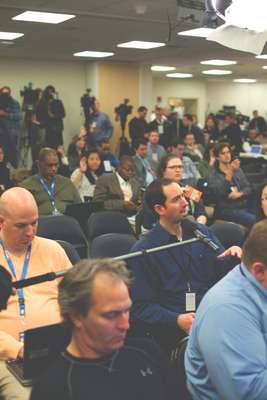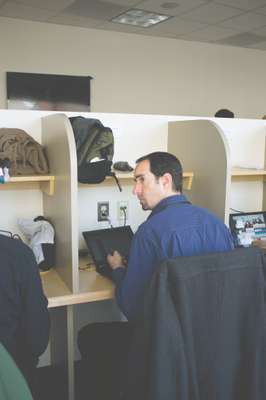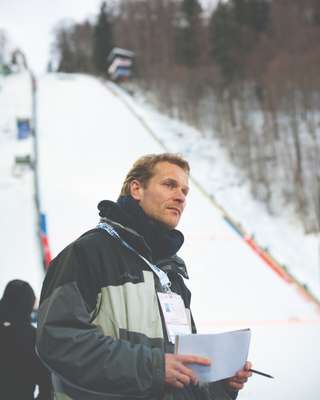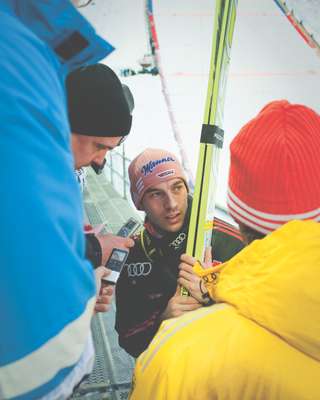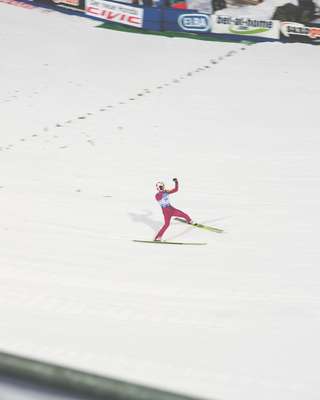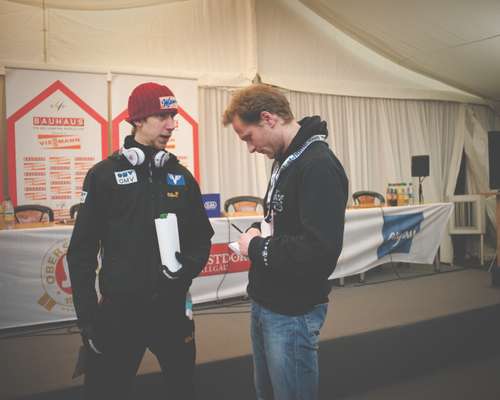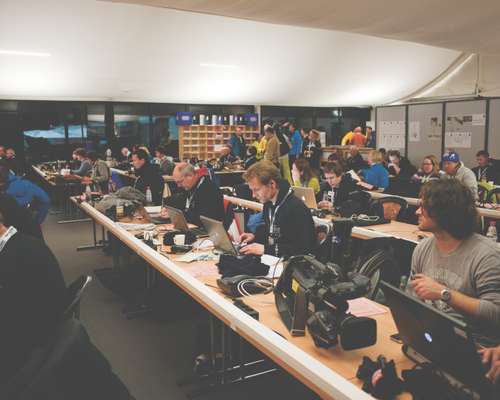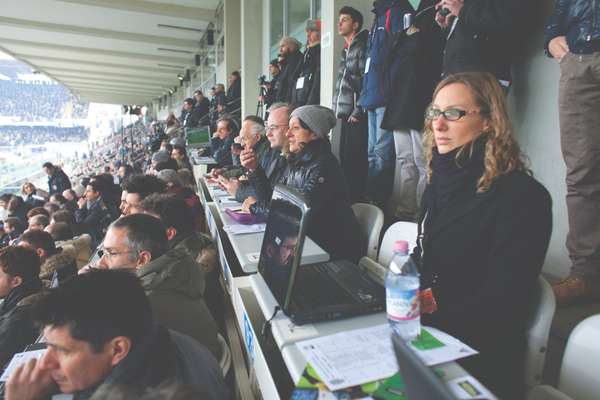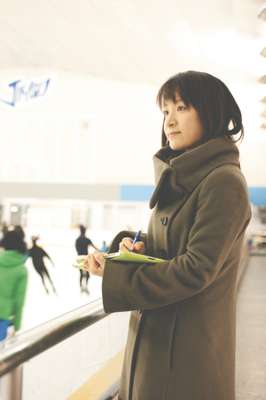 ---
Thomas Hahn
Ski jumping
Based in Munich, Thomas Hahn has been at the Süddeutsche Zeitung since 1999. The 39-year-old Munich native has been reporting on Nordic skiing, Nordic combined, ski jumping and snowboarding ever since.
"In Europe, the winter sports world seems big. Every weekend in Germany we have Nordic and other winter ski sports on television all day long, all weekend. But winter sport is actually a really small world, with lots of national interests. The Norwegians go absolutely crazy for Nordic skiing, for example.
When I'm out in the field – like a World Cup ski jump event in Oberstdorf – I watch the action in the stadium and then often have to write my articles very quickly from the press centre. After the competition there are press conferences; evenings you try to talk to sources. The Süddeutsche Zeitung is a daily, so I might have to write an article every day, especially when I'm covering the Olympics. During large sporting events there will be more public interest and that means more space to fill.
What separates a winter sports reporter from a normal reporter is that winter sports are a safe, ordered environment. Sponsors and event organisers are interested in how their sports are portrayed, so they charm you a bit. Other reporters have it a lot harder. At the same time, we're in an environment that allows us to report on things only to a certain point – the event planners aren't so interested in journalists who ask too much about where things can go wrong.
Pre-season is usually the best time for access to athletes for longer articles. Some sports journalists get emotional and praise an athlete when he or she is winning and rip him apart when he's not; I like to not get too close to the subject matter but also not be too far away.
I'm always inspired, thinking about what topics I can cover and how to best explain what's happening beyond just the results. You ask why something is good or bad or discuss issues specific to certain sports, like the role of psychology in ski jumping. I am fascinated by athletes whose characters transcend the sport. I also respect athletes who do things that don't fit together, like skiing and jumping in Nordic combined, or jumpers who are essentially doing a head-first dive without any water, but then have the physical capacity to launch themselves into the air.
Of course I don't ski jump – but I do cross-country ski. I see a good Nordic World Cup race course and think it might be nice to ski it but then I see how difficult the uphills and downhills are and realise it might not be that much fun after all. I don't snowboard either but snowboarding events are some of the most fun to cover because the cast of characters is so colourful. With the way it's been picked up by youth culture and the media, it's become perhaps the only truly global winter sport, whether we like to admit it or not."
---
Alessandra Bocci
Football
Bocci, 48, is a sportswriter for Italian daily paper La Gazzetta dello Sport, where she follows AC Milan. She has reported on Italian Serie A football since 1990. She has reported from the 2006 and 2010 World Cups.
"In my job, it's important to write fast. If you follow the major Italian clubs, my beat is ac Milan – you often work at night. So by 23.00-23.30 the first edition goes to press and these matches are stressful. I file copy from anywhere. For away matches on Sunday afternoons I might do the match report on the train home. I use a mini laptop and connect it to my BlackBerry and send stories via email. My editors don't like it since they get a Word doc and not the proprietary system staff are supposed to use but, hey, the important thing is to make the deadline. Once in a rainstorm in Cagliari my computer screen went dead and I wound up dictating the piece over the phone. Our stadiums have wi-fi but it's not reliable.
When I first started in the press box, Gianni Brera [a famous Italian sportswriter] had his seat next to mine. He arrived with his cigar, wearing his Borsalino; he was quite the gentleman. But his secondhand smoke almost killed me! There's still an old guard of writers but I've seen a boom in young writers working for websites. Technology has changed a lot of things in our profession in the past 10 years. Footballers now put up photos and news on Twitter and make themselves less available, hiding behind dark glasses, their headphones, iPhones. Italian football depends a lot on broadcaster sky Italia, which has invested tons of money. TV cameras are everywhere and players are required to speak after the match. It's harder now to build a rapport with a player on the flight to a match or at the training ground.
My bosses say that for women it's easier to do this job. I haven't found any advantages except one. Players don't feel the same pressure in front of us when fielding questions. Many male sportswriters in Italy have a complex, thinking they could have been the next Paolo Maldini if only their mothers had let them practise more instead of study. Is there sexism? In the 116 years of the Gazzetta, I was the first woman to write a match report – in 2004. It was worse before but I think it's characteristic of Italian journalism in general. Few women have influential posts."
---
Yoshie Noguchi
Figure skating
Tokyo-based Noguchi, 35, quit her job at a major Japanese daily four years ago to write about the world of figure skating.
"When I was young, I didn't know that figure skating was a competitive sport. Then I watched the 1992 Olympics in Albertville on TV and realised that there was an ice rink in Tokyo. So I started taking lessons.
I joined the national daily Mainichi Shimbun after university. I was assigned to the police beat and wrote about murders, plane crashes; then politics and sports later. I am now freelance and I write for both mainstream and skating magazines about men's and women's figure skating; also pair skating and ice dance. I travel five months a year. Last year I went to more than a half dozen competitions around the world – mainly Europe and North America – and spent three months in Canada. I'll be going to Belarus soon for work. At times I'm the only Japanese journalist.
Ice skating now ranks as one of Japan's top spectator sports, alongside football and baseball. Shizuka Arakawa's gold medal at the 2006 Olympics in Turin had a big impact.
Twice a week I practise at a rink in Tokyo. There I sometimes chat informally with up-and-coming skaters and ask what they think about their peers. Skaters are physically gifted but they often can't explain what they do. If I were to ask how a skater pulled off a triple axel, the answer might be: 'I just jumped.' Instead I ask specific questions about technique or sensibility. As you approached your jump and took off what did you feel and what was going through your mind? I'll ask them to simulate the motion. I've been called a skater's translator. I want people to know that figure skating isn't just a sport – it requires athleticism and artistic grace."