April favourites / Global
Inventory No. 52
This month's selection of desirable things include cashmere bowties, bicycle bags, some velvety wine, handmade soaps and smart kitchenware.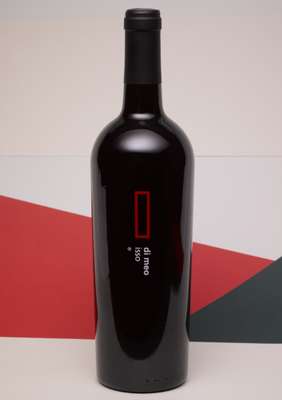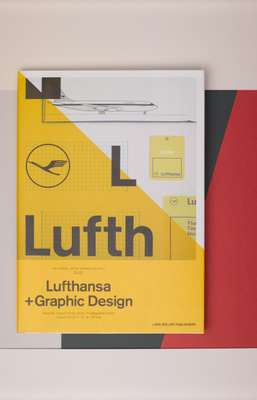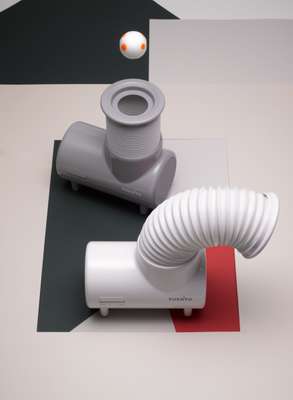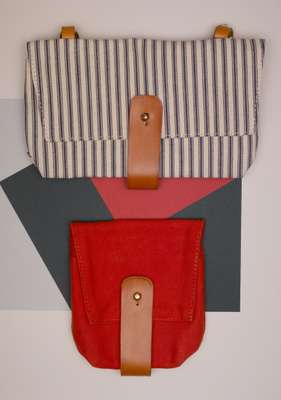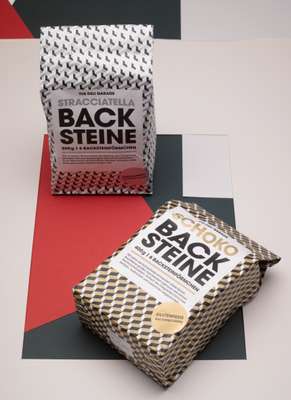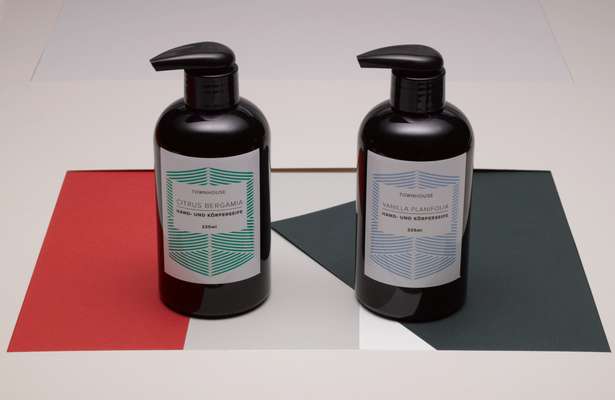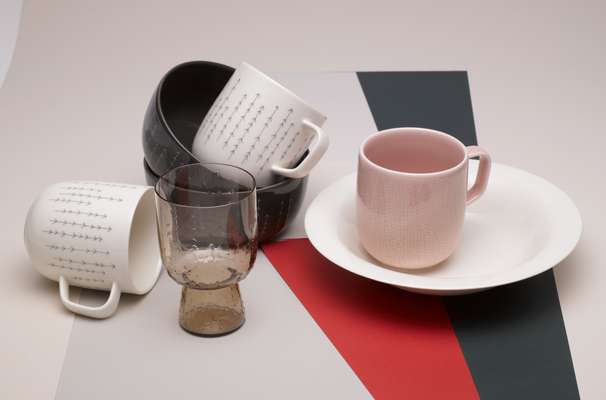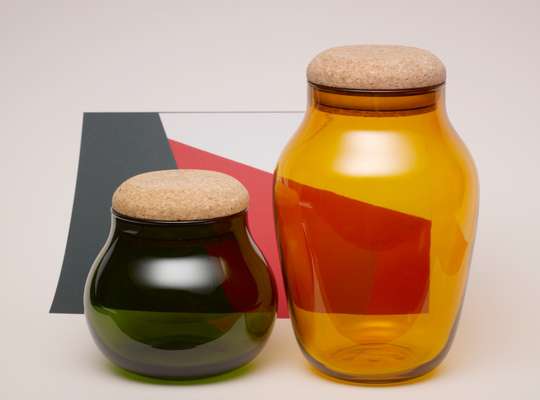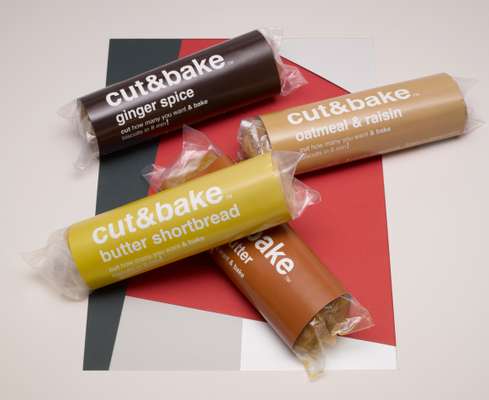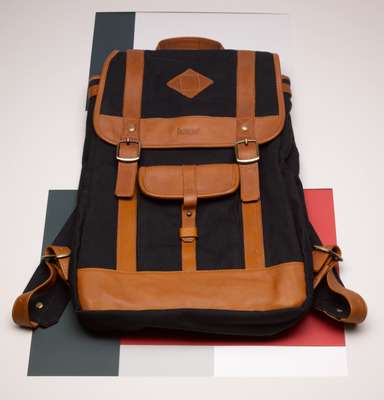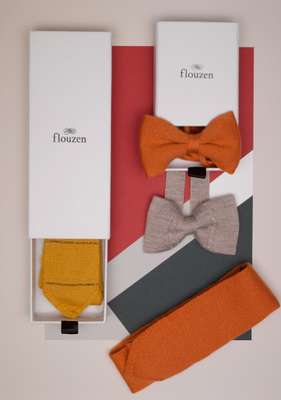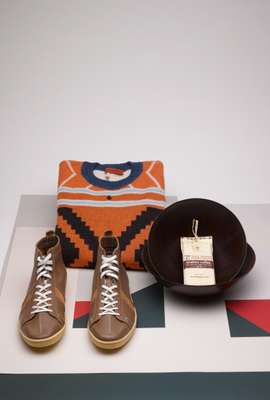 Di Meo Isso: Wine
A grape once venerated by the rulers of ancient Greece, the late-ripening Aglianico variety* is a staple of the Di Meo family's vineyard, run by siblings Erminia, Generoso and Roberto in Salza Irpina, Italy. If you're looking for a wine with berry aromas and a dry fresh taste to pair a plate of capicollo or culatello, pour yourself a glass of Isso.
dimeo.it
Déglon: Meeting knives
Déglon has been making knives in Thiers, France, since 1921. The Meeting knives, designed by Mia Schmallenbach, are the firm's most avant-garde. What appears to be a single knife unit is in fact three blades attached to individual steel handles. This set comprises a paring knife, a kitchen knife and carving knife nestled in an oak rest.
deglon.fr
Ladies and Gentlemen: Tray & piggy bank
Seattle-based design studio Ladies and Gentlemen has made a name for itself with its unique use of materials. The simple and sharp design of the Perimeter tray marks the union of wood, aluminium and a movable marble plate, and is available in black and white. Made of matt black ceramic, the modern take on the classic piggy bank has a smooth surface that you can write on (a great way to keep count of your savings) using chalk. It also comes with a cute leather tail and a cork nose that pops out, meaning that penny collectors won't have to smash the bank to get their stash.
ladiesandgentlemenstudio.com
Lufthansa + Graphic Design: Book
One of the latest additions in publisher Lars Müller's A5 series is Lufthansa + Graphic Design. Charting the origins of the airline's inception, it moves on to cover every aspect of corporate design, advertising and printed literature, with particular reference to the work of Otl Aicher in the 1960s when, after a rebrand, the airline never looked better.
IDEA: Mini-Elefan fan
This delectably cute fan is made by Japanese design company IDEA. You can pull out and retract Elefan's trunk and direct the cool air wherever you wish. They're incredibly light and come with a USB cable so they can be plugged into your laptop.
idea-in.com
DNTX: Bike bags
Death and Texas might not be the most alluring name in the bike market, but it's certainly one that catches the attention of velo riders. "Death and Texas is a spin off Benjamin Franklin's famous quote*," says designer Grace Teng. "He was an inventor and a political theorist, he is a symbol of both tradition and progress". Teng's hand-dyed bags add a touch of flamboyance to even the rustiest handlebars.
dntx.us
Backsteine: Cake mix
Founded in 2006 The Deli Garage is the hobbyhorse of Korefe design studio. Famous for quirky food (like the popular cheese pencil that diners "sharpen" rather than grate over dishes), the Garage has earned several honours, including two Pentawards prizes in 2010. The Backsteine cake mix is available in two flavours, chocolate and stracciatella, and comes in what looks like a cement bag but is actually full of delicious ingredients sourced from a mill in northern Germany.
the-deli-garage.com
Townhouse: Soaps
These handmade soaps are made in Germany especially for Townhouse, Zürich's top concept store. The featured bottles are full of healthy herbal ingredients; the Citrus Bergamia has a cooling effect and a citrus smell while the Vanilla Planifolia has a sweeter, spicy scent.
ilovetownhouse.com
Iittala Sarjon: Kitchenware8
Iittala's 2012 line is inspired by old Finnish textures, textiles and traditions. Designer Jopsu Ramu's engravings give these Sarjaton porcelain cups a handmade feeling and the soft round edges are comfortable to hold.
iittala.com
Natura: Jar collection
There is something intrinsically satisfying about storage jars. Valencian manufacturer La Mediterránea's new Natura collection of jars (made with recycled glass) capitalises on this. The jars, designed by Héctor Serrano, become elegant vases when separated from their round cork lids. The colours evoke ancient glass but the curves give them a very modern lightness.
lamediterranea.com
Cut&Bake: Cookies
Tamara Aeschliman grew up baking on her grandmother's farm in Texas. "We were wildly creative," says Aeschliman. "As I learned about the different recipes I became obsessed with biscuits and dough." Years later, Aeschliman moved from the US to South Africa and decided to turn her childhood hobby into a career. In Cape Town, Aeschliman launched Cut & Bake, a cookie company that delivers fresh dough around the country. Just cut and pop one of the five different types of dough in the oven* and freshly baked cookies are ready to go.
cutandbake.co.za
Hasso: Bags
The idea for Hasso started with a series of sketches on a Moleskine diary that Nicholas Hurtado carried around during his days as a design student in Bogotá. Together with his business partner Andrés Niño he launched this bag brand in 2009, selling products handmade in Colombia by over 50 master artisans. Made with only local materials such as vegetable-tanned, chrome-free leather and waterproof cotton canvas, Hasso's products are both durable and stylish.
behasso.com
Flouzen: Neckwear
Flouzen — a reworking of the German word flusen, meaning lint — was founded in 2009 by Franco-German designer Julie Rousselet. The brand started off with just one classic product, the tie. Made jointly with French brand Kitsuné, the Flouzen tie is slim and seamless; the colours range from demure Bordeaux to poppy yellow. Rousselet soon evolved the brand. "Season after season, we introduce another strong accessory." To wit: playful bowties, thickly interwoven headbands and a travel kit with socks and eye masks – all cashmere.
flouzen.com
Avva Trio: Candlesticks
This set of beech candlesticks from husband-and-wife design team Teroforma allows you to vary the height, colour and positioning of your dinner-table lighting. The simple forms evoke a Gio Ponti balustrade, with the "collar of colour" giving a flash of brightness. The Connecticut-based team say they have always rejected mass-production – instead they seek out craftsmen with the right skills to deliver their vision by hand.
teroforma.com
Merchants on Long: Concept store
Set in an Art Nouveau building in the bustling heart of Cape Town, Merchants on Long is South Africa's first concept store. Run by local entrepreneur Hanneli Rupert, the boutique offers the latest in African trends, showcasing the best designs from the continent's upscale market. We've picked out the limited-edition wooden bowls by Johannesburger Allan Schwarz, a pair of Sawa kicks, a jumper from MaXhosa by Laduma and a chocolate bar by Madecasse, all available at the store.
merchantsonlong.com
Footnotes:
Wine: This particular wine was bottled in 2005. Aglianico has a more velvety taste when left to mature, developing chocolate and smoky flavours with age.
Cheeseboard: Dorset Blue Vinny, Applewood smoked Cheddar, quince, oat crackers.
Cut&Bake's flavours are; choc chunk, peanut butter, ginger spice, oatmeal and raisin and butter shortbread.
Benjamin Franklin: "In the world nothing can be said to be certain except death and taxes."