Iraqi rowing team / Global
Making a splash
The Iraqi national rowing outfit – bidding for a spot at London 2012 – defy the odds. Shambolic security and ethnic violence make even getting to training an arduous task. On the water, though, none of it matters.
While a desert storm rages outside, dust and sand swirling across Baghdad, 14 young men are inside the crumbling Haifa Boathouse on the banks of the Tigris being put through their paces on old, rusting rowing machines. They have been up since first light, slicing their way through the dirty waters of the river in dented boats. Now they've moved inside to escape a sandstorm. But under the watchful gaze of coach Majeed Saleh, the strict training regime doesn't let up.
Not that they complain. As gruelling as the training can be, there is a goal at the end of it: the London Olympics. Hamzah Jebur, at 35 the team's veteran, sums up the ethos which has brought together this disparate group of young men – a team that crosses the religious and ethnic divides which have carved Iraq apart. "In the team, we are all different," he says. "But when we row, we leave all our troubles behind."
For Jebur and his colleagues, simply getting to training every morning is a challenge other Olympic rowers don't have to face due to Iraq's security realities. Jebur's journey to the boathouse takes him through seven military checkpoints. "But at least training has not been cancelled today because of bomb blasts or curfews," he adds.
Precautions have to be taken when they train too. The Tigris winds its way past the Green Zone and several government offices – heavily guarded buildings where trigger-happy soldiers don't tend to take kindly to strange-looking vessels approaching. Conditions have improved though. In 2006, the athletes were rowing among gunfire and corpses. The Tigris was the frontline between two rival camps and dead bodies were dumped there every day.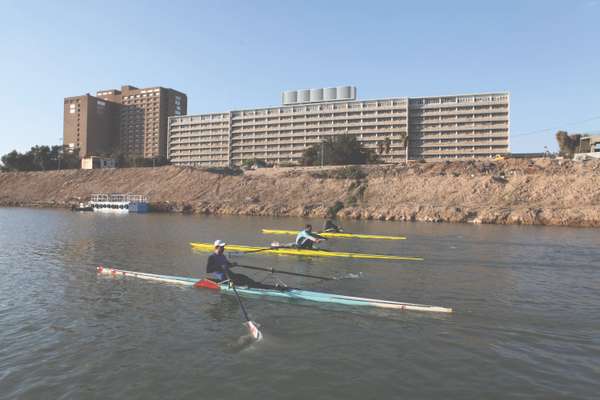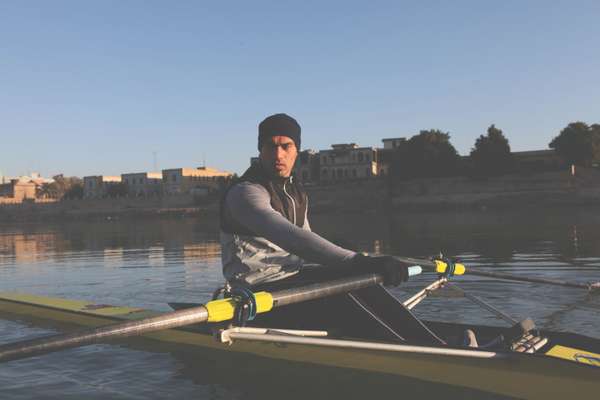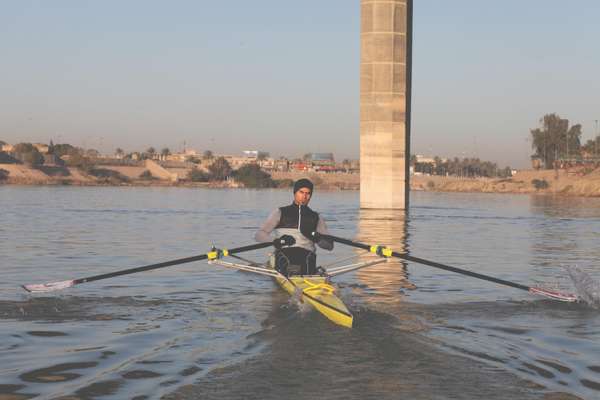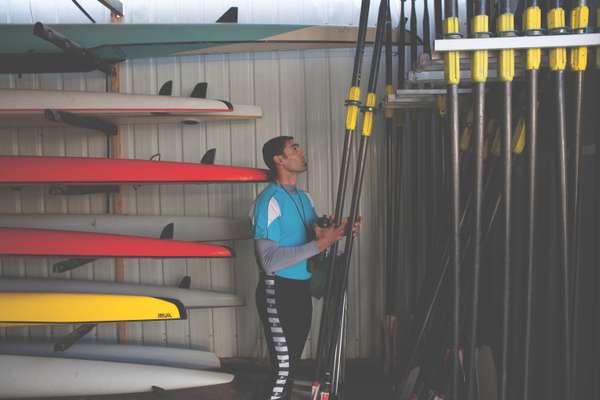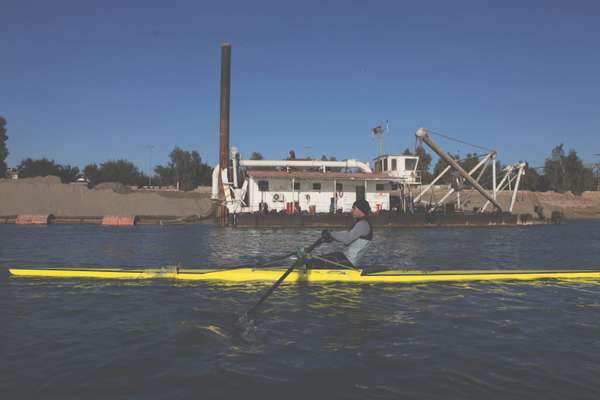 "One day during training, a rocket fell right next to us," says Haider Nawzad, a 29-year-old skuller who coach Saleh believes is Iraq's best Olympic hope. Nawzad left Baghdad when the violence reached a peak in 2006. Originally from Süleymaniye in Kurdistan, he claimed asylum in Sweden with his family but came back before the 2008 Olympics in Beijing. Alongside Jebur, he was one of four Iraqi athletes invited to attend the Games as wildcard entries. It was the rowing team's first ever appearance at an Olympics and they finished 13th out of 13.
But for Nawzad and Jebur it didn't matter – simply taking part was a victory in itself. Jebur carried the Iraqi flag at the opening ceremony. "I held the flag very high. It was very, very heavy, but I kept it as high as I could because I was representing my country," he recalls. "I was crying tears of joy. I thought I was the most important person in Iraq, with a responsibility for my country."
Nawzad hopes he might have the honour in London. Two years ago he won Iraq's first-ever rowing medal, a bronze at the Asian Games in Guangzhou. Since then he has become a star in Iraq. Huge billboards with his photo cover the walls of Baghdad Sport University, where he is studying to be a coach.
These rowers have become a symbol of courage for a whole generation. In a country where the Sunni-Shia conflict is escalating and where sport is demonised by some clerics as symbolic of western liberal values, athletes have also found themselves on the frontline. More than 30 Iraqi athletes have been killed since 2003, including 15 members of the national taekwondo team who were kidnapped in 2006. Thirteen of their bodies were found a year later; two others have never been recovered. Families of the team called for the right to meet the suspects and demanded justice.
Under Saddam Hussein's rule, sport was similarly politicised. His son, Uday, was president of the Iraqi Olympic Committee from 1984 to 2004. Then, defeat meant public humiliation, detention, sometimes torture and even execution.
Iraq's complicated and violent politics is still impacting on the rowers' Olympic dreams. The president of the rowing federation, Abdul Salam Khalaf, was arrested in mid-February by the country's anti-terrorist police unit, which has been a controversial force since US combat troops left Iraq at the end of the 2011.
With the London Games fast approaching, such incidents threaten to derail their chances of qualifying. Poor equipment, a failure to get visas for overseas competitions, and constant unrest in Baghdad all lengthen the odds.
Jebur, Nawzad and the rest of the group are undaunted. The symbolism of an Iraqi team made up of Sunnis, Shias and Kurds is, they believe, all-powerful. For them the importance of presenting a united front on an international stage cannot be underestimated – and this means setting aside considerable problems. "We train together like a family," says Nawzad. "With sport, all Iraqis, no matter how many problems there are between them, can finally have the feeling that they are [united] Iraqis. What we need is a common bond."