Loopwheeler / Wakayama
Reinvent the wheel
Aficionados of the simple sweatshirt know there's only one label to turn to. Monocle meets the man behind Tokyo-based company Loopwheeler.
When Nike wanted to make the ultimate hooded sweatshirt back in 2008, the US sportswear giant didn't try to do it in-house. It rang Satoshi Suzuki in Tokyo. Suzuki knows his sweatshirts: if he had to guess how many he has stashed away in drawers and closets at home, he would make a conservative estimate of 350. They come in an array of colours, with and without hoods, some sporting a single pouch-pocket to shove your hands in for warmth on a chilly day.
"I probably spend more time in a cotton pullover than anyone in the world," says Suzuki. "I wear a sweatshirt or zip-up hoodie every day – except when I go to weddings and funerals." It's not just a fashion statement. Suzuki is the founder of Japanese brand Loopwheeler, which makes cotton sweatshirts, T-shirts and cardigans. His is no ordinary casual-wear lineup. Everything Suzuki sells is designed in-house and made on a contraption that looks like a relic from early 20th-century manufacturing – the loopwheel circular knitting machine.
The machines are a throwback to an analogue era, almost driven to extinction by technological progress. Each produces just one metre of cloth an hour, or enough for eight sweatshirts a day. They're a mechanical marvel of needles and spinning gears, and used to be a common sight in factories in Wakayama city, a backwater of 370,000 residents in western Japan. But as fashion brands shifted production to low-cost factories in China and other parts of Asia, Wakayama's industry died off. Today, only two Wakayama factories use loopwheel machines.
Suzuki launched Loopwheeler in 1999 to save these antiques from the rubbish heap. "I thought that it would be sad for Japan to lose the old know-how for making clothes I love. T-shirts and sweatshirts are the ultimate comfort clothing," he says.
Invented for university playing fields and marketed to urbanites, sweatshirts have been the quintessential casual wear for over a century. But Suzuki has proven that in the right hands, a sweatshirt can also be a coveted item for fashion conscious city dwellers. With his focus on craftsmanship and quality, Suzuki has won Loopwheeler a small, cult-like following that spans the globe.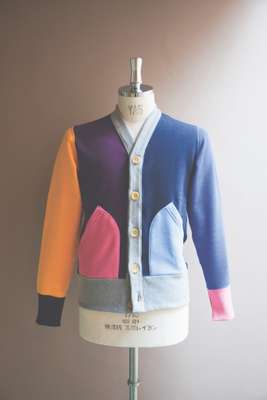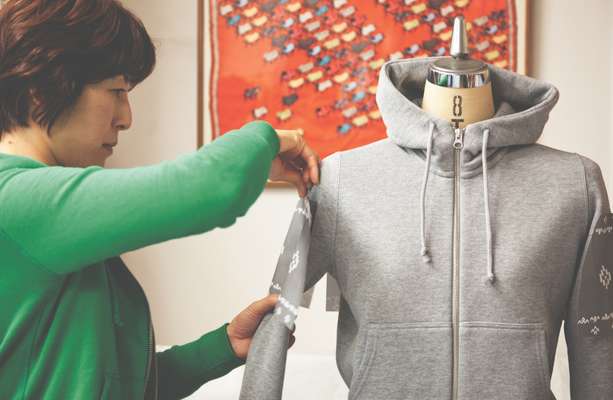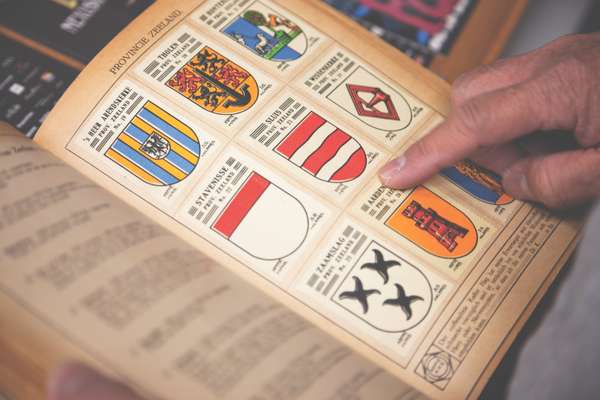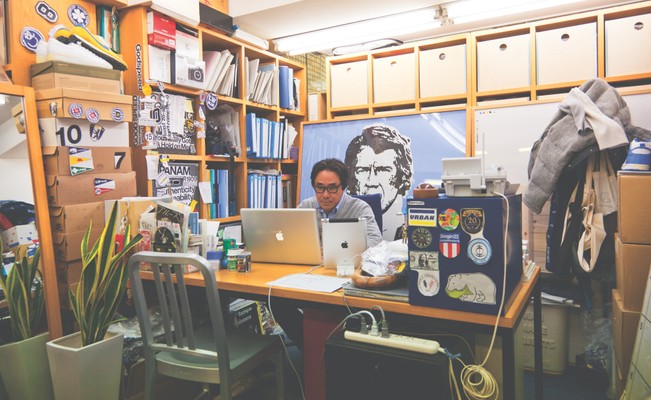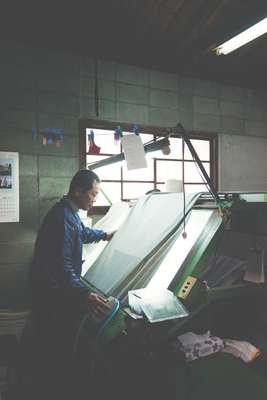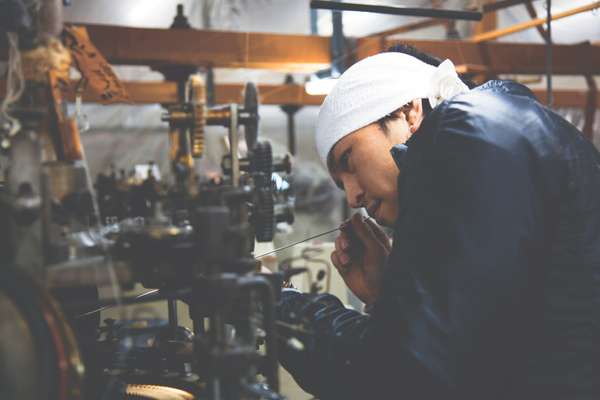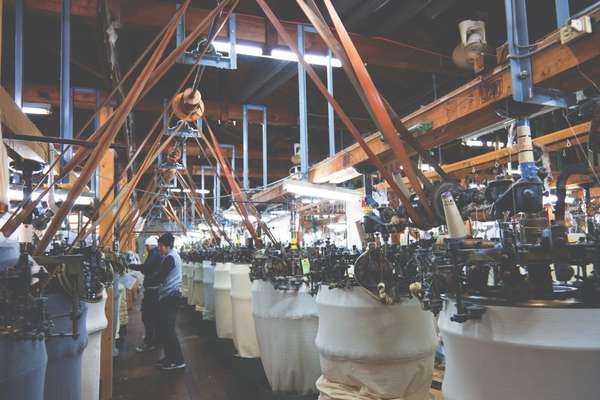 His strategy was to differentiate his sweatshirts from a more run-of-the-mill variety by drawing attention to the fabric. To do that, he would have to go against the industry's standard practice: talking about the factories behind the scenes, and using manufacturing techniques as an integral part of the brand rather than keeping quiet about a dirty secret of sweatshops and indentured workers. Suzuki chose to launch in the UK rather than Japan and, after months of knocking on doors, landmark department store Selfridges bought stock. The orders began to roll in, from Colette in Paris to collaborations with Japanese select shop Beams.
This is when Nike came calling. Designer Jarrett Reynolds says Suzuki's company was a natural first choice for a remake of the aw77, a classic half-zip hoodie released in 1977. "At Nike our goal is always to make the best product, so partnering with Loopwheeler was obvious since it makes the best fleece in the world," says Reynolds.
The intensive manufacturing process means that Suzuki's sweatshirts aren't cheap. At his standalone stores in Tokyo, Osaka and Fukuoka, a standard zip-up hooded sweatshirt sells for up to €200. But hearing about how and where Loopwheelers are made is enough to persuade some consumers on the spot. It also helps that the flagship Tokyo shop has a loopwheel machine revolving slowly near the entrance.
Suzuki's obsession with sweatshirts started when he was a teenager. In the early 1970s, as a high school student in Hamamatsu, Shizuoka prefecture, he splurged on the Japanese magazines Made in USA and Men's Catalog, offering him a glimpse of an all-American lifestyle, from university sweatshirts to denim jeans. "It was a shock for me to see that because you couldn't find any of it in Hamamatsu," says Suzuki, now 52.
Working in the clothing business since graduating from university, Suzuki immersed himself in the world of threads and fabric and began to wonder about how manufacturing techniques changed durability and softness. It wasn't until he spent time in factories that he learned loopwheel machines don't stretch threads taut like modern knitting equipment does, resulting in a more relaxed fabric that's able to withstand wear and tear longer.
When monocle visits Kanekichi Industries, Loopwheeler's main Wakayama knitting factory, six rows of machines suspended from above clatter away, turning thread into cloth and sending tiny cotton tufts into the air. The Kanekichi Industries factory has relied on the machines for most of its 92 years in business, and has been in the Minakata family for three generations. It's still a family affair and Masataro Minakata, who is 28, eventually hopes to succeed his father Akira as president. "My mission is to keep these machines going and to spread the word about the fabrics they produce," he says.
From afar, a loopwheel machine resembles a giant caterpillar: a blackened frame of moving parts atop a cylinder of slowly growing, dangling fabric. Each machine is turned separately by a leather loop on a rotating pole overhead that stretches the length of the room. They revolve 24 times per minute – slower than a record player. Kanekichi Industries' 100 machines differ in size depending on the weight of the fabric and require constant attention. Four technicians dart around the room picking off dust, brushing on oil, checking for the slightest glitch – a broken needle or a stuck gear. The company has about 100 more machines in storage to mine for spare parts or to help out in a production pinch.
It can take Suzuki up to a year to come up with a new product. He and his longtime pattern maker, Fumiko Ishi-moto, start off designing the fabric at their office above the Tokyo store. It's a complex and changeable process. "Cotton quality varies every year, depending on the weather, so I visit Japanese textile companies to make sure I get the best thread," explains Suzuki.
Once the quality of the fabric is decided on, the duo approaches the shape and design as a tailor would: adjusting the cuffs, zippers and silhouette in increments smaller than 1cm – balancing all elements is important. "Although we're using traditional methods, we want a contemporary style and to offer something new. If measurements are off by 1cm, you could end up with a copy of a vintage style," says Suzuki. "It's very Japanese to obsess over details that you'd normally think wouldn't matter."
With new designs in hand, Suzuki heads to Kanekichi Industries' factory in Wakayama to go over his ideas with Yoshiyuki Okaya, who is an expert at translating concepts into cloth. Okaya spends weeks making samples until Suzuki is happy with the result. The cloth then goes to a dying factory and on to Maruwa's factory in Aomori, where a cut-and-sew specialist produces the prototype on old Union Special sewing machines.
The final hurdle for a Loopwheeler item is the "Suzuki Stress Test". For a couple of weeks, he wears the item daily, washing it at least 10 times to see how it holds up under wear. It's not a model that can cater to a mass-market audience but that's not Suzuki's ambition. "I just want to reach a point where Kanekichi Industries can say, thank you, but we're too busy to take on more work," he says. "Ultimately, that's the goal."
Sweatshirt DNA
Knit: the soft, slow-spun cotton fleece has far more stretch than modern fabrics.
Hood option: designs with an additional hood and pockets are available. The multi-panel "scuba" hood is a speciality.
Zip: a heavy-duty, two-way zip gives the hoodie an industrial feel.
Profile: the intensive design process creates a slim fit, and 10cm ribbing along the waist keeps its shape.
Seams: sewn together on a vintage Union Special four-needle flat-seam machines, the design harks back to a bygone era.