My last meal / Gurgaon
Subodh Gupta
Pioneering artist Subodh Gupta is known as the "Damien Hirst of India". A family gathering is his choice for a hypothetical final feast.
"Food fascinates me. I think if I had not become an artist I would have been a cook. As a child, whenever my mother was in the kitchen making food, I wanted to be there by her side. Back then, I wasn't particularly interested in helping so much as I wanted her to teach me how to cook. It was with her and my three sisters – who I spent a lot of time eating with – that I discovered just how much of a foodie I really am. The very first meals they taught me to make were vegetable dishes that came from the region where I was born and raised, Bihar, in East India.
Even after childhood, my passion for food and cooking found its way into my art. When I first started working I was quite experimental. I didn't hesitate to use all kinds of material in my pieces. I realised how a sculpture can be simplified, and how everyday objects can be made into murals. I also wanted to do something different and use items that no one had worked with before. Because I spent a lot of time in the kitchen cooking – looking at pots and pans – I thought why not do something with it, especially because I am so close to it. Since becoming an artist, I have seen the Indian contemporary art scene evolve, but it still has a long way to go. While there are quite a lot of people now working in the industry, all the artists – even those in different cities like New Delhi, Mumbai or Calcutta – know one another. As of four years ago, we also got the India Art Fair that takes place in New Delhi. This was once unheard of. I find it incredible to see the amount of people who come to see the work in this fair. Still, the one thing I have noticed in the Indian contemporary art scene today is that people tend to talk about money more than art. I think that is quite sad. I do believe if that changes – and people start focusing more on the art – then everything else will follow.
Growing up we had a lot of customs at home, one of which was every Saturday we used to eat a daal and rice dish called khichdi. Not only was it for sustenance but it also had a powerful spiritual element to it. In Hinduism we have many gods and goddesses. It is believed that the "Saturday God" can be quite dangerous. And so to calm the gods, as well as ourselves, we would eat khichdi. In India, it was once accepted practice to let men eat first and women later. This was the case for my mother's generation. Now with mine, this practice has for the most part gone. In my house we all eat together. Of course, this is just one of many things changing in India. Today, everybody in India eats everything. All over the country, from east to west, food is completely transforming. And the middle class keeps on growing fast. You can see it from the number of cars, how hard people are working, five-star hotels and the way cities are growing. Yet, despite all these transformations, the reality is that most of us prefer to eat at home. I don't think this will change soon.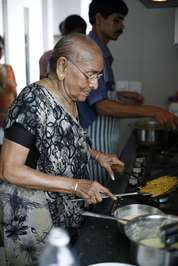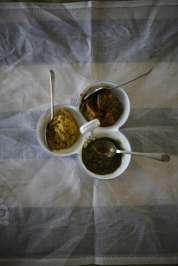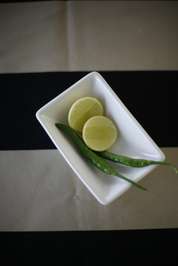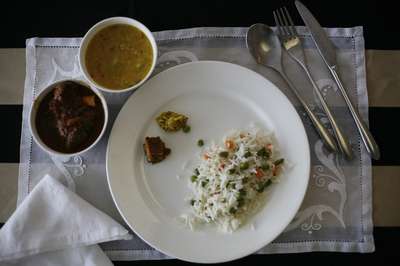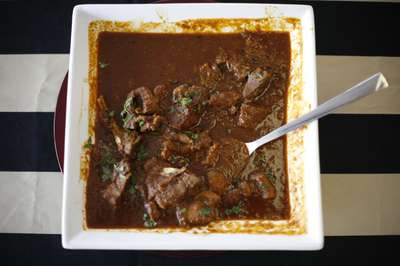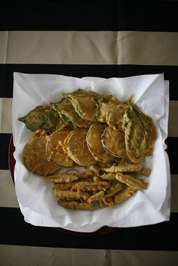 When I first moved to New Delhi, life on my own was very emotional. I was really a struggling artist looking to make a mark in the big city. But even though I was struggling with just about everything, I remember that I was still very happy. Even without anything, I remember really loving it. I had focus and energy. I was starving to see what was going on in the world around me. This was also the city where I met my partner, Bharti Kher, who is also an artist. She came here from the UK. She didn't know how to cook, but we were in love. And so for almost 10 years I was cooking for us. Now, though, she has become a fantastic cook.
Sitting at the table of my very last meal would be those who are so very important to me – my family. My children love food, and although they aren't cooking yet, they are very honest about how a dish tastes. I would want us to talk about the two things in my life that are most dear to me: art and food. All of us eating together is one of the most enjoyable aspects of my life. I like to live with art and I want to die with it too. I couldn't think of anything more pleasurable than if I was surrounded by it while eating my last meal."
---
Subodh Gupta's works have sold for as much as $1.43m (€1.08m) and famously have used cow dung and kitchen utensils. He has exhibited at venues including New York's Guggenheim Museum and Hauser & Wirth.
---
Gupta's mother prepared the meal in his family home, located in an apartment complex in the town of Gurgaon, a hub for India's growing middle class.
---
Pakora: eggplant, spinach and okra deep-fried in chickpea flour with various chutneys
Chapati (flatbread)
Main:
Lamb curry
White rice mixed with green peas and carrots
Daal tadka (yellow daal)
Water, white and red wine
The dish
Lamb curry
(Serves 5 to 6)
1kg of lamb
750g of onions
1 full clove of garlic
4 tbsp of sunflower oil or ghee
1/2 tsp of cumin seeds
½ tsp of turmeric powder
½ tbsp of salt (according to taste)
4 pieces of black cardamom
½ tsp of cinnamon
2 dried red chillies
1½ sticks of cinnamon
2 tbsp of green coriander
The method
Heat sunflower oil in a large pan.
Add the cumin until its almost burnt.
Chop onions and garlic and place into pan.
Bring the flame to high for two to three minutes. Then lower and keep stirring. Sauté the onions for 30 minutes and then add the lamb, along with the turmeric, cardamom, cumin and chillies.
Season the meat with salt and then stir together.
Cook on a low flame for 40 minutes. If the meat becomes dry add ½ cup of warm water.
Garnish dish with chopped green coriander.