Farm machinery show / Louisville
The plough factor
If you're in the market for the latest tractor or combine harvester, the National Farm Machinery Show is the place to be. Monocle goes to Kentucky to sow our seeds.
Walking into the glass-clad Kentucky Exhibition Center, the smell of baked Cinnabons is overpowering and you have to fight your way through the queues for stands selling "RIBS RIBS RIBS", pulled pork and cider doughnuts. It feels more like a county fair than an equipment exhibition but this is the 47th National Farm Machinery Show and the hall is packed with more than 300,000 corn-fed, plaid-flannel-sporting farmers, celebrating record commodity prices, high farmland value and an apparent return to big American agriculture.
Based in the outskirts of Louisville, Kentucky, this 27-acre site has been host to the largest farm machinery show in the US since 1965. Bordering two "Big Ag" states – Indiana and Illinois – Kentucky is part of the country's agricultural heartland and is ranked fourth nationally for number of farms.
It also has one of the fastest growing organic farming sectors in the country. Not that you'd guess that from the expo, which is a celebration of all things big, bold and brash about American agriculture and manufacturing. Gas-guzzling tractors and booths sponsored by genetic engineering corporations mean that you'd be advised to leave any organic leanings at the door.
The exhibition centre's South Hall is where the big guns have their booths – with everyone from Monsanto to New Holland and John Deere to Kubota vying for the attention of visitors. The heavy-duty items are big boys' toys. But the conversations being held around them are a little more grown up.
"We have to find ways to produce more food with less water on less land," explains septuagenarian farmer Arland Jolly from Pleasantville, Iowa, who is here to look at new technology. Jolly has 220 acres of soybeans and corn, and has tilled the soil for more than half a century.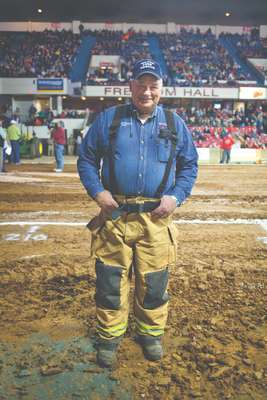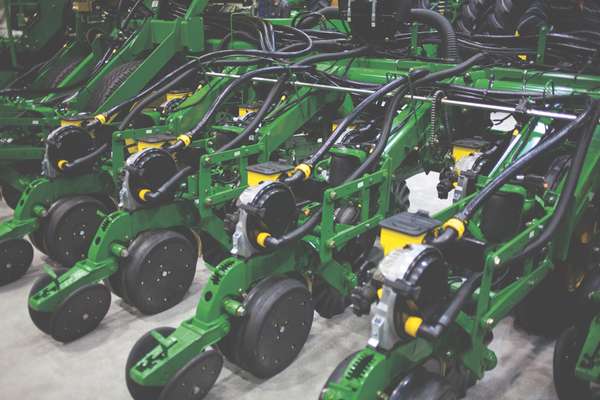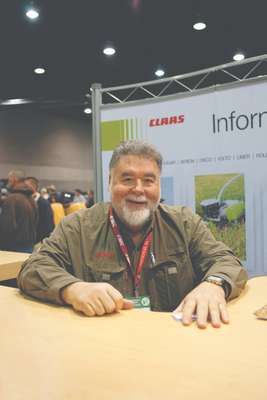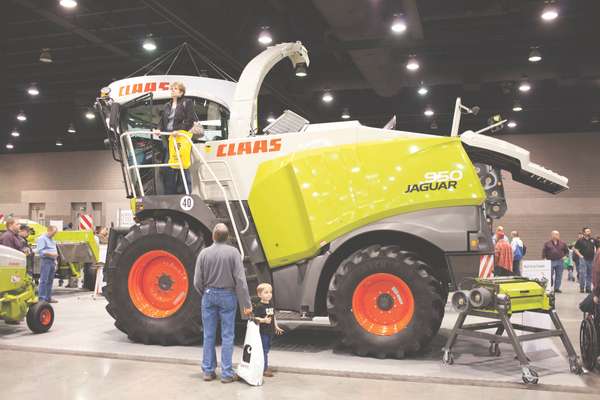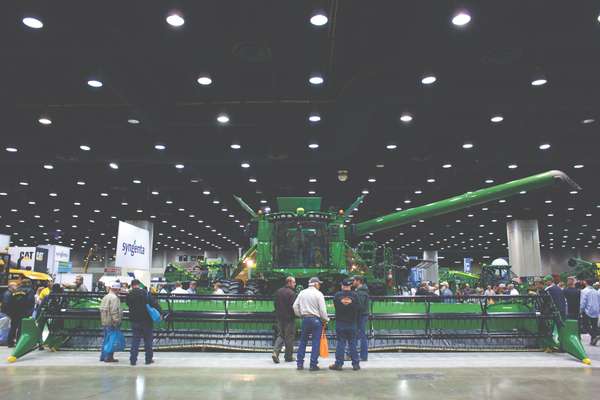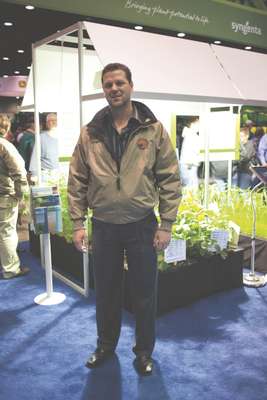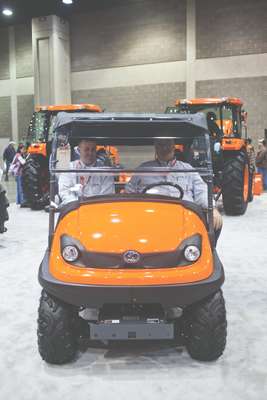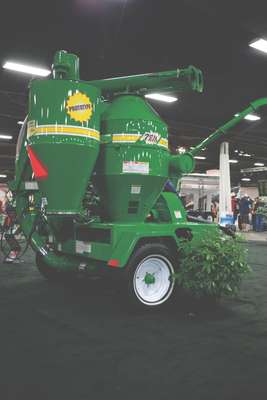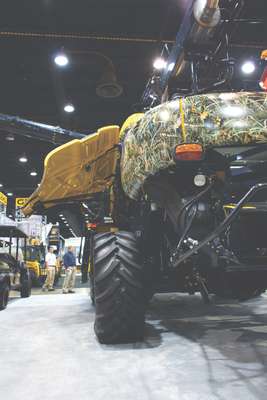 Looking around the booths, Jolly takes in boisterous pitches from the likes of Syngenta sales rep Mike Saxton, who's singing the praises of new products to tackle Palmer pigweed. Jolly is also here to look at the new tractors. "I'm a Case International guy and a collector," says Jolly, who has 26 tractors to date. "That's the machinery I was raised with."
Farmers identify themselves as "green", "red", "orange" or "blue". This is not a political statement; it is a sign of their loyalty to one of the major manufacturers: John Deere is green, Case International red, Kubota orange and New Holland blue. There's also a fondness for bold taglines, with Gehl loaders proclaiming "Push the Vertical", GSI espousing "Total Value. Total System", and Westendorf taking a more plain-speaking approach with "We Make Awesome Loaders".
Of the 850 exhibitors, tractor manufacturers take up much of the 111,000 sq m exhibition space. The rest is made up of wind-power companies, grain silo safety vacuums (in case you fall into a silo), fertiliser brands, tillage tools and anything else that might improve your yield.
At the Claas stand, farmers huddle reverently around the new Jaguar 950-980. A bold design in moss green, it looks something like a cross between a giant smart car and a Delorean, with an accompanying video showing it racing a speeding pickup truck across a field while harvesting (and still winning the race). This is high-speed, high-octane farming and it comes with a $600,000 (€451,000) price tag.
John Deere has an interactive booth where men and young boys cram the platform to sit at the simulated cab technology display for the new 9600 Combine Harvester. The new logistics optimisation tool can register straw quality and manage the most efficient separation of the crop.
Harvest information can then be beamed to the farmer's iPhone or iPad, logging which areas grew better and which areas may need some more help next season, and automatically increasing fertiliser to those areas.
Across the aisle is a more genteel Kubota display, where less bombastic, mid-sized tractors nestle on a white pile carpet. "They try to intimidate us with all their big stuff, but it doesn't work," jokes Kubota's regional sales manager Don Barker. "They go for the wow factor. We go for longevity." Kubota senior product manager Paul Williams says that they're targeting a new class of small-scale, niche farmer. "Our demographic is the professional, weekend farmer – the sundowner farmer if you like. We're seeing growth in the high-end lifestyle farmer market and we're the market leaders here. These guys are also starting to demand a bigger tractor and more horsepower."
Indeed, the "weekend farmer" is a big trend this year, as Americans set about tilling their own land, investing in the same caliber equipment as the professionals. Kubota's new Grand X series is targeted at these farmers, producing what it describes as the "ultimate luxury workhorse" with prices ranging from $54,000 to $84,000 (€40,000 to €63,000).
New Holland is also gunning for the hobbyist farmer with its PowerStar tractor that can load hay, stack crates and even blow snow. "It's about creating real tractors for lifestyle farmers. No lawnmowers," says John Elliott, New Holland's director of marketing.
If anything sums up the confident mood at the National Farm Machinery Show, it's the annual tractor pull. In the dirt-filled Freedom Hall souped-up tractors with as much as 5,000 horsepower engines drag weighted sleds down a 91m field at top screaming speeds of 225kmph. The winner on the first day of the show is Jody Ross, the next day he can be found signing autographs in the Syngenta booth, proudly wearing his team shirt with the slogan "Resurrected Red Neck".
There was good reason for confidence this year, with brisk sales keeping the manufacturers happy and technological innovation satisfying the punters. US agriculture may have suffered recently, but with a renewed focus on increased productivity at home, machinery shows like this one are building as much traction as the annual tractor pull itself.
Last year was a record for US agriculture: average crop prices were the highest ever, bolstering the growing economies of Midwest states and sending net farm income up 28 per cent to $100.9bn. This pushed the value of farmland to a record high – across the Midwest it has almost doubled since 2009. Carlos Slim, George Soros and the Qatar Royal Family are all investing in farmland around the world. The National Farm Machinery Show in Kentucky had a record turnout this year.
Best in show: top tractors
1.
Claas Jaguar 950: a forage harvester with an intelligent management system that makes for highly economic chopping.
2.
New Holland PowerStar T4 and TS series: an all-round compact utility tractor that is good for loading hay and cutting (and even snow-blowing) with ergonomically designed controls.
3.
John Deere's Gator 550-S4: the company's first four-seater utility vehicle.
4.
Kubota RTV series: recreational vehicles for getting around on 25 horsepower, which fit in the back of a pick-up truck.