Tasmanian craft / Tasmania
World apart
Tasmania is a quiet force on the design scene but government backing, a decent museum and a school saved from closure are helping to put it on the world map and attract clients from abroad. We visit the studios of five makers blazing a trail for the island's crafts.
High up on a hill in Franklin, about 40km southwest of Tasmania's capital Hobart, Kevin Perkins is whittling away in his shed. You can see the Huon Valley and the fjord-like waters that snake through it between the branches of the majestic eucalyptus trees that grow in his garden.
Besides the sound of Perkins's carving and murmurings from the radio his daughter is listening to, it's quiet up here. It's the perfect spot for a craftsman developing his next body of work – in Perkins's case a series of Tasmanian birds sitting in a small wooden boat. "We've got special wood and as long as we use our materials and skills and match those together in a sustainable way, we've got a great future," he says.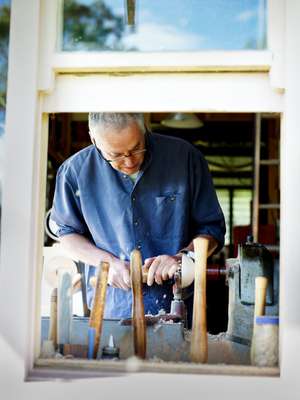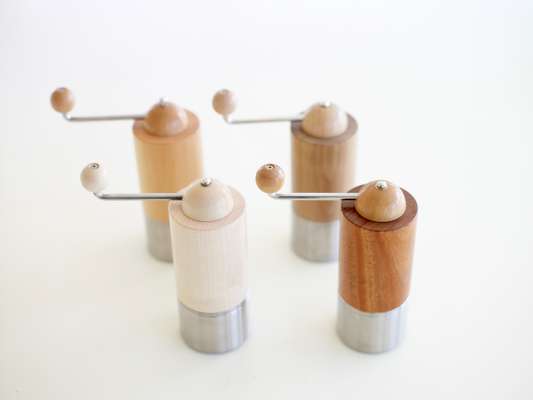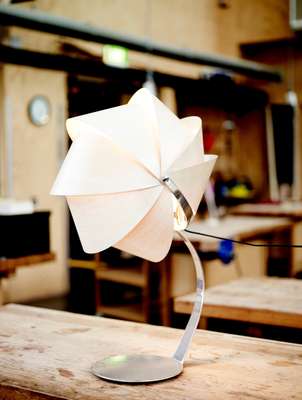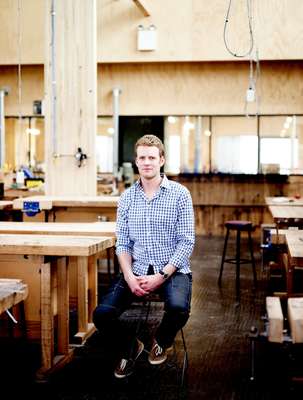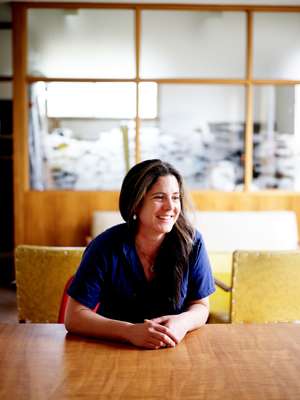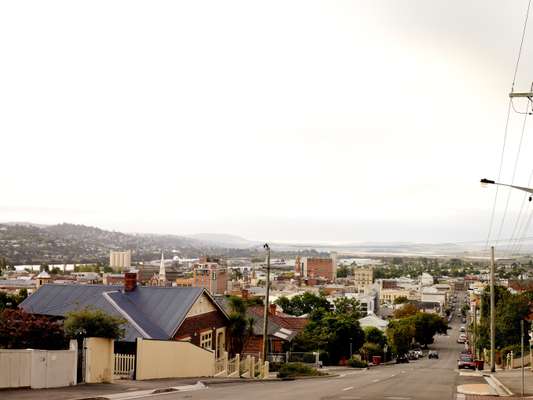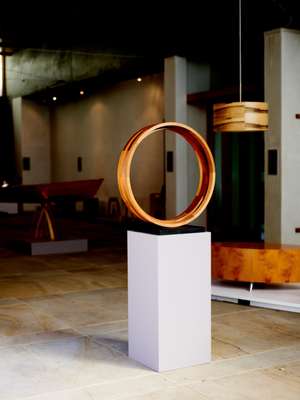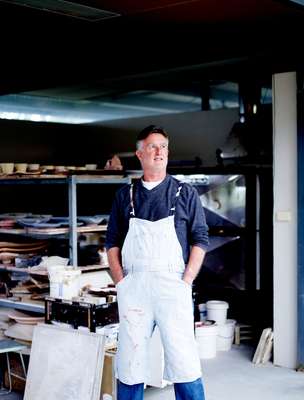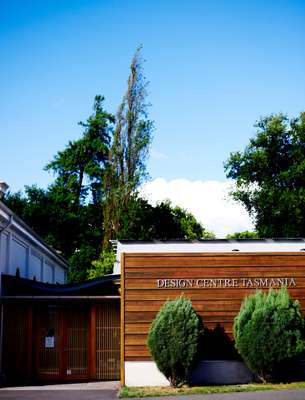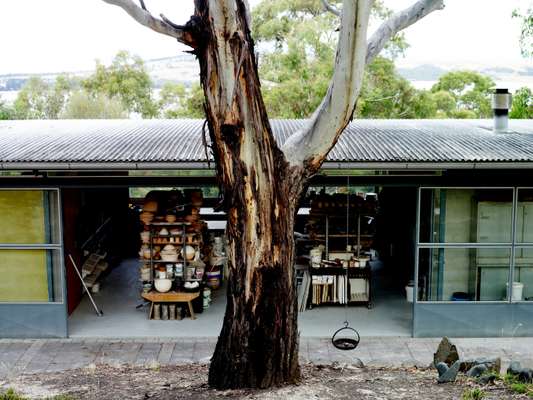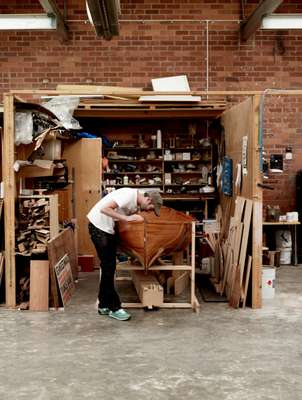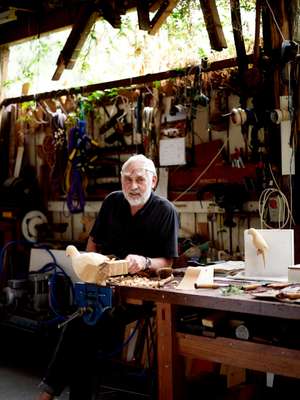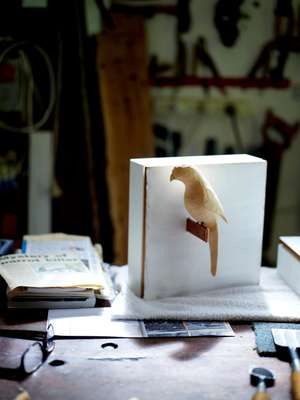 Tasmania's craftsmen such as Perkins are custodians of their island's precious wood. Perkins has long opposed the rampant logging of local prime timbers, even exhibiting work under the title "The Rape of Tasmania's Forests". The reason so many designers and makers have settled here is their love of raw materials. They're an isolated bunch – the remoteness of this place often means that young designers are lured by more immediate opportunities overseas.
But thanks to government backing, and a groundswell of international interest, this collective is about to get the recognition it deserves. The newly formed Design Alliance is taking made-in-Tasmania products to Melbourne under the initiative Design Island this summer. And at home, more visitors are making their way to the Tasmania design centre in Launceston.
The centre is housed in a beautiful building, designed by David Travalia and Richard Leplastrier. Rye Dunsmuir stands surrounded by the furniture retrospective of Tasmania's best in crafts and design, which is on permanent display. "Tasmania doesn't have a large manufacturing or an industrial design sector, so the person who designs the object is also the maker of it in most cases. It's been driven by people's desire to return to high quality handmade items. The catch-cry is high value, low volume and respect for local material," explains Dunsmuir.
Out of her workshop in a Hobart suburb, Laura McCusker is working on an ensemble of dinner tables and chairs. "At the moment there is a real momentum with design and craft," she says, and explains how her clients, some from as far afield as San Francisco, come down to her scrap yard to pick out the timber for the furniture she's making for them. "The connection between maker and user seems to be what people are after now," McCusker adds. "People want to meet the maker."
Tasmanian design won't take over the world but it doesn't need to. Here's a community that thrives on preservation over progress, safeguarding skills and materials. And that's as important.
Senior has been working with wood ever since his childhood when he lived on his father's farm. "Anytime I could be in the shed making something from wood – that was the joy of my life," he says. Nowadays, he turns wood in a workshop looking out over the glittering Tamar River, just north of Launceston. Senior creates simple home-ware utensils, including salt and pepper grinders and ladles made from, among other timbers, sassafras, sycamore and blackwood. He's now branching out into lamps – the first (and very promising) prototype of the Angel Lamp is on show at the Tasmania Design Centre in Launceston.
McCusker grew up in Adelaide and trained in Sydney before moving to Tasmania eight years ago. "Where else could you raise two kids, have fruits and chickens in the garden, a house and live well as a furniture-maker?" she says. Together with her husband, she runs a workshop shared with graphic designers, an architect and furniture-makers. McCusker sells her pieces, many of which are made from Tasmanian oak, to locals and clients such as the hotel MONA Pavilions in Hobart.
School of Architecture and Design
Launceston
The School of Architecture and Design, part of the University of Tasmania, educates the next generation of the island's craftsmen and designers. It was threatened by closure but saved by the community's insistence on keeping it open and re-launched with just 11 students under the stewardship of designer Simon Ancher in 2006. Today it takes in up to 40 full-time students every year, flooding the island with young talent who want to stick around. "We have quite a capable industry here –everything from upholstery to glass-blowing. We've been tapping into that over the past years and developed some really strong partnerships with the industry. Ultimately, it's about exporting that, spreading the word that we have skilled talent here," says Ancher.
Richardson used to make surfboards but switched to pottery at the end of the 1970s, building his steel and glass house almost right on the banks of the Pipe Clay Lagoon in Sandford. His work is all about material – naturally he picks up the clay for his ceramics from the lagoon. "I think we're heading towards a post-global world where we're going to value the people, ideas and materials of a place again, rather than trying to make them all the same," Richardson says. Among his devotees are local cooking school The Agrarian Kitchen and restaurant Garagistes in Hobart, which both use his pieces.
Design Centre Tasmania
Launceston
Launched 10 years ago, Design Centre Tasmania is the museum that is quietly showcasing the island's best makers. Its permanent wood design collection includes pieces by the likes of Kevin Perkins and Patrick Senior. It hosts biannual exhibitions that bring to the fore new designers and supports commercial production of small craft objects through its Tasmanian Design Award. "The driving force is providing real opportunities for people to use hand-skills and to be able to be self-sustained in a small business," explains the centre's Rye Dunsmuir. It's time the Design Centre Tasmania started whispering a little louder about its mission and wondrous wooden treasure trove on display.
Twenty-nine-year-old Nick Randall says he always loved boats – he recently put the finishing touches on a hull, lovingly crafted in local King Billy pine. The boat will serve as a tool for making furniture incorporating the boat-shape. Other pieces in Randall's portfolio include tables made in fibreglass, eucalyptus and salvaged Huon pine, one of the world's oldest types of timber that can't be logged. Based in a workshop provided by the not-for-profit organisation Designed Objects Tasmania (DOT), the oldest design collective in Australia, Randall shares the space with five other designers and makers. "We all have our specialities and backgrounds so if I've got a particular question I'm not an expert on, I'll go next door and ask," he says.
Kevin Perkins
North Franklin
Named a national treasure and master of Australian craft in 2008, Perkins has been instrumental in developing Tasmania's designer-maker scene, teaching emerging talent, and in shaping a furniture vernacular. He counts Australia's National Gallery and the prime minister's office among his clients. "In Australia we've only ever had a few designers who would make it in the industry. The rest of us survive by design and making – we design our own things and put our hands to them," he says.