Design/Architecture / Global
Design/Architecture
Briefing
Bridges, books, shops and other products and projects catching our eyes this month, plus our design editor's column.
Looking for the next big thing
Trying to predict the next trend in the world of design isn't doing anyone any favours
At this year's Salone del Mobile there was a new breed of visitor stalking the aisles. Trend forecasters, heavy on opinions and light on chequebooks.
Towards the end of last year the Pantone Colour Institute decreed that tangerine orange would be the hue of 2012. Why? Apparently we need a shot of energy and encouragement in our lives and filling our homes and wardrobes with orange things will miraculously deliver it. Hence a flood of orange furniture on show at the Salone.
Weaving their way through the orange furniture was a wealth of self-styled trend forecasters, taking pictures and notes, dispensing nuggets of wisdom to young designers and seasoned manufacturers alike. "Concrete's a big trend this year. Congratulations!" I overheard one lady telling a graduate designer. Further on I happened upon a "breakout" meeting: "Everyone's working with leather and wood this year. Colour is back. So is plastic. There's a vintage vibe and also a funky futurist feel."
The problem with talk of trends and forecasters in the design world is that they encourage consumers to consider looks over feelings and, while this track might work with fashion, it does not with product design. The problem intensifies when designers and manufacturers begin to listen and tailor their work to forecasters' predictions. And, when budgets are tight and risk is high with product launches that need to translate into sales, these misfired calculations are being taken as gospel. Manufacturers and designers need to prioritise how their designs are made and how they add to our lives, not how many trends they tick. Orange furniture will not solve the financial crisis.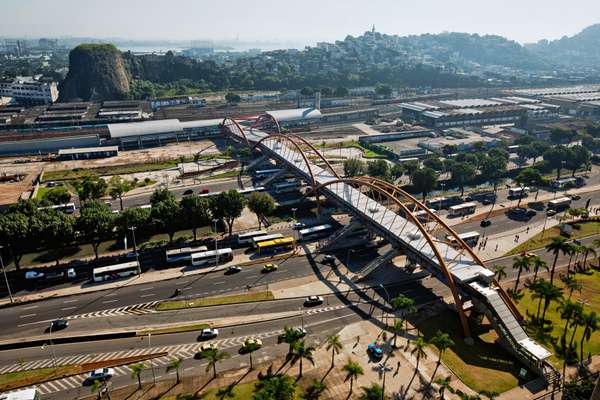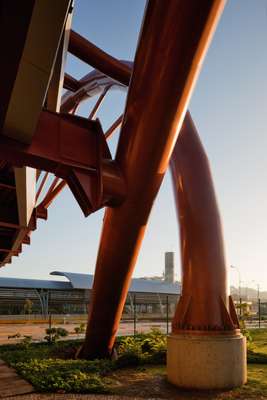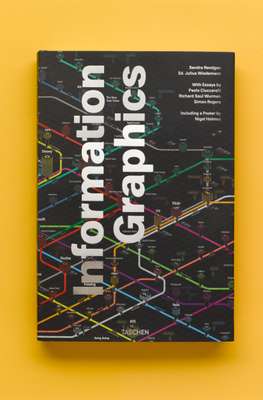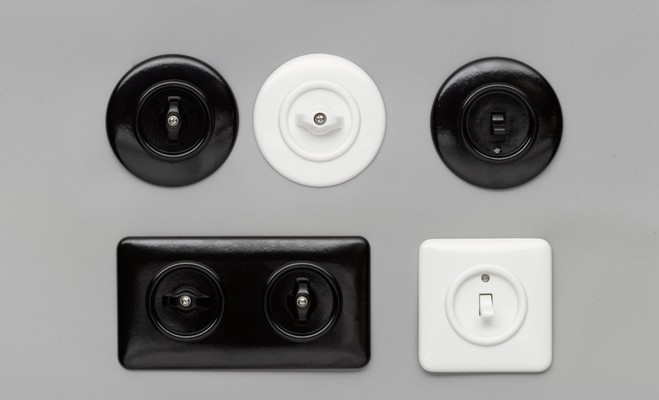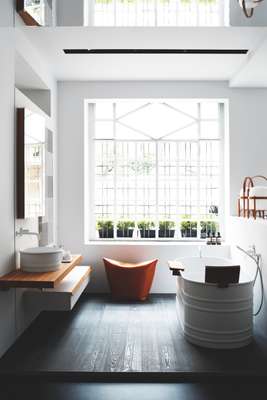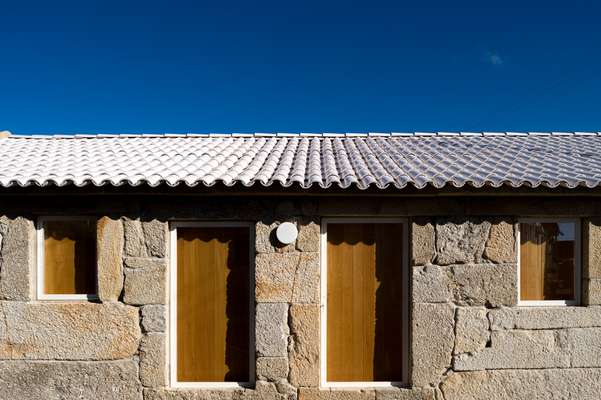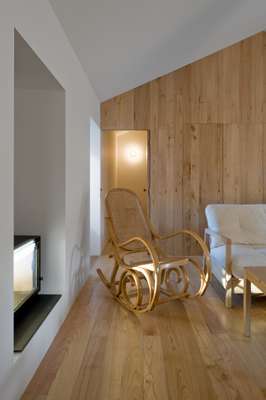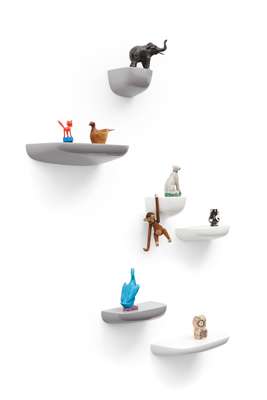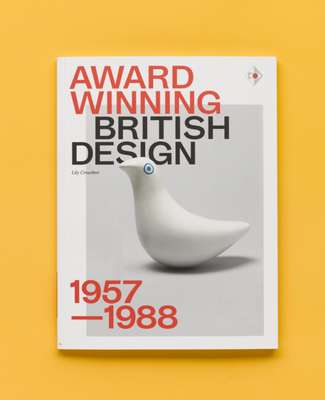 ---
Mini mounts
Switzerland — 
SHELVES
One of the more fun new products launched at the Salone del Mobile were these mini podium shelves by the French Bouroullec brothers. A concept first shown at the Parisian Galerie Kreo, they have been put into production by Swiss manufacturer Vitra. Made from high quality plastic, they plug into wall fittings and can be switched around as you like.
vitra.com
---
Lofty ideals
Portugal — 
MOUNTAIN RESIDENCE
With the design of her family's mountain retreat, Lisbon-based architect Ines Cortesao was master of her own brief. She wanted a building that was simple and rustic but also architecturally rigorous. The result is a modern retreat encased in the robust granite walls of an old village dwelling. The lightness of the building inside and out (white ceramic tiles adorn the roof) inspired the house's name, Clara. She achieved a sensitive balance of tradition and history with all the contemporary home comforts you would want for your bolthole in the rugged mountains.
inescortesao.carbonmade.com
---
Home shopping
Milan — 
SHOWROOM
Though we usually shudder at the mention of another concept store, Mantuan bathroom firm Agape's new showroom in Milan is an exercise in high-quality retail. The brand has been brought to life, over four floors and 850 sq m, by Camilla Benedini, the niece of Agape's CEO Emanuele Benedini.
More than just a showroom, it's a complete domestic environment. Agape's bathroom systems and furniture are shown together with ranges of reissued Mangiarotti furniture and selected brands, including Alpes-Inox kitchens, Pastoe and Interlubke storage and Mycore roller blinds. "This is somewhere not just to buy a bath or chair, but to think about how you put your home together in its entirety," says Emanuele Benedini. "We don't just make bathrooms, we make environments for people to live in."
agapedesign.it/agape12
---
By the seaside
Global — 
BOOK
Californian architect and diehard surfer Harry Gesner designed and built a series of extraordinary houses on the American West Coast between the 1950s and 1970s. Houses of the Sundown Sea charts Gesner's life and work through 15 of his most inventive creations, with archive photos, drawings and commissioned new pictures by Juergen Nogai.
abramsbooks.com
---
Bridge the gap
Brazil — 
TRANSPORT
Though masters of beautiful buildings, the Brazilians are not often cited for their urban planning solutions. But here's one of the better examples of architecture and good design merging to improve the choked sprawl of Rio. Trying to juggle some of the city's main rail and motor arteries as well as providing easier access for visitors to the 2014 FIFA World Cup was no easy task. Architect and urban planner JBMC's new metro station and footbridge are an explosion of curved steel girders that leap across the skyline, adding enormously to this otherwise messy urban underbelly.
jbmc.co.br
---
In conjunction with the V&A's current landmark exhibition surveying British design since 1948, the show's research assistant Lily Crowther has put together this handsome title. It profiles the recipients of the UK's Design Council Awards between 1957 and 1988, from wellies to dinghies, textiles to furniture and everything in between.
vam.ac.uk
---
Hit the lights
Germany — 
SWITCHES
We've spoken often in these pages of our preference for a light switch over a hi-tech motion sensor. A good solid switch is hard to come by these days but we recently stumbled across German firm Thomas Hoof Produktgesellschaft, which has been doing a solid line in traditional house fittings since 1998. These rotary, rocker and toggle switches are made from Bakelite, porcelain or duroplast, at factories in Thuringia and Westphalia.
produktgesellschaft.de
---
Charting history
Global — 
BOOK
Art historian Sandra Rendgen and art director Julius Wiedemann have compiled a comprehensive survey of our increasing reliance on infographics to disseminate information. Taking in 200 projects from journalism to education, the hefty hardback also charts the history of infographics and illustration through four dense but fascinating essays.
taschen.com
---
Into the wood
Brisbane — 
WOODWORK
In 1994 Roy Schack quit his job as a merchant banker to pursue woodworking and two years later he opened his first workshop in Brisbane. He now has a studio in Samford Valley. Danish by birth, Schack's heritage is reflected in the clean lines of his work. "Objects that are brutally simple and beautifully made are the most noble of objects," he says.
royschack.com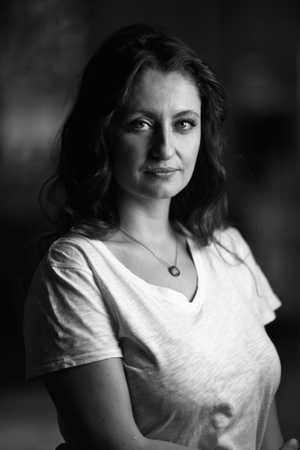 Q&A
Safak Pavey 
People's Republican Party
Istanbul
Safak Pavey was elected Istanbul deputy of the People's Republican Party in June 2011, making her Turkey's first disabled female MP. Previously she worked for the United Nations, campaigning for inclusive design.
What does "inclusive design" mean to you?
It's a way of thinking that embraces principles of human rights. Ideas start with the inclusion of the voiceless, forgotten and marginalised and leads to smarter solutions for the majority.
How did your interest in inclusive design arise?
I acquired a disability at the age of 19 as a result of a train accident. My first prosthetic arm had the common double-thick medical straps to hold it in place. They were very uncomfortable and ugly. I suggested a single, sleek strap to hold the arm from the back, which would allow me to wear it more easily and dress more stylishly.
Have you worked on universal design issues within any buildings?
As soon as I found myself in the Turkish parliament last year, I visited the building site of the new parliament and suggested ways to make it more inclusive. That would help establish a healthier political debate and democratic environment.