Ett Hem / Stockholm
Home Sweede home
A dream team of owner, architect, designer has created this 12-room hotel in a residence, reminding us, and the industry, what hotels should be: places that feel like home but are 10 times better.
Though we're all increasingly mobile and global in work and play, hotels are stuck in a rut. Bar a few notable chains and the odd exceptional private property, the hotel industry has been blighted by the unholy alliance of developers and business school alumni who follow spreadsheets over human experience, and cost over common sense. Hotel rooms might be in greater abundance than ever before but the pleasure involved in occupying them has never been scarcer.
It's this imbalance that Ett Hem, a new hotel in the Östermalm district of Stockholm, seeks to redress. The 1910 building on Sköldungagatan is in the ambassadors' residence neighbourhood and is owned by Jeanette Mix and her husband. It has been remodelled completely though by Stockholm architect Anders LandstrÖm with the creative direction and design by Ilse Crawford of Studioilse based in the UK.
It's a holy trinity of owner-architect-designer that has worked extremely well. The 12-bedroom property, which opened its doors at the beginning of May, is not just a special place to stay in a city, country and region curiously bereft of quality accommodation, it's a new blueprint for the 21st-century small hotel model. Ett Hem means "a home" in Swedish and it does what it says on the tin.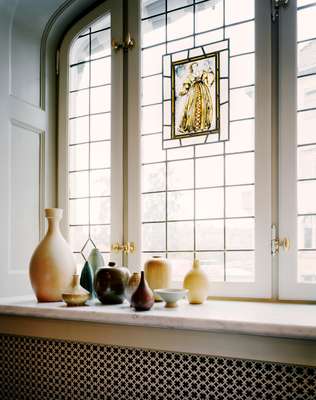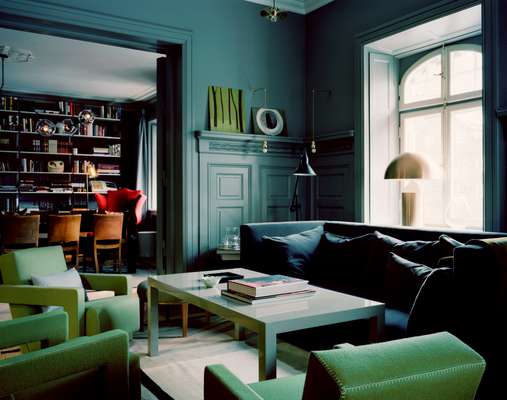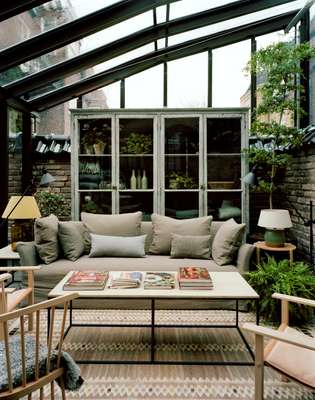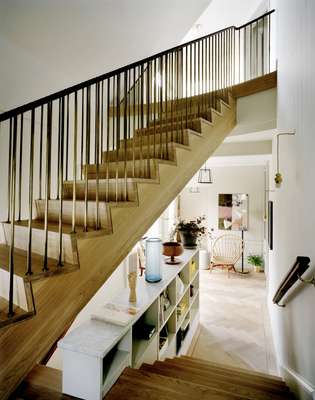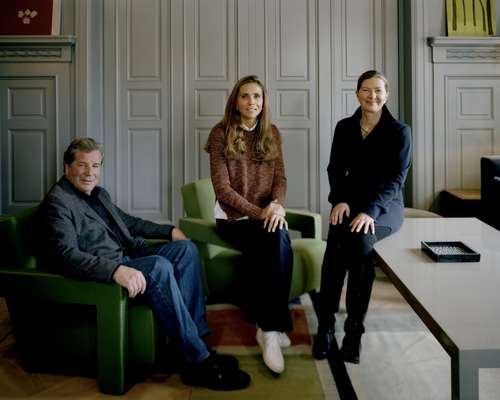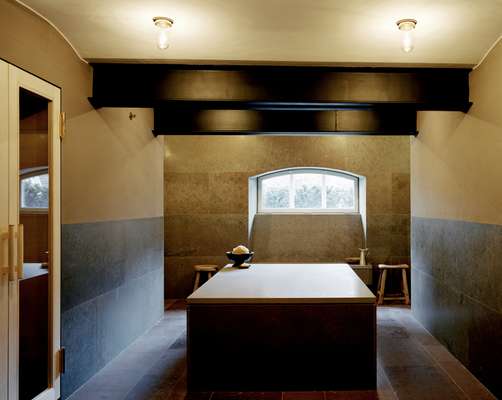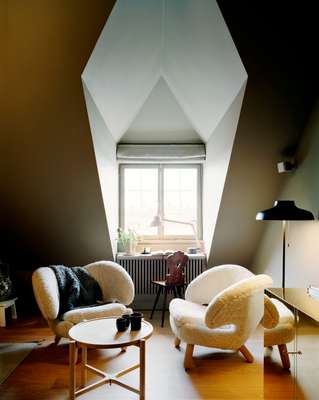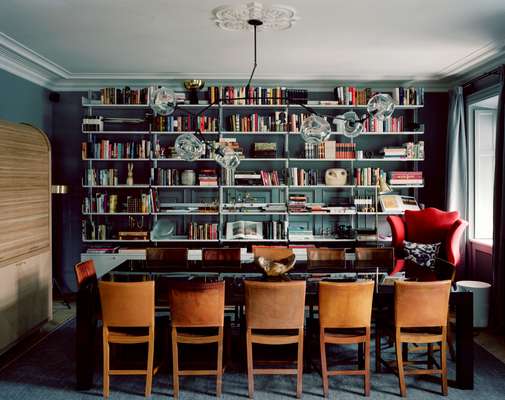 "It's ridiculously normal but increasingly it's impossible to find normal," says Crawford. She's straight talking for a designer, a rarity these days. By "normal" she means Ett Hem, though filled with covetable furniture, materials and hardware, is entirely down to earth. It's a place where you are welcomed as part of the house, where you can do as you wish, "Be it play the Yamaha piano or rummage in the fridge at night for a snack and a glass of wine," Crawford explains. "We want to shift the model of the smaller hotel forward: reallocating resources, investing in the house, keeping the fridge and kitchen stocked, employing staff who understand what it's all about. Hotel schools are not good at turning out people with initiative and imagination and this is what hotels need more than ever. They've become so institutionalised – as a guest you feel like you're a nuisance if you ever ask for anything."
It sounds relatively simple but how do you encourage guests to behave in a different way? "Guests can behave how they like, that's the point," Crawford says. "Our approach was to think carefully about spaces – what we wanted to happen there, how they could be used, how people might feel, what they might want. Everything needs to be incredibly functional – but we don't ever want it to look like that."
Fortunately Crawford and Landström were on the same page. "We knew very early on that we spoke the same language – space, emotion and soul were crucial from the start," Landström explains. Crawford hails Jeanette Mix as a dream client too – driven, open, trusting, fun and, "She's always treated the entire team wonderfully and with such respect, which says it all really." For her part Mix knew what she wanted, having worked in hotels before becoming a mother in the 1990s.
"It was my dream," she says. "We travel a lot and it's always struck me how hard it is to find honest places to stay and places to love."
Mix is a force of nature – Ett Hem is far from a whimsical side project for her. She also talks the same language as Crawford – common sense, soul and honesty. She talks business sense too. When quizzed on price, she explains the difficulty in balancing value, but it's a balance she's struck – rooms range from sek3,600 to sek8,000 (€400-€900) a night. "I don't want our guests to think or worry about how much their stay is costing. I want them to have a good night's sleep. This is something we've built for generations, I'm not interested in making money fast and selling. I want to give it to my children," Mix explains.
Ett Hem is definitely more of a home than a hotel, not because it looks and feels like one but because it has been devised, built and designed by three people who trust each other. And core to their understanding of how the hotel should operate is trust between staff and guests, much like the trust that operates in a family home. It is indeed a very simple formula – the surprising thing is how it ever vanished from the hotel industry in the first place.
Stepping into Ett Hem you feel like it's been lived in for decades, populated by friends and family over generations. Furniture is a careful edit of early to mid-century Swedish and Danish, together with beds, baths and generous drinks cabinets in every room, designed by Crawford, handmade in Sweden and England. Materials are tactile to an extreme – brass, glass, marble, leather, sheepskin, cane and natural wood are everywhere.
Colours echo Swedish and Dutch paintings – "the sort of tones that human skin looks so good against," explains Crawford. Throughout the house, Mix has hung her personal art collection and filled shelves with her own books, objects and favourite things.
Staff – all Swedish and one Dane – are primed to unlearn the rules they've all been taught elsewhere and to be on hand for whatever a guest might be looking for – be it a packet of cigarettes after midnight or a dinner party for 15 friends in the library. Ett Hem's service is about what can happen, not what can't. etthemstockholm.se
A good start: No queues for check-in here; you can choose to go upstairs, have a drink, leave your luggage and head back out. Check-in happens when and where you want, at your convenience.
A key: Where most hotels have melted their brass in favour of white plastic cards, Ett Hem is a traditional key and locking door establishment. Switches and dimmers: It's refreshing to have a hotel that trusts you to switch your own lights on and off. Likewise you can dim the lights wherever you want to suit your mood.
Subtle technology: Though the feel is old-fashioned and analogue, each room is equipped with a television and every tech trapping you can wish for. "Adding technology is one thing but getting rid of original ceramic fires in every room is counter-intuitive," says Crawford.
Food: What you want, where you want it. The chef is on hand to cook whatever you might want. This can be brought to your bedroom or eaten with other guests at the communal table in the kitchen or in the library.
Drinks and snacks: A fridge is permanently stocked with food and wine for you to help yourself whenever you're peckish or thirsty. There's an extensive, fully stocked old-fashioned drinks cabinet in every room too.
A housekeeper: Ett Hem's staff, guests and the house itself are overseen by a housekeeper with a reassuring, matronly manner. Though equipped with all the skills of the best concierge, first and foremost she is the ultimate host.
24-hour service: Rather than clock off after dark, one of Ett Hem's founding principles is that anything should be available at any time. After all, a hotel should be at its best between 22.00 and 08.00.
Sensitive staff: Though trained and experienced, all staff at Ett Hem have been taught to think outside the institutional box to judge and act according to each guest's needs and temperament. If you want attention and silver service, you will get it. If you wish to be left alone, you won't have to ask.