Moynat / Saint-Sylvestre
Outside the box
French luxury label Moynat, famed for its sturdy trunks, fell out of favour in the 1970s and was forced to shut. But a successful recent relaunch proves there's still a market for tradition with a twist.
When Pauline Moynat, a young luggage maker from Savoy, moved to Paris in the mid-19th century, she felt inspired by the industrial revolution and its burgeoning new travel modes. She soon made a name for herself and her eponymous waterproof trunks: the cleverly designed curved sides allowed them to sit on the roofs of cars. The prize-winning luggage grew increasingly hi-tech – some folded out as tents, others could be converted into portable bathtubs. Yet demand died when modern, compact travel came along and the firm shut in the 1970s.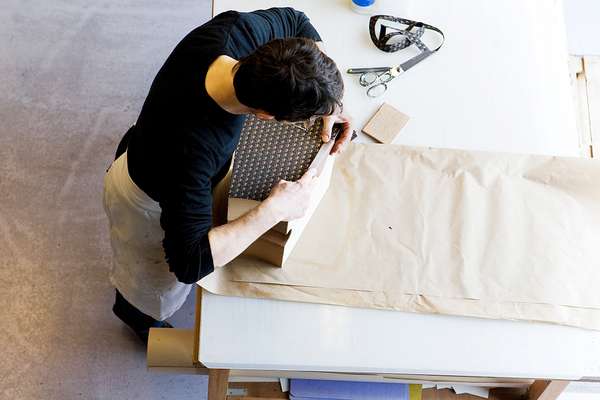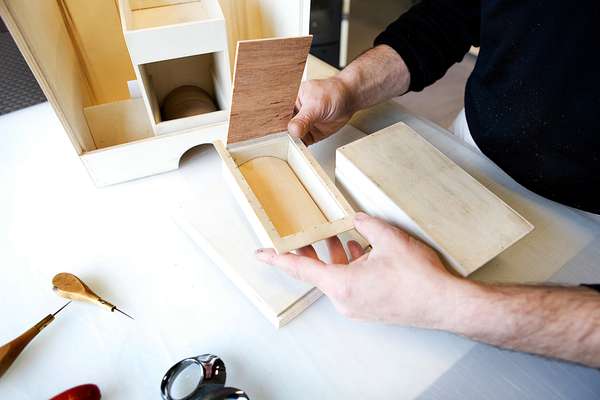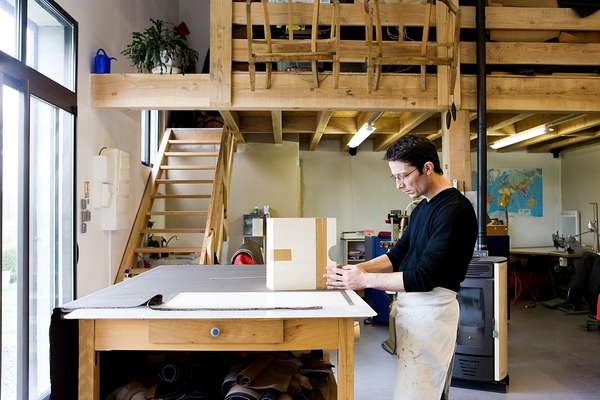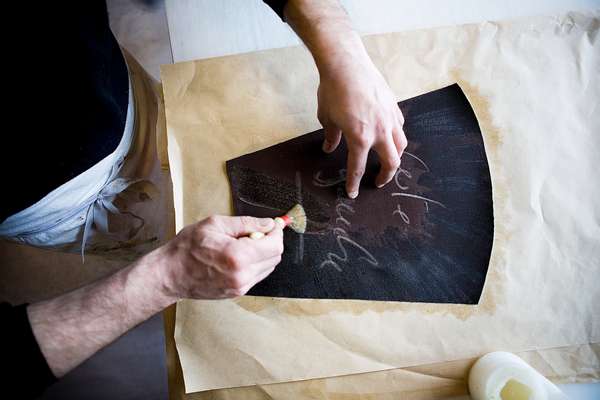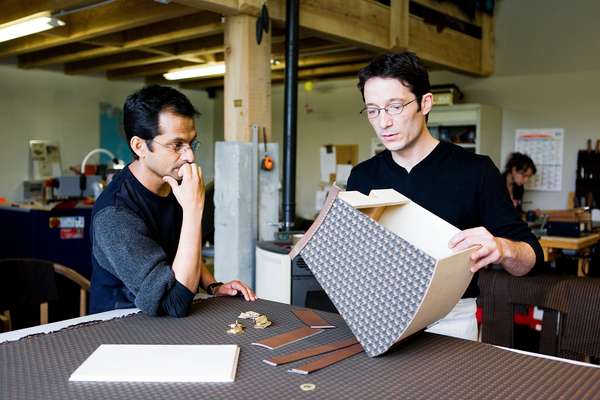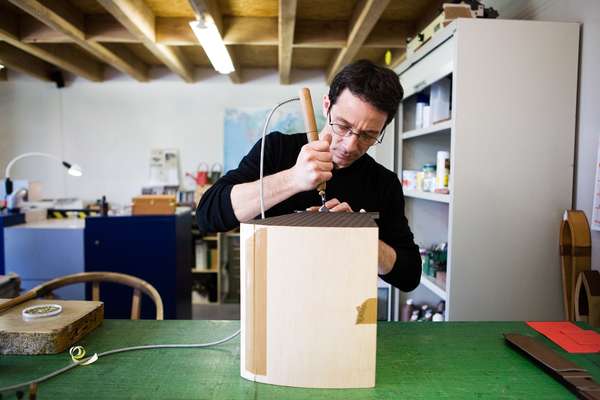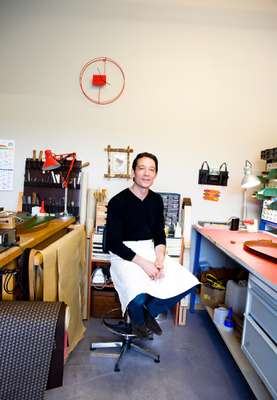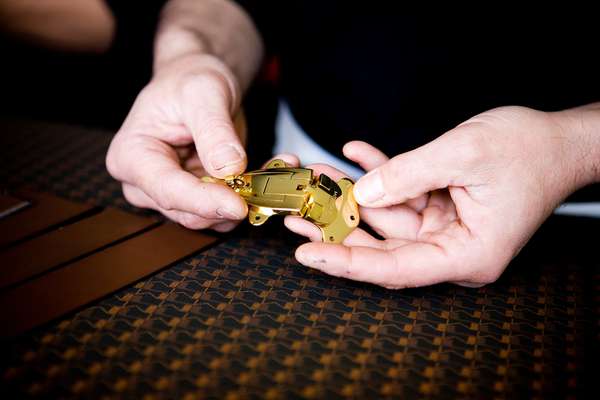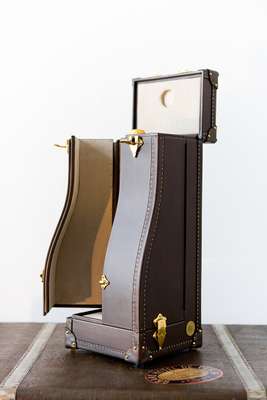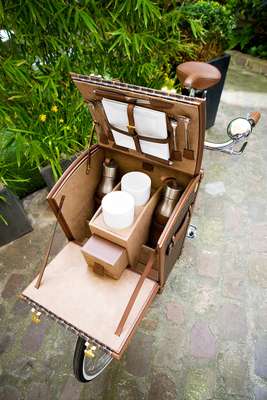 In December last year, Moynat reopened in Paris's fashionable rue Saint-Honoré, surrounded by its old competitors (Goyard handbag maker is just down the block). Its designs follow the same meticulous execution established by the firm in the 19th century while defining a new space for the objects: Moynat's bestseller, the Malle Limousine, designed to fit the roofs of the first limousines, was re-released as a briefcase.
"Trunks aren't about finding utmost practicality but about a dream. They're about slowing things down a little," says Ramesh Nair, the house's creative director. Each trunk is unique, a bespoke piece that can take up to 1,000 hours to make. The process starts with an artisan cabinet maker who puts together a basic frame in poplar, then it's sheathed in leather and furnished by Franck Tioni, a Compagnon du Devoir – France's artisan elite – and the only person at Moynat entrusted with the job.
The cases are covered with Moynat's monogrammed canvas – a design created by Art Nouveau artist Henri Rapin – by punching a nail every 7mm. The interior of the luggage is then sheathed in calfskin – previously tanned with chestnut tree bark and manually thinned through a scraping method; compartments are then built. So far, Tioni has made six trunks and has three more commissions to deliver by October. The maximum he can produce in a year is 11.
During monocle's visit, the first ever Malle Picnic was being made. "This reminds me of all-day Parisian family picnic outings with big hampers filled with food and cutlery," says Nair. The Malle Picnic is a small trunk with several drawers, designed to fit on a bike. "This is an incredible exercise of concentration – you spend hundreds of hours [making it]," says Tioni about a recently completed trunk that serves as a full portable kitchen. "At Moynat, there is no room for mistakes."
moynat.com
Franck Tioni is a "Compagnon du Devoir", a Unesco-protected association dedicated to passing on and promoting "Métiers d'Art" – an immaterial cultural patrimony of traditional French craft — ranging from bakery to gardening or blacksmithing. Each year, it trains a few thousand men and women in the country; the course is nine years long, touring different workshops across France. Its graduates are considered the country's elite artisans who are annually invited by the Ministère de l'Artisanat to present their skills in an open-day event.
Moynat's trademark technique consists of combining traditional saddlery and trunk making methods ("Applying a leather tradition to a hard surface is a real challenge," says Tioni). Handles are made of four layers of leather that are stitched with linen thread and rubbed with beeswax. The sides are then polished with linen wax. Moynat trunks are reinforced by adding leather strips to all angles, as well a brass strips around the body of the case. Each piece is completed with painted initials.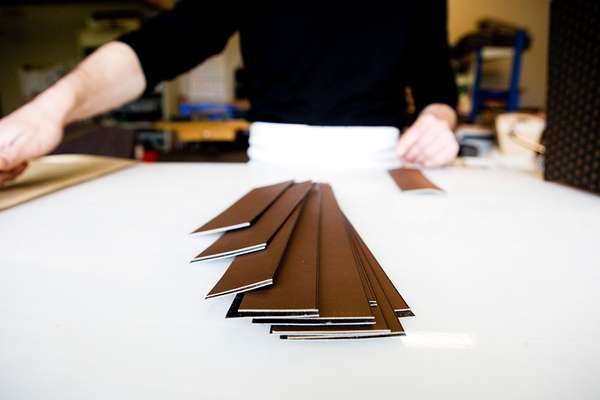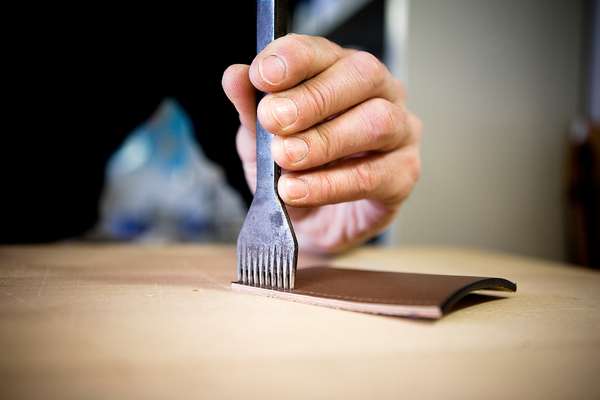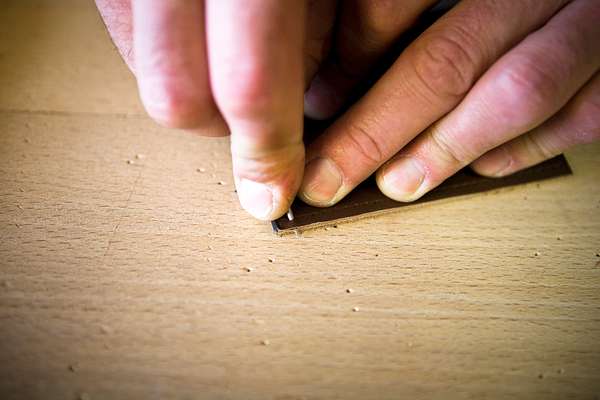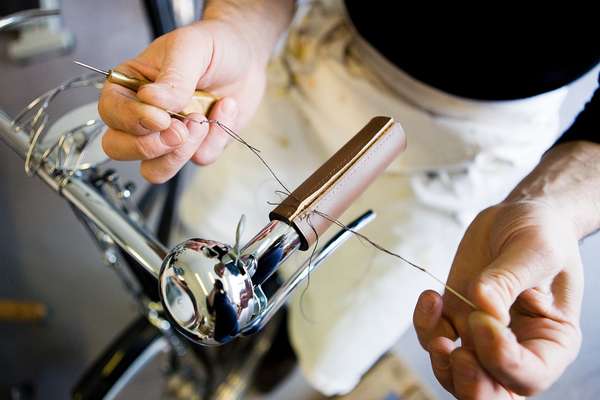 Strip down
Strips of French cowskin leather are cut using a manual slicer. They will be nailed to the external corners of the trunk.

Packing a punch
A punch is used to mark a preliminary hole on the border of each strips, every 7mm. The rim is then coated in primer.

Stitch in time
A stitching awl is used to make tiny holes through the leather; they will later be studded with brass nails.

Final touches
The handles and seat are sheathed in waterproof cowskin leather and then stitched with linen thread.
One man gang
Belchamp St Paul, UK
It's only through experience that Doug Drewry has perfected his gaming sets. For over 40 years, the British artisan has been handcrafting classic board games covered with premium Cape Grain calf leather from the UK, France and Italy. Currently working exclusively for William and Son in London, Drewry produces five to 10 bespoke boards a month in his workshop in Belchamp St Paul.
"Making each set takes between two and three days," says Drewry, a goldsmith-turned-craftsman. "It's a one-man job that requires a lot of attention." The first step in his assembly line starts by cutting 18-inch and 24-inch boxes out of plywood sourced from local timber yards.
He then trims the leather with Chris Stott paring knives and covers the wood (each box uses around 12m of skin) and screws the hinges, locks and fittings – an Italian import available in nickel and gold. The interior is then fitted with press-cut designs: squares for chess, triangles for backgammon and prints for snakes and ladders.
The final step is attaching the handle and organising the spaces for cups and figures. Some pieces are Italian-made; others, such as the aluminium doubling dice, are produced in Drewry's workshop. "If a high-quality product can't be found in Britain, I go to the next-best artisan," says Drewry.
williamandson.com