Kiya Ryokan / Uwajima
Sleeping beauty
In the small city of Uwajima in southern Japan, a restored ryokan guest house has reawakened the area's local pride. This simply presented style of accommodation whispers rather than shouts its quality and is a subtle sign of better things to come.
Yasuyuki Yoshizawa first laid eyes on the old building in autumn, 2008. He remembers thinking back then that the two-storey wooden ryokan in Uwajima, a city on Japan's southern island of Shikoku, was a beauty – or at least he imagined that it must have been decades ago. By now, the ramshackle building was tilting on its foundation and its owners, who had shut it in the mid-1990s, were wondering whether they should tear it down.
Yoshizawa, a Tokyo-based financier, immediately had an idea to save the ryokan from the wrecking ball. But to make it happen he would need the backing of Uwajima's mayor. "The moment I saw it I felt that it would be a symbol of this city's rebirth," says Yoshizawa, president of Basho Bunka Forum, which helps communities raise funds to develop projects in their local areas.
Eventually officials at city hall saw the ryokan's potential. In early April, the now renovated Kiya Ryokan reopened for business with a new mandate and a new owner – Uwajima city. Officials are now counting on the ryokan to help remedy the area's biggest problems: its scarcity of tourists and depressed economy. "I spent the past 12 years trying to revive tourism and key industries here and I can't say that we made much of a difference," says Akio Kano, a former city official who retired in March.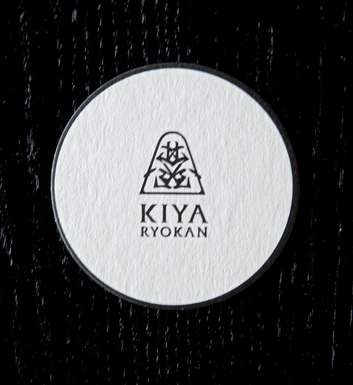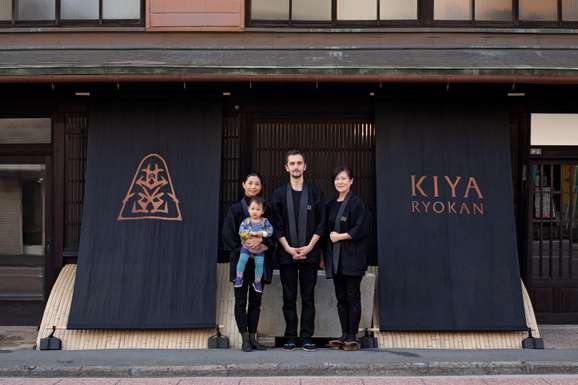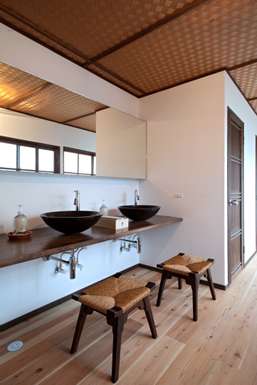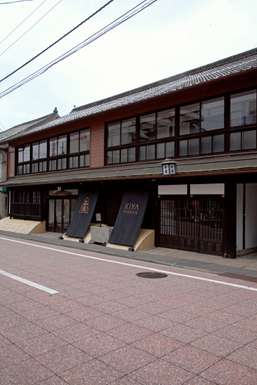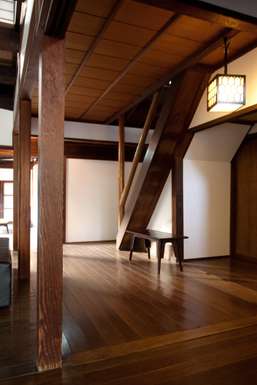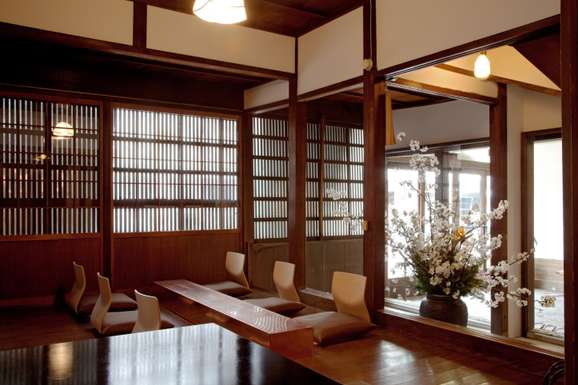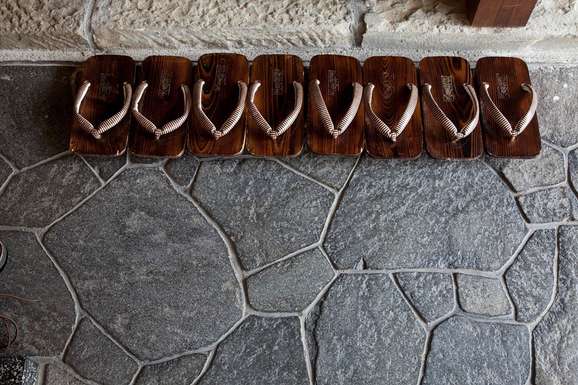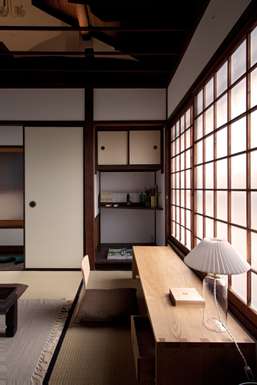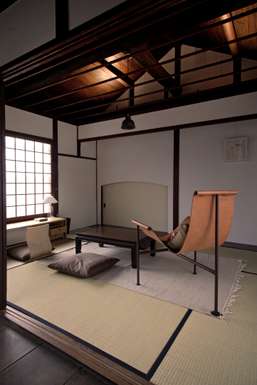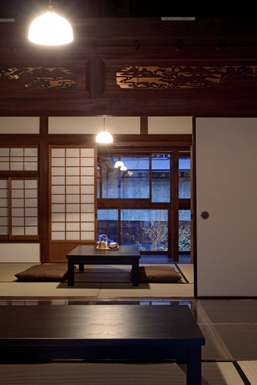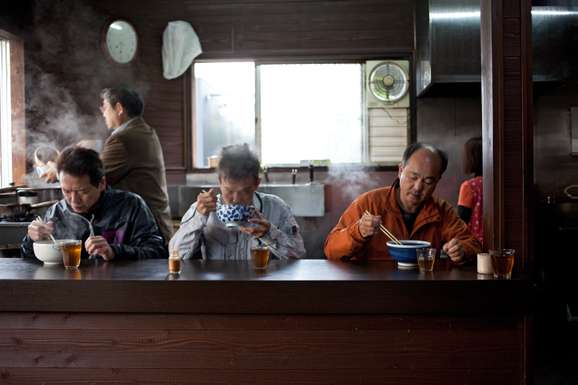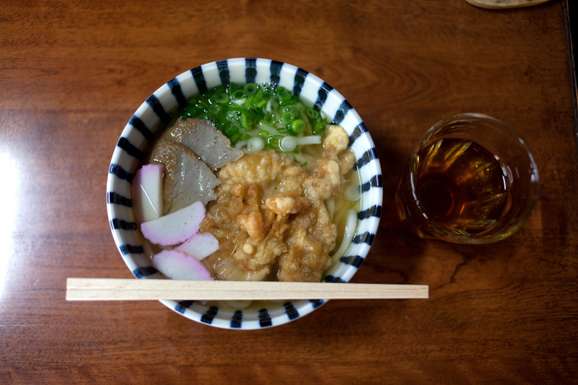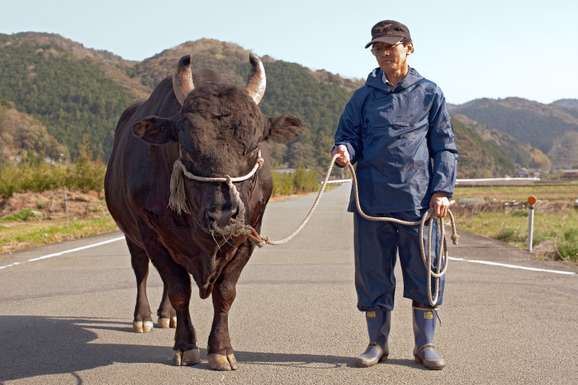 With its steep staircases, sliding lattice windows and sturdy interlocking timber, the ryokan, built in 1911, retains much of its historic charm. There's an inner garden and an upstairs study where one of Japan's most celebrated writers, Ryotaro Shiba, stayed in the past while researching one of his novels.
But Kiya Ryokan is no museum piece. The project's impressive roster of design talent added plenty of modern flourishes to broaden the ryokan's appeal and managed to meet the project's modest €850,000 budget. Architect Yuko Nagayama's alterations to the first floor were radical: see-through acrylic floor panels next to tatami mats and a combination of retractable screens and multicolored LED lights that, viewed from the street at night, makes the building the appearance of an art installation.
Others on the creative team, including Sadahiro Nakamura of Transit General Office and Shinichiro Nakahara of Landscape Products, collaborated on the building's interior, while garden designer Toshiya Ogino filled the tiny inner courtyard with greenery and a stream. "We wanted to do more than faithfully recreate the building as it was before," says Soshin Kimura, a native of Uwajima who was the team's creative supervisor.
When the staff, led by the ryokan's okami (chief service manager) Mari Mori, show Monocle around, they point out the antique light fixtures that contrast with modern Toto Washlet toilets and large flat-screen TVs. The persimmon-hued wooden floorboards in the hallways shine with a coat of fresh polish. Along with Mori, a former Japan Airlines fight attendant, the ryokan has two others on staff: Bartholomeus Greb, a native of Poland who grew up in Germany, and his wife Chikae, a former ticketing agent for All Nippon Airways. The Grebs met while Bartholomeus was on a study programme at Ehime University, in Matsuyama.
Unlike a traditional ryokan, Kiya doesn't pamper its guests or prepare lavish meals. It operates more like a rental property and has a policy of accommodating only one group of up eight people at a time. Guests are handed the keys and mostly left alone after check-in, which on a recent morning led to an awkward moment when a local baker tripped the burglar alarm after quietly letting herself into the building to drop off freshly baked croissants, coffee and juice. Within minutes, a security guard, in a helmet and bullet-proof vest, arrived to ask about a possible break-in.
Nobody thinks one building can solve all of Uwajima's problems. There are too many. The city's once-thriving pearl and fisheries trade has hit hard times and orchard owners have faced stiffer competition in recent years. Its pedestrian-only shopping arcade has steadily lost tenants to bankruptcies and once regular customers now prefer large chain stores that cater to motorists. Adding to Uwajima's woes is an exodus of young people to universities or jobs in the big cities that has left behind a greying population of 84,000.
But Kiya gives the city a smart public venue to advertise itself. The project is already drawing attention as a model for other struggling local communities across Japan. The ryokan could also demonstrate to the city's residents the value of protecting their landmarks, most of which were destroyed by Allied bombers during the Second World War.
Kimura is lining up art exhibits and other events this autumn that will be held in the building's two-room wing downstairs. "This region has torn down most of the remaining historic buildings," he says. "Hopefully Kiya can offer an example of how to preserve what's left and modernise them so they add to the city's renewal."
kiyaryokan.com